It easily crossed 100 million players and quickly became one of the most popular games of all time. With Warzone 2, players will land on an entirely new platform, including an exciting reworking of the existing battle royale platform. When it finally releases, Warzone 2 will bring a new engine, a brand-new map, countless new features, and exciting gameplay. How to set up and use VPN on Warzone 2 Bot Lobbies to easily find low KD Bot (0.60 - 1 KD) lobbies. I will tell you which countries to choose on VPN and to find an easy lobby and bypass SBMM.VPNs are commonly used by players to accomplish this; players use VPNs to change servers. In this article, you will find the best VPN Location for Warzone 2 bot lobbies. Let's see how to find the best location for Warzone 2 bot lobbies from LagoFast.
Part 1: How to find the best VPN location for Warzone 2 Bot lobbies?
Part 2: How these Warzone VPNs were Selected and Tested?
Part 3: How to use a VPN to get an easy lobby in Warzone 2?
How to the find
best VPN Location for Warzone 2 Bot Lobbies?
Warzone 2 is one of the best battle games, many people have proven that Lagofast is the most effective VPN location for Warzone 2 Bot Lobbies. Lagofast is a professional to help you to find the best location for Warzone 2 bot lobbies. Furthermore, LagoFast is the only game VPN and booster that offers a timed bundle and charges by the minute, making it more cost-effective and accessible. For those who aren't sure, we also offer a free trial so you may test it out before deciding. You'll enjoy a really fluid game with LagoFast's support, I'm sure of it!
Here is the specialty of LagoFast.
● Well-developed and professional
● Simple to use, one clicks FPS booster.
● Offer a Warzone easy lobby
● Provide a Pay-per-Minute plan
● Provide the best servers
● Enables more than 1000 games
To use LagoFast:
Step 1: Download LagoFast register, and get a free trial.
Step 2: Find "COD Warzone 2" in the "Search Box".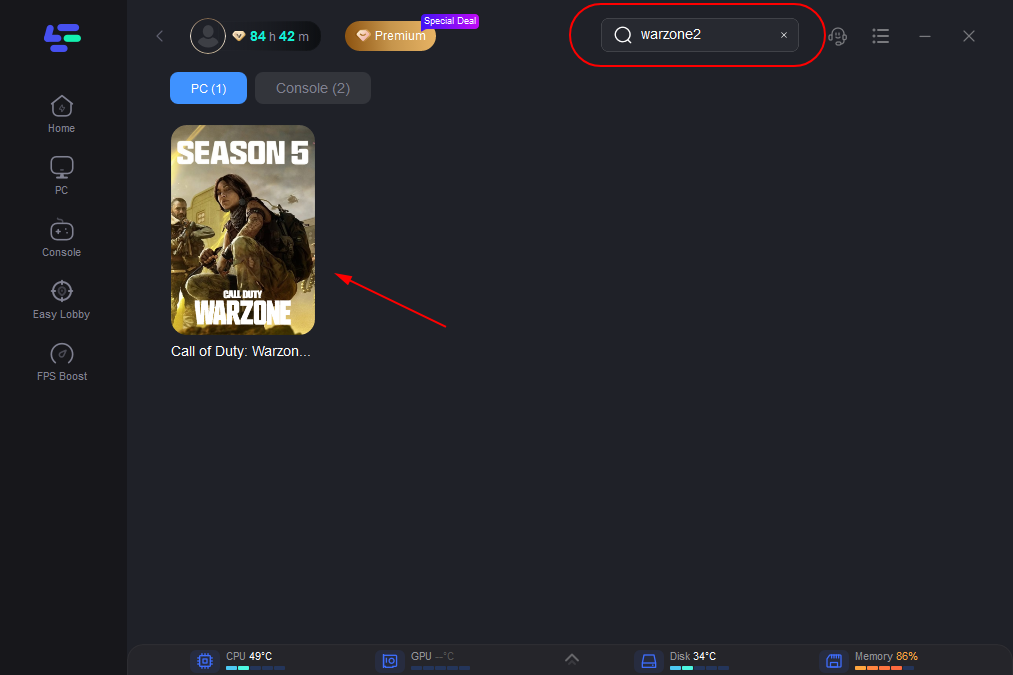 Step 3: Select "Server" and to choose any one server.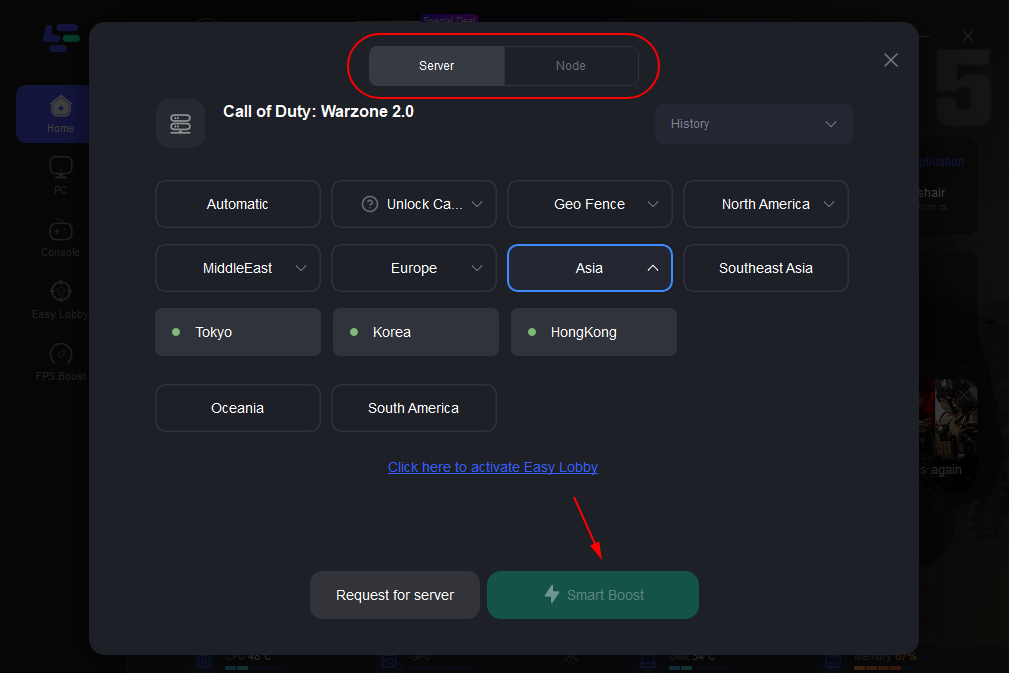 Step 4: When you choose any server "Europe Server" then you will see the percentage of Game Ping, Packet loss, Network type and Local Network Fluctuation.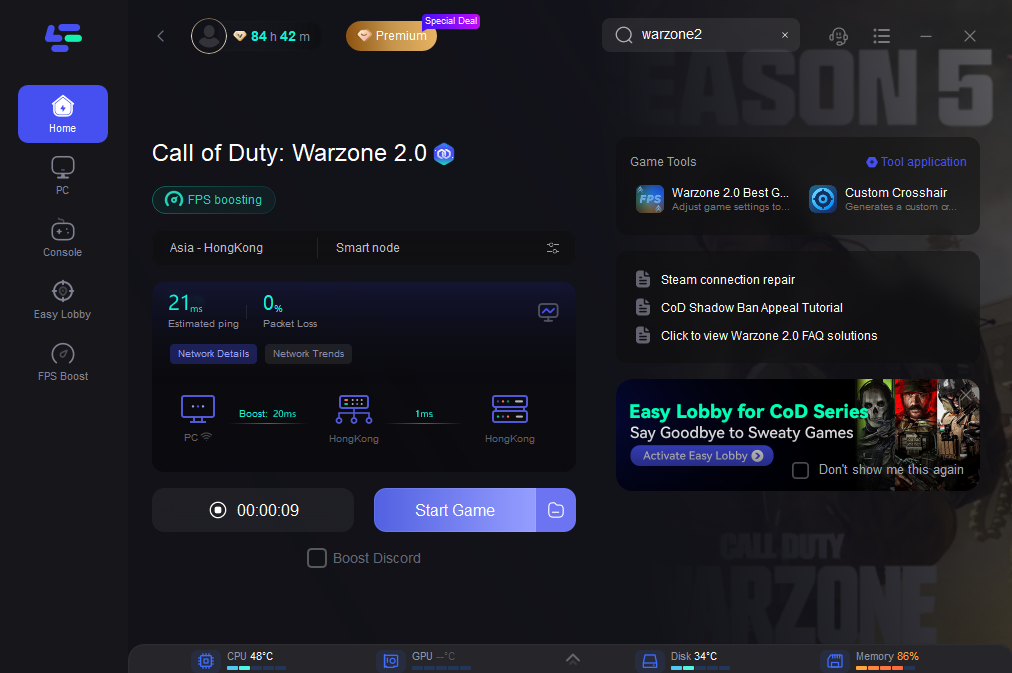 Which is the best VPN Location for Warzone 2 bot lobbies
?
Choose a place where it's 5. am.

or some other unreasonable time to play video games.

Connect to a server that is not too far away from you, but not too close either.

US servers are good enough for Warzone 2.

Word on the street is that Egypt and Singapore are also great warzone destinations.
Some players clearly find busy servers looking for strong opponents, but others prefer quiet servers. Frequently, both general settings influence how hot a server is. As for the time, the period from 7 o'clock. By 1 am, the servers are very busy. Since most people have time to play games at this time, you may have to wait a long time to enter the lobby. A no-lag VPN will help Warzone 2 players who are experiencing packet loss or bandwidth throttling and will also appeal to competitive players who may be the target of deliberate DDOS attacks.
Which country has the easiest Warzone 2 Bot Lobbies?
The easiest way to get a lobby is to trick the Warzone servers into thinking you're in a place where players aren't very skilled.
There are some countries like Hawaii, Egypt, and Argentina, all of which are places where there are no professional Warzone players and the overall skill level is low.
Does a VPN give you better lobbies in Warzone 2?
But the good news is that it's easy with a VPN. That's right, the best VPN can help you get around SBMM and get a bot lobby for easy gameplay. To add to that, it will also protect you from any potential DDoS and can reduce ping as well.
Can we get banned if we play Warzone 2 game with VPN?
You cannot be banned from using Warzone VPN. VPNs, while used to streamline matchmaking, are also used to reduce lag during gaming – something that Activision has recognized. It's also not against the game or publisher's terms of service, so using a VPN to play Warzone is perfectly acceptable.
What are the COD Server location? | Best VPN Location for Warzone 2 Bot Lobbies
Japan. Tokyo. –

Europe. Central. –

UK. London. –

Australia. Melbourne/Adelaide. –

USA Central. Ohio. –

Ireland. Dublin. –

USA West. Nth California. –
How to Check Your KD Bot Ratio in Warzone
Start Warzone.

One of the game's menus with tabs, hover over the 'Barracks' tab.

Then select the 'Records' option.

Then choose which of these stats you'd like to see – in this case your K/D ratio.
How these Warzone VPNs were Selected and Tested?
All VPNs may be good, but not all of them are good for this particular game. I want you to only have to choose from the best, and what the best VPN for Warzone should have:
High speed:

Since high speed and low ping are very important for playing Warzone, I tested them extensively. Only VPNs with the best results made it to the list.

More servers and locations:

You should be able to choose a server in a location that best suits your gaming needs. So, the more, the merrier.

Advanced security:

This not something you think of when looking for a VPN to play Warzone, but important nonetheless. Advanced encryption and DNS leak prevention are key to preventing DDoS attacks from tech-savvy hackers who think you're using a VPN.

Good value:

You want the best in less, it's that simple.
How to use a VPN to get easy lobby in Warzone 2?
Choose a VPN.

Create a VPN account and log in.

Do some research in worlds where morning is daytime or nighttime or where people don't play

warzone

as much - Germany and Egypt are some of them.

Connect to the server at the best location based on your research.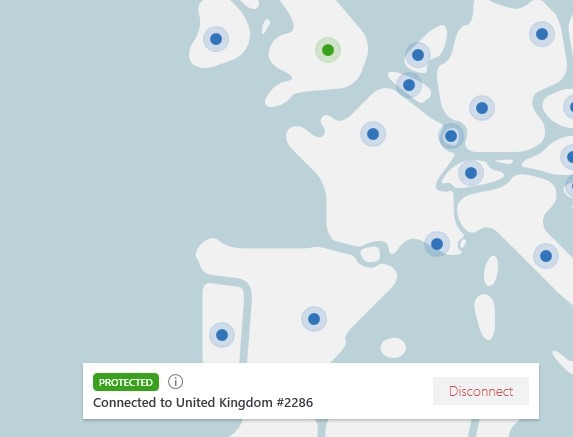 Less populated servers, where there are fewer players trying to join the lobby, will usually also put you in easier lobbies. You can technically use a VPN to ensure that you always play during the time zones.
Conclusion
Finally, we have discussed the best VPN Location for Warzone 2 bot lobbies and how to change the VPN location for Warzone 2. If you're mainly playing Warzone 2 to relax and have fun, then it's a very good idea to bypass SBMM using a VPN. You will finally be able to have fun and you can directly find a convenient lobby. You can use this technique for Vanguard, Coldware, but also other games like League of Legends, FIFA, Minecraft, Mobile Legends, and PUBG.