There's an excellent reason why, less than a year after its release, Call of Duty: Warzone had more than 100 million players. It's fierce to compete against people who have similar kill-to-death rates and skill levels. Challenging and adventurous. However, I know for sure that there are times when you'd prefer to ignore its skill-based matching (SBMM), enter bot lobbies, and enjoy playing against players of varying skill levels. Furthermore, if you experience substantial lag while playing Warzone multiplayer sessions, it can be quite difficult.
Fortunately, you may prevent SBMM, improve network effectiveness, and protect your sensitive data by using a no lag gaming VPN for Warzone like LagoFast. Also, I'll show you some other top-notch VPNs for Warzone in the following part.
Part 1: 4 Best No Lag VPN Warzone
Part 2: How to Use LagoFast to Get Bot Lobbies
Part 3: What is a No Lag VPN for Warzone
Part 4: Why Do You Need a Gaming VPN
4 Best No Lag VPN Warzone
1. LagoFast - More than just a gaming VPN
LagoFast is an all-in-one game booster that can be used as a gaming VPN, aiming at reducing lag and ping in online co-op games and boosting FPS. It has more than 8 years' worth of experience switching server locations, giving you the best path, and enhancing gameplay. It specializes in reducing lag, lowering high ping, and boosting FPS. LagoFast has created a simple lobby mechanism to aid CoD players in winning the game. We can connect you to the top high-kill gaming areas without changing your IP location information. The procedure of using LagoFast is extremely simple, though. All you have to do is click on the Boost button, and you are free to choose the server you want and enjoy a lag-free as well as non-high-ping in-game experience! Additionally, it supports a Pay-per-Minute plan, which is more crucial, and among other top-rank game boosters, it has the lowest monthly plan.
Pros:
Easy-to-use
Abundant servers for you to choose from
Exclusive Warzone Easy-lobby function
Reduce ping, fix lag, and boost FPS at the same time
Have a free trial
With just a few steps, you will get no lag in Warzone with LagoFast gaming VPN.
Step 1: Download LagoFast and log in.
Step 2: Search Warzone in the Search Box and select it in the search result.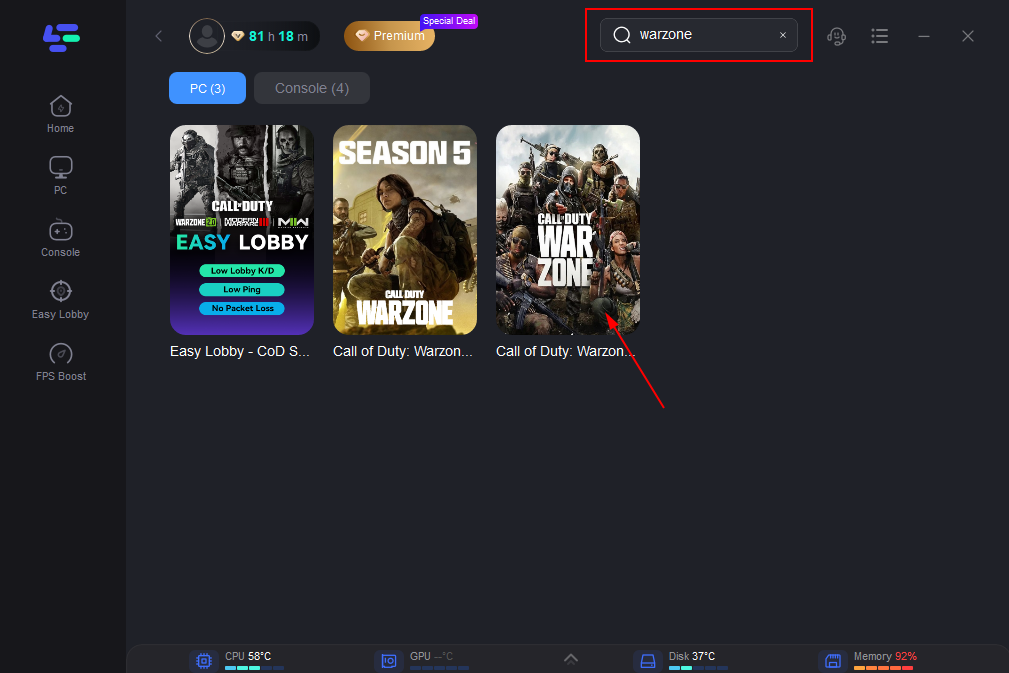 Step 3: Choose the server and node you prefer for playing Warzone.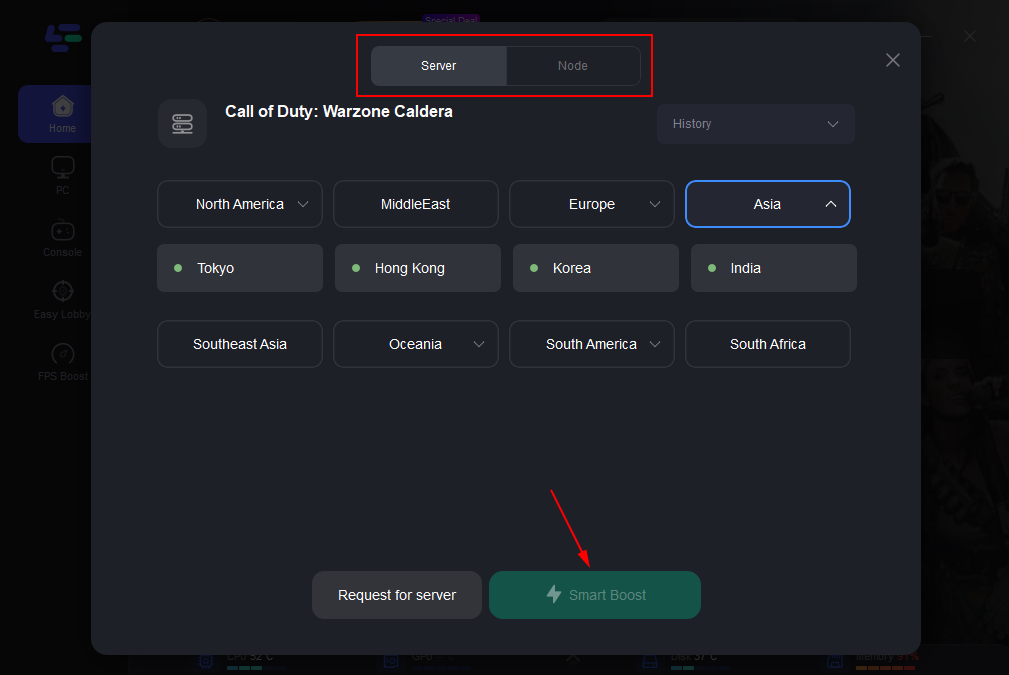 Step 4: Click on the Boost button and start boosting. On this page, you can monitor your real-time ping & packet loss rate.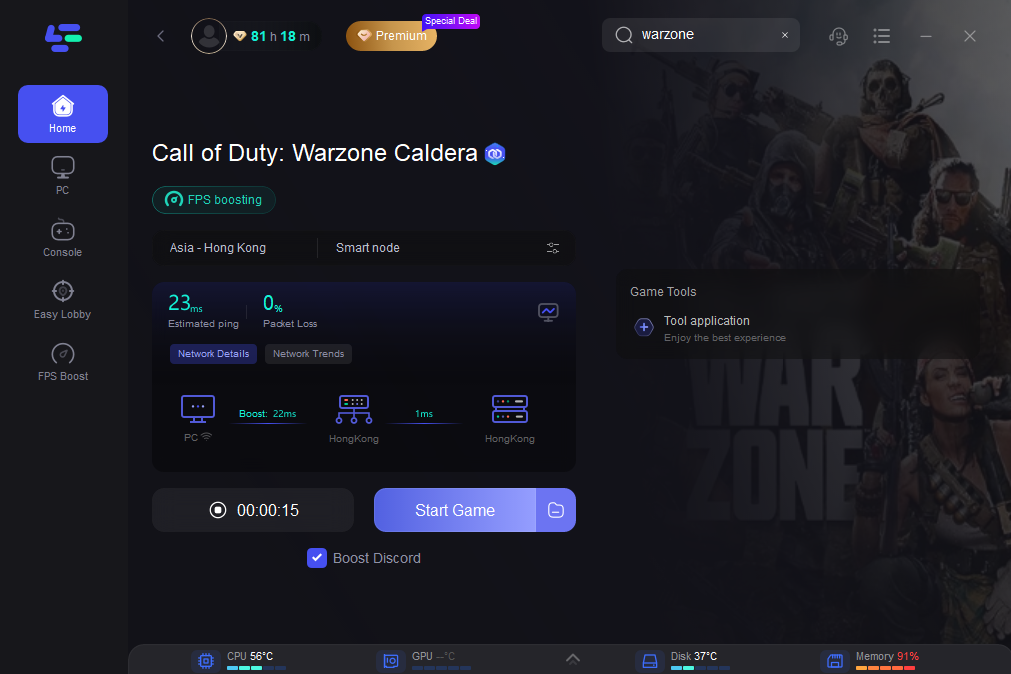 2. NoLag VPN
All of your connections are sent through foreign servers using a standard VPN. Data must travel a greater distance to reach your computer from these servers, delaying your connection and increasing latency.
Your connection will only be partially rerouted by NoLagVPN due to its design. The benefits of a VPN are offered by this, enabling you to keep an extraordinarily fast connection while acting as though you're somewhere else.
Pros:
Stable Ping
Do not influence FPS performance
No packet loss
Cons:
Do not offer a free trial
Do not support console
3. Express VPN
ExpressVPN frequently appears on our list of the best VPNs, so we are not surprised that it has a place in this competition. Due to its unrivaled speed, which also makes it the finest for other video games, it is one of the best VPNs for Call of Duty: Warzone.
Warzone is easy to play on a PC or console thanks to its large server network and apps for various platforms (including a router app).
Pros:
Extremely quick speed
Easy-to-use apps across all platforms
Close servers with low latency
Support for console
Cons:
Cannot fix lag
A little bit expensive
4. Submmoff
You may play outside of your region by using Sbmmoff, which connects you to the top high-kill gaming locales without changing your IP or GEO location data. Texas, the United States, either the East or West Coast, the EU, the UK, Germany, Spain, France, Italy, Singapore, and Brazil are among the nations where Warzone Pacific is accessible and playable via the Geo-Fence.
Additionally, as the Sbmmoff program just needs to be run by the person hosting the lobby, you are free to invite and take part with your friends.
Pros:
No lag
Reduce high ping
Safe & Private
Cons:
Expensive plan
No free trial for new users
Do not support console
How Can I Use LagoFast to Get Bot Lobbies
Except for reducing lag in Warzone, LagoFast can also help you enter bot lobbies in CoD: Warzone! Here's how to achieve it:
Step 1: Search Easy Lobby in the Search Box and click it in the search result.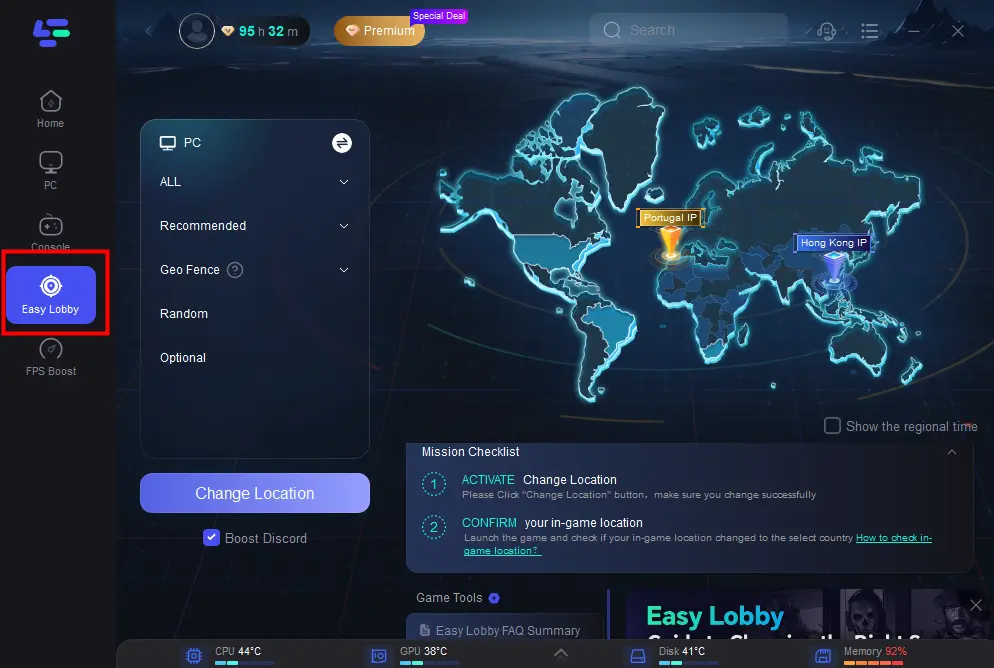 Step 2: Choose the server as you like.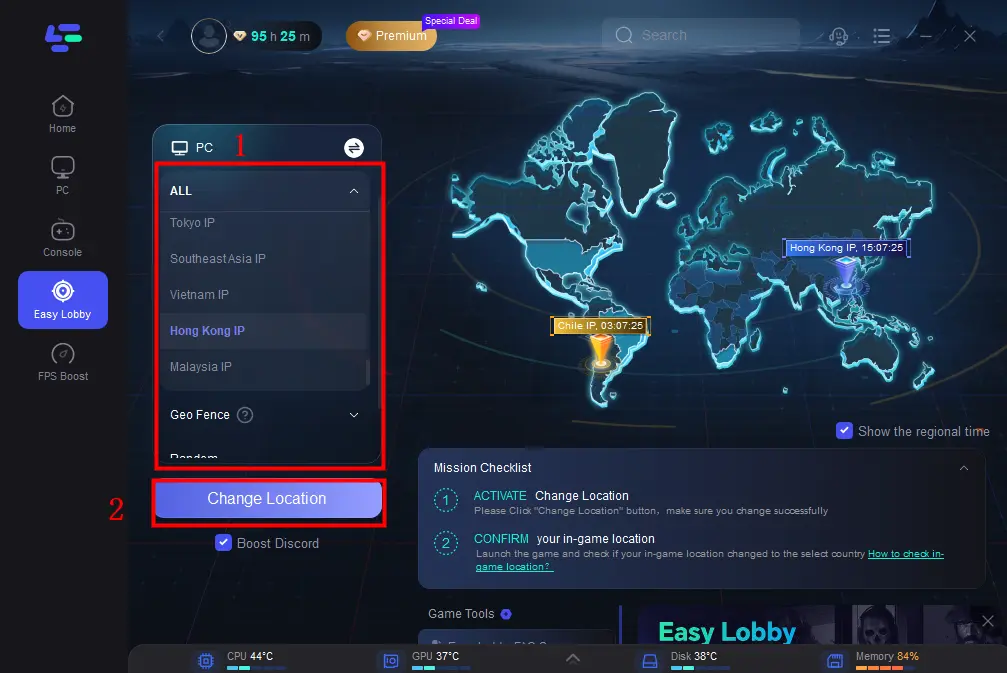 Step 3: You can monitor your real-time ping & packet loss rate after connecting to the server you chose.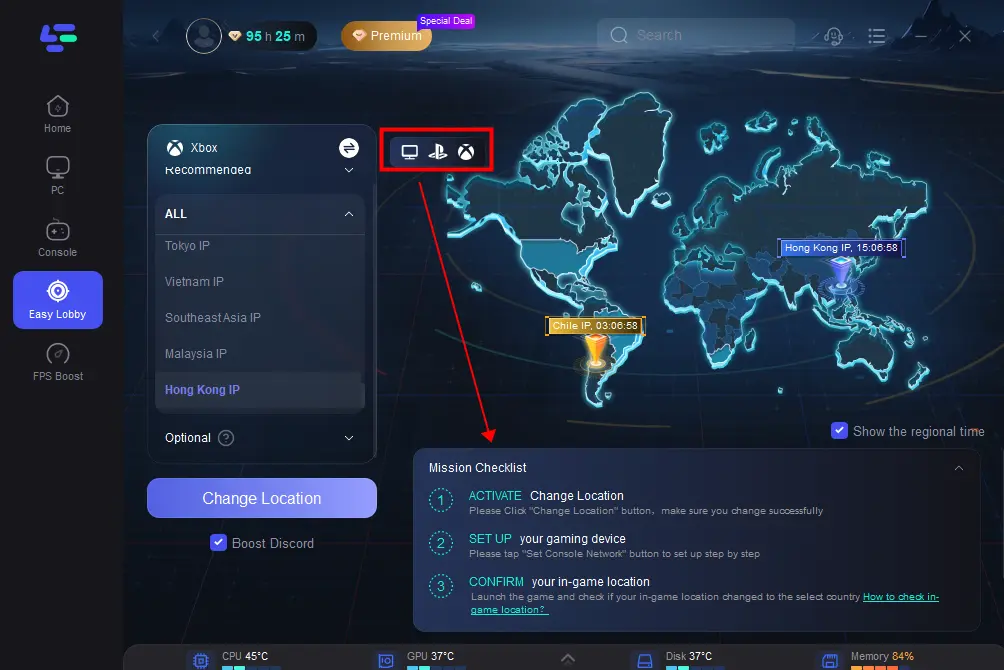 Then you start Warzone manually or inside LagoFast and you will enter the bot lobby with easier gaming matchmaking!
What is a No Lag VPN Warzone
Let's first take a step back and define a VPN in detail. Virtual private networks, or VPNs, provide a secure, private connection that you can use to send and receive data without risk. As a result, websites, applications, or users attempting to access your network remotely cannot trace your online activity while you browse and utilize the internet. Despite the fact that VPNs are primarily concerned with security, few people use them to bolster their security measures. The most frequent usage of VPNs is for gaming.
The majority of the time, VPNs are used to access content from around the globe, but they may also be used to play games because they have several advantages that can enhance your experience. Despite being somewhat specialized, these benefits still exist.
However, no-lag VPN Warzone like LagoFast is something more than just a VPN. It can not only change your server location but also optimize your in-game experience by reducing lag, lowering high ping, and boosting FPS.
Why Do You Need a VPN
Not every player will benefit from using a VPN. However, if you're interested in playing peer-to-peer multiplayer games or changing your server to other countries, the benefits of a VPN for gaming may be pretty significant for you.
a. Play games that are region-locked: You can use your VPN to get games that aren't yet available in your nation, just as how people do it with Netflix. Many games that are only available in Asian regions can be played through the use of a VPN, despite the fact that some platforms, like Steam, forbid the use of VPNs to access restricted content. For instance, Call of Duty Online is exclusive to China and can only be played through a VPN.
b. Access other regions' gaming servers: While it can be difficult to access games in other zones, VPNs also allow you to connect to and play on servers in other locations. By doing this, US players may be able to play with their pals in the UK, Japan, or any other nation. But keep in mind that if you play on servers that aren't designated especially for your area, your connection might not be the best.
c. Reduce Lag: To make gaming more comfortable, a good No Lag VPN service can help you reduce lag and packet loss. This can give you the extra milliseconds you need to beat out other gamers.
Eliminate SBMM: SBMM is a great tool for finding players with comparable experience and ability levels. A No Lag VPN is best for competing against gamers of all skill levels, though.
d. Get bot lobbies Warzone: Lastly, a VPN is useful if you wish to access several Warzone servers in other lobbies throughout the world. With the explicit option to join bot lobbies, you can quickly climb the leaderboards by increasing your kill-to-death ratio when playing against weaker people.
Conclusion
Getting no lag in gaming is essential for CoD players to enjoy every shooting and get more victories. LagoFast is the best no lag VPN for Warzone to enter bot lobbies. Try it now and reduce your gaming difficulty in Warzone and enjoy a lag-free experience!