After 4 rounds of playtesting, Diablo 4 has been released on June 6, 2023. Unfortunately, a warning that "Game servers are not available. Please try again" is frustrating. Learn how to fix the error code 34202 and get smoother gaming. During Diablo 4 pre-download and closed beta weekends, both PC and console gamers might run into connection issues or there might to servers down. Here we are introducing some effective ways you can try to fix server-down issues in D4.
Is the Diablo 4 Server Down
Actually, the Diablo 4 server is currently live for all gamers. There is no notification from Blizzard about Diablo 4 server down. It's understandable that on the launch day, a large amount of gamers rush into the server and cause traffic jams on the game routes. That's why you get disconnected from your current server.
How to Check Diablo 4 Server Status
To check the Diablo 4 server status, you can use the following link to check Diablo 4 server status on each platform:
Check Diablo 4 PC Server Status
Check D4 PS4/PS5 Network Status
Check Diablo 4 Xbox Live Status
Also, you can join the Diablo 4 forum or follow Diablo's Twitter for the latest update.
How to Fix Diablo 4 Server Down Issues
The server issues are predicted by some Diablo fans and the Blizzard official. They posted in the forums about the possibility of Diablo 4 crashing and server down and put forward some solutions. Due to the server issues in Diablo 2, Diablo 3 and Diablo Immortal, it's absolutely trustworthy to notice Diablo 4 server down issues. Having checked the server status is live for D4, you can try the following methods to fix the disconnection issue.
Method 1: Renew Your IP and Flush Your DNS
Method 2: Disable Firewalls and Antivirus
Method 3: Try Switching to a Different Server
Method 4: Contact Blizzard Support
Method 1: Renew your IP and flush your DNS
One of the most common causes of connectivity issues with Diablo 4 is a problem with your internet connection. Before trying anything else, make sure that your internet connection is stable and fast enough to handle online gaming. You can run a speed test to check your internet speed and make sure that you're not experiencing any latency or packet loss. You can also try resetting your modem or router to see if that resolves the issue. If you're on a wireless connection, try switching to a wired connection to see if that improves your connection quality. After that, you can follow the steps to renew your IP and flush your DNS to fix any network conflicts which may have come up. Let's take for example Windows 10.
Press the Windows Key;
Type CMD and Right-click Command Prompt;
Select Run as administrator;
Type ipconfig /release in the command prompt and Press Enter;
Wait until you see that the IP address has been released;
Type ipconfig /renew in the command prompt and Press Enter;
Wait until you see that the IP address has been re-established;
Type ipconfig /flushdns in the command prompt and Press Enter;
Close the command prompt and try to connect again.
This method can be used in most can't connect to server issues in the Diablo series. It has already fixed most error code 34202 issues among gamers. If it doesn't work for you, keep on trying the next methods.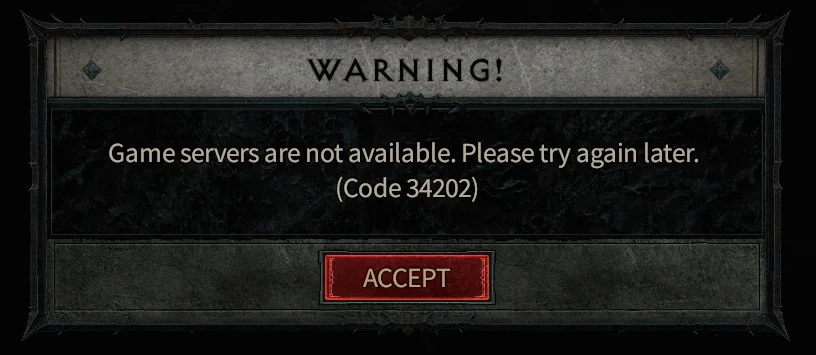 Method 2: Disable Firewalls and Antivirus
Another common cause of connectivity issues with Diablo 4 is interference from firewalls or antivirus software. Sometimes, these programs can mistakenly flag the game as a security threat and block it from connecting to the internet. To see if this is the issue, try temporarily disabling your firewall and antivirus software and see if that resolves the problem. If it does, you can try adding Diablo 4 to the list of allowed programs in your firewall or antivirus software to prevent it from being blocked in the future.
Method 3: Try Switching to a Different Server
If you're unable to connect to the Diablo 4 server or experiencing frequent disconnections, you may want to try switching to a different server. Diablo 4 has several servers located in different regions around the world, so you can try connecting to a different one to see if that improves your connection quality. You can do this by selecting a different server from the game's options menu. Keep in mind that switching servers may result in higher latency, so you should choose the one that's closest to your location for the best performance.
Here you can use LagoFast to change your server in Diablo 4 easily without high ping or latency. It provides multiple servers and routes for online games and you can simply change servers with a click. Before changing, you can check the server ping and status so that you will get an overview of the server you want to change in advance. Follow the steps and get connected with Diablo 4 servers successfully.
Step 1. Free download LagoFast and sign in;
Step 2. Search for Diablo 4 and click boost;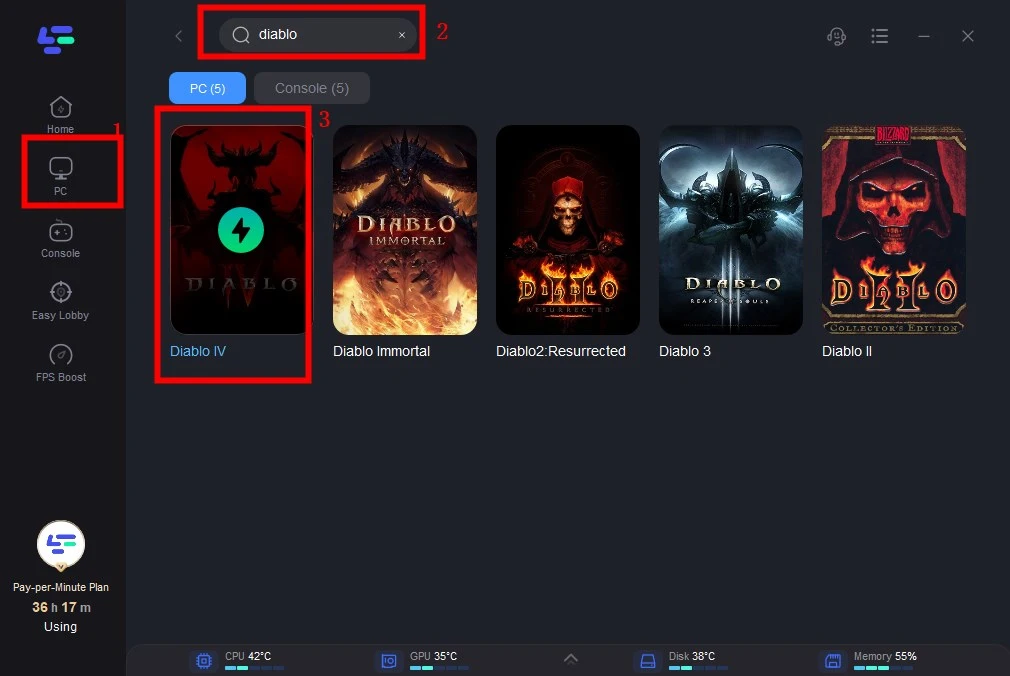 Step 3. Choose the server and node you want to connect;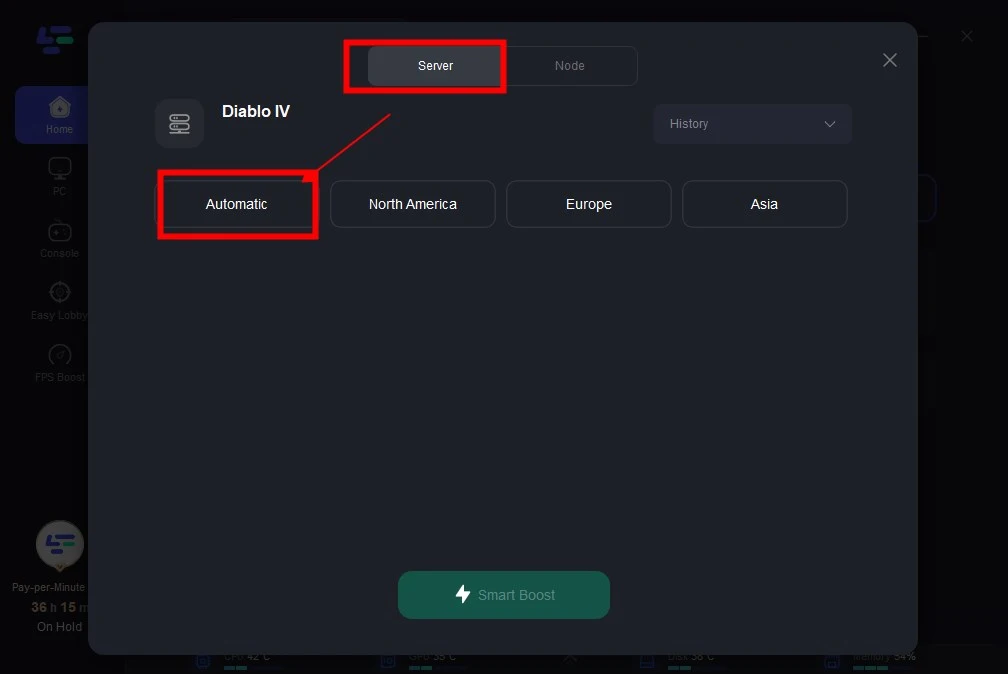 Step 4. Smart boost Diablo 4 with a simple click.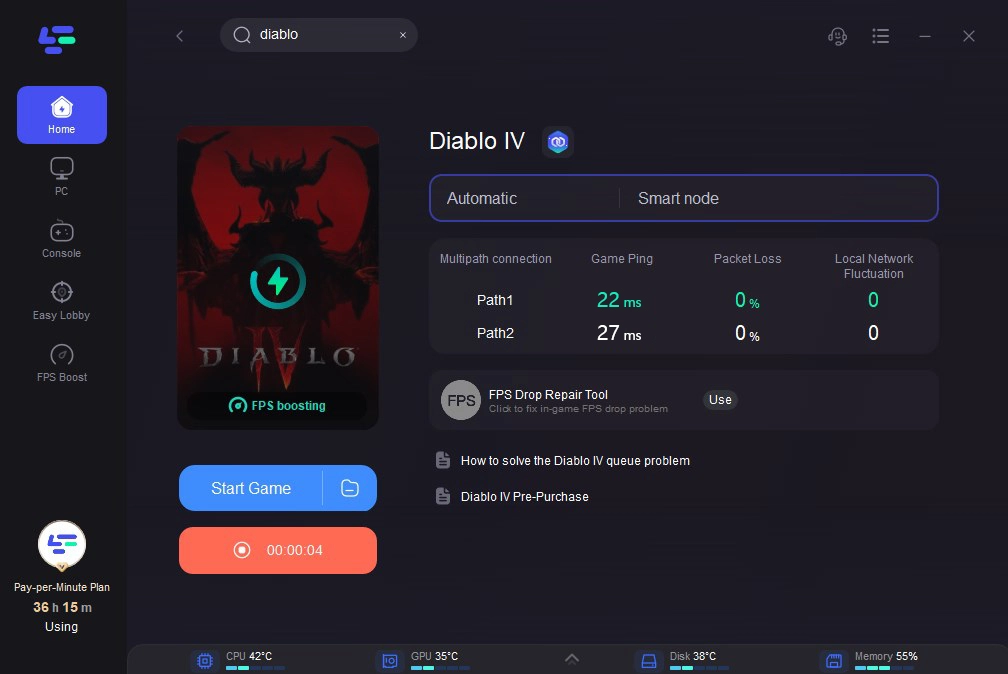 After boosting, you can see the real-time ping and packet loss rate in LagoFast. Then launch your game for a wonderful play!
Method 4: Contact Blizzard Support
If you've tried all of the above troubleshooting steps and are still experiencing connectivity issues with Diablo 4, you may want to contact Blizzard support for further assistance. Sometimes it is an official bug that you have to wait for the official repair. Blizzard has a support website that offers help with a wide range of issues related to their games, including Diablo 4. You can submit a support ticket or engage in a live chat with a support representative to get help with your connectivity issues. Be sure to provide as much information as possible about your issue, including any error messages you've received, to help the support team diagnose the problem.
Conclusion
All in all, Diablo 4 is too popular to get no server issues or crashes. With LagoFast, you can prepare yourself in a good environment to test the game without lag or high ping in Diablo 4. Also, it helps to change the server in Diablo 4 easily and fix common server issues. Try it now and get better gameplay in Diablo 4!