Riders Republic is a sports video game developed by Ubisoft Annecy and published by Ubisoft. In Riders Republic, players can participate in 4 main activities, including mountain biking, skiing, snowboarding, and wingsuit flying.
Lag means latency between the action of the user and the reaction of the server. When you run into Riders Republic lag on PC, you probably will not feel smooth enough compared with when there is no lag. Thus, lag is an urgent problem that needs to be solved for all the players.
How to reduce lag in Riders Republic
Why is Riders Republic so laggy? Many players may ask this question. They may not know that the occurrence of lag is mostly due to the problem in the network connection. We need to enhance our Internet connection to try to solve the problem.
1. Try LagoFast to reduce Riders Republic lag.
LagoFast is a revolutionary game accelerator that is able to help you deal with all kinds of game issues, including lag spikes, packet loss, high Ping, low FPS, etc. It is also capable of creating an easy server and providing bot lobbies service.
Thanks to its unique LFP protocol and worldwide exclusive routes, LagoFast is endowed with the power to help players from all over the world. It covers more than 60 countries and 150 cities. And it supports more than 2000 online games. This number continues to grow day by day! You can accelerate any game you like wherever you are!
In addition, as an acceleration tool, LagoFast has a really simple and clear interface. Everyone can use it easily! Within only a few steps, LagoFast can help you reduce Riders Republic server lag.
Step 1: Download LagoFast from its official website.
Step 2: Search for Riders Republic on the top of the interface.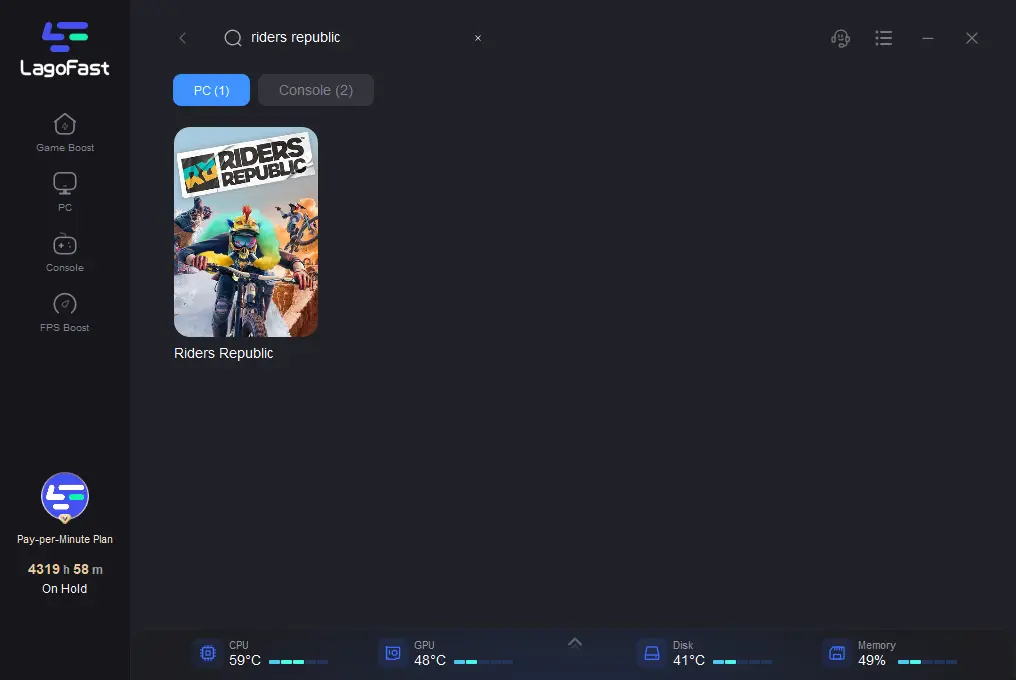 Step 3: Choose server and node.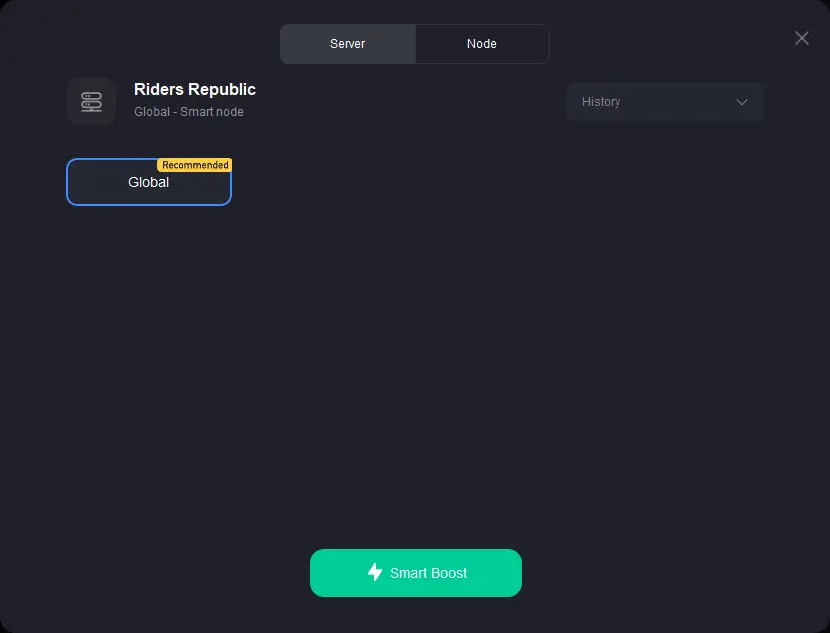 Step 4: Enjoy Riders Republic with no lag!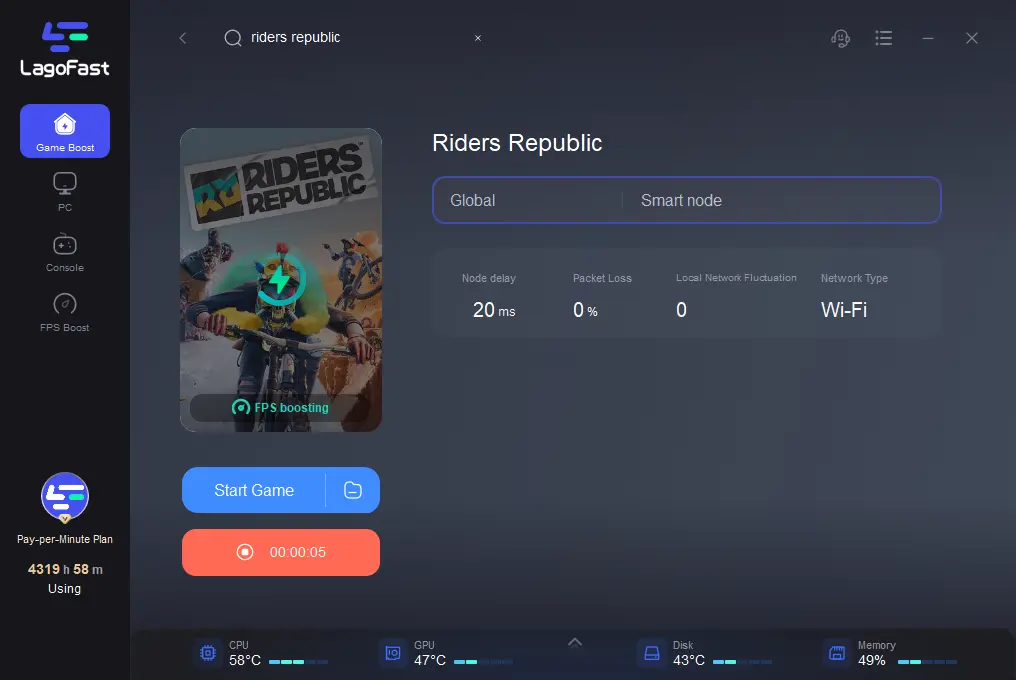 By following the above steps, you can reduce Riders Republic lag easily. However, some players may hesitate because they worry about the cost of using an acceleration tool.
Don't worry! LagoFast has its own considerations for players. It only charges players for the minutes they actually used. Every player can stop the acceleration whenever they want without being charged for the minutes they didn't use. This makes LagoFast a way more economical choice compared with other game accelerators.
Don't hesitate and download LagoFast now! It won't let you down.
2. Change some settings on your computer.
The optimal settings may also reduce lag in Riders Republic and improve the performance of your computer.
Step 1: Disable Fullscreen and DPI Settings.
Step 2: Go to the Ubisoft Connect Application and click on Riders Republic.
Step 3: Under the properties tab, click on the "Open Folder" option to open the game files folder.
Step 4: Right-click on RidersRepublic.exe and select Properties.
Step 5: Under the Compatibility tab, check Disable Full Screen Optimization and click on Change high DPI settings.
Step 6: Check to override High DPI scaling behavior, click on Ok, Apply, and Ok. Copy the game's folder location for your convenience.
Step 7: Run the game on a dedicated Graphics Card: Go to Graphics Settings from Windows Search Bar > Browse > RidersRepublic.exe (or copy the location of the folder in the address area). Once it is added to the list, select Options, check high performance, and click on Save.
Step 8: Xbox Game Bar: Disable it by searching from the Windows Search Bar.
Step 9: Game Mode: Enable it by searching from the Windows Search Bar.
Changing these settings may greatly enhance the performance of your computer and reduce Riders Republic lag for you. Have a try!
3. Clean your computer and close irrelevant software.
The cache and irrelevant programs running on your computer may slow your network connection. Follow the steps to do that:
Step 1: Disk Cleanup and delete temporary files: Type "Disk Cleanup" in the Windows Search bar and run it as an administrator. Once a new window opens, clean the disk on which your game is installed. Also, delete all the temporary files from your computer. You can find them by running %temp%, temp, and prefetch in Run Window.
Step 2: Task Manager: Open the task manager by pressing "Ctrl + Shift + Escape" and end all the possible tasks that are running in the background. You can also prioritize the apps that automatically start up while your PC is booting.
Step 3: Disable all the Overlays: If you are using an app that promotes screen overlay, it is recommended to disable screen overlay from that application.
Hopefully, this method will be effective for you. Have a try!
Conclusion
In this article, we provided you with 3 ways to reduce Riders Republic lag. Among them, LagoFast is proven effective and efficient by many players. Download it now and have a try!