Call of Duty: Warzone 2.0 is an upcoming free-to-play battle royale video game that will be released on November 16, 2022, for PlayStation 4, PlayStation 5, Xbox One, Microsoft Windows, and Xbox Series X/S. Get more game information in Call of Duty: Warzone 2.0. As a shooter requiring high precision and very fast reactions, FPS is important in Warzone 2. However, many players complained that they have experienced low FPS issues in COD series games. How to fix Warzone 2 FPS drop issue? This question may be what COD players are most concerned about. Follow this article, and you can find the answers. In addition, I would also like to tell you about a game FPS booster LagoFast to easily increase COD Warzone 2 FPS.
Part 2: Why Did My Warzone 2 FPS Decrease?
Part 3: Fix Warzone 2 FPS Drop Issue Easily With LagoFast - Best Choice
Part 4: Other Solutions To Boost Warzone 2 FPS
Part 5: What Is Warzone 2 Easy Lobby In LagoFast?
What Does FPS Mean?
FPS may be found in many computer games, and it is, of course, highly significant, in Warzone 2. But do you know what FPS stands for? What Is the Definition of FPS? You can have a better understanding by visiting What Does FPS Mean? As stated in the article, FPS is the number of frames per second communicated by a screen in the graphics field. It refers to the number of frames of an animation or film that are displayed on the monitor. The higher the frame rate, the smoother the motion portrayed. In general, the minimum to prevent incoherence action is 30. The lowest allowable FPS when gaming is roughly 30Hz, with a baseline smoothness level of more than 60Hz necessary. When your frame rate drops to less than 60, you will feel the incoherence of your computer's graphics, stuttering, and even a white screen and crashing of your computer.
Why Did My Warzone 2 FPS Decrease?
FPS drop difficulties in Warzone 2 were largely caused by machine settings. For example, if your machine does not meet the minimum system requirements, your game's FPS will suffer. Furthermore, if your GPU is out of date, your FPS in Warzone 2 will suffer. In addition to PC settings, if there are any issues with the program, low FPS issues may arise. For example, if your game files are corrupted or your game has problems, you may encounter the FPS decrease issue in Warzone 2.
How To Fix Warzone 2 FPS Drop Issue Easily?
The easiest measure to fix Warzone 2, I think, could be using LagoFast. In LagoFast, there is a game settings panel to help you to boost the game FPS. For example, you can use this panel to set the highest priority for the game process, enable High-Performance Mode, disable Game DVR, or disable Core Parking... And the LagoFast game FPS booster could close unnecessary background applications to make more room for CoD Warzone 2. In addition to local issues, LagoFast could also speed up and optimize data transmission based on its own proprietary data transmission protocol. And the global nodes and exclusive routes will significantly reduce transmission time.
Furthermore, to fulfill the demands of different individuals, LagoFast has established two types of fees: enrolling as a member to pay monthly or the plan per second. As a consequence, the latter is preferable if you do not play games every day!
If you want to try using LagoFast to fix Warzone 2 stuttering, click the Free Trial button to download the LagoFast client and start your free trial.
Step 1: Free download the LagoFast client and experience the FPS booster service.
Step 2: Before running Warzone 2, you just need to find the game you want to play in LagoFast and click the "Boost" button.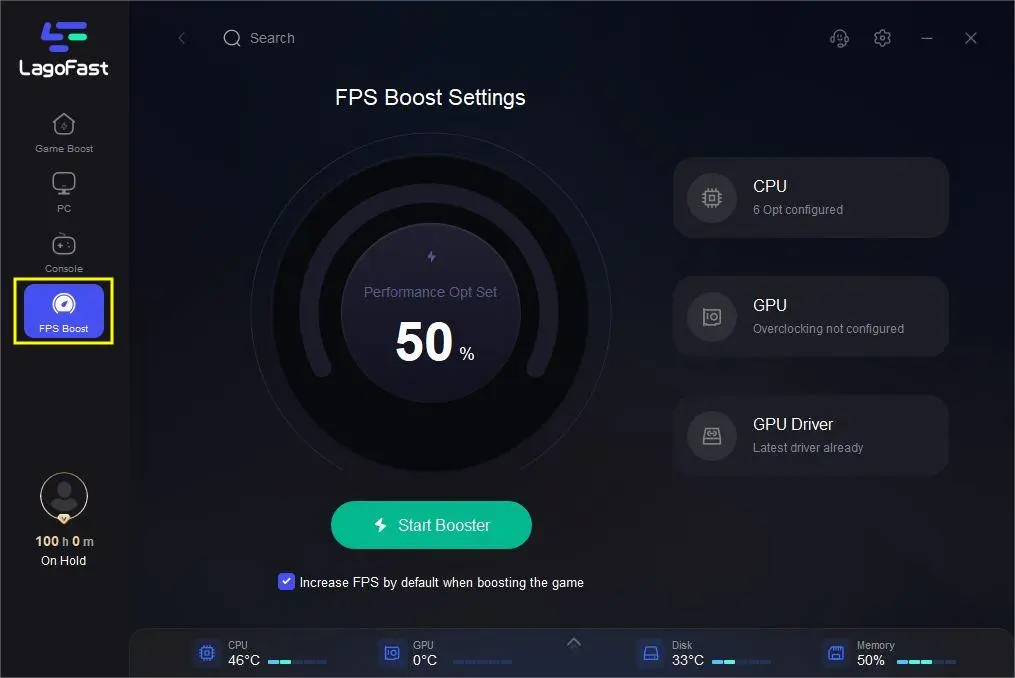 Step 3: And then you can click the FPS boost button to change settings to improve your Warzone 2 FPS based on your specific requirements.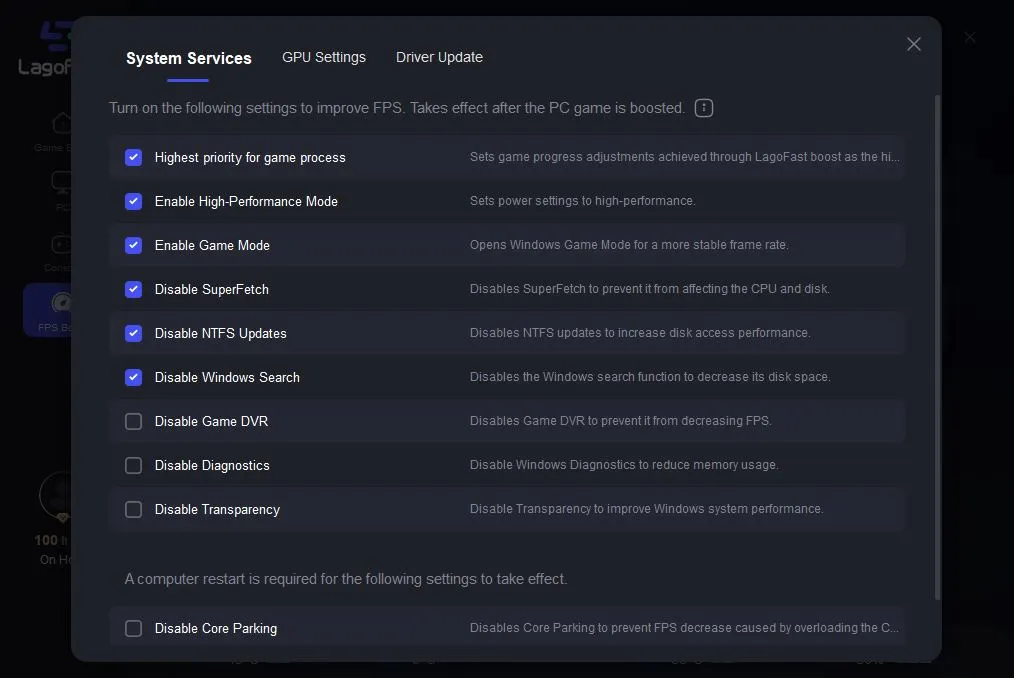 Step 4: While you are playing the game, you could check your packet loss result and network condition in this panel, and then make suitable decisions to fix Warzone 2 lagging issues.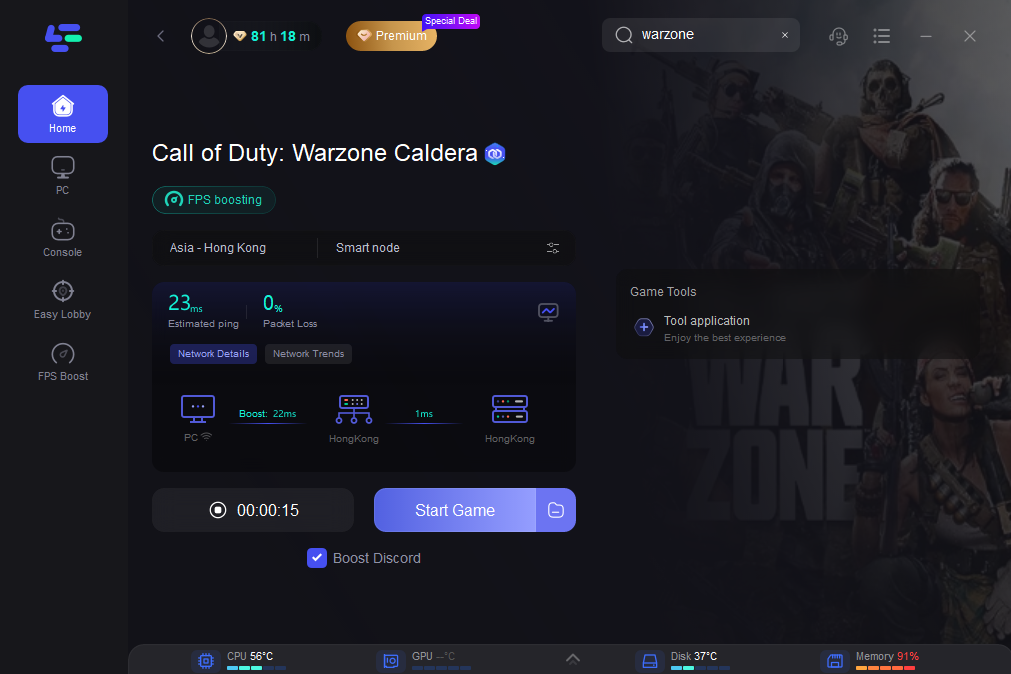 Other Solutions To Boost Warzone 2 FPS
Fix 1: Check if your computer meets the minimum system requirements of Warzone 2
OS*: Windows 10 64-bit (v.1709 or higher)
CPU: Intel Core i3-4340 or AMD FX-6300
RAM: 8GB RAM
HDD: 175GB HD space
Video: NVIDIA GeForce GTX 670 / GeForce GTX 1650 or Radeon
HD 7950
DirectX: Requires DirectX 12 compatible system
Network: Broadband Internet connection
Fix 2: Reduce the game's in-game resolution and graphical settings.
When you raise the resolution to high in-game, you have more data to process and display on the screen. Similarly, raising the game's visual settings, such as the fineness of the foliage, puts more strain on the graphics rendering. As a consequence, consider reducing the quality of some of the less crucial graphic options, such as Texture Quality, Shadow Quality, and Character Quality.
Fix 3: Launch the Exclusive Fullscreen mode.
Simply playing the game without using the special Fullscreen mode in Warzone 2 affects your FPS since the output on the screen is totally within the control of the graphics driver. As a consequence, when you launch Warzone 2, you will be able to play in the special Fullscreen mode!
How LagoFast Increase FPS Efficiently?
LagoFast is the best FPS booster for increasing FPS greatly. It has fixed Warzone 2 FPS drop issue for most gamers and provides ultra-smooth animation for them. LagoFast helps to boot game mode and overclock your graphics card when gaming, thus improving hardware conditions and getting higher FPS in one click.
Conclusion
All in all, LagoFast can be your first choice to fix Warzone 2 FPS drop issue. Moreover, it provides worldwide servers and game routes for gamers to enjoy top gaming performance with no lag and ping. Try it now and get 240 FPS in your Warzone 2!