Warzone 2 Season 4 was released on July 12, 2023. After updating to the latest season, some gamers are complaining that they always get FPS drops when gaming. It is annoying and fails some gamers to get victory in the match. This article is explaining why you got FPS drop in the new season and some effective ways to fix this issue.
What Causes FPS Drop in Warzone 2 Season 4?
Warzone 2 FPS drop issue is largely caused by your device conditions or settings. For example, if your device does not meet the minimum system requirements, your game's FPS will suffer. An outdated graphics driver will also affect your FPS. Besides, the corrupted game files may lead to Warzone 2 FPS drop issues too. In addition to the device or game conditions, the game voice channel setting has greatly influenced the in-game FPS for a number of gamers.
How To Fix Warzone 2 FPS Drop Issues?
To get better FPS in Warzone 2 Season 4, you should first make clear which is the cause of your low FPS issue from the above possibilities.
Method 1. Meet at Least the Minimum System Requirements
OS*: Windows 10 64-bit (v.1709 or higher)
CPU: Intel Core i3-4340 or AMD FX-6300
RAM: 8GB RAM
HDD: 175GB HD space
Video: NVIDIA GeForce GTX 670 / GeForce GTX 1650 or Radeon
HD 7950
DirectX: Requires DirectX 12 compatible system
Network: Broadband Internet connection
Method 2. Launch the Exclusive Fullscreen mode.
Simply playing the game without using the special Fullscreen mode in Warzone 2 affects your FPS since the output on the screen is totally within the control of the graphics driver. As a consequence, when you launch Warzone 2, you will be able to play in the special Fullscreen mode.
Method 3. Update Your Graphics Driver
An updated graphics driver will help increase FPS in Warzone 2. So if your graphics driver has not been updated for a long time, you need to make an update before starting a shooting game.
Step 1. Open your device manager and find out the display adapter;
Step 2. Unfold it and right-click the graphics driver to update it.
You can also use a third-party program to update your driver automatically.
Method 4. Change Game Voice Chat Settings
If Warzone 2 FPS drop issue occurs to you after the season 4 updates, you can try to change your voice chat settings. This is a bug in season 4.
Step 1. Launch Warzone 2;
Step 2. Click the settings icon in the top right of the screen;
Step 3. Select audio settings;
Step 4. Find out the Game Voice Channel and set it to Friends Only.
After that, you can start combat and check if the FPS is still lower than what was in normal time.
Method 5. Use LagoFast FPS Booster
If the methods above don't fix the FPS drop issue in Warzone 2, you can try LagoFast game booster to increase your online gaming FPS in real time.
LagoFast is an all-in-one game booster mainly used to improve gaming network connection, boost gaming speed and increase FPS for more than 2000 online games. It uses advanced technique to ultimately boost your gaming performance. You can check the full features of LagoFast game booster below:
Best lag reducer & ping booster
Ultimate FPS boost in real-time
Change servers for online games
Support bot lobbies in Cod series, Fortnite and Apex Legends
Pay-per-minute plan, easy to use
With just a few simple steps, you will get an optimized FPS in Warzone 2 immediately.
Step 1. Download LagoFast and log in;
Step 2. Click FPS Boost and tick the FPS boost choice so that it will automatically boost FPS every time you launch the games from LagoFast;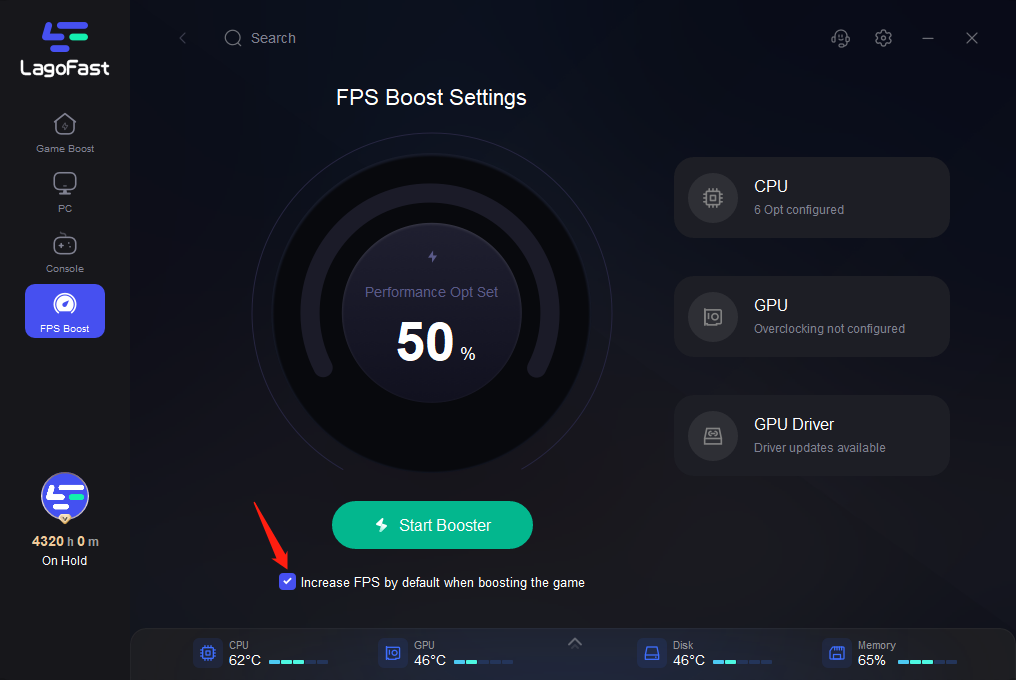 Step 3. Check the detailed FPS boost setting and make your own solutions.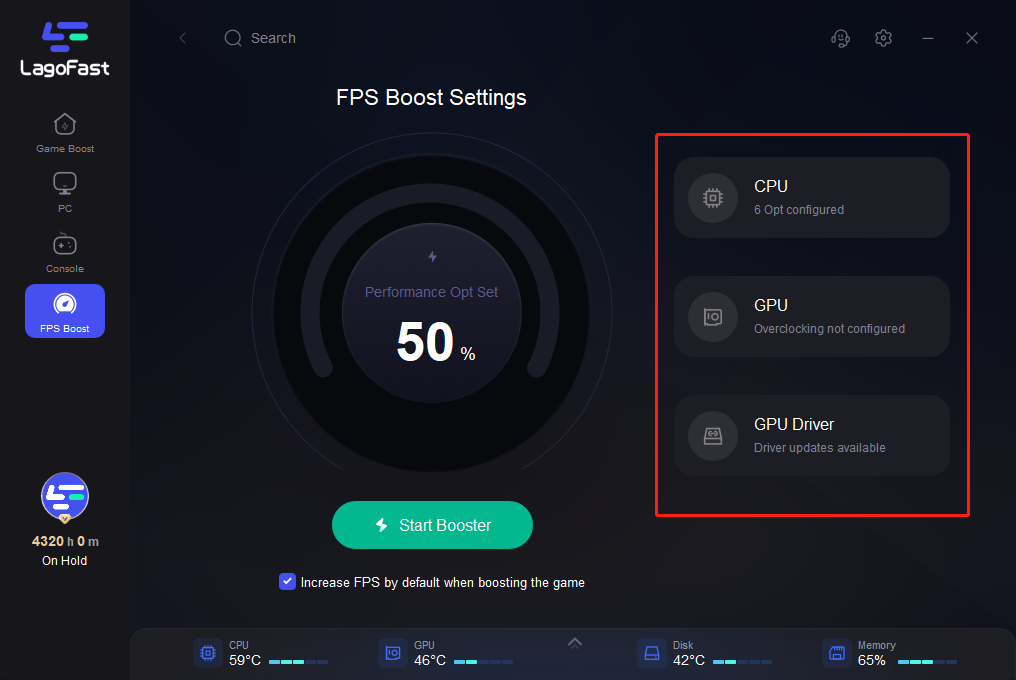 LagoFast FPS boost can fix the FPS drop in Warzone 2 for free now! Use the redemption code "codfps" and get better shooting in Warzone 2 season 4.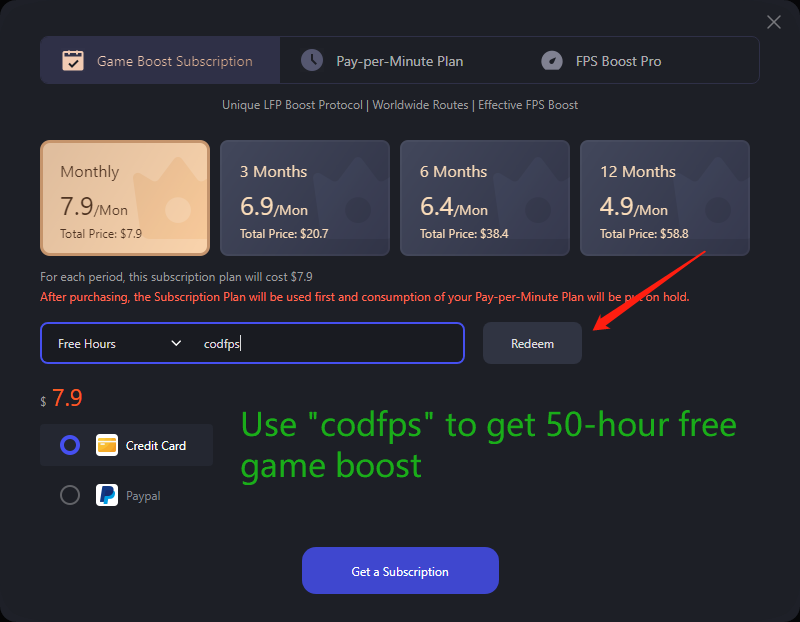 All settings are done, and you will enjoy your gameplay in Warzone 2 with no FPS-dropping issues anymore. Please note that you should choose FPS Boost first and then launch your game in LagoFast.
How to Boost Warzone 2 Performance in Season 4?
You can also boost FPS along with optimizing your Warzone 2 connection in LagoFast. Here's how:
1. After checking the FPS boost settings and ticking the default choice to increase FPS, search "Warzone 2" in the click boost;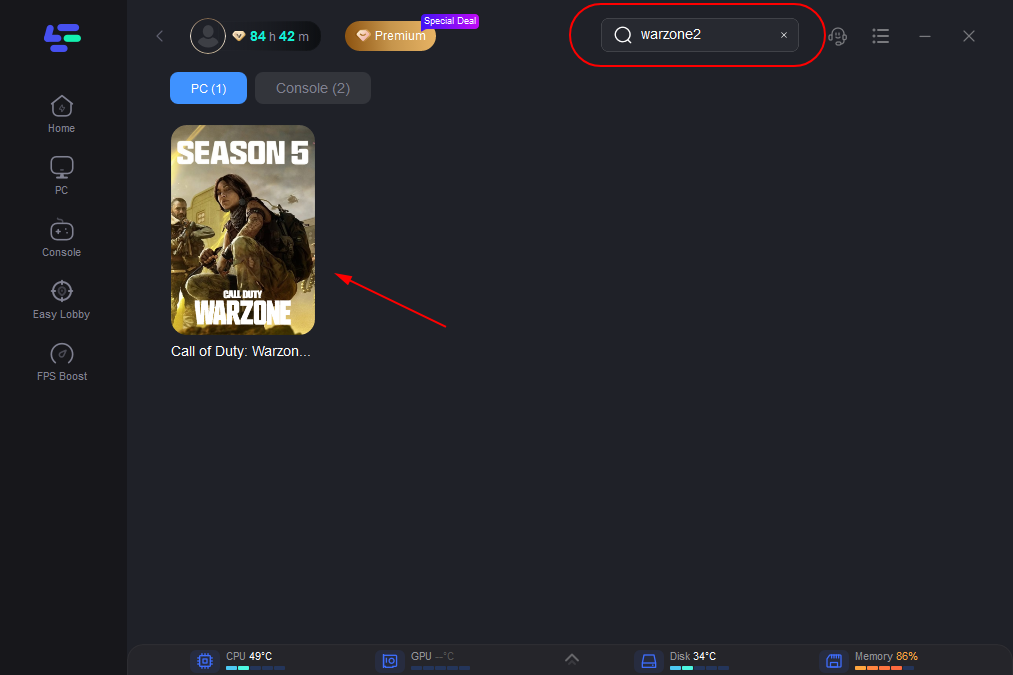 2. Choose the server and node you want for playing Warzone 2. Or you can just choose the server and click smart boost, LagoFast will connect to the best node. (Lowest ping)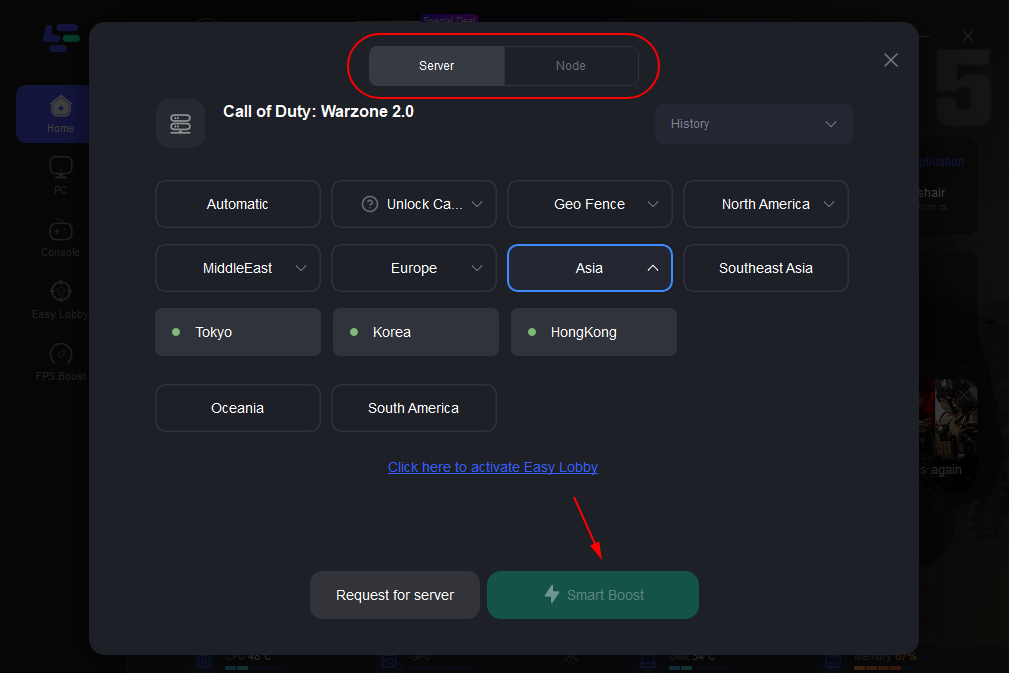 3. Wait for a second and LagoFast will start boosting both gaming performance and FPS for Warzone 2. Then you can launch Warzone 2 and play. You in-game ping will reduce and the FPS dropping issues will be fixed.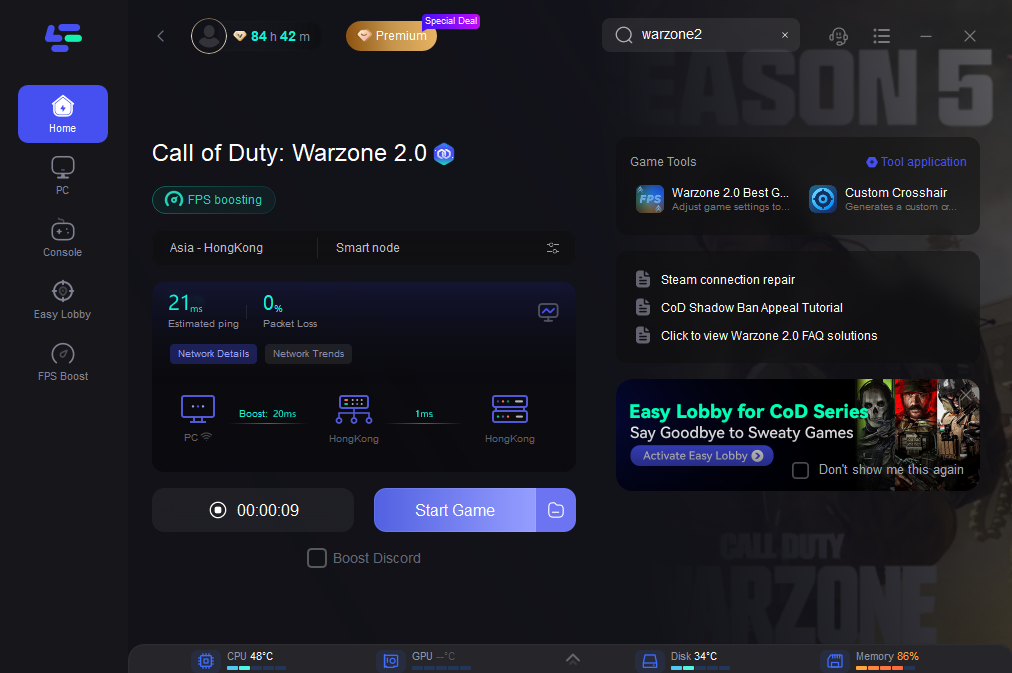 The Bottom Line
In conclusion, Warzone 2 FPS drop issue is common and can be fixed with some effective solutions. Among all the fixes, LagoFast is the most convenient way to get better FPS with no lag in Warzone 2. Try it now and get 240 FPS immediately!