The best news for COD fans is that Call of Duty Modern Warfare will be released soon. This brand-new episode of the COD series has attracted the attention of gamers all over the world. What's more, the partnership with Activision and COD has enabled players to enjoy games in a brand new mode, and get a chance to claim the World Cup rewards! In this article, you'll not only know the Call of Duty Modern Warfare 2 release date but also other latest leaked news about it. If you're one of the big fans of CoD MW2, read on!
New for Modern Warfare 2 Season 2
Ranked Play: Prove your skills in Ranked Play and gain exclusive items. Through Bronze to Iridescent, and finally to the Top 250, which will be displayed on a special Top 250 leaderboard. Players will be rewarded with various Skins based on the highest rank in the Season.
Four Maps for Multiplayer at Launch: Dome (Core Map), Zaya Observatory (Battle Map), Al Malik International (Battle Map), Valderas Museum (Core Map)
Infected, Gun Game, Grind, Hardcore: These Modes are returning
More about MW2 Season 2
The Latest News about Modern Warfare 2
Latest News
If the rumors about Call of Duty: Modern Warfare 2 are true, an official announcement will be made very soon. According to an industry insider, a free weekend will be available starting on around 15th December and players will be able to try all of the game modes in Call of Duty: Modern Warfare 2, until 19th December. To celebrate the ongoing FIFA World Cup, Modern Warfare 2 is hosting a CODBall event, where players can check out the game mode and also purchase collaborative skins that feature some of the biggest soccer stars in the world including Lionel Messi and Neymar Jr! Call of Duty: Modern Warfare 2 will deliver action on all fronts: the next iteration of the massive free-to-play Battle Royale experience featuring the much-anticipated DMZ mode, reimagined maps in Multiplayer, and an additional Special Ops mission prior to the first Raid Episode. There will be plenty of content through all-new Battle Pass, football-themed event, and more. And players are free to give it a try soon!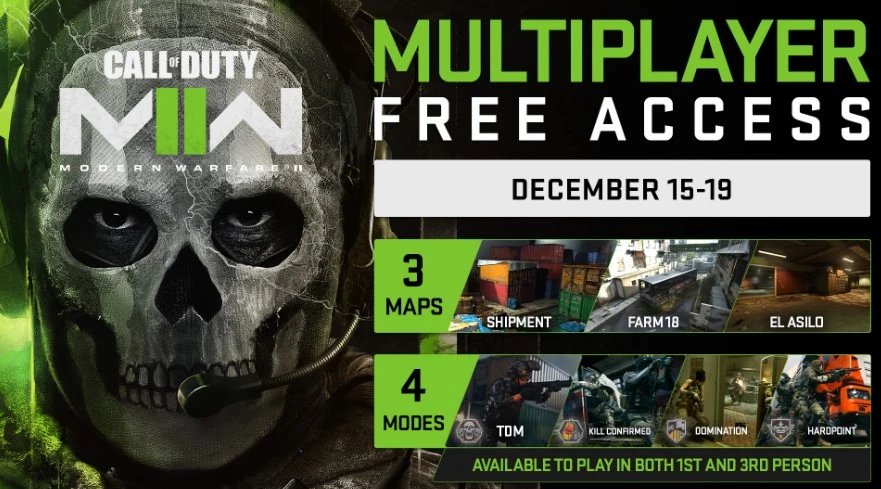 What's more, Modern Warfare 2 is set to welcome a new game mode called 'Raids' with Season One Reloaded, confirmed as a 3v3 co-op game mode with a "focus on team communication." The Raids mode is a new inclusion for this year's Call of Duty, with Activision hinting at unprecedented levels of teamwork. Raids fall under the Special Ops umbrella, meaning we can expect some highly-strategical co-op missions. Call of Duty hosts its free weekends during the holiday season and this year should be no different. You can keep an eye out on Call of Duty's Twitter handle to know when exactly the free weekend is coming.
Full MW 2 Preload Dates
It is said that the preload date of the Modern Warfare 2 Campaign is Wednesday, October 19, and the early access is at 10: 00 AM, October 20. However, the preload dates of the multiplayer mode and Modern Warfare 2 are later than the Campaign. For most players, it is until Modern Warfare 2 October 28 that they can witness the Modern Warfare 2 Full Release on all the platforms and there are slight differences in different platforms. Then, MW 2 will be officially launched!
The preload date is an important moment for fervent MW2 fans, so you are likely to encounter a slow preload process for the stampede. To solve the problem, LagoFast is a good choice and you only need to follow using steps in the Game Boost part, which provides you with a fast preload speed.
Here is how to use LagoFast to get a faster preload:
Step 1: Download LagoFast.
Step 2: Type "COD: MW 2" in the search box and click on it.
Step 3: Choose a server that you need.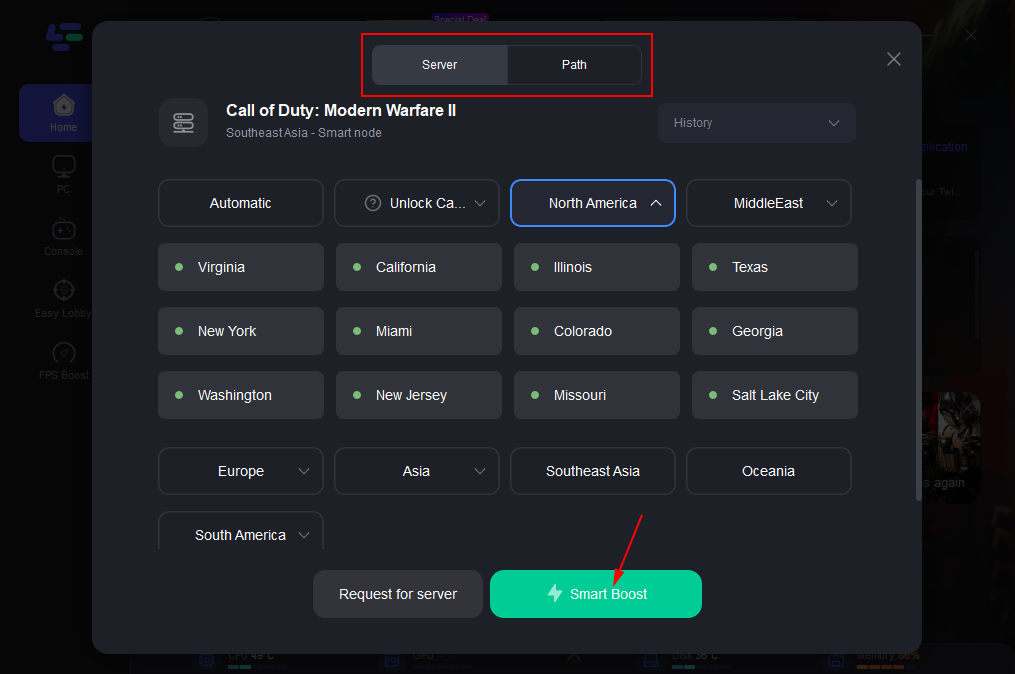 Step 4: Click on the boost button, and preload boosting is accomplished.
On this page, you can also see your real-time ping rate and packet loss rate.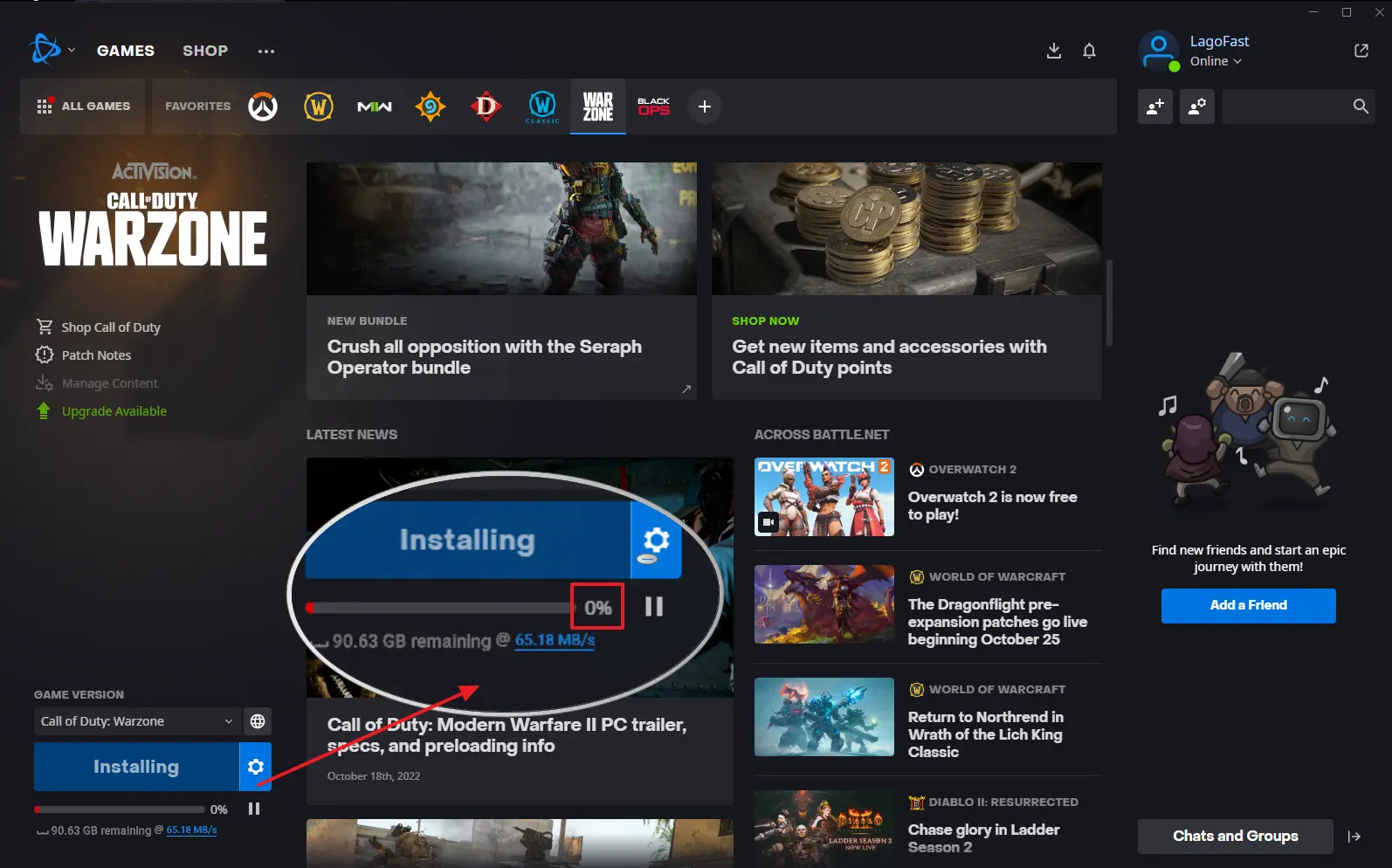 The Known Maps in MW 2
There are various maps in this game, among which some maps are confirmed and leaked, but more are waited to be released.
Grand Prix

Oilfield

Museum

Dogtown

Esports Gym

Exhume

Fallout

Favela

Firing Range

Floating Bay

Killhouse

Lighthouse

Luxury

Mountain Town

Narcos

SABA
Farm 18
Hydro
Al Bagra Fortress
Breenbergh Hotel
Mercado Las Almas
Sa'id
Santa Seña
Sariff Bay
Al Mazrah
Rest of the World
Characters Released
It is announced that the five main characters are confirmed in Call of Duty Modern Warfare 2:
Price. Price is returning in Modern Warfare 2 this time.
Soap. Soap will join Price in the main campaign.
Gaz. Gaz joins Price and Soap, and becomes a member of the British Special Air Service.
Ghost. Ghost, the most popular character, will be back in Modern Warfare 2.
Alejandro. Alejandro is a new character who takes a key role in Modern Warfare 2, being a member of the Mexican Special Forces.
Besides, there are other teams to be revealed, including SpecGru, KorTac, and more to be detailed later.
Modern Warfare 2 Twitch Drops
From Oct. 28 to Nov. 6, Modern Warfare 2 is participating in the Twitch drop to reward fans. Those who watch and support the game on the streaming platform are likely to get the rewards. Now, there are four prizes, which are set to be distributed at 15-minute intervals. BTW, to snag the rewards, you are supposed to link your Twitch account to the Activision ID.
The following is what's up for grabs:
Weapon charm
Calling card & emblem
Sticker
Sniper blueprint
Official PC System Requirements
Before you enjoy the new game, checking your system configuration is essential. If your PC system is below the requirements, just take quick action to get an update. The next are minimum and recommended requirements issued by the official side. Generally, reaching the requirement of the recommended is preferable to acquire wonderful gameplay.
Have a look at this picture: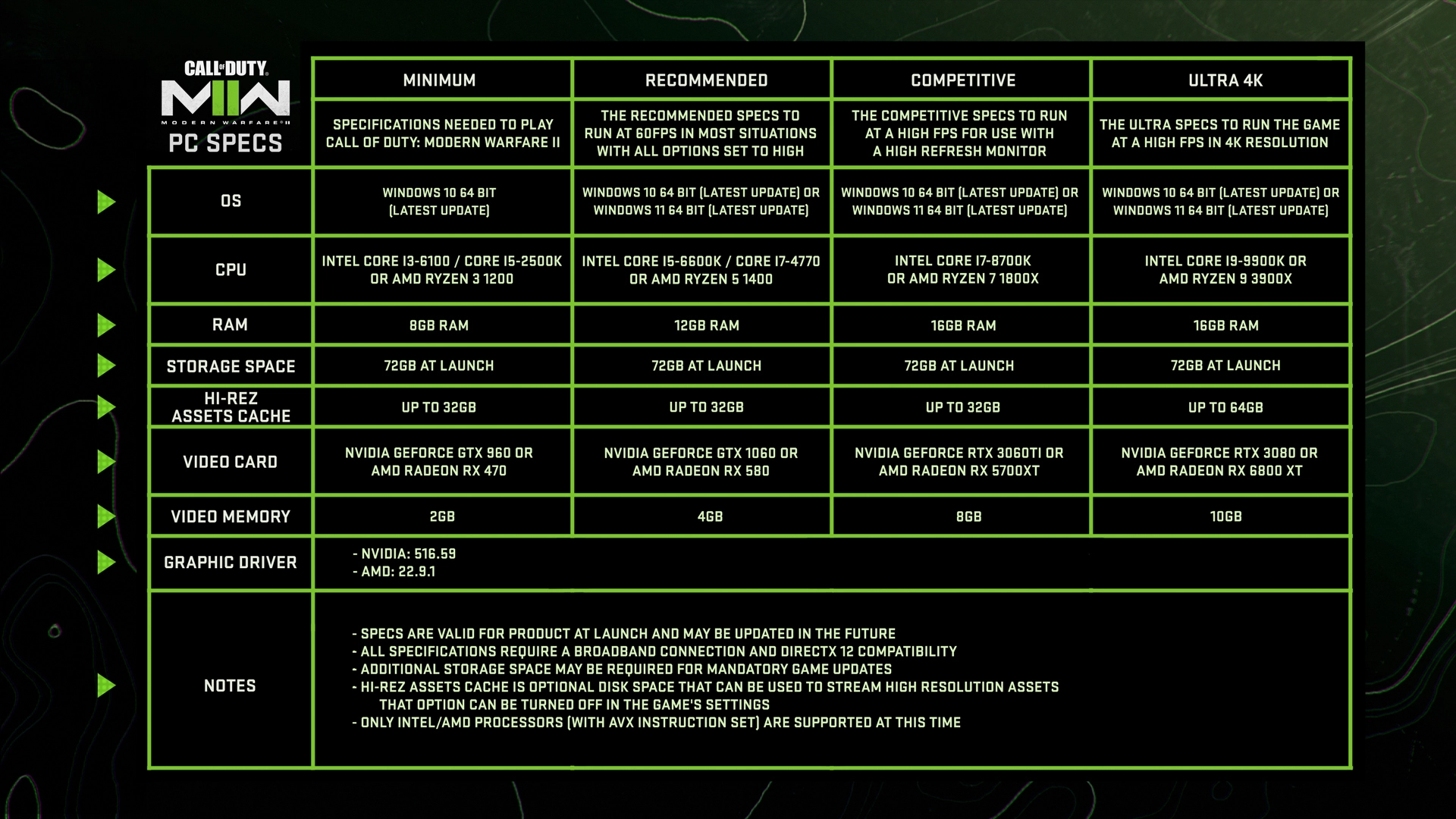 Completion Rewards in Campaign

—

New Preorder

Accolades

are Coming

The Modern Warfare II Campaign is going to hand out a completion bonus for those preordered players to use in Multiplayer, Special Ops, and Warzone 2.0.

The following are all of them you can unlock in order:
Calling Card: "Soap's Determination"
Emblem: "What's Done is Done"
30 Minute Double XP Token
30 Minute Double Weapon XP Token
Calling Card: "Chainlinked"
Base Operator: Chuy
30 Minute Double XP Token
30 Minute Double Weapon XP Token
Calling Card: "Gaz"
Base Operator: Nova
1 Hour Double XP Token
1 Hour Double Weapon XP Token
Calling Card: Shadow Company Ops
Base Operator: Reyes
1 Hour Double XP Token
1 Hour Double Weapon XP Token
Base Operator: Hutch
With a full week of Early Access, you can complete the majority of the platform-specific awards and it is your chance to earn everything in Campaign before the release of the full Modern Warfare II. Completing Campaign on any of the two toughest difficulty settings—Veteran or Realism—is one of the greatest challenges.
The Newest Reward Released
Except for the Completion Rewards in Campaign, here are more activities and rewards waiting for you. In Career Challenge, you can get rewards and change your equipment by winning the matches and killing with a specific weapon category. In the mode of Multiplayer, you have to finish any hard tasks and great awards will be granted to you such as XP and Calling Cards. If you can complete the whole, additional XP and a Calling Card will be offered. How about Special Ops, a variety of special rewards are well prepared for you. This season, more surprises are made to MW 2 fans: you can unlock sophisticated weapons, earn Special Ops Stars, get additional special ops stars and unlock the full roster by accomplishing tasks.
Here, Modern Warfare II's Camo Challenge system will be streamlined significantly and will offer more rewards than in previous years. If you complete each Mastery Challenge on a weapon, a new Calling Card and Emblem based on the weapon are awarded to you. What's more, if you are good enough to complete all four Mastery Challenges on a weapon, a Weapon Charm is here for you. Besides, Weapon Mastery offers an additional way to gain new cosmetic items on top of Camo Challenges.
Call of Duty Modern Warfare 2 Release Date
Many players can't wait to know the Call of Duty Modern Warfare 2 release date. To put it straight, the Call of Duty Modern Warfare 2 release date is October 28th. And it's available on all mainstream platforms, including Playstation, Xbox, and PC via Battlenet/Steam.
Call of Duty: Modern Warfare 2 open beta
The early access beta for Modern Warfare 2 will start on Friday, September 16, but only for PlayStation users, as was announced during the Call of Duty League Grand Finals stream. Additionally, a dedicated open beta period will be available only to PlayStation users from Sunday, September 18, to Tuesday, September 20. Following that, a crossplay beta will be available for all platforms the following week, with PC, PlayStation, and Xbox users able to participate in it early from September 22 through September 23 and all other platforms being able to participate in it openly from September 24 through September 26.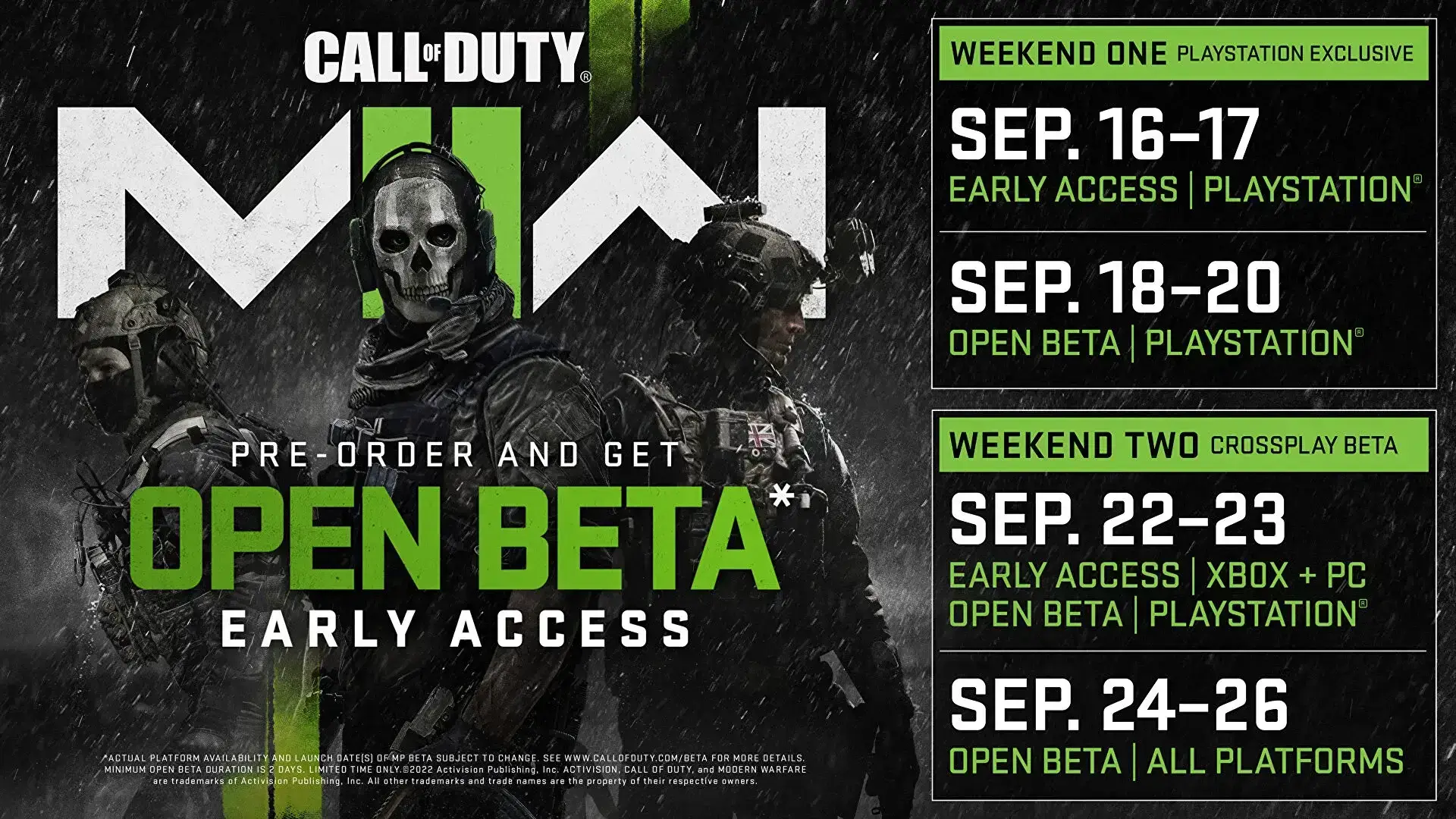 Pre-orders & Editions
Pre-orders are now available on the Call of Duty Modern Warfare 2 official website. You will receive a special treat and get to play Call of Duty: Modern Warfare 2 seven days earlier if you pre-order it digitally. That means you will enter the campaign mode earlier and get the rewards starting October. Additionally, You will get early beta access and in-game content which you can use within Call of Duty: Vanguard and Call of Duty: Warzone. The Final Judgement Bundle, which grants immediate access to the legendary Deathknell Operator Skin and the legendary Bloodthirsty Weapon Blueprint, is among the many goodies available.
There are 2 versions on 4 different platforms with different prices and services. Here's some leaked information I've gathered:
Vault Edition
You can purchase Vault Edition on all platforms. It provides players with additional services and bonuses, although it costs more. Except for Call of Duty Modern Warfare 2 itself, you can get:
Battle Pass + 50 Tier Skips:

50 unrestricted tier skips and access to the Battle Pass for Season 1. After Season 1, if you purchase the Vault Edition, you gain access to the most recent season with the tier skips still available.

Red Team 141 Operator Pack:

Ghost, Farah, Price, and Soap are the four playable Multiplayer Operators, and on day one, they are all donning unique masks that are inspired by the illustrious mercenary Ghost.

Additional Bonus:

If you buy the Vault Edition through the in-game store in Warzone, Vanguard, Black Ops Cold War, or Modern Warfare, you'll immediately receive 10 hours of double experience tokens and 10 hours of double weapon experience tokens.

Ghost Legacy Pack:

a series of Ghost-themed skins and weapon blueprints from the Modern Warfare Bundle that was previously released.

FJX Cinder Weapon Vault:

as the game's release date approaches, more information on this bonus will be revealed.

Final Judgement Bundle

:

you can

e

quip the Legendary

"

Deathknell

"

Operator Skin and the Legendary

"

Bloodthirsty

"

Weapon Blueprint.

Khaled Al-Asad

Operator Bundle

:

i

n Call of Duty: Vanguard and Call of Duty: Warzone, Al-20-level Asad's Operator XP progression path offers additional prizes, such as three Operator Quips, extra Skins, XP bonuses, and more

.

Campaign Early Access

:

ac

cess to the full Modern Warfare II Campaign is granted up to one week earlier for all digital preorders.
Purchase: $99.99 on all platforms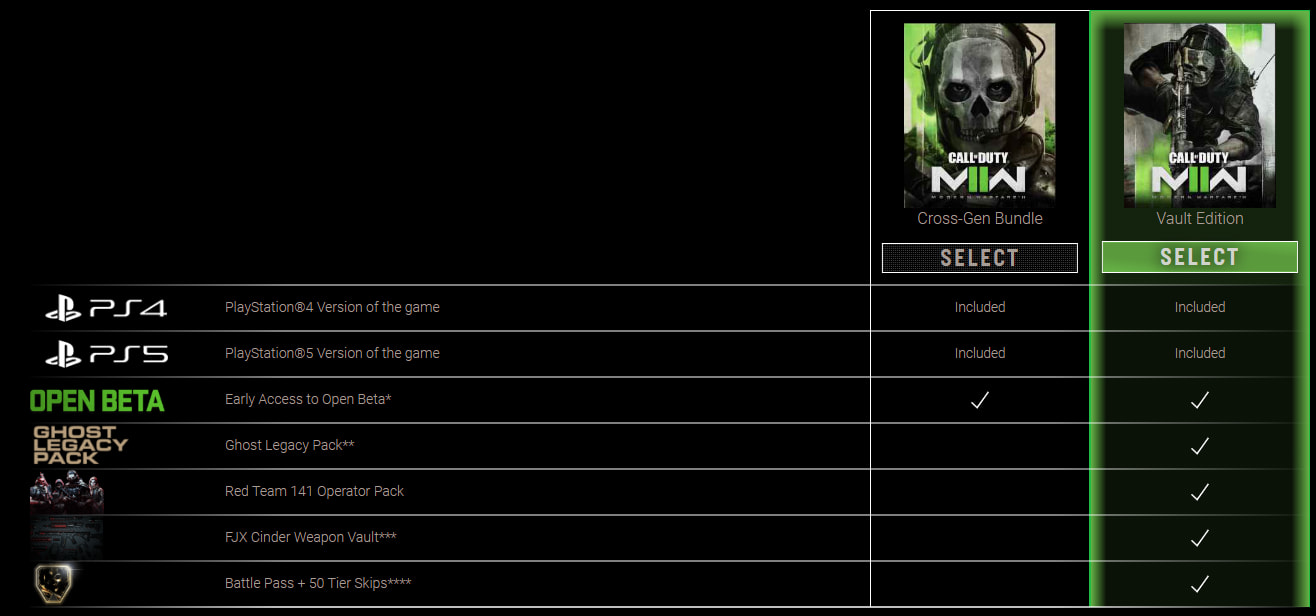 Cross-Gen Buddle & Standard Edition on PC
The Cross-Gen Digital Edition is a console upgrade option for Xbox and PlayStation players who want to move from last-generation to current-generation consoles within the same console family. In contrast to the Vault Edition, you are not given the Battle Pass or any of the bonus packs and goodies. This also applies to the standard PC version.
Purchase: $69.99 on Playstation, Steam, and Battlenet. $79.99 on Xbox
Modern Warfare 2 Maps
Now that we know the release date of CoD MW2 and some information about its prices and editions, are you ready to get more leaked news?
The primary multiplayer maps this year have been created especially for 6v6 play. Players could also enjoy a more streamlined gameplay experience as a result of this new emphasis on the 6vs6 design. During the live event, the Museum, Grand Prix, and Farm 18 Training Facility core maps were made public.
Players will be able to engage in combat inside a Spanish museum on the Museum map, one of the larger core maps, according to rumors. Players will experience a race track environment in Grand Prix. Given that the track is said to be in Asia, Formula 1 venues in China or Japan may have served as inspiration.
Although the exact location of the Farm 18 Training Facility map is unknown, it is expected to feature intense combat as players engage in battle inside a training facility, as the name would imply.
In addition to the standard 6v6 maps, Modern Warfare 2 will include larger maps for modes like Ground War. In Modern Warfare 2, these particular substantial maps will be known as battle maps. The new Warzone 2 map, scheduled for release in 2022, will share POIs with these battle maps.
To know more about what's new in Modern Warfare 2 maps, read this article.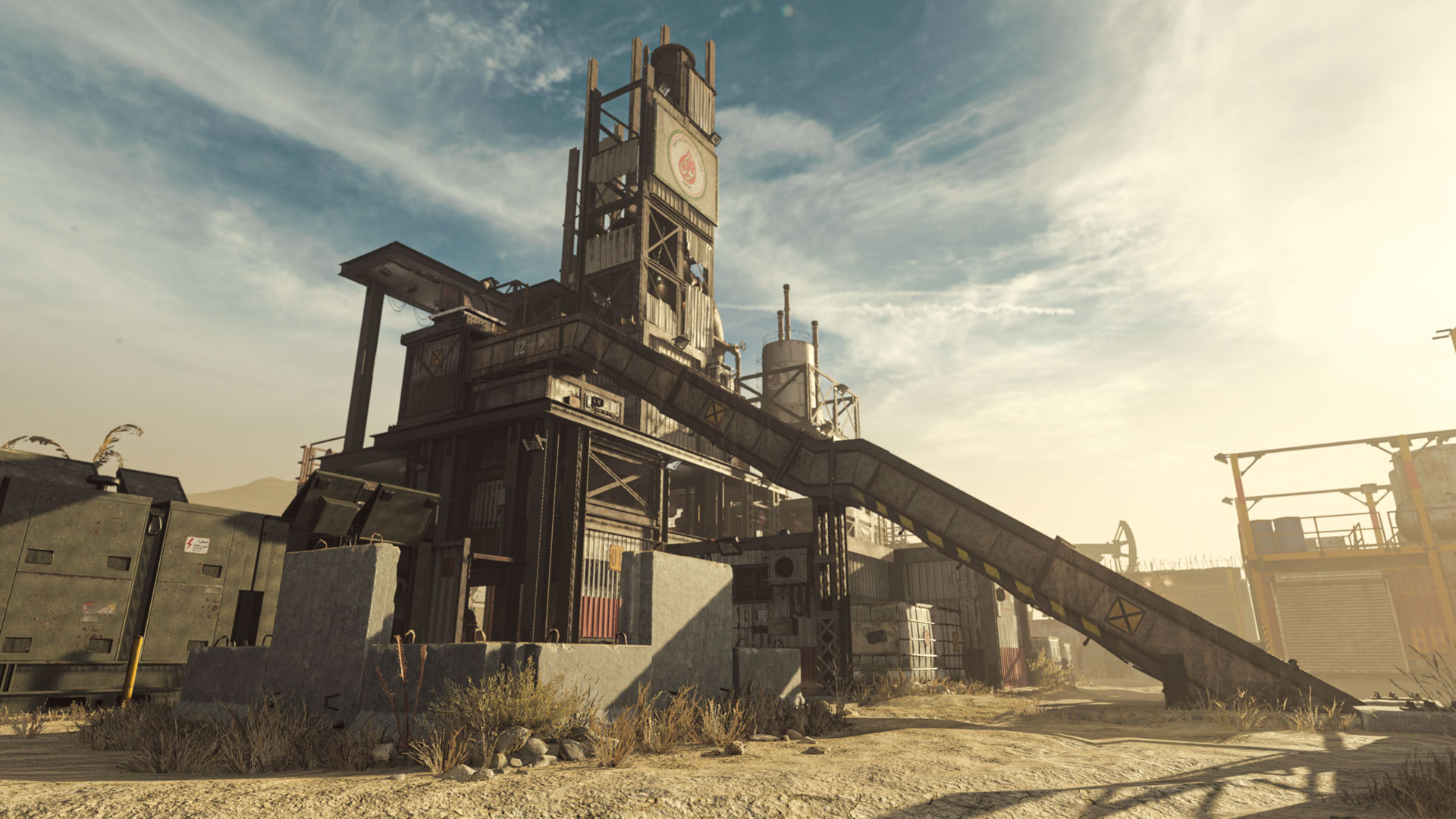 Modern Warfare Gameplay
Multiplayer remastered
We don't currently have a lot of information on what will be playable during the beta, but Activision is describing it as a robust multiplayer experience that goes beyond the Core 6v6 experience with a variety of meticulously designed maps of various sizes, as well as an equally impressive set of Modes, Progression experiences, and other aspects, all of which will be revealed at the Call of Duty: Next event on September 15th.

The beta, in my opinion, will include a number of 6v6 maps in addition to one or two of the large maps that Infinity Ward has in mind. Playing big team modes will help players become accustomed to the new Warzone 2 map before the release of the battle royale sequel because those big maps are taken from that game's new map.
Gameplay
High-tech AI. New advancements in the game. Brand-new gun control. A world campaign, realistic multiplayer combat, and Special Ops that are driven by a story are all included in Modern Warfare II.
Settings:

with the iconic Task Force 141 operators making a comeback, Call of Duty: Modern Warfare II immerses players in a historically significant global conflict.

Features:

with brand-new gun handling, a sophisticated AI system, a new Gunsmith, and a host of other gameplay and graphical innovations, Infinity Ward offers fans cutting-edge gameplay.

Launch content:

A world-traveling single-player campaign, intense multiplayer combat, and a story-focused, co-op Special Ops experience will be included in the initial release of Modern Warfare: II.
With the addition of a brand-new play area and sandbox mode, Modern Warfare II integrates with the new WarzoneTM experience and the evolution of Battle Royale. After launch, there will be a ton of free content available, including seasonal events, modes, maps, community celebrations, and more, all of which will feature gameplay that is constantly changing.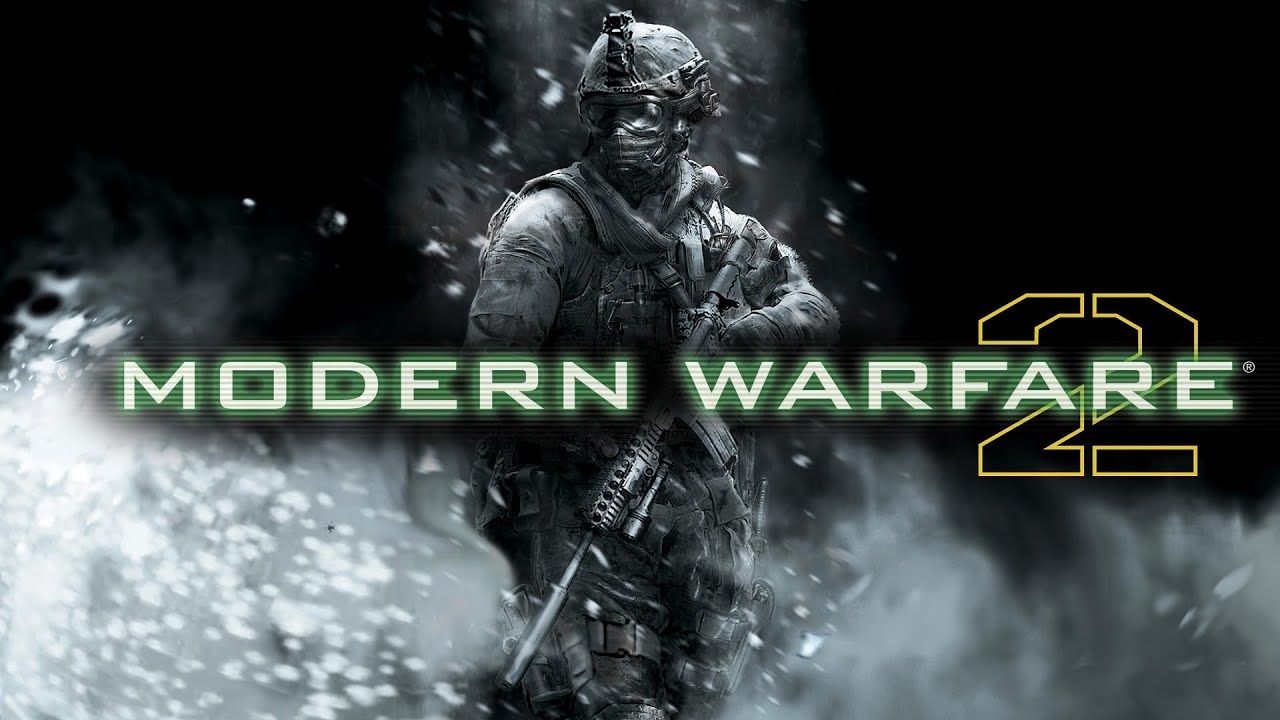 How to Get Better Gaming Experience in Cod MW2
I understand how exciting and eagerly you are to explore Call of Duty Modern Warfare 2. But how can you bring your A game and do your best if you don't make full preparations? Here I recommend you use a professional Cod Modern Warfare 2 game booster LagoFast to guarantee you a stable, smooth, and perfect in-game experience.
LagoFast has more than 8 years of experience in gaming optimization, including reducing high ping, fixing lag, and boosting FPS. It supports 1000+ games and has gained praise from worldwide gamers. So if you use LagoFast, you'll never have to worry about high ping, lagging, FPS drop, and other game issues. All you need to do is to fight fiercely in-game and win the battle! And don't be scared about the prices because LagoFast not only provides players with a free trial & Pay-per-Minute plan but also has the lowest monthly plan among other same-ranked game boosters. So, click the tab below and be ready to win in Call of Duty Modern Warfare 2!
Reduce Modern Warfare 2 lag by using LagoFast
Step 1: Download LagoFast and get a free trail. (No need credit card)
Step 2: Type " cod mw2 " in the Search box and click on it.
Step 3: Choose your needed server.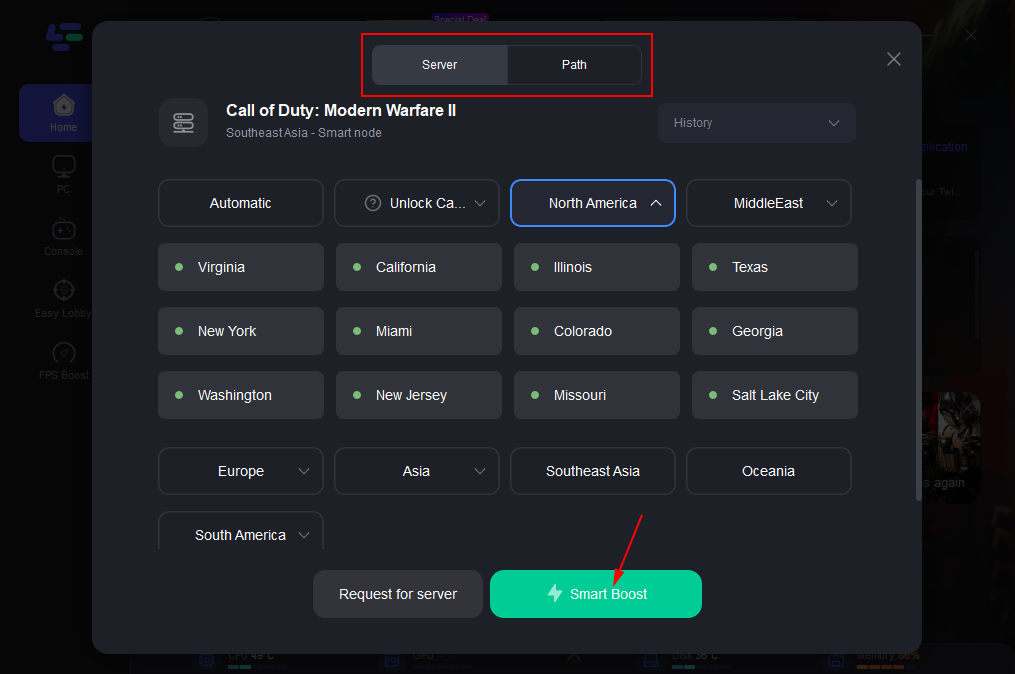 Step 4: Click on the Boost button to start boosting.
Also, on this page, you can have a direct view of your real-time ping rate and packet loss rate in Call of Duty: Modern Warfare 2.
LagoFast also supports gamers to play in easy lobby/ bot lobbies in CoD games, check the following steps and enjoy your game!
Step 1: Download LagoFast and register, remember to get free trial time.
Step 2: Type " easy lobby " in the Search box and click it.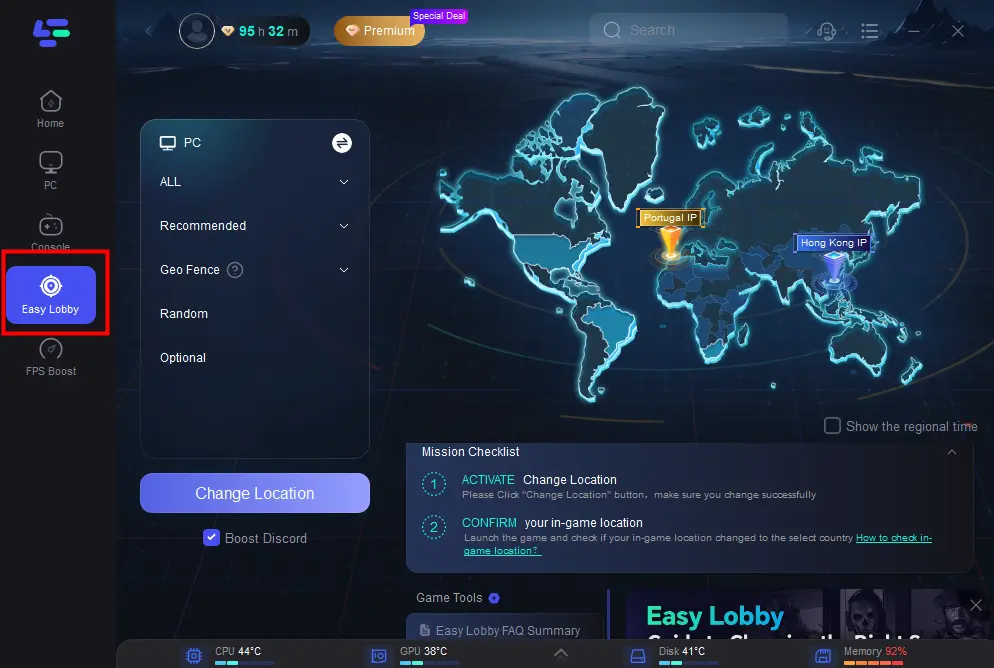 Then, you can adjust the server you wanted and choose the best nodes with lower ping.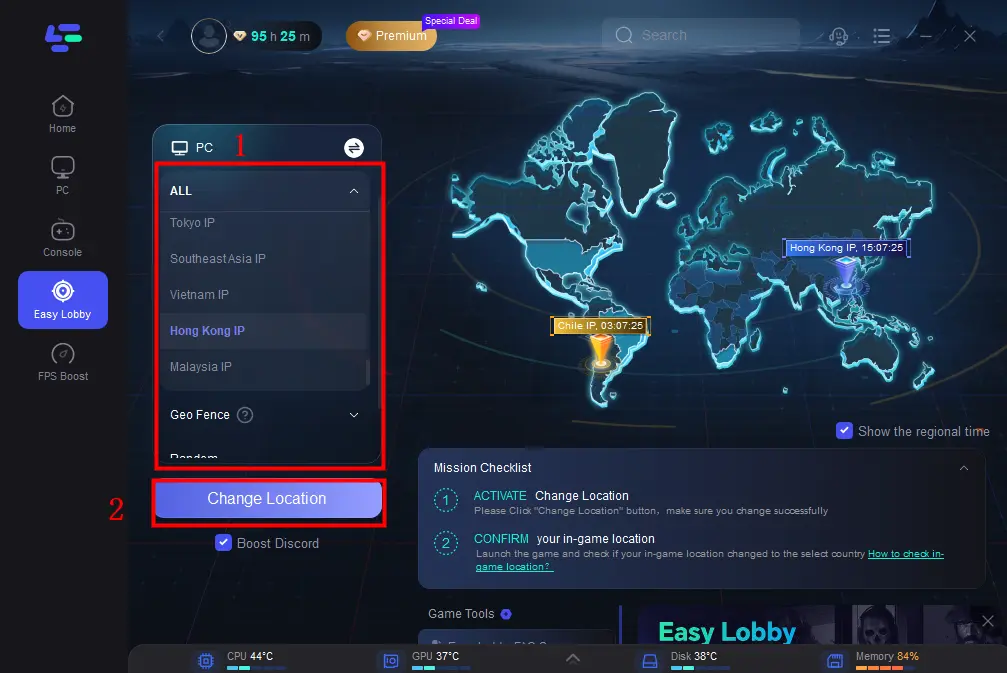 Step 3: Click on the Boost button to begin boosting.
On this page, you can have a direct view of your real-time ping rate and packet loss rate which are related to FPS performance.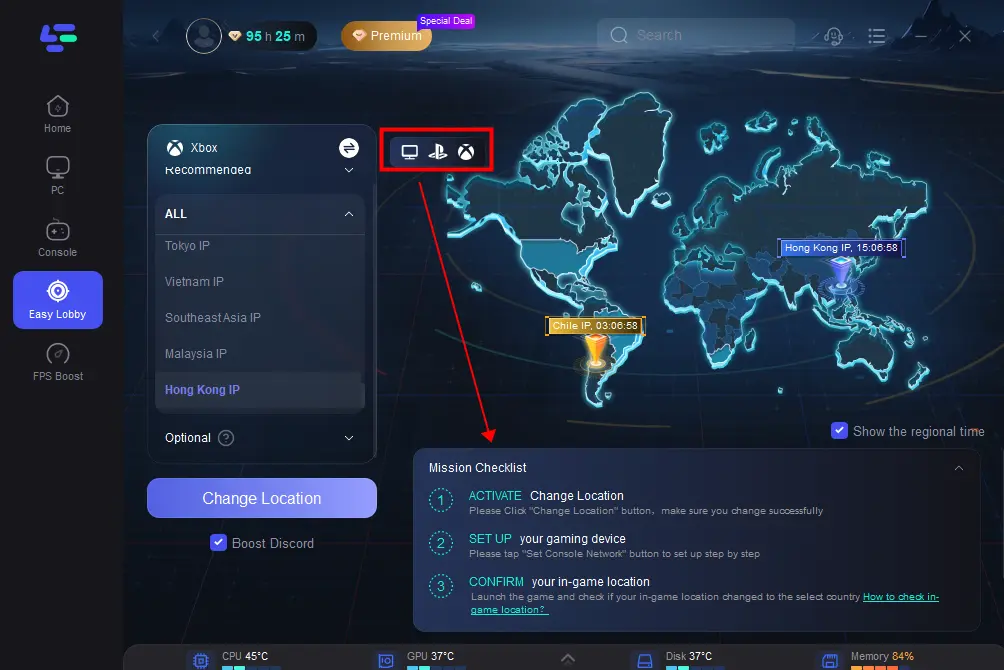 More Information leaked in Modern Warfare 2
What is DMZ mode in Call of Duty: Modern Warfare 2?
It is reported that a new mode is created to have its own Escape from Tarkov style game mode called "DMZ" in this game. Previously, the Call of Duty game have three modes, encompassing campaign, multiplayer, and Zombies/Spec Ops. It leaked that the DMZ mode has been developed for four years, with larger maps displaying to provide the users a better experience when they acquire loots, avoid enemies and get a good location. Soon, you may try the brand new mode in beta.
List of leaked weapons in Call of Duty Modern Warfare 2
Delicate and sophisticated weapons are one of the secrets to attracting so many COD fans and the relevant information has been revealed recently. Some traces of these weapons have been spotted in trailers and in game files, of course, and some of the fevered game players also leak.
The following content is a list of weapons:
Weapons in Call of Duty Modern Warfare 2

TYPES

NAMES

SMGs

P90, AK-74u, KRISS Vector, SIGMPX, PP19 Bizon, AUG, Uzi, MP5, MP7

Assault Rifles

FN SCAR-L, Honey Badger, M4, AK-74, MCX-Spear, ACR, MTAR, FAMAS, M13, M16, G36

Sniper Rifles

Barret MRAD, Remington MSR, AX-50

Marksman Rifles

SU-16, M14, MK2 Carbine, SP-R 208

Shotguns

Benelli M4, Mossberg 590, Remington 870

LMGs

HK 21, M249, RAAL, IMI Negev

Pistols

P320, 1911, Desert Eagle

Launchers

Pila, Strela-P, RPG-7
Glimpse at campaign details
in Call of Duty Modern Warfare 2
Recently, the Australian regulators gave the game a 15 rating, and unavoidably, a portion of the campaign have been revealed. The background is starting with an campaign that the team, Task Force 141, hunts down drug traffickers across the world. The game focuses on the defeating and killing of numerous opponents, so there are some examples of blood and injury. Definitely, some scenes of drug use can be seen in terms of the storyline.Besides, it is said that the game has uses of profanity, as examples of sexualised imager appear.
The specific time of Call of Duty: Warzone 2 is revealed
We have known that the Call of Duty Next event is scheduled for September 15, and currently, Activision reveals that the specific starting time is September 15 at 9:30 AM PT / 12: 30 PM ET. There are many interesting points during the event, like some details on the future development of Call of Duty over the next two years may be mentioned. After the event, famous streamers and content creators will come to the stage and host a series of activities to treat the game's fans. More details wait for you to see through YouTube or Twitch.
Call of Duty: Modern Warfare 2
Uncovers
Open Beta Rewards
From September 15 to 26, the Call of Duty: Modern Warfare 2 beta phases are open for gamers on different platforms respectively. During the period, players can unlock open beta rewards as Activision announces. The following is a list of what rewards you can get on different levels:
Emblem: "Smashed It": Unlocks at Operator Level 2
Charm: "Buckle Up": Unlocks at Operator Level 4
Player Cards: "Passed the Test": Unlocks at Operator Level 6
Sticker: "Operation First Blood": Unlocks at Operator Level 10
Weapon Blueprint: "Side Impact": Unlocks at Operator Level 15
Operator Skin: "Collision": Unlocks at Operator Level 18
Vinyl: "No Competition": Unlocks at Operator Level 19
Sticker: "Safety First": Unlocks at Operator Level 21
Vehicle Skin: "Floor It": Unlocks at Operator Level 26
Weapon Blueprint: "Frontal Impact": Unlocks at Operator Level 30
However, as I mentioned above, the Call of Duty: Modern Warfare 2 beta phases are only for a few days, so it is hard to unlock all the rewards. I do believe that some Call of Duty fevered fans enjoy squeezing more time to get every reward.
How to Play the World Cup Mode in Modern Warfare 2
Activision is teaming up with the World Cup for some awesome in-game content, and it's not just limited to some baller operator skins of soccer's greatest stars. You also can bet 6 World Cup games and get some rewards. The partnership with Activision and COD is quite entertaining indeed, you must wonder now how to participate in the Modern Warfare 2 World Cup mode and win the best World Cup reward ever! And we can show you the way!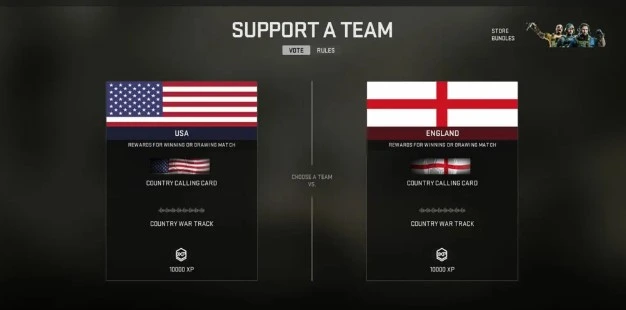 How to vote for your favorite team to earn rewards in Modern Warfare 2
The Modern Warfare 2 FC event sees the introduction of new Operators in the form of football icons Neymar Jr., Paul Pogba, and Lionel Messi. At the same time, an in-game voting system will let players vote for the team they think will win in six different matches. You'll receive prizes based on how your chosen team performs. Here's some steps of how you can take part:
Launch your Modern Warfare 2 & then head over to the COD HQ menu.
PlayStation users can press the Options button and Xbox Users can press the Menu button.
Head over to the Support A Team option and then you will be able to vote for the team you think will win.
If you correctly predict two matches, you will be able to earn a Blueprint. On doing so for four matches, you will get a second Blueprint. If the situation arises that the match ends in a draw, both players will get premium rewards. Not only that but losers will also receive consolation prizes. That is the beauty of the World Cup mode in MW2. And all rewards will be given out when the event ends on December 2. What are you waiting for? Come and join now!