Modern Warfare 2 has attracted more than millions of gamers worldwide. With its rapid growth after the season 4 update, Cod MW2 servers are crowded sometimes and gamers encounter lag issues from time to time. Since MW2 Season 4 is just around the corner, we have collected 5 effective ways to fix MW2 lag and server lagging.
Part 1: Why Is MW2 So Lagging on PC
Part 2: Fix MW2 Lag Issues with 5 Solutions [Updated]
Why Is Modern Warfare 2 So Lagging?
Lag is very common in online games and it happens in different cases. In Cod MW2, lag attributes to both hardware conditions and network status. Generally, Modern Warfare 2 lag issues could be caused by 3 major reasons:
1. Insufficient Hardware Configuration
If you want to smoothly run your Modern Warfare 2 without lag issues, you should first make sure that your computer could meet the minimum requirements of Modern Warfare 2. You can check the detailed requirements in the following:
Minimum System Requirements:
OS: Windows® 10 64 Bit (latest update)
Processor: Intel® Core™ i3-6100 / Core™ i5-2500K or AMD Ryzen™ 3 1200
Memory: 8 GB RAM
Graphics: NVIDIA® GeForce® GTX 960 or AMD Radeon™ RX 470 - DirectX 12.0 compatible system
DirectX: Version 12
Network: Broadband Internet connection
Storage: 125 GB available space
Recommended System Requirements:
OS: Windows® 10 64 Bit (latest update) or Windows® 11 64 Bit (latest update)
Processor: Intel® Core™ i5-6600K / Core™ i7-4770 or AMD Ryzen™ 5 1400
Memory: 12 GB RAM
Graphics: NVIDIA® GeForce® GTX 1060 or AMD Radeon™ RX 580 - DirectX 12.0 compatible system
DirectX: Version 12
Network: Broadband Internet connection
Storage: 125 GB available space
2. Network Congestion
In addition to hardware configuration, network connection could be the most important. That is because lag is associated with high ping in games. When your Modern Warfare 2 ping reaches over 100, or even 150, the time spent on game data transmission will increase. And then the delay will become more and more noticeable. Therefore, if there is some network congestion, bad routing, bandwidth congestion, or some network overloading problems, the Modern Warfare 2 lag will appear more frequently.
3. Game Server Status
What's more, don't be worried. Sometimes your Modern Warfare 2 lag issues could not be your computer problems. If there are some problems with Modern Warfare 2 game servers, like bugs, or under attacks, you can also find Modern Warfare 2 lag.
Fix Modern Warfare 2 Lag Issue with 5 Quick Solutions
Solution 1: Use MW2 Lag Reducer
There are several approaches that could be taken to address lag issues in Modern Warfare 2. There is the quickest solution: use LagoFast lag reducer. It can speed up the transfer by using a proprietary data transmission protocol. LagoFast also includes international nodes and exclusive routes to address network connectivity, reducing transmission time while improving network connectivity. Before beginning the game, you could select these nodes based on your geological location. LagoFast is your best bet!
Fix MW2 lag issues with LagoFast in 3 easy steps:
Step 1: Download LagoFast client and log in.
Step 2: Before running Modern Warfare 2, you just need to find the game you want to play in LagoFast and click the "Boost" button.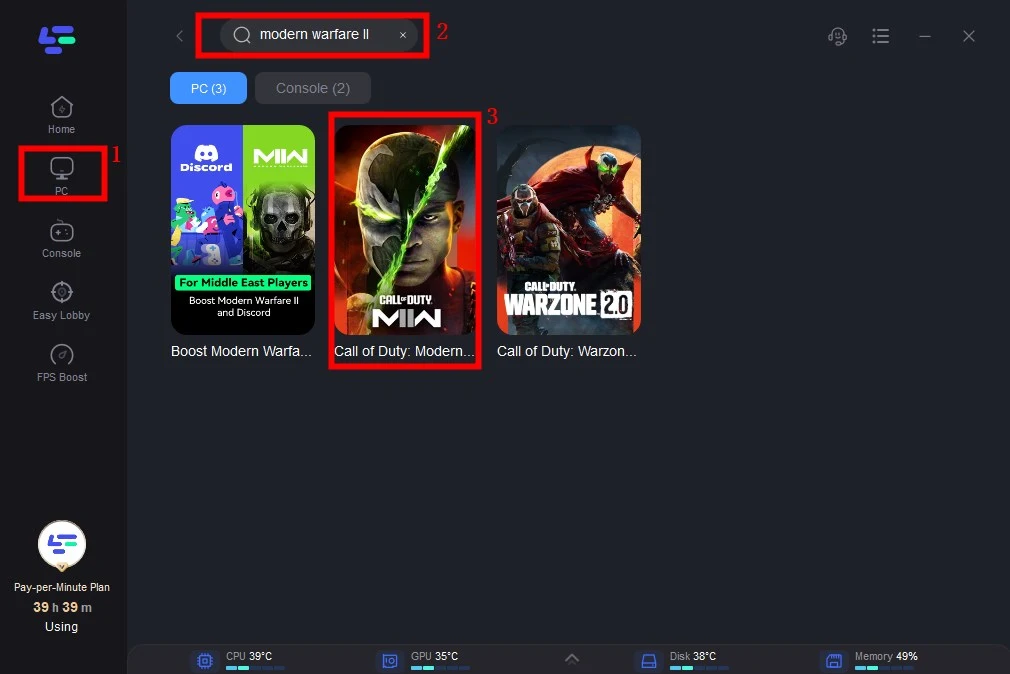 Step 3: While you are playing the game, you see the accurate ping test result. And in addition, LagoFast could also provide you with many other tests, like packet loss and local network fluctuation. For example, when you are playing the game Fortnite, the result is as follows:
Now you can fix MW2 lag in season 4 for free! Use the redemption code "codfps" and get smoother shooting in Modern Warfare 2 season 4.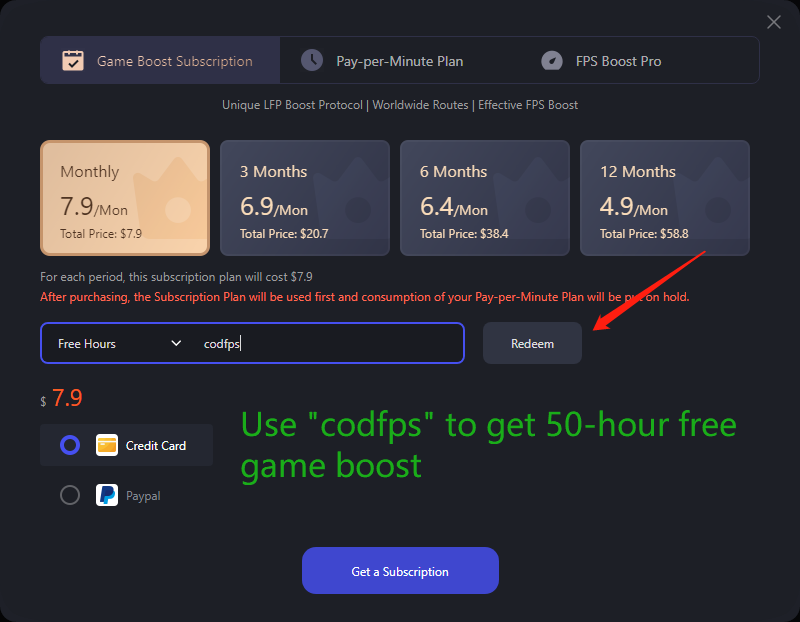 LagoFast is also the best Modern Warfare 2 FPS booster. Once you have boosted the MW2 game, it will automatically increase your FPS in real-time.
Solution 2: End Unnecessary Background Programs
If you have a lot of background applications running, your network will become congested, and your computer's performance will suffer. Close unnecessary background applications, such as multiple Chrome tabs, to free up space for your game and reduce latency! Keep some essential Windows applications running in mind, however. Fortunately, LagoFast can help you determine which ones are unnecessary and remove them.
Solution 3: Update Graphics Driver
Updating the graphics driver is one of the ways to improve your hardware conditions without renewing your devices. In your Windows device manager, you can check your graphics driver status and manually update the driver from your browser. Moreover, you can use LagoFast to check your driver condition in one click and make the update more convenient. Choose your own way to improve your graphics card status.
Solution 4: Check the Modern Warfare 2 Game Server
If you meet Modern Warfare 2 lag issues, and you make sure that your network connection and hardware configuration are ok, you can check if there are some Modern Warfare 2 game server issues by logging in to social media and the official website or account.
Solution 5: Upgrade Hardware Configuration
Since we have introduced the minimum and the recommended system requirements of MW2, it's better to meet the recommended conditions for less lag. FPS games need high-quality hardware conditions so you'd better update the system relatives for a lower ping and higher FPS.
The Final Words
To sum it up, this article shows the reason why MW2 is so laggy and 5 workable ways to reduce lag in MW2. As a professional and reliable lag reducer, LagoFast is strongly recommended to fix lag issues, also the first choice to change servers in Modern Warfare 2. Download now and get a free trial for better gameplay in any online co-op games.