This iconic first-person shooter Call of Duty Modern Warfare 2 was released in 2009. With game features, like new graphics and a complete redesign, this game should be the start of a new era for the licence. However, in this shooter game, the Modern Warfare 2 lag issues are very common. What is Modern Warfare 2 lag meaning? Why does Modern Warfare 2 lag exist? How to fix Modern Warfare 2 lag issue? In this article, you can find all you need about Modern Warfare 2 lag. In addition, I would like to introduce a new Modern Warfare 2 game lag fixer product to you, which could be used in a very convenient and easy way.
Part 1: What Is Modern Warfare 2 Lag Meaning?
Part 2: Why Does Modern Warfare 2 Lag Exist?
Part 3: How To Fix Modern Warfare 2 Lag Issue In A Convenient Way?
Part 4: Other Solutions To Fix Modern Warfare 2 Lag
What Is Modern Warfare 2 Lag Meaning?
Lag is very common in computer games, and I think every game player could know him. But if you can have a better understanding of lag, you could know better how to fix this problem. Here are some good articles to help you to get a better comprehensive: What Is The Meaning Of Lag? And Why Do I Have Lag With Good Internet? As shown in these articles, lag is the delay between your input from your keyboard or mouse and the output from your monitor. The delay is very common, and when this delay becomes noticeable, the lag could be apparent. You can imagine this situation: when you shoot at an enemy in Modern Warfare 2, but it takes a few seconds before your attack is displayed on the computer screen. Is it annoying? This is Modern Warfare 2 lag.
Why Does Modern Warfare 2 Lag Exist?
Generally speaking, Modern Warfare 2 lag problem could be caused by 3 major reasons:
1. Hardware configuration: If you want to smoothly run your Modern Warfare without lag issues, you should first make sure that your computer could meet the minimum requirements of Modern Warfare and then requirements will be shown later.
2. Network connection: In addition to hardware configuration, network connection could be the most important. That is because lag is associated with game-high ping. When your Modern Warfare 2 ping reaches over 100, or even 150, the time spent on game data transmission will increase. And then the delay will become more and more noticeable. Therefore, if there is some network congestion, bad routing, bandwidth congestion, or some network overloading problems, the Modern Warfare 2 lag will appear more frequently.
3. Game servers' problems: What's more, don't be worried. Sometimes your Modern Warfare 2 lag issues could not be your computer problems. If there are some problems with Modern Warfare 2 game servers, like bugs, or under attacks, you can also find Modern Warfare 2 lag.
How To Fix Modern Warfare 2 Lag Issue In A Convenient Way?
There are several approaches that could be taken to address lag issues in Modern Warfare 2. There is, however, a quick and simple solution: use the expert lag fixer LagoFast. It can speed up the transfer by using a proprietary data transmission protocol. LagoFast also includes international nodes and exclusive routes to address network connectivity, reducing transmission time while improving network connectivity. Before beginning the game, you could select these nodes based on your geological location.
LagoFast also launched the plan per minute, unlike other Modern Warfare 2 lag reducers. If you do not use the product, you can cancel LagoFast's Modern Warfare 2 game boost service at any time. As a result, if you don't play Modern Warfare 2 every day, LagoFast is your best bet!
3 Steps to Fix Modern Warfare 2 Lag
Step 1: Click the Free Trial button to download the LagoFast client and experience the Modern Warfare 2 lag fixer service.
Step 2: Before running Modern Warfare 2, you just need to find the game you want to play in LagoFast and click the "Boost" button.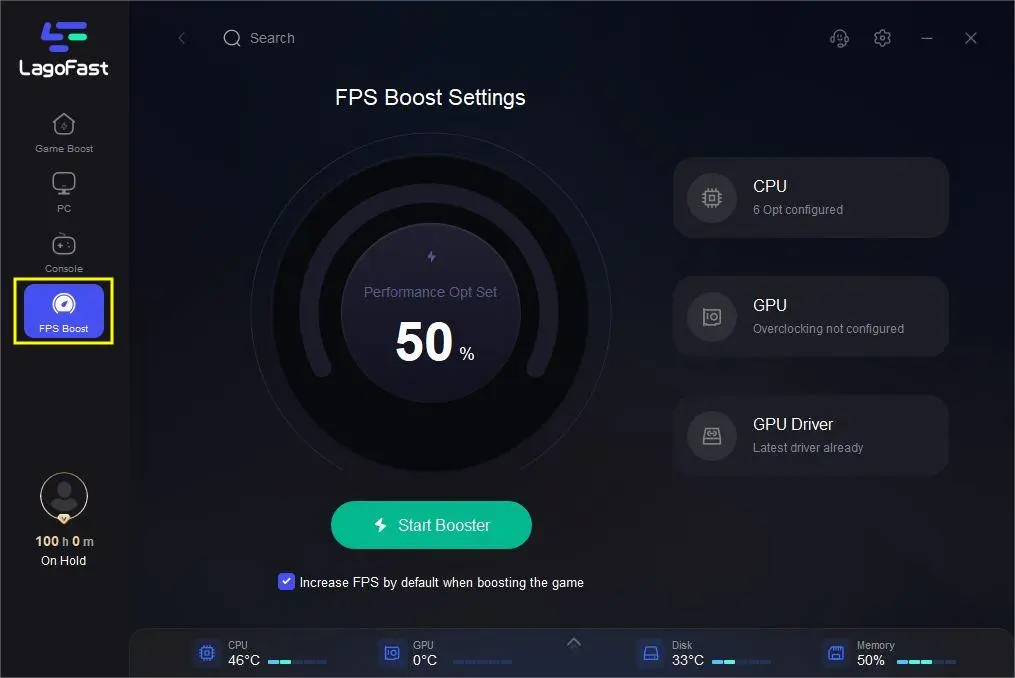 Step 3: While you are playing the game, you see the accurate ping test result. And in addition, LagoFast could also provide you with many other tests, like packet loss and local network fluctuation. For example, when you are playing the game Fortnite, the result is as follows:
LagoFast could also serve as Modern Warfare 2 FPS booster, check this article and see the instructions!
Get Easy Lobby in Cod Games Using LagoFast
Step 1: Download LagoFast and register, remember to get free trial time.
Step 2: Type " easy lobby " in the Search box and click it.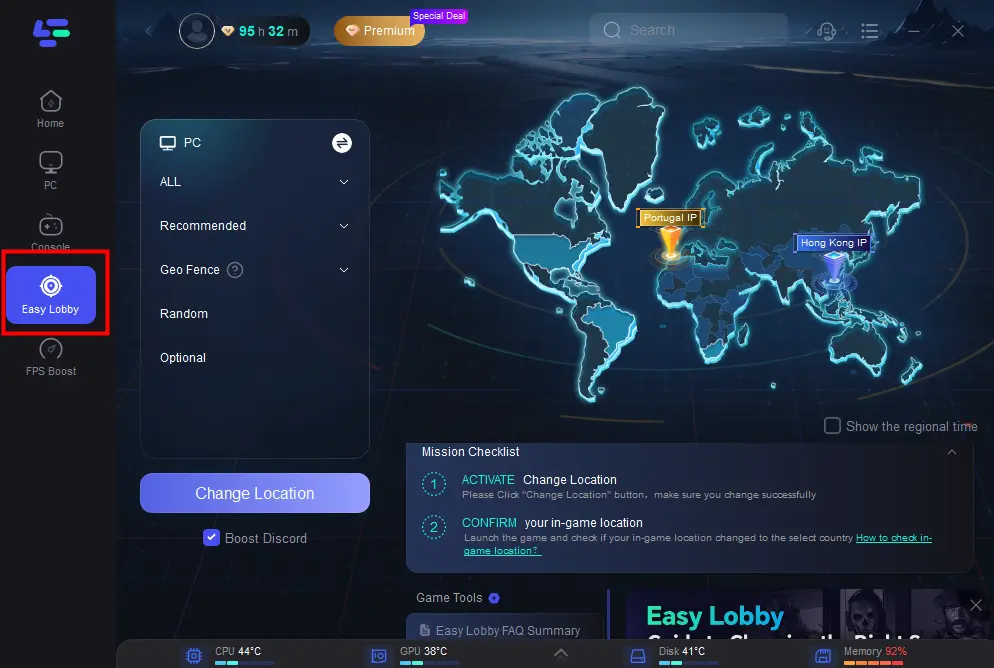 Then, you can adjust the server you wanted and choose the best nodes with lower ping.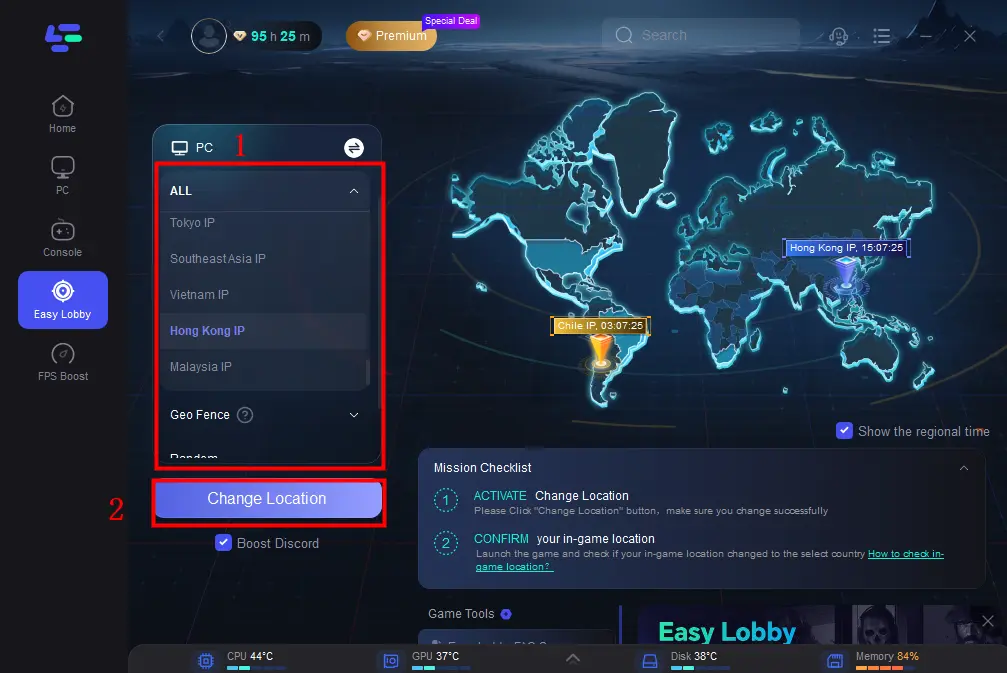 Step 3: Click on the Boost button to begin boosting.
On this page, you can have a direct view of your real-time ping rate and packet loss rate which are related to FPS performance.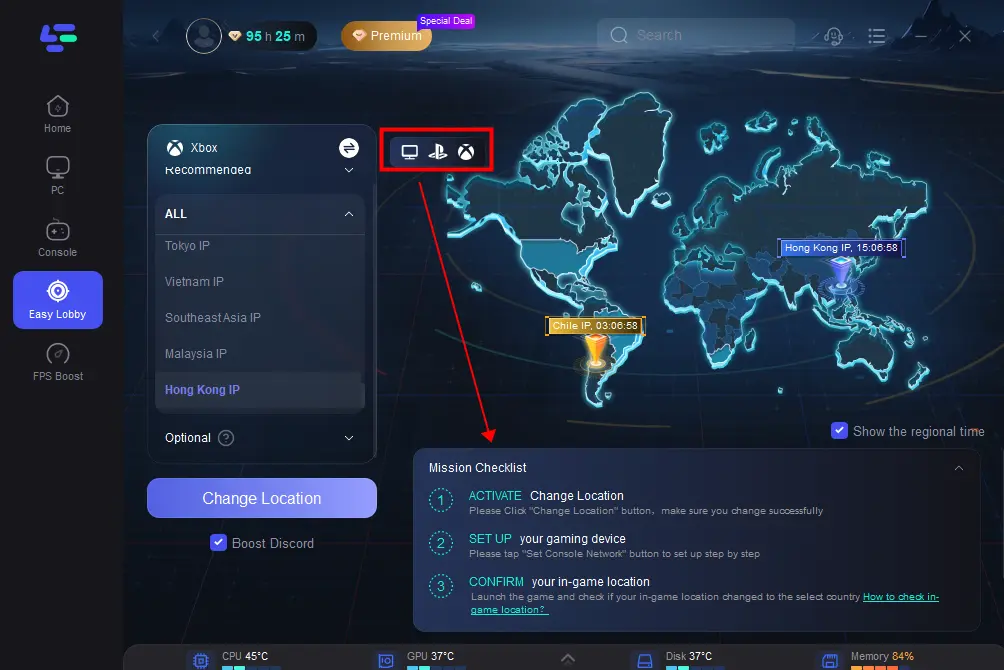 Other Solutions To Fix Modern Warfare 2 Lag
Check if your computer meets the minimum system requirements of Modern Warfare 2
As mentioned above, hardware configuration could be very important to run the game without Modern Warfare 2 lag issues. You should check if your computer meets it first before running the game. The minimum system requirements are as follows:
CPU: Intel Core i5-3570 or AMD Ryzen 5 1600X.
RAM: 8GB RAM.
GPU: NVIDIA GeForce GTX 960 or AMD Radeon RX 470, VRAM: 3GB.
DX: DirectX 12.
OS: Windows 10 - 64 Bit (latest update)
STO: 25GB.
Sound: DirectX Compatible.
NET: Broadband network connection
Check if there are some problems with the Modern Warfare 2 game server
If you meet Modern Warfare 2 lag issues, and you make sure that your network connection and hardware configuration are ok, you can check if there are some Modern Warfare 2 game server issues by logging in to the social media and the official website or account.
You should uninstall any unnecessary background programs
If you have a lot of background applications running, your network will become congested, and your computer's performance will suffer. Close unnecessary background applications, such as multiple Chrome tabs, to free up space for your game and reduce latency! Keep some essential Windows applications running in mind, however. Fortunately, LagoFast can help you determine which ones are unnecessary and remove them.