LagoFast is a lag reducer that can effectively fix Modern Warfare 2 lagging and stuttering.
The fourth Call of Duty game produced by Infinity Ward, Call of Duty: Modern Warfare 2 is the sixth in the series. Call of Duty: Modern Warfare 2 has received overwhelmingly positive reviews from different gaming websites, earning an overall Metacritic score of 94%. The praise is largely attributable to the game's in-depth multiplayer feature.AI technology, New in-game improvements, and Different gun control. This can all realize in Modern Warfare II, which features a global campaign, realistic multiplayer combat, and story-driven Special Ops.
But no matter how fascinating the gameplay is, you can never truly enjoy it if there is constant Call of Duty Modern Warfare 2 lag. All you can experience are frustrating stuttering and glitching. Lucky for you, I do have something useful that can help you get rid of such an annoying situation. LagoFast is your perfect choice to reduce lag and other game issues in CoD MW2. It works perfectly in this kind of shooter game, providing players with smooth and stable gaming experiences. For those who are struggling with constant Modern Warfare 2 lag, LagoFast is truly an overwhelming choice. Have a try, and you'll have the best gaming experience ever!
LagoFast: More Than Just a Game Booster
Unlike other normal game boosters, LagoFast can not only fix your in-game issues (like Modern Warfare lag) but also boost your FPS. With more than 8 years of experience in gaming optimization, LagoFast is capable of fixing lag, reducing high ping, and increasing FPS. Its self-developed game data transmission protocol and globally distributed servers guarantee the high-quality performance of LagoFast. For those who have Modern Warfare 2 lag issues, LagoFast can easily help you fix it by allocating the best route for you. Moreover, you can customize your FPS by clicking on the checkbox on the page of FPS Boost in LagoFast, which can also help you greatly avoid annoying lag issues. Except for the above-mentioned powerful functions, the most worth-mentioning advantage of LagoFast is its fair price. Not only does LagoFast provide new users with a free trial but also a Pay-per-Minute service. It also has the lowest monthly fee among other top-rank game boosters. How can you say no to such an effective and cost-efficient product?
The features of LagoFast are as follows:
Support a free trial and a Pay-per-Minute service
Effectively fix Modern Warfare 2 in-game lag
Supports easy lobby in all CoD games
8+ years of experience in helping gamers have a better in-game experience
Self-developed game data transmission protocol
Worldwide distributed servers
4 Simple Steps to Reduce Lag and Ping in Modern Warfare 2
Step 1: Download LagoFast and get a free trial. (No credit card needed)
Step 2: Type " CoD: Modern Warfare 2 " in the Search box and choose it among the results.
Step 3: Choose your server and node with the lowest ping rate.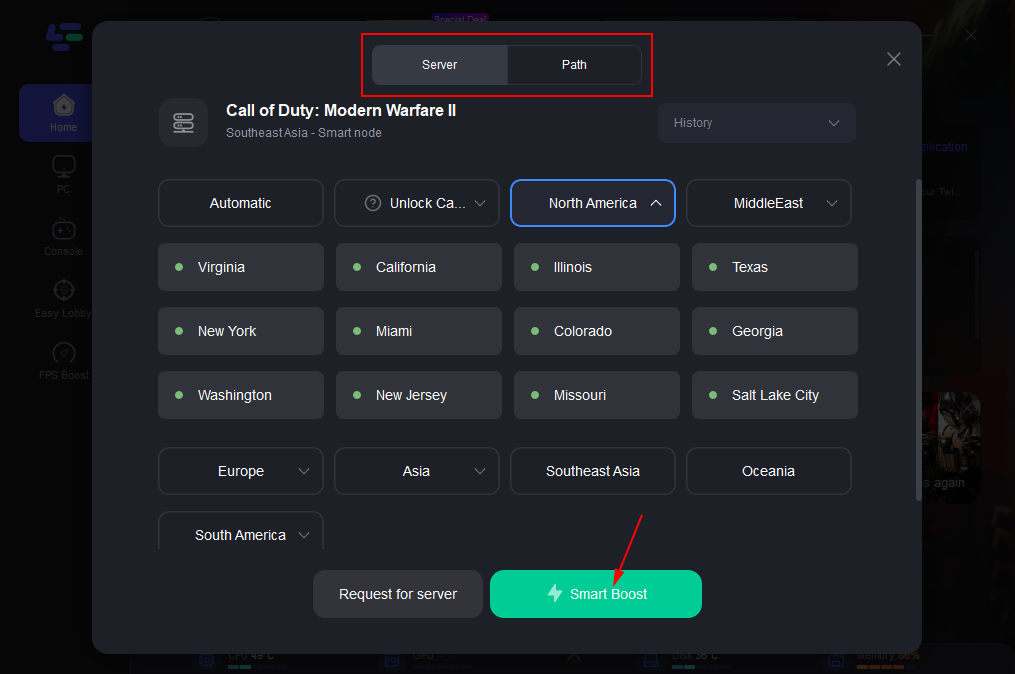 Step 4: Click the Boost button to start boosting.
This page displays your real-time ping rate and packet loss rate, you will be able to determine whether it is appropriate to play the game.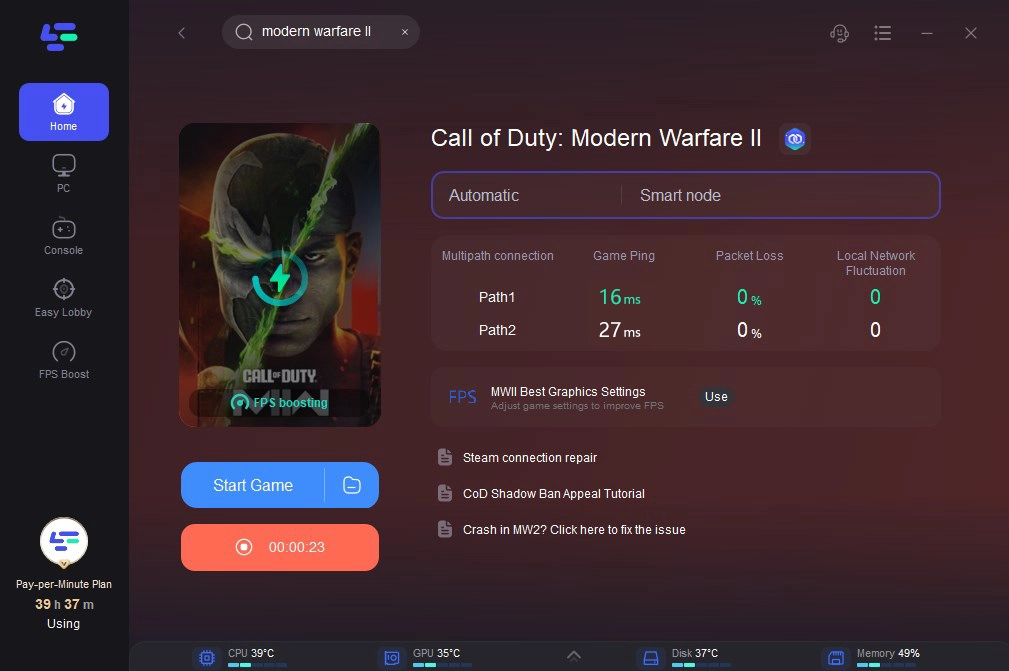 How to Fix Call Of Duty: Modern Warfare 2 Lag?