Honkai Star Rail has been a heat since it was released on April 25. It is free to play on the PlayStation 4, PlayStation 5, Windows PC, Android, and iOS, featuring numerous new characters and familiar faces from past entries in the series. In the latest discussions on Reddit, some gamers complained that they got 120 FPS on mobile while just 60 FPS on Windows PC. According to the fans of Genshin Impact, it is another FPS limit in Honkai Star Rail. Let's check how can we unlock higher FPS effortlessly.
How to Fix Honkai Star Rail Stuck on 60 FPS
There are some manual ways and smart solutions to fix Honkai Star Rail 60 FPS limit. You can choose your own way to try the most workable method.
Solution 1. LagoFast - Overall FPS Booster for Online Games
Since there are several reasons for Honkai Star Rail 60 FPS limit, the best way to get higher FPS is to use an FPS booster. LagoFast is the best FPS booster for PC gamers to get up to 240 FPS easily. It applies the most advanced technologies to boot into gaming mode, overclock your graphics card and update the graphics driver so that you can get an ultimate impression on your PC. With just simple steps, you will get 120 FPS on Honkai Star Rail.
Step 1. Free download LagoFast and sign in;
Step 2. Click FPS boost and tick "Increase FPS by default when boosting the game";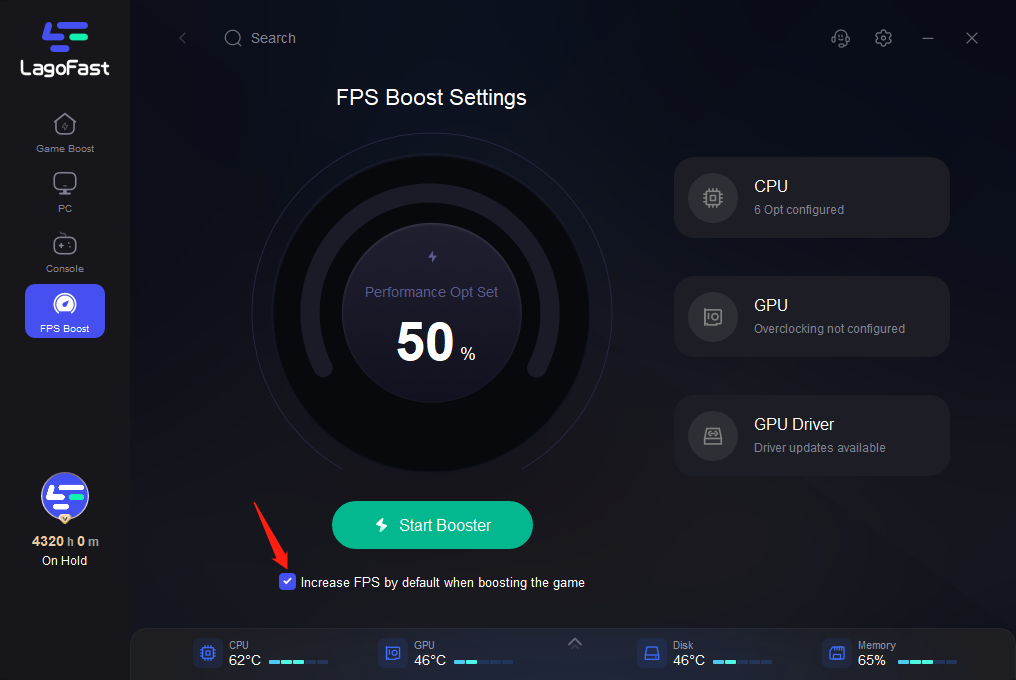 Step 3. On the FPS boost settings page, you can set your own way to increase FPS for online gaming from CPU, GPU and GPU driver status.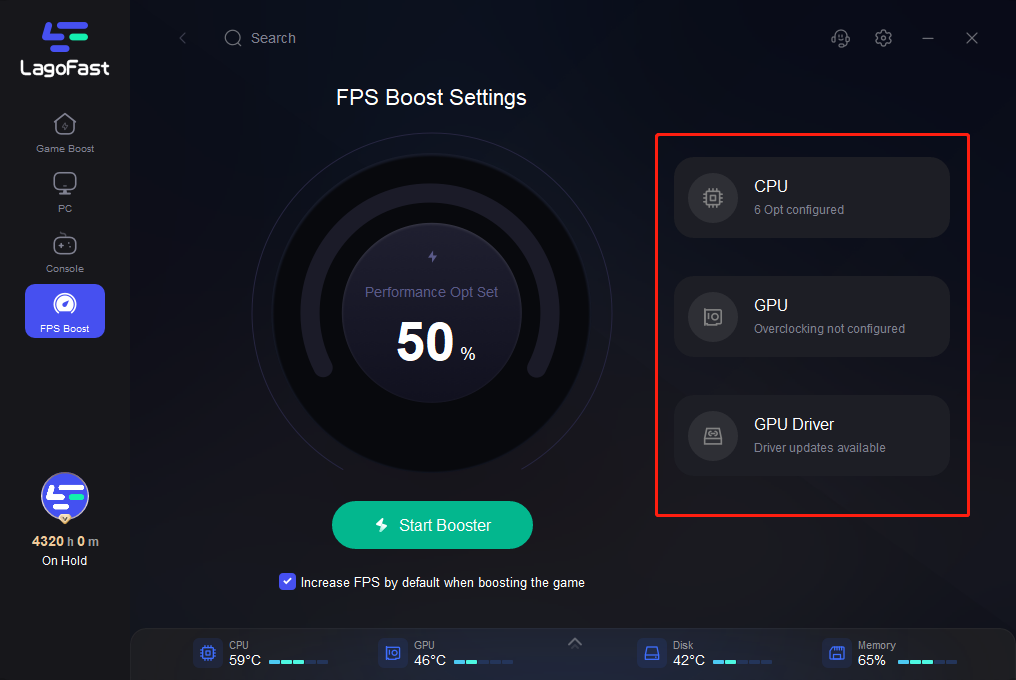 After all settings done, you can start LagoFast FPS booster and enjoy higher FPS in gaming!
In addition to boosting FPS, LagoFast is also a great choice to reduce lag and ping in gaming. It provides multiple servers and nodes for more than 2000 online games. Most gamers have fixed Honkai Star Rail login error with LagoFast too.
You can also try some manual settings to check if the FPS will increase in Honkai Star Rail.
Solution 2. Disable FPS Cap Software
Due to the relatively lower hardware conditions or screen tearing experience, some gamers will enable FPS cap software to limit FPS in gaming. If this is the case, you can temporarily disable your FPS cap programs like Rivatuner Statistics Server, Nvidia's FPS Limiter, AMD Radeon Chill and etc.
Solution 3. Manually Update Graphics Driver
Without using a third-party program, you can update your graphics driver in device manager.
Step 1. Search device manager on Windows and open it;
Step 2. Find out the display adapter and locate your graphics driver;
Step 3. Right-click the driver and click update driver;
Step 4. Search automatically for updated driver software.
Once your driver update has been finished, you can launch Honkai Star Rail again and check if there is FPS increase.
Conclusion
If you'd like to unlock the FPS limit and get 120 FPS in Honkai Star Rail on PC, you can try the methods we have mentioned above. Of all the 3 solutions, LagoFast is strongly recommended to boost both FPS and gaming speed in real-time. Try it now and boost your FPS up to 240 for PC games!