Warzone 2 is an upcoming free-to-play battle royale video game. It is officially announced that Warzone 2 will launch this Nonmember 16. As a highly-anticipated sequel to one of the biggest Battle Royales, it must attract many new players, for great improvements have been made, including a massive new map and multiple innovations. Currently, many Warzone 2 fans are waiting for its release to get wonderful gameplay. However, in large online games, especially a free one for all, it is natural that some issues emerge, such as low fps, high ping, packet loss and other lag-related issues. Knowing how to fix Warzone 2 lag will help you gain a better gaming experience, and a powerful game VPN for Warzone 2, LagoFast, is recommended to you.
Part 1: How to Fix Warzone 2 Lag?
Part 2: What is Warzone 2 Server Lag?
Part 3: What Causes Warzone 2 Lag Spikes?
How to Fix Warzone 2 Lag?
LagoFast – gives you the perfect game exp
e
rience
When it comes to how to fix lag in Warzone, LagoFast is the first option that comes to my mind. LagoFast is the best game VPN for Warzone to solve all kinds of game issues, especially those related to lag, and just with several steps, all the frustrating things are figured out right away. With more than 8 years of experience in game boosting, LagoFast has a solid technological foundation in creating its data transfer protocol, which can provide you with smooth gameplay. No matter where you are, you can use LagoFast because it has exclusive routes in over 60 countries. Moreover, LagoFast is a highly cost-effective product, as a considerate Pay-Per-Minute plan is offered to all of the users, so you can pause at any moment you want. If you are a new user, there is a free trial. After it, you can decide whether to purchase it or not. Now, just have a try!
Here are the features of LagoFast:
F

ree trial,

making a right decision

E

xclusive routes

across the world

P

ay

-

per

-

minute,

wallet-friendly

E

asily fix

Warzone 2

lag and other in-game issues

More than 8 years of experience in game boosting
Start to fix the connection that failed in Modern Warfare 2 with four steps:
Step 1: Download LagoFast.
Step 2: Type "Warzone 2" in the Search box and click it.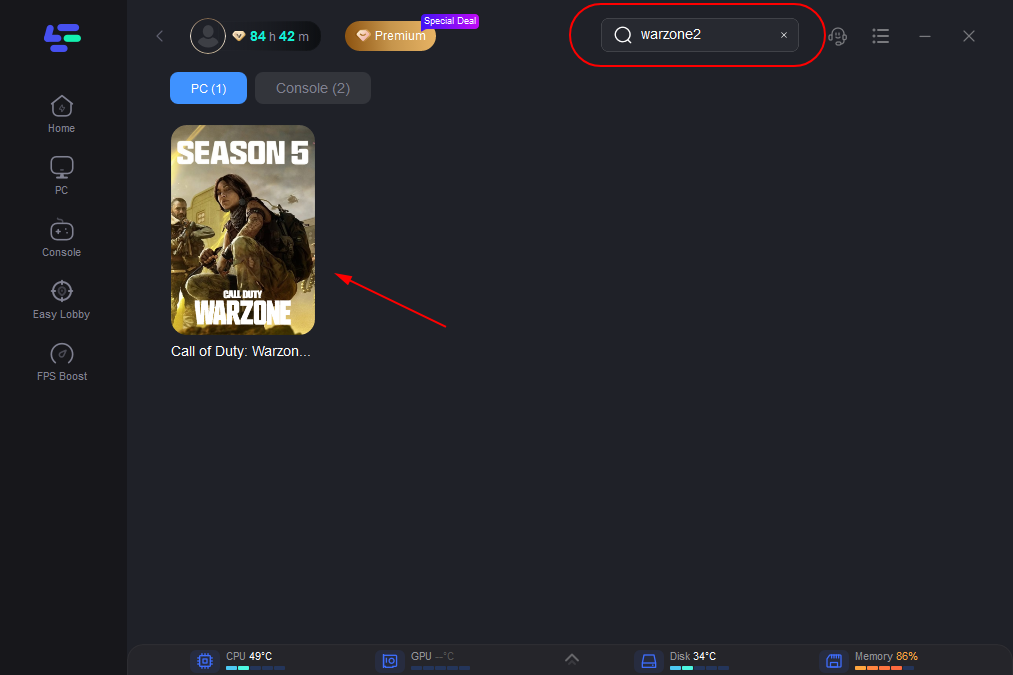 Step 3: Choose the server that you want.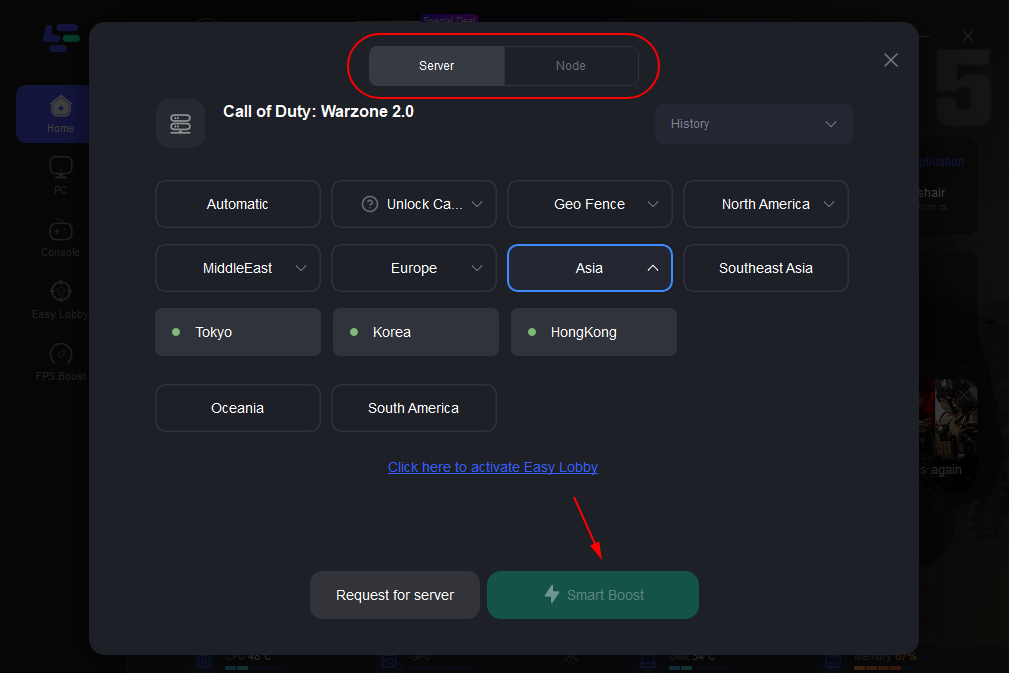 Step 4: Click the "Boost" button and the page will show your real-time ping rate and packet loss rate.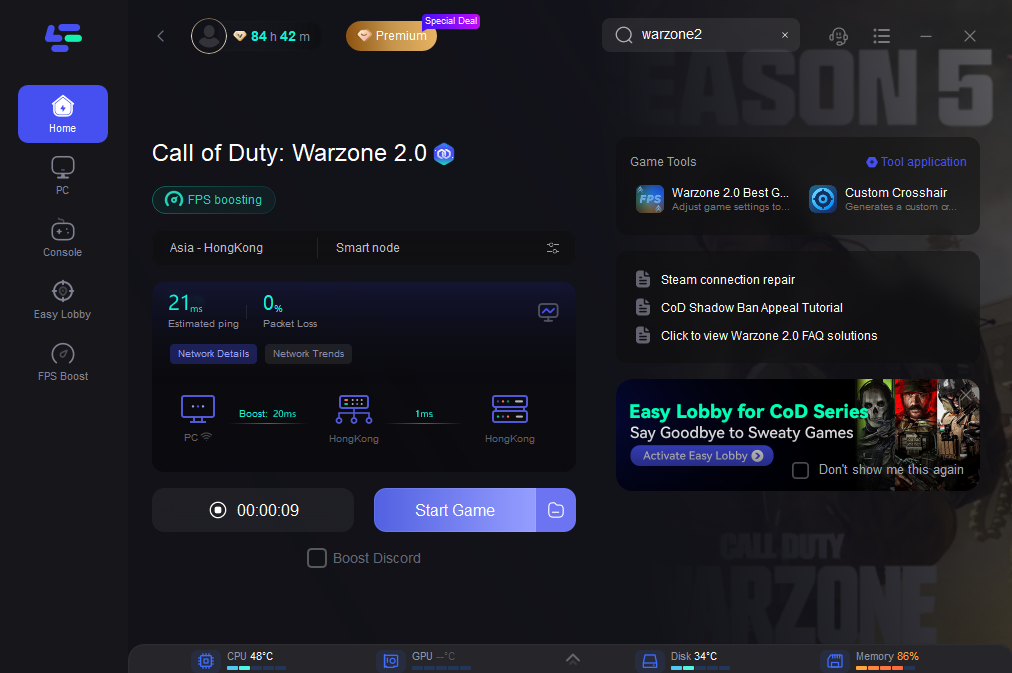 Furthermore, you can choose to improve your FPS. The following are steps to do:
Step 1: Click on "FPS Boost" on the left side.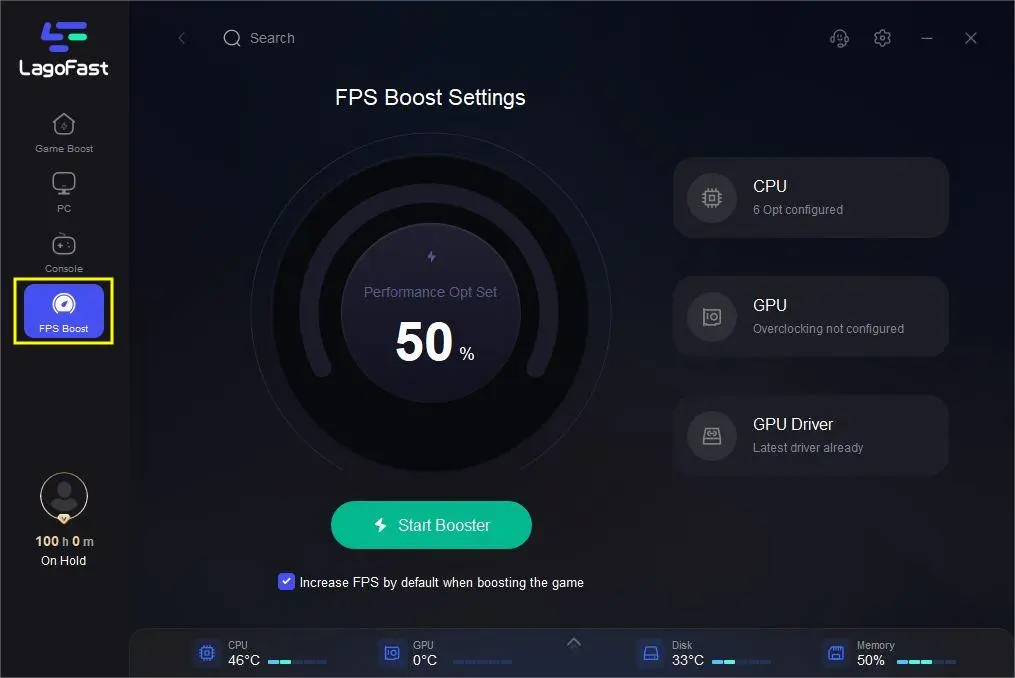 Step 2: Click "CPU Optimization" on the FPS Boost page and choose the settings that you want to open.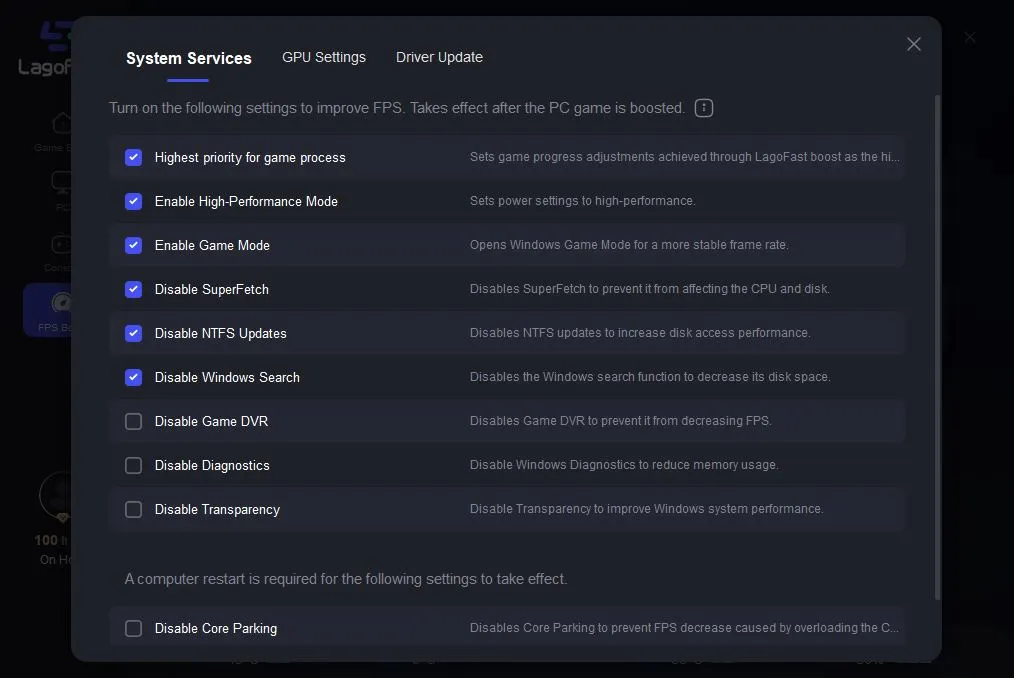 Step 3: Click "GPU Settings" on the FPS Boost page.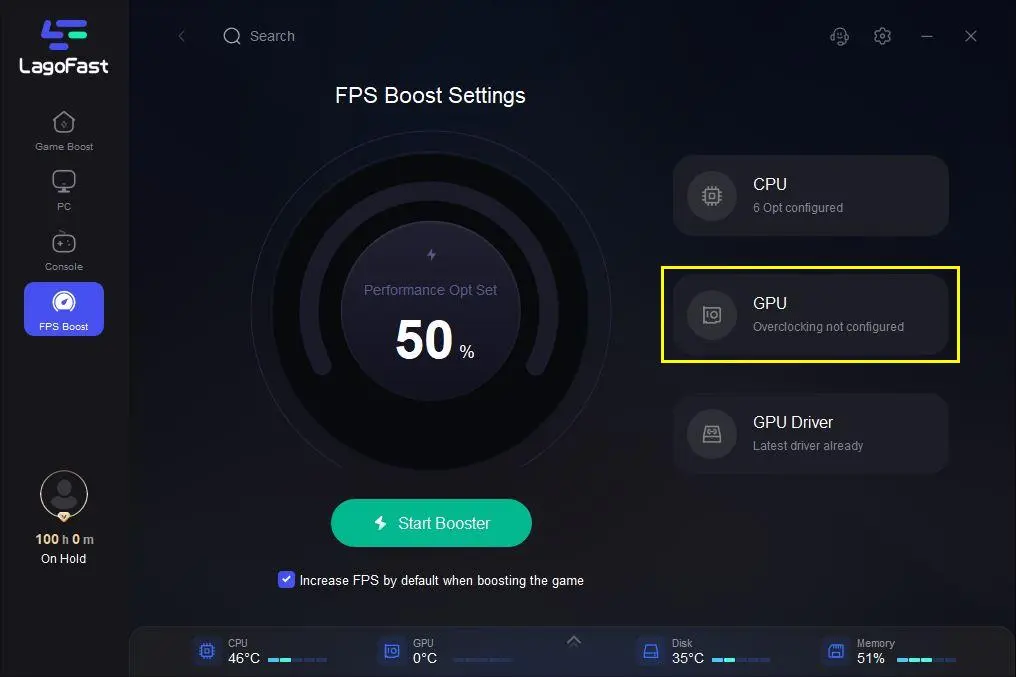 Step 4: Slide to choose your overclocking level in the first bar and tick "Enable GPU Boost" in the second bar.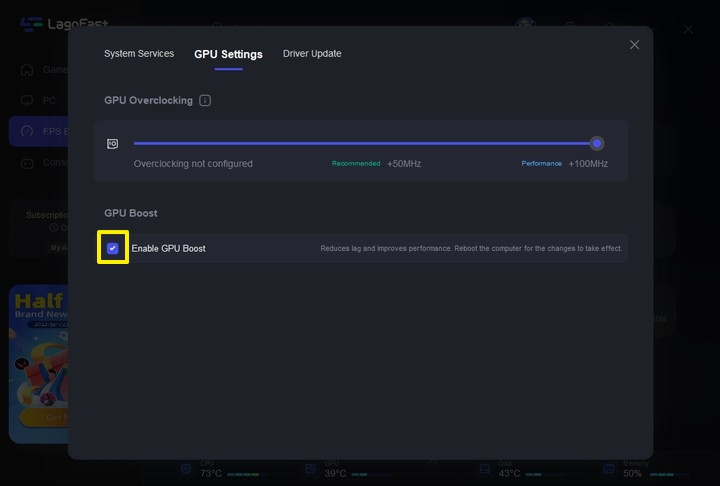 Step 5: Click "GPU Driver" on the FPS Boost page to check your GUP Driver updating version.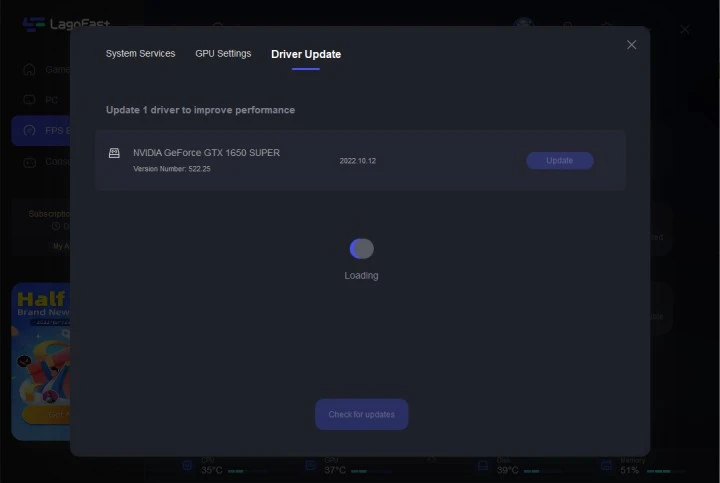 At last, you need to return to the FPS Boost page, and clicking "Start Booster" is OK.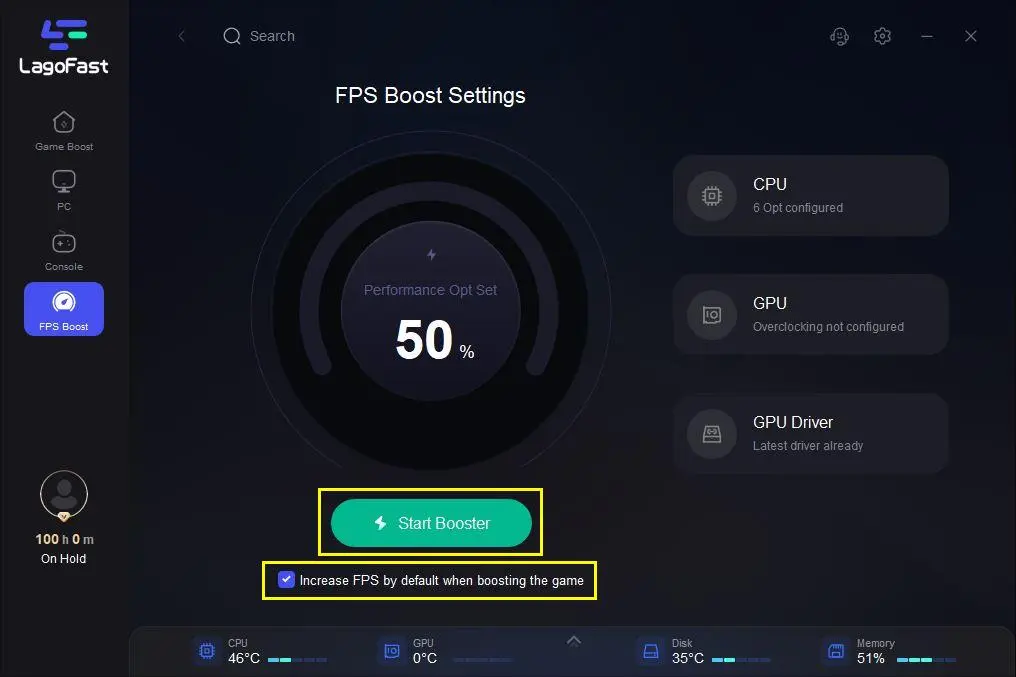 Other solutions
Us

e

cabled connections

:

Undoubtedly, Wi-Fi is one of the greatest inventions. Without being constrained by the length of the network wire, devices can get access to

the

network at the same time. Wireless networks, however, which are fundamentally unreliable and often disrupted, have

several

disadvantages. If multiple devices are connected

to

the same router via Wi-Fi, users often suffer a slow speed or even lag spikes. To solve the problem, a cabled connection is much better

,

especially

for

those who have a high requirement

for

network quality, because wired connections can largely decrease the amount of data loss.

Adjust

graphics settings:

Playing games via computer is a preferable option for most gamers because this will provide players with a wonderful gaming experience

of

its high-level graphic and attractive storyline. We frequently play game

s

on high settings for the above reason, but things always are different from our imagination if your computer

is

not powerful enough to run a large online game with high settings. This will seriously affect your smooth playing and cause lag, so you have to turn down the graphics settings or get a better graphics card.

C

lose background apps:

It is admittedly that many apps or programs running in the background will slow down your game and lead to lag-related issues. For this reason, you are supposed to close some power-consuming apps before starting a game. Here is how to check it:
1. Press Ctrl + Shift + Esc to open the Task Manager.
2. Click the "More Details" button.
3. Process is opened.
After checking, you can close down any unnecessary programs or apps.
What is Warzone 2 Server Lag
?
Lag is a common problem for online gamers, but do you know what does lag mean? According to the dictionary, in games, lag is a term to determine speed, proceed, or development with comparative slowness. Generally, lag is caused by high ping or high latency, which simply indicates that the speed or quality of your internet connection is poor performance. The primary indicator of lag is a delay in gaming, where your actions are not instantly carried out by the game. The actual moment may need a small period to respond after you push a key or button, or even nothing happens.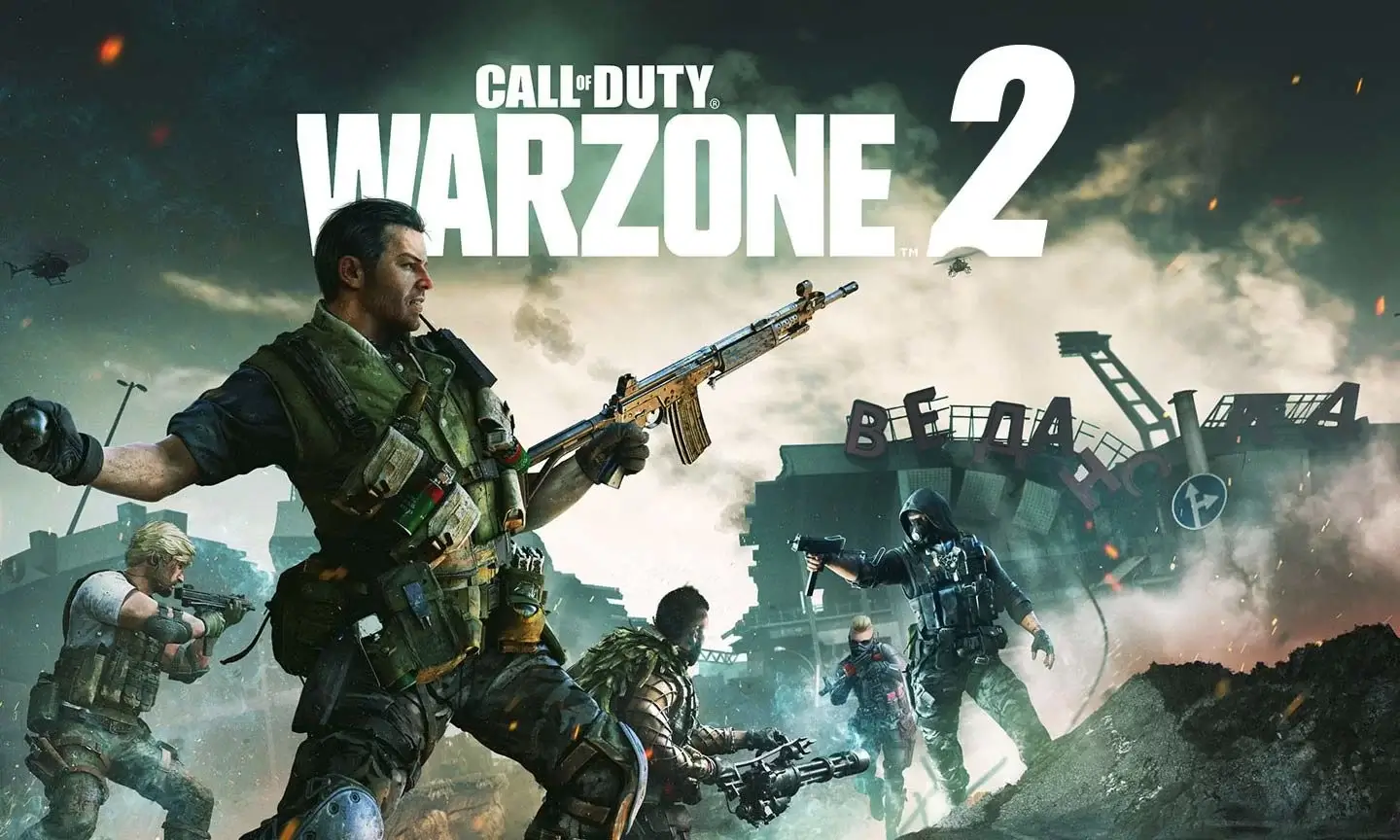 What Causes Warzone 2 Lag Spikes?
It is difficult to know the precise cause of the lag when playing games. Mostly, there are a large number of reasons possible for serious lag, including hardware limitations and internet connection issues.
Distance to servers

:

If you are using a wireless connection, it is a significant factor that how long between your computer and the router is. A long distance certainly leads to a slow speed for a large amount of data loss during the transmission. So, you are advised to choose a good site: normally, the closer, the better.

Bandwidth congestion

:

Your network will get congested if multiple applications are used concurrently

via the same modem

. Data queues as a result of several traffic sources eating up your entire bandwidth. When there is

a

queue,

the

traffic

is too heavy to afford any large task, such as large file downloading and playing online games, thus

creat

ing

slowness.
If you want to know more, here is an article on "How to Define Lag in Game" that can help a lot.