Tired of Valorant freezing up during a crucial match? The unexpected termination of the game will negatively impact your gaming experience and performance. There are a number of potential causes of crashes, including incompatible add-ons, low system resources, or damaged game files. The good news is that there are a few solutions to prevent Valorant crash and play the game smoothly. In this post, we'll go through the best methods for preventing and resolving Valorant crashes, so you can go back to playing the game as soon as possible. When the game won't start, freezes, or won't load, these solutions will get you back into the action as soon as possible with as little hassle as possible.
Part 1: Common Causes of Valorant Crashes
Part 2: Best Way to Fix Valorant Crashes
Part 3: Hardware Solutions for Valorant Crashes
Part 4: How To Avoid Crashes In Valorant
Part 5: Prerequisites to Ensure Your Valorant Won't Crash
Common Causes of Valorant Crashes
When Valorant crashes, it's usually for a variety of reasons. These are the most prevalent factors:
Outdated Graphics Drivers:

Incompatible or outdated graphics drivers commonly cause game crashes. The game won't operate properly without the most recent driver updates.

Not Enough Memory:

Valorant uses a lot of resources while running, and if your machine doesn't have enough, the game may crash.

Corrupted Game Files:

A common cause of crashes is corrupted system files essential to playing the game.
Best Way to Fix Valorant Crashes
LagoFast helps to fix Valorant crashing efficiently. With just simple steps, you can get top gaming performance with LagoFast game booster.
Step 1: Download LagoFast and search 'Valorant'.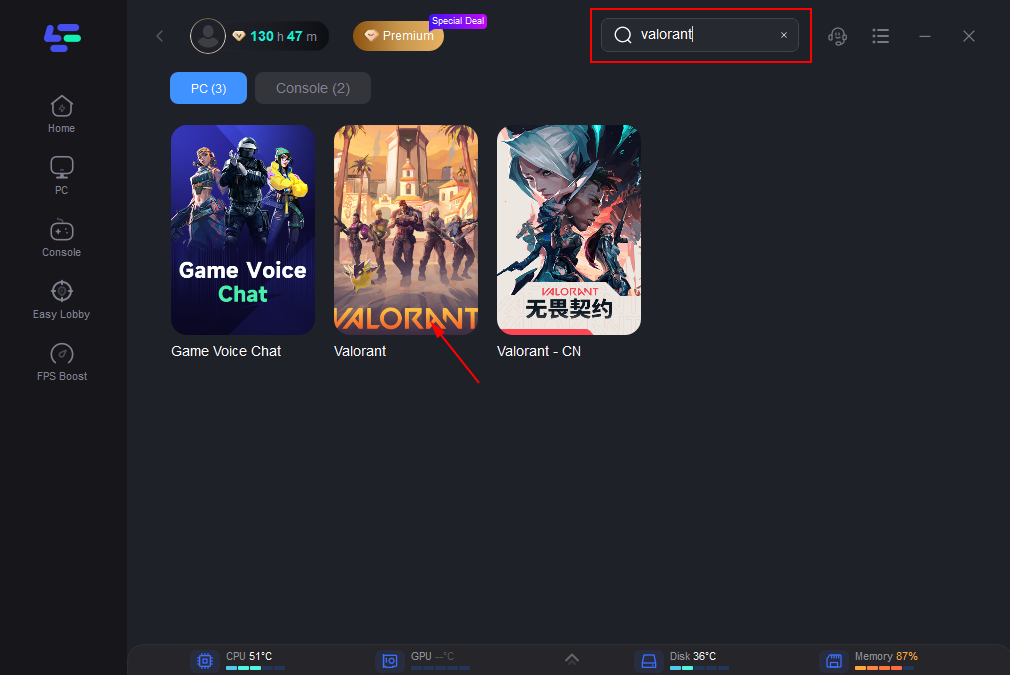 Step 2: Choose the best server for Valorant from numerous choices that LagoFast provides.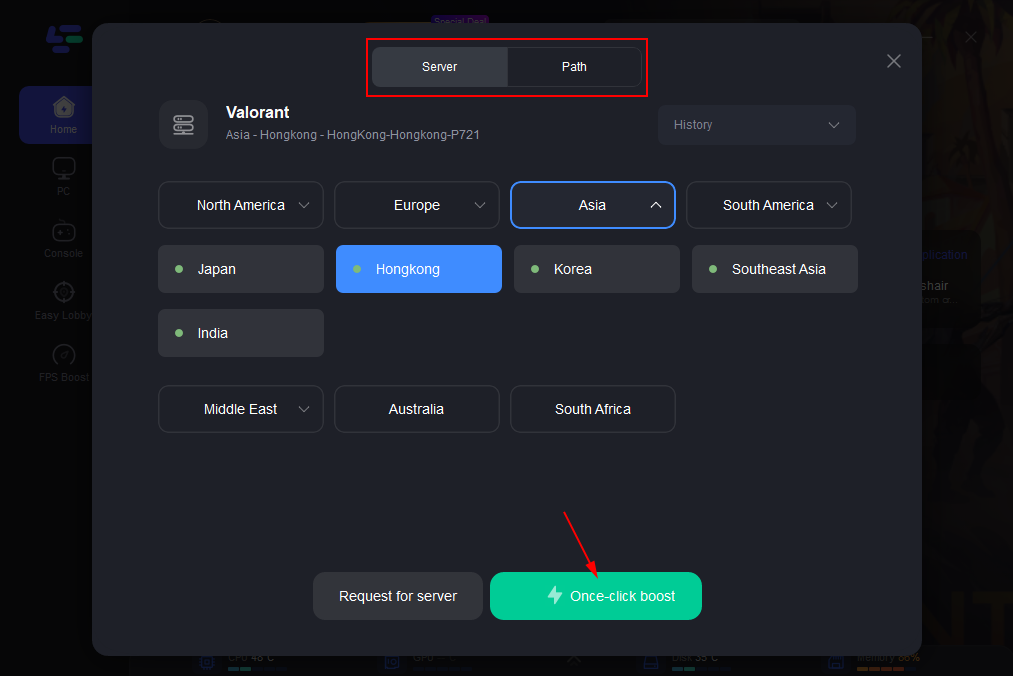 Step 3: Finally, your ping and packet loss status will be displayed on the software so you can enjoy your game without any lag or crash.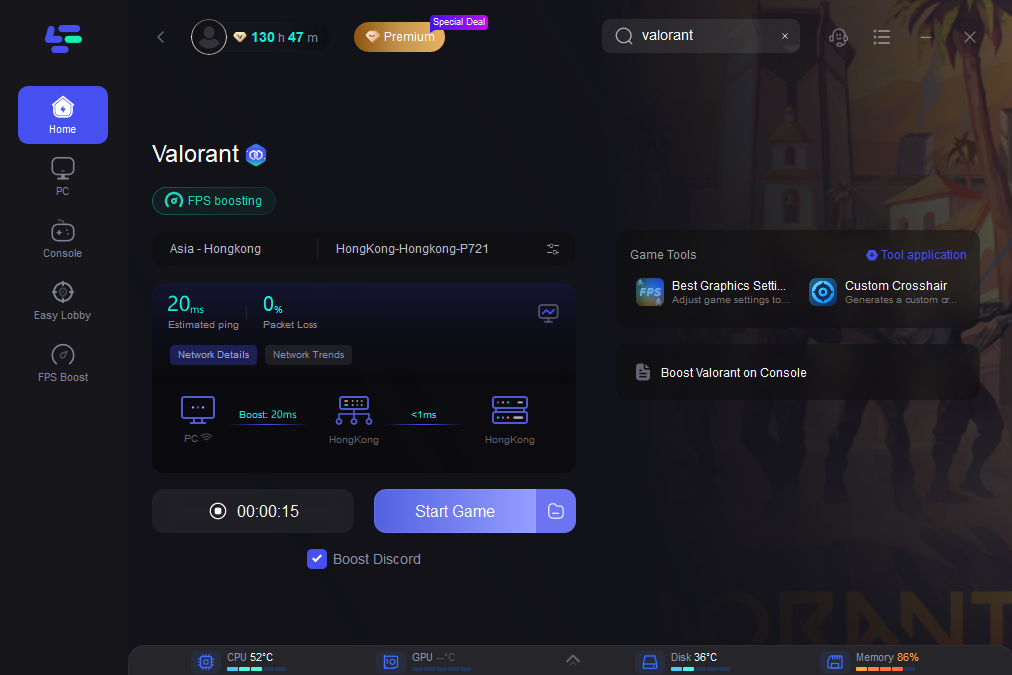 Update Graphics Drivers:

You may prevent Valorant crashes by installing the latest graphics drivers. Get the most recent drivers for your graphics card from the maker's website.

Increase System Resources:

If your system is struggling due to a lack of resources, you might try reducing the number of running programs or installing extra RAM.

Verify and Repair Game Files:

There are occasions when Valorant will not load because of a problem with the game files. The game files may be checked for integrity and fixed if they are damaged. Select the "Verify and Repair" option from the game's options menu to fix any issues you may be having.

Reset the Game Configuration:

If the game's configuration is causing the crash, you can try resetting it. Select the "Reset Configuration" option in the game's settings to delete all user data and start over.
In a word, LagoFast is the all-in-one solution to fix Valorant crash issues easily and effectively. It helps to choose the best game routes and increase FPS, thus reducing game lag and ping in real time!
Free Download
Hardware Solutions for Valorant Crashes
Turn off overclocking:

Increasing your computer's clock speed might improve performance, but it can also result in Valorant crashing. Fixing this issue is as simple as turning off overclocking in the computer's BIOS.

Adjust Graphics In-game:

if you're experiencing crashes at high frame rates. Click the "Limit FPS" button in the game's options menu to place a limit on the frame rate.

Restart Your GPU:

One of the most common causes of Valorant not loading can be due to a faulty GPU driver. You can press the Ctrl + Shift + Win + B keys to restart your graphics driver. After pressing this combination, you will hear a 'beep,' and your display might flicker for a couple of seconds before restarting your GPU.
How To Avoid Crashes In Valorant
Valorant is prone to crashing since it is a multiplayer online game. The irritation and disruption caused by these crashes are well-known among gamers. However, you may use a few tricks to play Valorant without interruptions.
Computer System Upgrade:

Keeping your software up to date is essential to avoiding crashes in Valorant. Among these components are the drivers for your graphics card and the operating system.

Verify Your Computer's Requirements:

Make sure your PC is up to snuff with Valorant's recommended specs before diving in. Having adequate RAM, a suitable graphics card, and a quick internet connection are all essential.

Manage System Resources:

Valorant uses a lot of resources while running, so make sure you're keeping tabs on everything. This entails doing things like deleting the cache and turning off starting apps you don't use.

Verify and Repair Game Files:

File corruption is a possible cause of Valorant crashes; thus, it's important to check and fix them as soon as possible. Avoid this by doing frequent checks and fixes on the game files.

Limit FPS:

Reduce the frame rate cap since playing at high frame rates might occasionally result in Valorant crashing. The solution is to reduce your frame rate cap in the game's options.

Disable Overclocking:

Since overclocking is known to trigger crashes in Valorant, it should be disabled in the system BIOS.

Turn off Anti-Virus Software:

Anti-virus software has been known to cause in-game interference and crashes. When playing Valorant, it's a good idea to deactivate anti-virus software just in case.
If you follow these guidelines, playing Valorant should be quite trouble-free for you. You may need to get in touch with the game's developers for further help if you're still experiencing Valorant crash issues.
Prerequisites to Ensure Your Valorant Won't Crash
Your responsibility as a Valorant player is to make sure your PC can run the game smoothly. In order to play Valorant without any hiccups, you'll need to meet the following system requirements:
Operating System:

Valorant requires a 64-bit version of Windows 7, 8.1, or 10 to run smoothly. Verify that you are using the latest version of your operating system and that it can run the game.

Processor:

A processor with at least a clock speed of 2.5 GHz is required to run Valorant. There is a strong recommendation for Intel Core i3-370M processors and above.

Memory (RAM):

4 GB of RAM is recommended for optimal performance with Valorant. For the greatest results, have at least 8 GB of RAM available.

Graphics Card:

A DirectX 11-compatible graphics card is required to run Valorant. A graphics card with at least the performance of an Nvidia GeForce GT 730 is suggested.

Hard Disk Space:

Valorant requires at least 30 GB of hard disk space to install and run. Before installing the game, ensure you have adequate space on your hard disk.

Internet Connection:

Online gaming in Valorant needs a constant and reliable connection to the internet. A connection speed of at least 10 Mbps is required for optimal performance.
By checking that your computer matches these requirements, you may play Valorant without interruption. Please attempt the solutions described in this post if you still have issues.
Conclusion
Valorant crashes may be quite frustrating for players, but they are correctable. Outdated graphics drivers, a lack of available system resources, and file corruption are the most prevalent reasons for game crashes. You can resolve these problems by updating the game's graphics drivers, adding more RAM, checking, and fixing the game's files, or resetting the game's settings. Hopefully, the following fixes will ensure you don't encounter the "Valorant can't load," "game won't start Valorant," "Valorant launch problem," and "Valorant freezing" errors.
If these solutions don't work, you can try advanced solutions such as disabling overclocking, limiting the FPS, and disabling anti-virus software. By following these steps, you should be able to fix Valorant crashes and enjoy the game to its full potential.