The Overprime is a free team-based TPS Action MOBA. It was created by Netmarble F&C Team SoulEve and will be published by Netmarble F&C. In this game, you can choose from a variety of powerful heroes, each with their own set of skills, and work with your teammates to conquer the Prime battlefield. However, the common game issues, like high ping and ping spikes, also exist in this game. Therefore, if you want to have a smooth gaming experience in Overprime, it is necessary to get a basic understanding of Overprime high ping. Following this article, the definition of high ping and ping spikes, reasons of theses annoying issues, and also effective measures could be shown as follows. And, among the ways to reduce Overprime high ping, I do want to recommend a professional product LagoFast. With it, you can slove all the game issues easily.
Part 1: What Does Overprime High Ping Mean?
Part 2: Why Is Overprime Ping Too High?
Part 3: How To Reduce Overprime High Ping The Most Easily?
Part 4: Other Solutions To Improve Overprime High Ping
What Does Overprime High Ping Mean?
The round-time spent on data transmission between your computer and the game server is referred to as ping. Ping is also measured in milliseconds, which is typically between 50 and 150 milliseconds. It is difficult to achieve pings of less than 50 ms, which will provide you with an excellent gaming experience. However, for gaming, if ping stays under 100 ms, it could be excellent. When your ping reaches 100, or even 150, which is considered high, you will notice game lag. And ping spikes occur when your ping suddenly increases to more than 200, or more than 200. You will feel some commands will not process rapidly, and some actions pause and then go very quickly for a moment. Ping spikes are very annoying
Why Is Overprime Ping Too High?
The network connection could be the primary and most common cause of Overprime high ping issues. For example, if your network or bandwidth is overcrowded, your connection is unstable, or your routing is inadequate, you will experience high ping. Furthermore, a faulty hardware setup may necessitate more time to process data, slowing data flow. Finally, your high ping may not even be caused by you. If the game server is down or there are too many people online at the same time, your ping may rise.
In addition, Overprime ping spikes are typically caused by a faulty network connection. Network congestion, bandwidth congestion, an unstable wireless connection, and poor routing, for example... An unstable connection will have the greatest impact on game ping spikes of all of these factors. As high ping issues, ping spikes can also be influenced by hardware configuration, game files, and the state of the game servers.
(We also often encounter this problem in Apex, and it is recommended to read this article Why Does Apex Get Ping Spikes?)
How To Reduce Overprime High Ping The Most Easily?
Fortunately, Overprime high ping and ping spikes issues are solvable. And the effective measures will be shown later. Compared to these measures which will take much of time or money, I do want to recommend a professional Overprime high ping reducer LagoFast, which is a professional game booster with over 8 years of experience who can reduce transfer time by using a proprietary data transmission protocol. With LagoFast, you just need an easy click on Boost button, and then this game booster will ensure your smooth experience in the background. And in LagoFast, you can choose the most suitable option, for example, if you play Overprime or other games every day, you can choose the monthly membership one. Instead, you can choose the plan per minute.
If you want to try using LagoFast, here are some steps:
Step 1: Click the Free Trial button to download the LagoFast client and experience the game boost service. Or directly go to LagoFast site.
Step 2: Before running Overprime, you just need to find the in LagoFast and click the Boost button.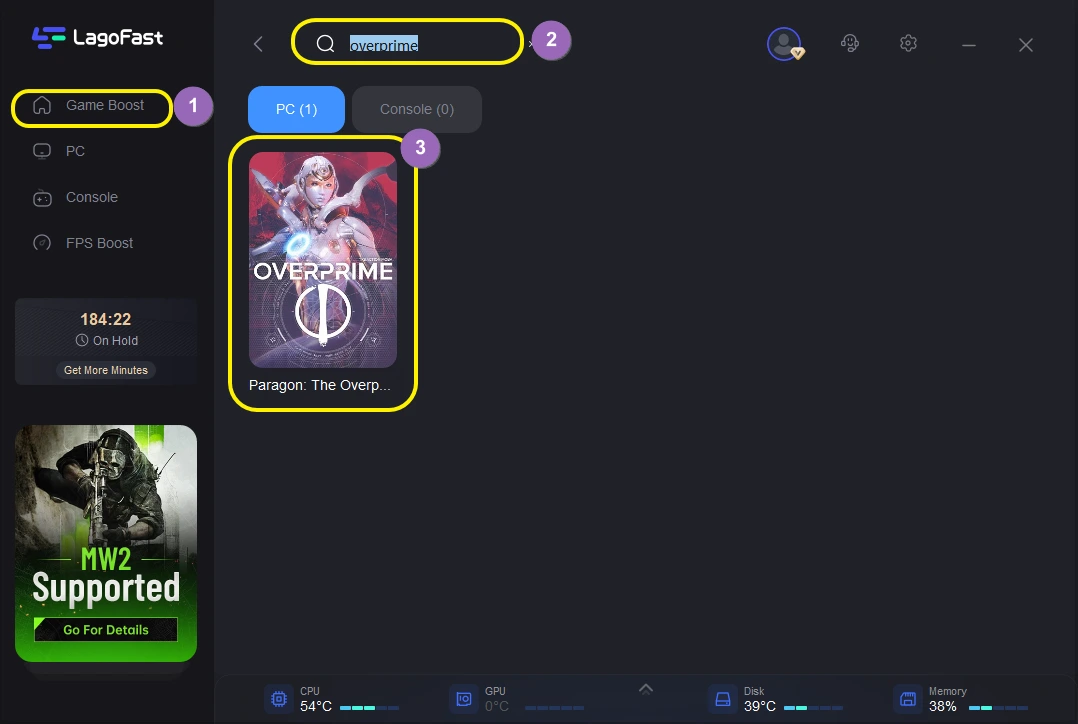 Step 3: And then you can click the FPS boost button to change settings to improve your game FPS based on your specific requirements.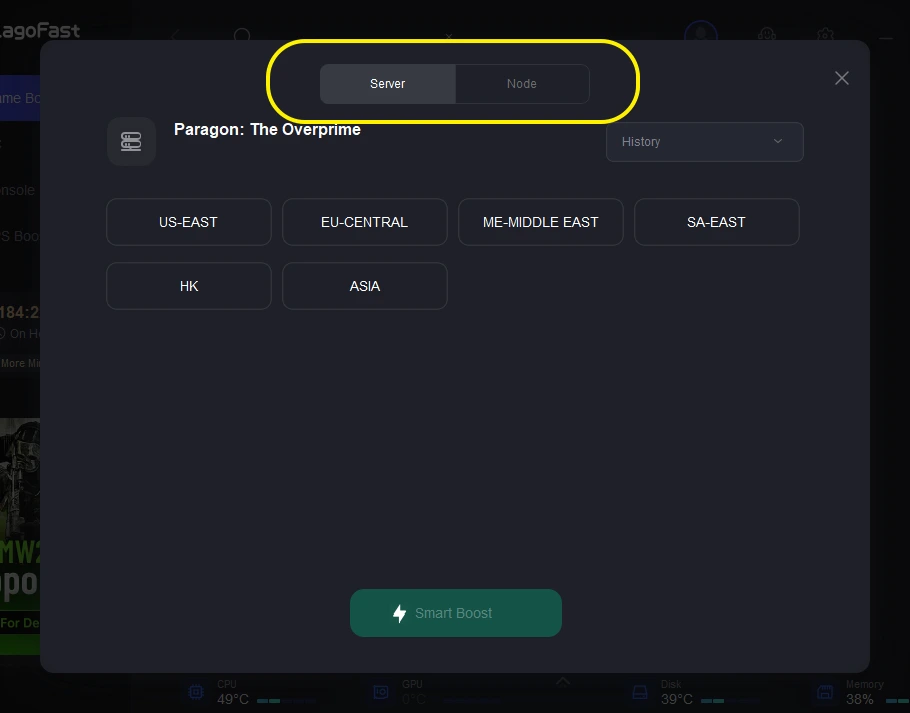 Step 4: After this easy click, the LagoFast game booster will improve your game internet connection, decrease Overprime high ping and reduce lag issues in the background. While you are playing the game, you can see the accurate ping test result. And in addition, LagoFast could also provide you with many other tests, like packet loss and local network fluctuation.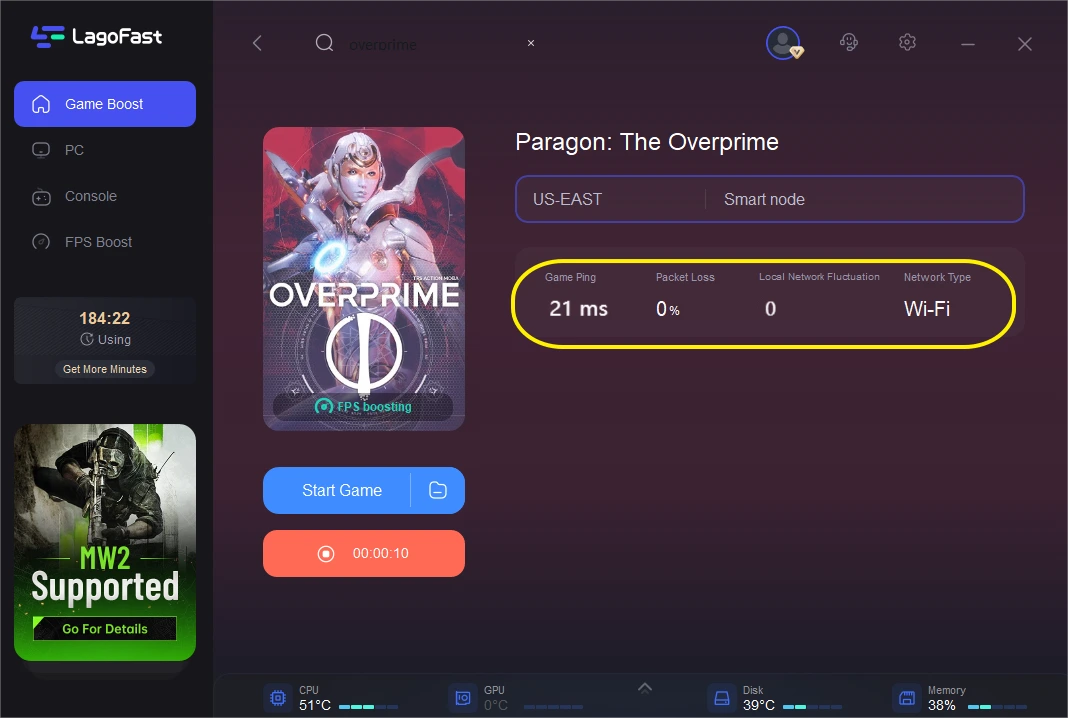 Other Solutions To Improve Overprime High Ping
Establish a wired connection.
Wired connections produce less interference than wireless connections. Other wireless connections, for example, may not be visible in the Ethernet-connected connection. Furthermore, data transmission via the cable connection would be faster and more reliable if there were no concrete walls or other impediments. Switching to an Ethernet wired connection can help you improve network connection speed and stability, and thus reduce ping spikes and bad ping in video games.
Remove Extraneous Load
When gaming, unnecessary load is a major cause of network congestion. To avoid this, ensure that nothing is downloading while you play the game. Additionally, make certain that no one else is playing games on the same internet connection as you.
Use the server that is closest to your geographical location
As previously stated, ping in games refers to the amount of time it takes for data to be transmitted between your location and the game server. As a result, choosing a gaming server close to where you are will reduce distance and ping.
Reboot your network connection
If your ping is too high for gaming, you can try restarting your network connection. You can try restarting the routing or the WiFi, as well as your game and Windows, to get a new loading screen.