Call of Duty: Modern Warfare 2 (MW2) is a 2022 video game as a sequel to the 2019 reboot, Call of Duty: Modern Warfare. It is a first-person shooter game developed by Infinity Ward and published by Activision. MW2 is based on the famous Modern Warfare series and takes place in a realistic and modern setting. It features cross-platform multiplayer battles and Warzone 2.0, which makes it popular among players all over the world.
Why I lost connection to host/server MW2?
Most commonly, if you lost connection to host or server in Modern Warfare 2, the problem lies in your network. As the screenshot shows in the following, your connection timed out and you lost connection to Host/Server MW2. In this case, you need to check if your network is stable enough to support a multiplayer game like MW2 or Warzone 2. According to this network connection issue, we have tested some effective ways you can try to fix MW2 lost connection to host issue on Windows PC.

You may like: How to play MW3 early on Xbox PlayStation and PC >
Fix MW2 Lost Connection to Host/Server: Connection Timed Out
Method 1. Use LagoFast game booster.
LagoFast is a famous game accelerator for its exclusive routes from around the world and unique protocol. It covers more than 60 countries and supports more than 1000 games, which makes sure that you can use it anywhere to accelerate any game you want. You can check the full features of LagoFast in the following:
Reduce lag & ping for more than 2000 online games.
Real-time FPS boost for better animation and shooting experience.
Change the server in MW2 and other online games.
Improve download speed when installing or updating the games.
Faster and more stable network connection
Besides, the interface of LagoFast is quite simple and clear. Within only a few steps, you can fix MW2 lost connection to host error in just few step.
Step 1: Download LagoFast and open it.
Step 2: Search for the game, for example, MW2, on the top of the interface.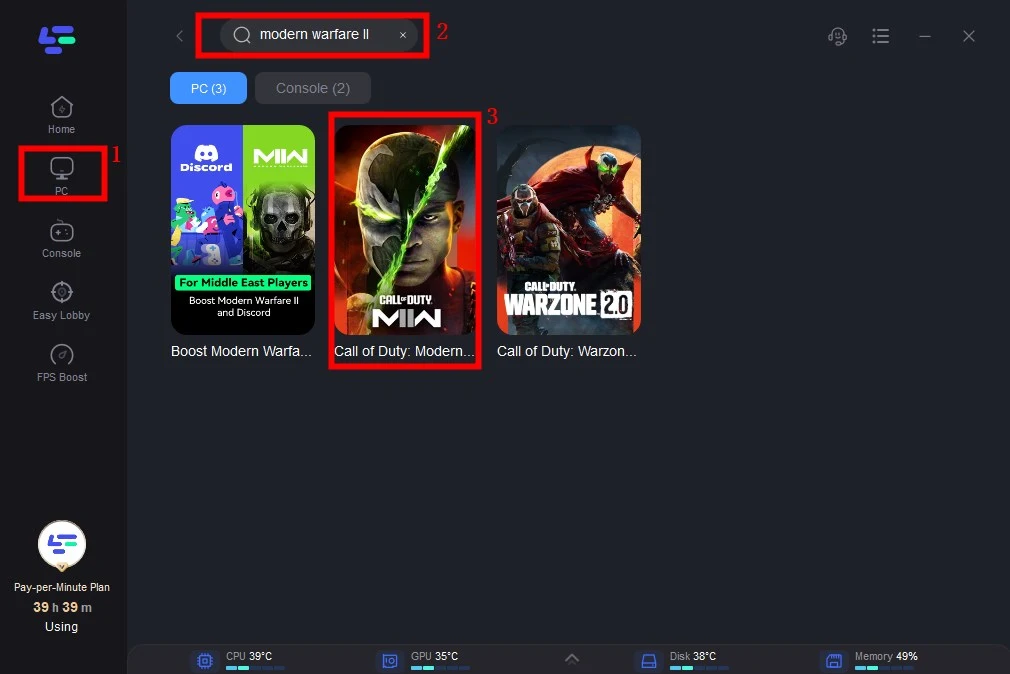 Step 3: Choose server and node.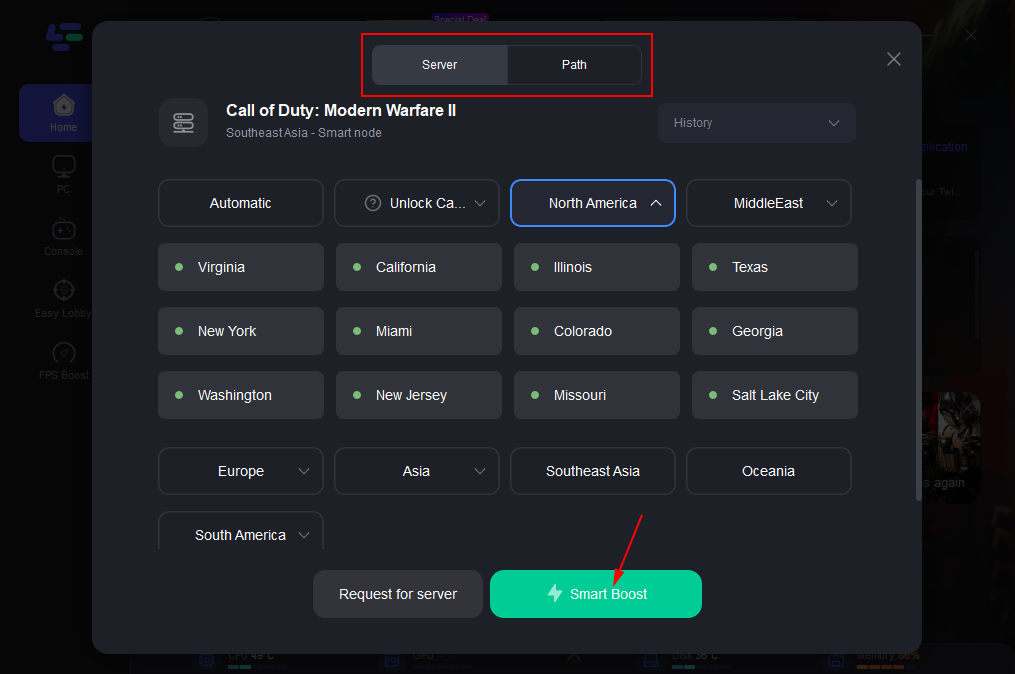 Step 4: Enjoy your games without being interrupted by connection failure!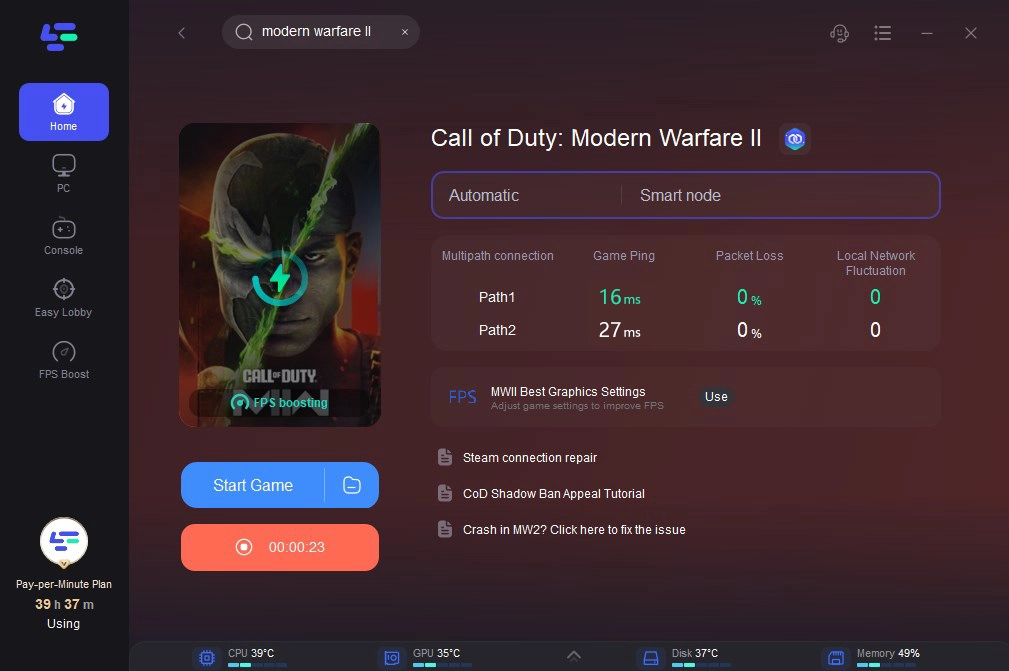 LagoFast is not only easy to use but also has consideration for its users. Whoever uses LagoFast can stop the acceleration whenever he or she wants without being charged for the minutes he or she did not actually use. This is a unique feature of LagoFast and it ensures that LagoFast is and will always be a more economical choice for players around the world.
You must know more about LagoFast after the introduction presented above, do not hesitate and give LagoFast a try! I am sure that it will not let you down and fix your connection failure issue right away!
Method 2. Restart your game or computer.
When you run into connection failure issues, it is always a good choice to restart your game or computer. Sometimes, after the restart, the lost connection to host issue will magically disappear. There are several steps you can follow to solve your problem.
Method 3. Disconnect All Other Devices.
Sometimes, all the other programs running on your computer may greatly impact the performance of your computer and of your network connection. In addition, all the other devices, such as your phone, iPad, PS4, PS5 or Switch, will also affect your Internet speed and cause an MW2 lost connection to host or server issue.
The right thing to do is to open your task manager on your computer by pressing Alt, Ctrl and Del, and to end tasks you don't need when you play MW2. In the meantime, you can close other electronic devices or simply disconnect them from your router. That will ease the burden of your network connection and improve your Internet speed.
Hopefully, this will help you with your lost connection to host or server issue.
Step 1: Check server status. You can search online to check if the Call of Duty servers are online or if there are any problems.
Step 2: Restart Modern Warfare 2.
Step 3: Restart the router. It is an effective solution. To do this, unplug it for 2 minutes and plug your router back in. This will restart your network connection and the connection speed to the MW2 host may increase.
Step 4: Run Steam or Battle.net as admin. This will only help PC players. But you can close Steam or Battle.net and run it as admin. To do this, right-click on the software and select "Run as Admin".
Step 5:Disable Overclocking. It is also for PC gamers only. A few gamers report that the issue was solved for them after they disabled their overclocking software.
Hope the above steps will solve your problem.
Method 4: Run Steam or Battle.net as admin
Sometimes you need to run a game as admin to solve the occasional problems. For Modern Warfare 2, you can't directly run it as admin but run the platform as admin. Before trying this method, close your Steam or Battlenet first and then run it as admin. Just right-click the client and click "Run as admin" will help.
Method 5. Restart the Router
Another way to fix the lost connection to host in MW2 is restarting your router. Make sure you have saved all your important online files and exit MW2 first. Then you can unplug your router wire and wait for minutes to plug it in again. It will help your router refresh and fix some network issues for better use.
Conclusion
In this article, we provide you with 3 ways to fix MW2 lost connection to host issue. As you can see, the first way is the most convenient and efficient one. Download LagoFast now and have a try! I'm sure that it will make a difference and improve your gaming experience a lot!