Apex Legends is a free-to-play battle royale-hero shooter game developed by Respawn Entertainment and published by Electronic Arts. It was released for Microsoft Windows, PlayStation 4, and Xbox One in February 2019, for Nintendo Switch in March 2021, and for PlayStation 5 and Xbox Series X/S in March 2022. The winning gameplay in this first-person shooter game Apex is about collecting supplies, building up your equipment and then surviving to the end. Apex currently supports playing in teams of 3, with a total of 60 players in a game, and the game has 20 squads. But in this game which needs competition and cooperation, many players reported that they experienced the Apex Legends high ping and Apex Legends ping spikes problem. Why does Apex get ping spikes and how to fix these become one of the most important problems to Apex players. In this article, you can find the reasons for Apex ping spikes and high ping apex, and also the measures that could be taken. Among these measures, I want to highlight the most convenient and easiest way LagoFast.
Part 1: What Are Apex Legends Ping Spikes And High Ping?
Part 2: Why Does Apex Get Ping Spikes And High Ping?
Part 3: Fix Apex High Ping And Ping Spikes In An Easy Way
Part 4: Other Solutions To Fix Apex High Ping And Ping Spikes
Part 5: How to Get Better Ping in Apex
What Are Apex Legends Ping Spikes And High Ping?
Ping is always associated with the Apex lag issues. It is referred to as the round-time spent on data transmission between your computer and the Apex game server. And Ping is measured in milliseconds. Generally, ping is between 50 and 150 milliseconds. It is challenging to achieve pings below 50ms, but doing so provides an excellent gaming experience. But for gaming, anything under 100 ms is excellent. When your ping reaches 100, or even 150, which is at a high level, you will feel the existence of Apex lag. In addition to Apex high ping problem, when your ping suddenly soars to more than 200, or more than 200, this situation is called Apex ping spikes. You will feel some commands will not process rapidly, and some actions pause and then go very quickly for a moment. They are very annoying.
Why Does Apex Get Ping Spikes And High Ping?
Generally speaking, the Apex high ping problem and ping spikes are caused by a bad network connection. For example, network congestion, bandwidth congestion, unstable wireless connection, and bad routing… Among these factors, the unstable connection will seriously affect Apex ping spikes issues. Besides network connection, this bad ping in Apex Legends and ping spikes could also be affected by hardware configuration, game files, and also the game servers' condition. You could find more details about why does apex get ping spikes in this article.
Fix Apex High Ping And Ping Spikes In An Easy Way
Many measures could be taken to fix Apex Legends high ping and ping spikes problems. But there exists a convenient and easy way to fix high ping apex legends, that is using the professional Apex ping reducer LagoFast. It can use its unique data transmission protocol to reduce the time spent on transfer. In addition, LagoFast has worldwide nodes and exclusive routes to solve the network connection, which will make the time spent on transmission decrease significantly and also improve the network connection. These nodes could be chosen based on your geolocation before running the game.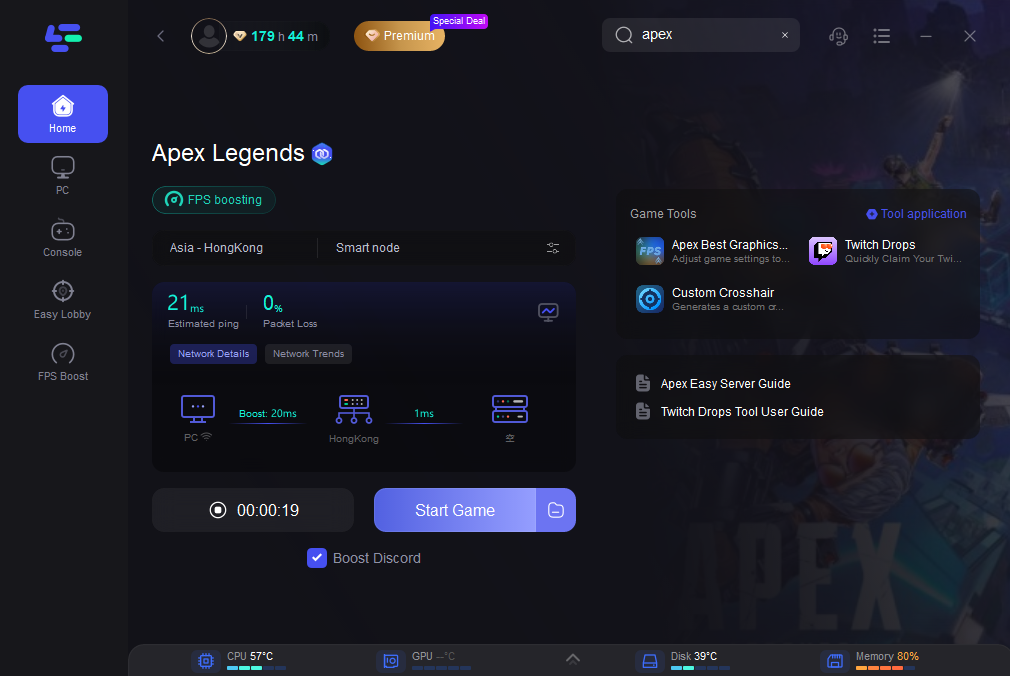 And compared to other game ping reducers, LagoFast launched the plan per minute, you can suspend LagoFast's Apex ping reducer service at any time and you will not be charged when you are not using the product. Therefore, if you don't play Apex Legends every day, LagoFast is the most economical option for you!
If you want to try using LagoFast to fix high ping in Apex Legends, you can click the Free Download button to download the LagoFast client and experience the network connection optimization service.
Before running Apex, you just need to find the Apex in LagoFast and click the "Boost" button, LagoFast will help with the Apex Legends ping fix.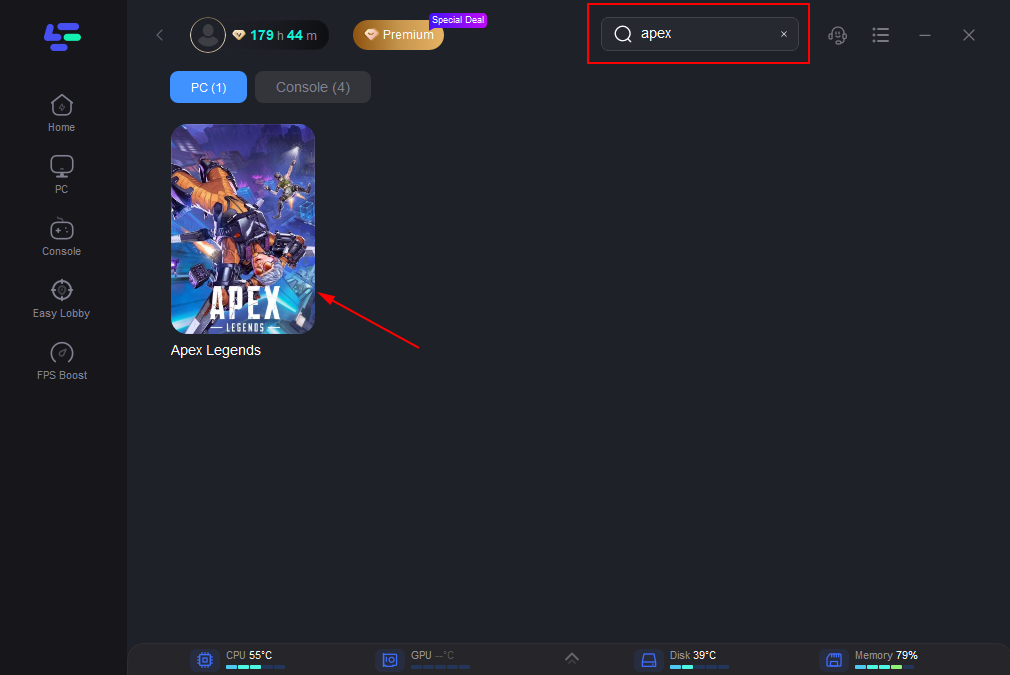 LagoFast also supports 1000+ more popular online games, you can also use it to optimize your gaming experience in other games, in addition to fixing high ping in Apex Legends.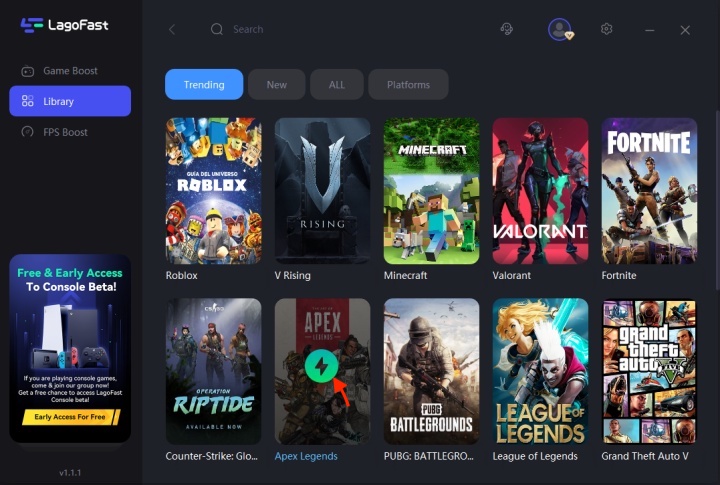 Other Solutions To Fix Apex High Ping And Ping Spikes
Select The Game Server Closest To Your Geographical Location
If you want to know why does Apex get ping spikes and high ping, you should first know what is ping, which is the round-time spent on data transmission between your geological location and the game server. And then you will understand the importance of distance. Therefore, when you load in Apex, you can try selecting the Apex game server closest to your geographical location. This measure will significantly reduce the distance, and then reduce the time spent.
Get A Wired Connection
A wired connection, like an Ethernet wired connection, could be not visible to other wireless connections, which makes less interference than a wireless one. And the data transferred in the wired connection would be faster and more reliable without concrete walls or other obstacles. Therefore, switching to an Ethernet wired connection could be useful to boost the stability and speed of the network connection, and then fix Apex game ping spikes and bad ping.
Check If There Are Some Problems With Apex Game Server
If there are some problems with the Apex game server, the data transmission will not will successful, and then the Apex high ping and ping spikes will appear. You can visit the Apex Legends Status Site on EA's official site to check server conditions.
Restart Your Network Connection
If you are experiencing Apex high ping and ping spikes, you can restart your network connection to reload the game. You can restart your routing, restart your computer or your Apex game.
Remove Background Unnecessary Processes
If there are many applications running in the background, they will not only affect your network connection but also occupy the performance of the computer. Therefore, close unnecessary background applications and leave more space to run Apex.
How to Get Better Ping in Apex
Rather than ping spikes, which means unstable ping, some players might have a stable bad ping in Apex Legends. Generally speaking, the methods of how to fix apex legends ping are pretty much the same as above stated. If you temporarily can't change your internet settings, it's best to use a game VPN to effectively get better ping in Apex. LagoFast offers a free trial for you to experience the service and both monthly Subscription Plan and Pay-per-minute Plan, so that you can choose the most economical plan which suits your gaming time best. LagoFast also increases FPS for your best in-game experience.