FIFA 23 release date is quickly approaching, and it marks the end of the FIFA series, but this final installment contains some promising changes. EA wants FIFA 23 to be a more realistic gaming experience, so they've built more realistic stadiums, augmented reality replays, improved net textures, and more. In addition, members of the development team explored Hypermotion 2 technology, creating animations for everything from attacking and defending to skillful moves. Of course, players are most excited about cross-platform play, which will allow them to enjoy the game with friends from other platforms. The most popular online mode necessitates a steady Internet connection. However, as we all know, this is not always the case. FIFA 23 lag will appear from time to time, ruining your gaming experience. But don't worry, you can simply throw it to the game's problem solver - LagoFast!
Part 3: How to Fix FIFA 23 Lag?
Lag, three letters that strike fear into every player's heart. The perceptible delay between the player's input and the in-game response is referred to as lag. Lag is typically caused by a high latency or ping. It can be divided into two types: action lag and graphical lag. Action lag occurs when the game is slow to respond to your actions, whereas graphical lag occurs when your system is unable to generate enough FPS. Lag can have a significant impact on the gaming experience, particularly in FPS games that require seamless synchronization between actions and on-screen reactions.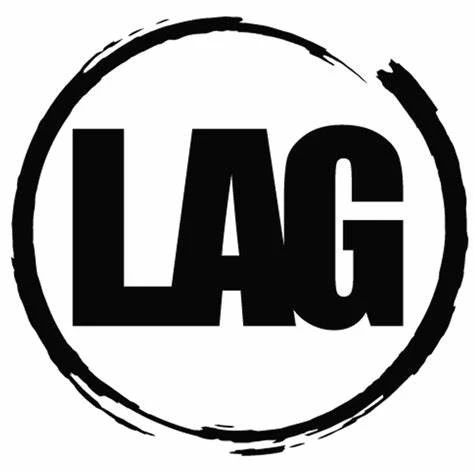 Causes of FIFA 23 Lag
In fact, there are numerous causes of FIFA 23 lag, including hardware and software issues, but the majority of them are related to the Internet. Before we discuss the solution, let's first analyze the causes of the problem so that we can better treat it.
Not met the minimum system requirements: The minimum system requirements are usually listed on the first page of the game purchase for the carefully crafted game to work properly. This is the fundamental guarantee that the game will function properly. After all, CPU processing power is limited, so if your computer hardware is incapable of running FIFA 23, you should consider upgrading your PC. And, if you want a smoother, more immersive gaming experience, your computer configuration must be higher.
Server issue: Lag may also be caused by factors other than your network, but the game server may be unavailable. But you'll soon find out from the game forums, where thousands of players will voice their displeasure. More often than not, if you are geographically too far away from the server where you are playing the game, it can also cause after (though this is not a technical problem with the server), because the data transfer needs to be farther away, which means it takes longer.
Antivirus/Firewall interference: Our computers' firewalls and anti-virus software are there to protect us, but they can be overly protective at times. They will sweep software regularly in order to detect potential threats on the computer and will monitor or stop the activity of that app. If the firewall considers FIFA 23 to be dangerous, it will monitor its activity, resulting in FIFA 23 lag.
Unstable wireless network: There is no denying that WIFI is extremely convenient, but the benefits and drawbacks are mutually exclusive. Wireless Internet is highly unstable and easily disrupted. First, objects, particularly metal objects and thick walls, may block the wireless signal between your computer and the router. Second, the wi-fi signal can be interfered with by other unknown signals, and FIFA 23 lag is caused by an unstable network. Finally, because broadband network data is limited, you can expect your game network to be slowed down if there are many other devices sharing the same network with you.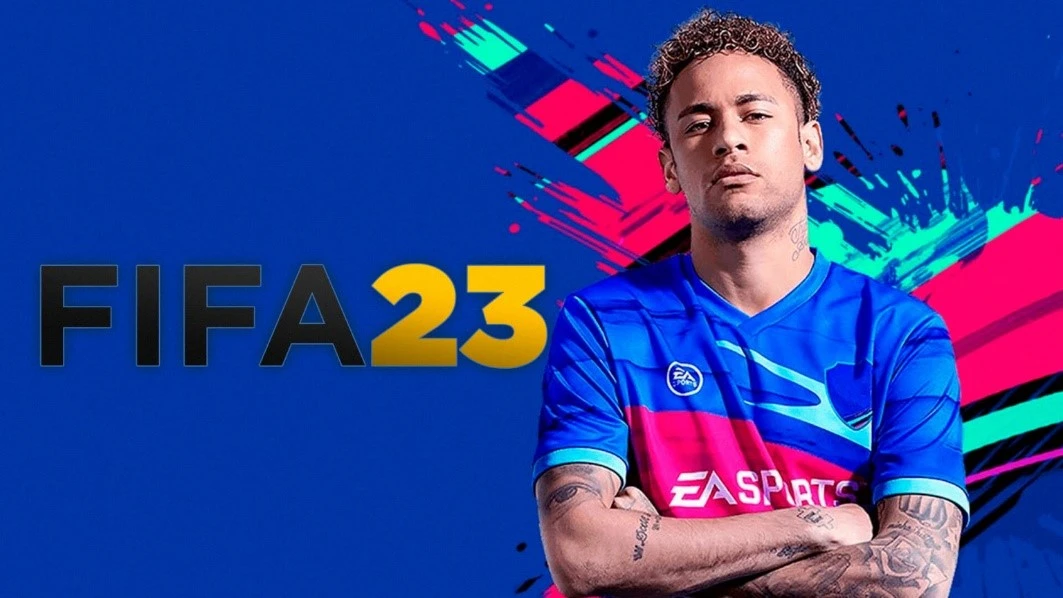 How to Fix FIFA 23 Lag?
If you are frustrated because the FIFA 23 lag problem is difficult to solve, please do not hesitate to use LagoFast, which is the game's main enemy. If you're curious, let me explain slowly. To begin with, LagoFast has over 8 years of experience in data transfer and has strong compatibility with networks of various environments, implying that FIFA 23 issues are easily resolved. Second, LagoFast has accelerated routes for players in over 60 countries, so you don't have to worry about whether you can use it. Finally, it's the only game booster and game VPN that has a time charge, it's much better than those products that charge for a whole month, at least you don't have to worry about paying for it and not enjoying the service.
Let's see the features of LagoFast:
Free trial, try before you make a decision
Pay per minute, wallet-friendly!
FC 24 FPS Boost while reducing Ping, also fix lag
Have over 8 years of experience in data transfer
Worldwide exclusive routes
Here's how to use LagoFast
Step 1: Download LagoFast.
Step 2: Type "FIFA 23 " in the search box and choose the one you need.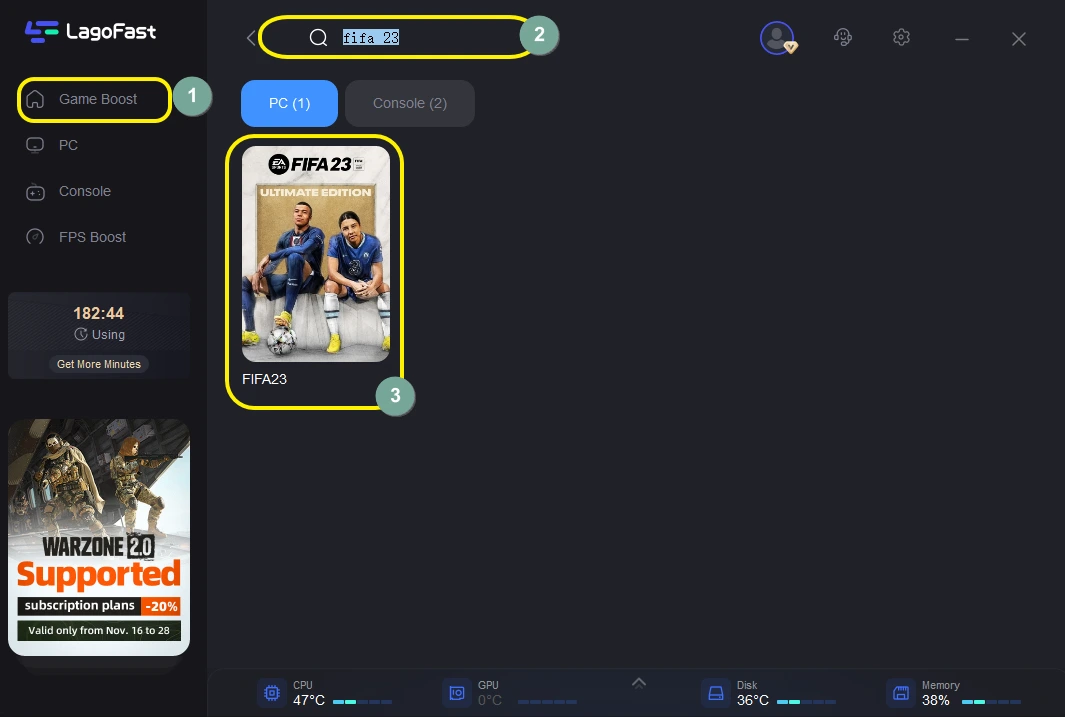 Step 3: Choose your needed server (remember to choose the same as your server in-game).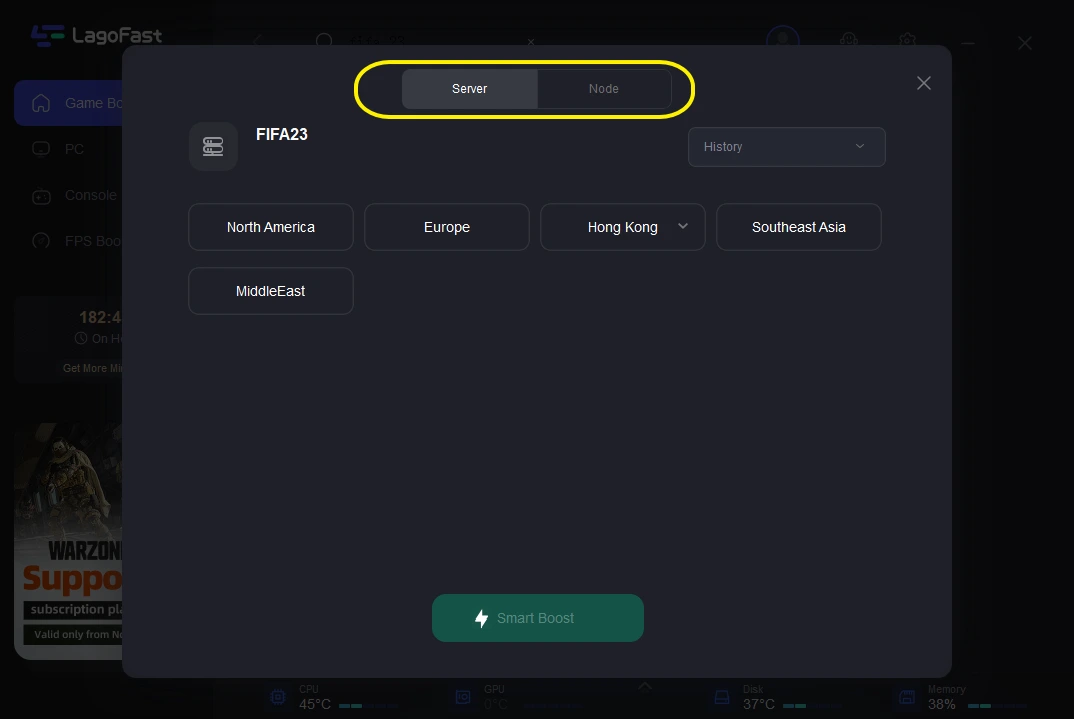 Step 4: Click on the Boost button to start boosting.
On this page, you can also see your real-time ping rate and packet loss rate in FIFA 23, which are related to FPS.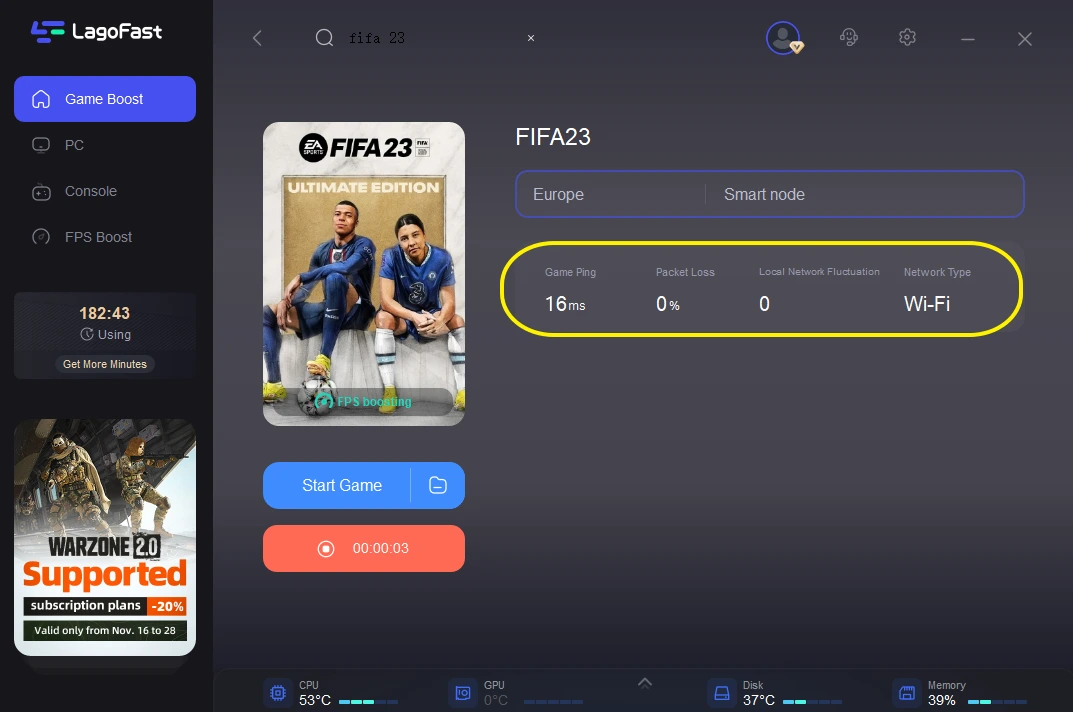 If you want to improve your in-game FPS performance or avoid FPS drop, you can also use LagoFast to adjust your settings as you wish. To do this:
Step 1: Click on "FPS Boost" on the left side.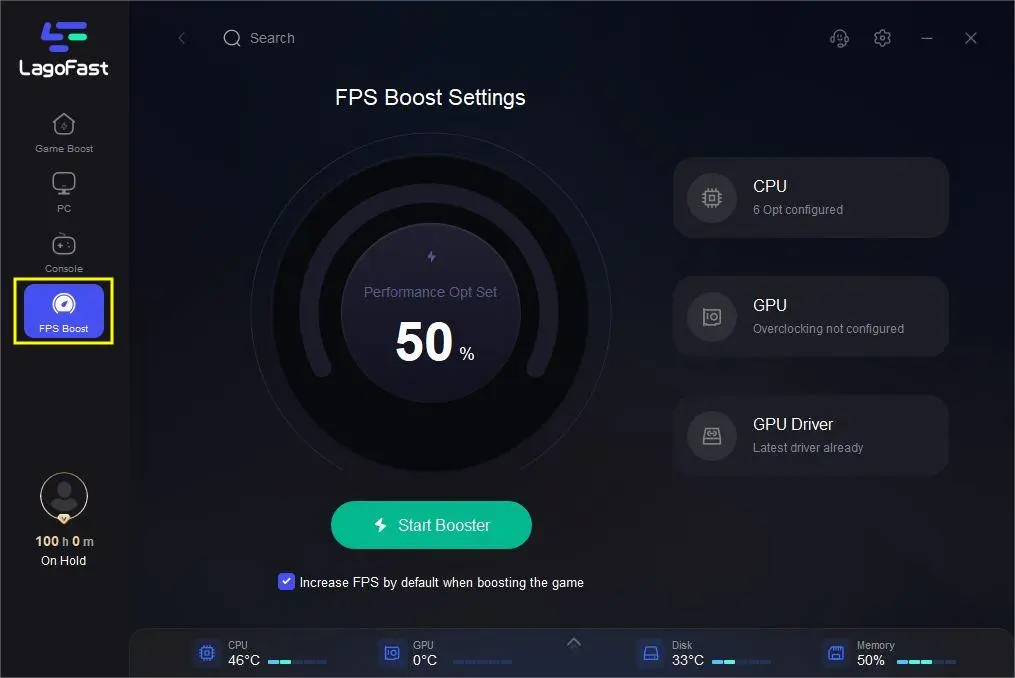 Step 2: Click "CPU Optimization" on the FPS Boost page and choose the settings that you want to open.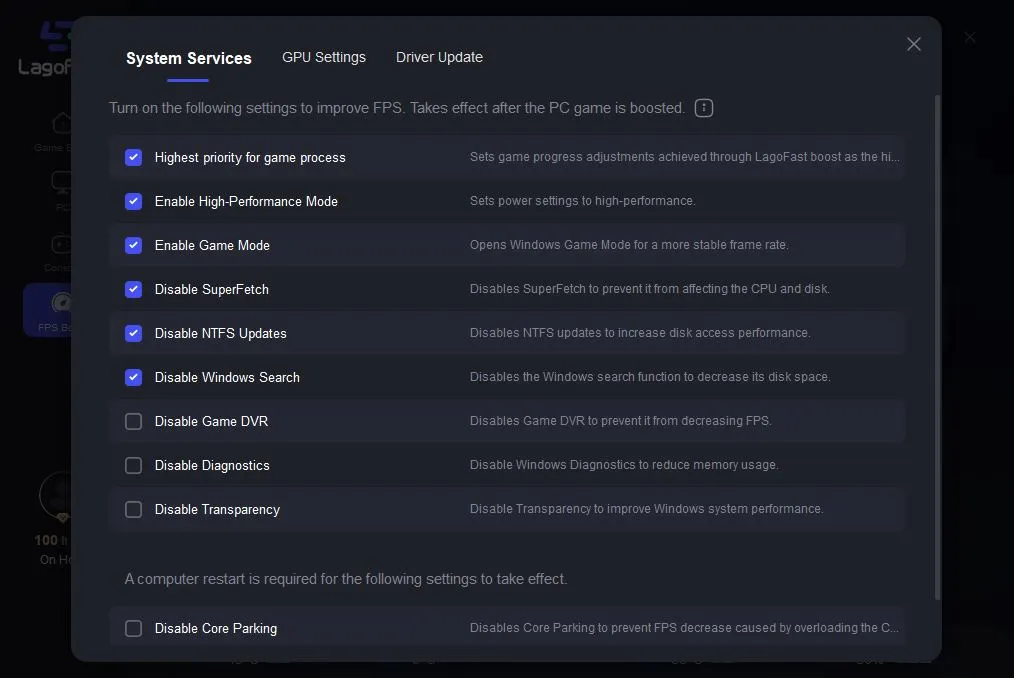 Step 3: Click "GPU Settings" on the FPS Boost page.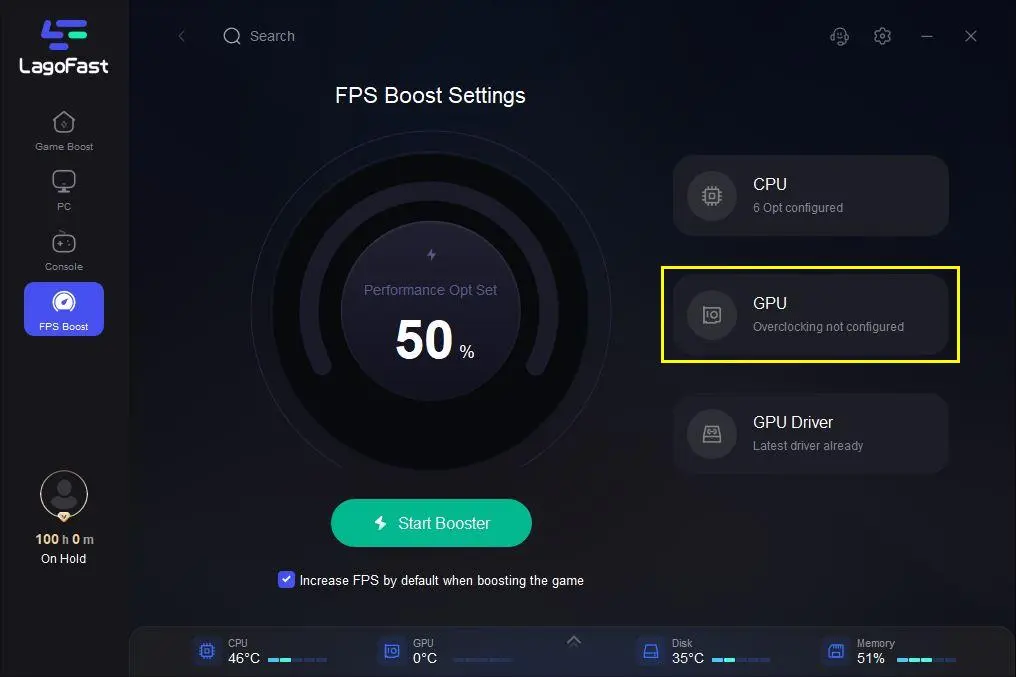 Step 4: Slide to choose your overclocking level in the first bar and tick "Enable GPU Boost" in the second bar.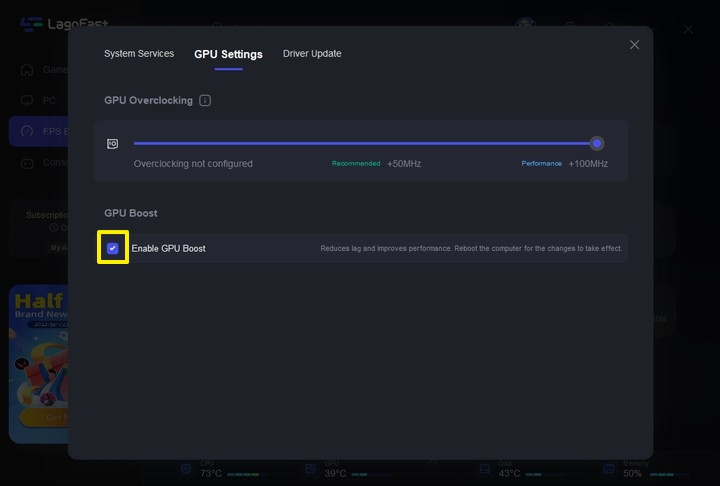 Step 5: Click "GPU Driver" on the FPS Boost page to check your GUP Driver updating version.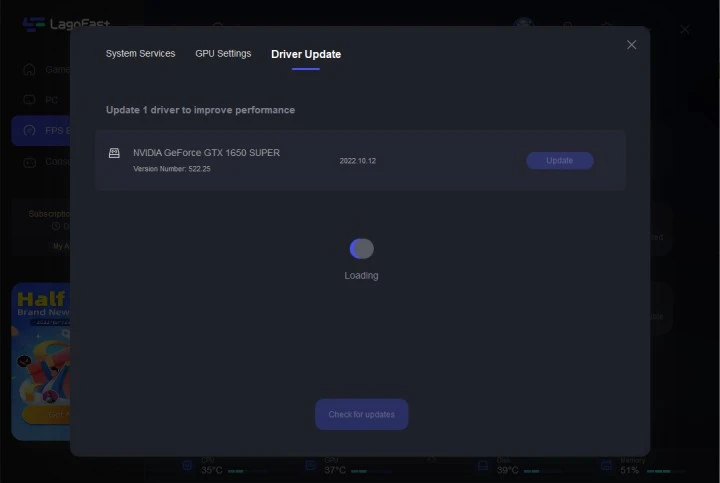 LagoFast could also fix your FIFA 23 connection errors, and crashing, and other related issues, read this article to get more instructions!
Other solutions
FIFA 23 lag can be caused by a number of factors, making it difficult to resolve on your own. However, if you already know the cause of FIFA 23 lag and are looking for a solution to fix it, we have compiled a list of common solutions for you that we hope will be useful.
Use wired connection: In the causes of the lag section, we discussed why wireless networks are unsuitable for gaming. So, what will provide us with consistent internet access and fast internet speeds? A wired network connection is the solution. If your circumstances prevent you from using a wired network, you can reduce the distance between your computer and the router, as well as the number of devices connected to the network.
Close background apps: In order to keep your computer running properly, there are many applications running in the background. And when we turn on the computer, we also open the browser or chat software. But all these apps will take up CPU running memory and network data, resulting in fewer resources allocated by FIFA 23. In this case, we need to open the task manager of the computer and close the non-system level programs with high resource usage, which should significantly improve the performance of your computer.
Whitelist FIFA 23: After we know that the firewall can be the reason for preventing the game from running properly, we can solve this problem by whitelisting FIFA 23. Also, you can turn off your antivirus software while playing the game.
Check the system requirements: We frequently advise players to check whether their PC has enough power to run the game before starting a new one, and we believe you don't want to buy a game only to have it collect dust in your computer due to equipment issues. The following are the system requirements for FIFA 23.