With the announcement that EA Sports and FIFA's three-decade partnership is coming to an end, FIFA will be the final game in the series to bear the FIFA name, but fan excitement for FIFA 23 remains high. A lot of important information about FIFA 23 has now been released, including new skill moves, set pieces, and power shots, as well as improved realism. The most exciting aspect, however, is the cross-platform gameplay, which allows you to play with friends from different platforms. However, FIFA 23 connection errors are unavoidable and can be caused by both software and hardware issues. We recommend LagoFast, a game booster that will help you solve this problem quickly.
Part 1: Why do You Encounter FIFA 23 Connection Errors?
Part 2: How can I Fix FIFA 23 Connection Errors?
Why do You Encounter FIFA 23 Connection Errors?
FIFA 23 is a forthcoming football simulation video game from Electronic Arts. The official announcement of the features of FIFA 23 also whets the appetite of soccer fans. FIFA 23 will use the "HyperMotion2" feature to create game animations by using machine learning to learn from real-life soccer matches, providing players with an immersive game experience. In addition, the game includes a World Cup game mode that simulates the 2022 FIFA World Cup. Aside from these, one of the most anticipated is the cross-platform game. After all, nothing beats playing with friends to make people happy. At launch, the feature will be available in FUT Division Rivals (except Co-Op), FUT Champions, and so on. However, if you experience FIFA 23 connection errors, it will have a negative impact on your gaming experience. Let's take a look at what can cause this problem.
Firewall/anti-virus software interference: Firewall/anti-virus software scans your computer for threatening software and blocks its processes to keep it safe. If FIFA 23 fails to connect to the Internet, it is likely that they are treating it as malware and monitoring its network connection, resulting in connection errors.
Outdated network driver: The network driver in your PC is in charge of all network-related activities and ensures that the relevant functions run smoothly. In this case, if your network driver is out of date or corrupted, FIFA 23 will experience connection issues.
Unstable/Slow network: Wireless Internet is the most common type of Internet we use in our daily lives, but it has the obvious disadvantage of being unstable and easily interfered with by other signals. When there are several walls between your computer and the router, the signal becomes extremely weak. Furthermore, a router has limited network data, so connecting multiple devices to the same WIFI at the same time may reduce network speed and eventually lead to FIFA 23 connection errors.
Closed game server: When the game's servers are undergoing routine maintenance, or if problems are discovered that necessitate server repairs, you may experience connection issues because you are unable to connect to the game's servers.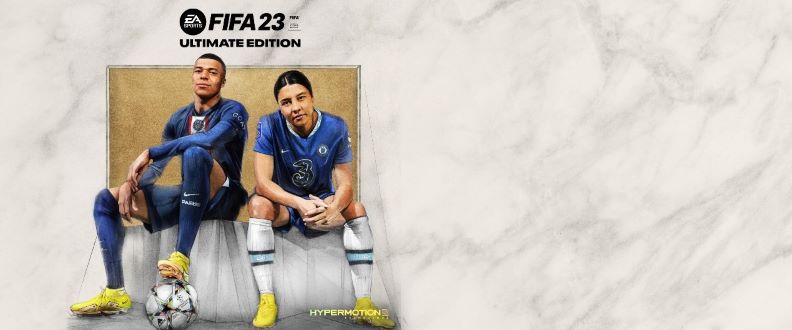 How can I Fix FIFA 23 Connection Errors?
Use LagoFast
LagoFast is most likely the best FIFA 23 game booster you can have for connection errors. With game booster enabled, I'm confident you'll have a super smooth experience. Allow me to persuade you with the following reasons: To begin with, LagoFast has over 8 years of experience in network data transfer, and its broad compatibility allows it to protect your games on any network. Second, LagoFast provides intelligent network diagnostics and matches you with the best network node based on ping values. You don't have to worry about not being able to use LagoFast in your area because it has routes covering the entire world that are provided specifically for you. Finally, LagoFast is the only game booster and game VPN that provides a time-based package with the lowest cost per month.
Let's see the features of LagoFast:
Support Plan-Per-Minute service, the most economical.
Reduce Ping while boosting FPS
Support more than 1000 games like FIFA 22, boost whatever you want
More than 8 years of experience repairing the most difficult network environments
Simple to use, with a single press of the Boost button
Here's how to use LagoFast
Step 1: Download LagoFast.
Step 2: Type "FIFA 23 " in the search box and choose it.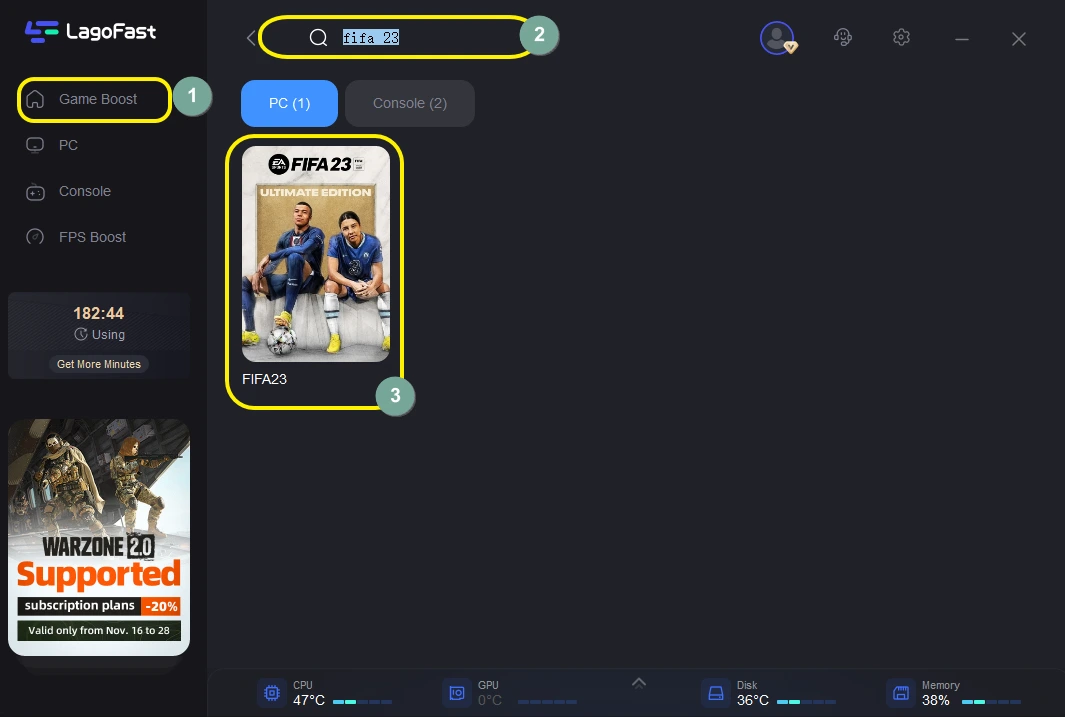 Step 3: Choose your needed server (remember to choose the one same as your game).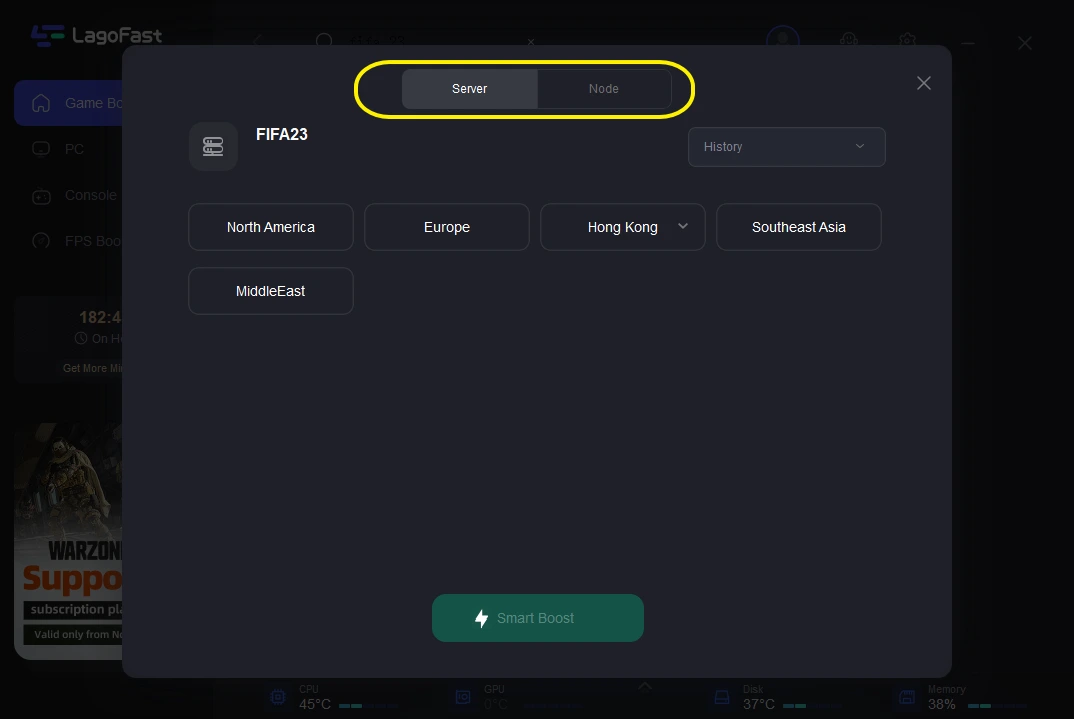 Step 4: Click on the Boost button to start boosting.
You can also see your real-time ping rate and packet loss rate in FIFA 23 on this page. Use LagoFast to fix your FIFA 23 lag and high ping problems.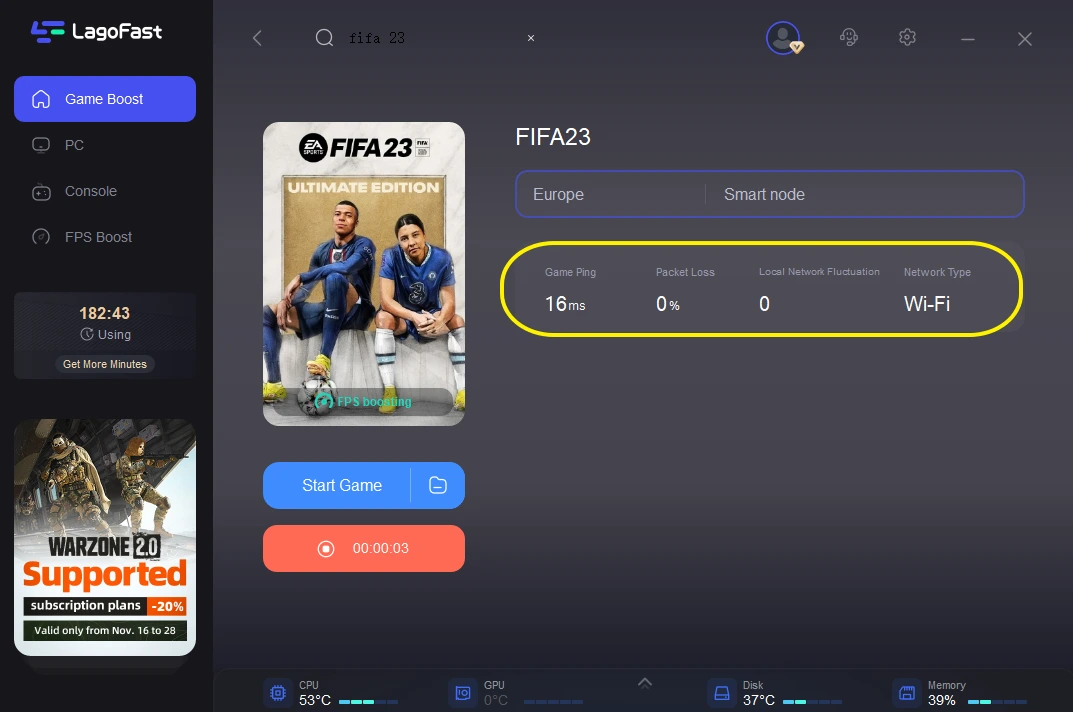 If you want to improve your in-game FPS performance or avoid FIFA 23 FPS drop, you can also use LagoFast to adjust your settings. To do so:
Step 1: Select the FPS Boost tab on the left of the desktop.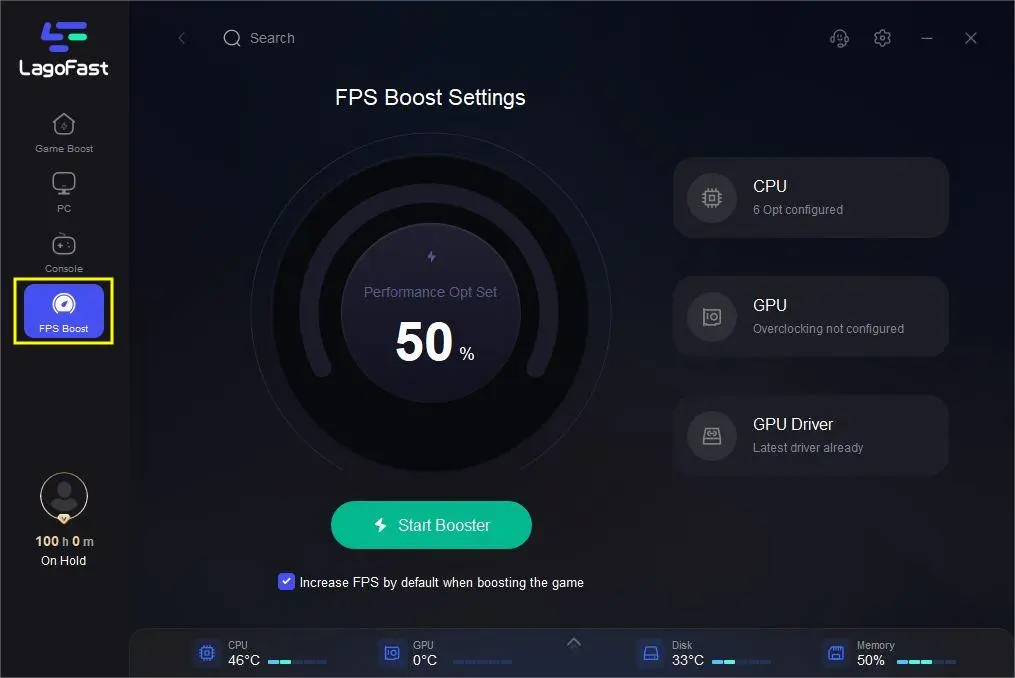 Step 2: Click on the settings you want to turn on/off.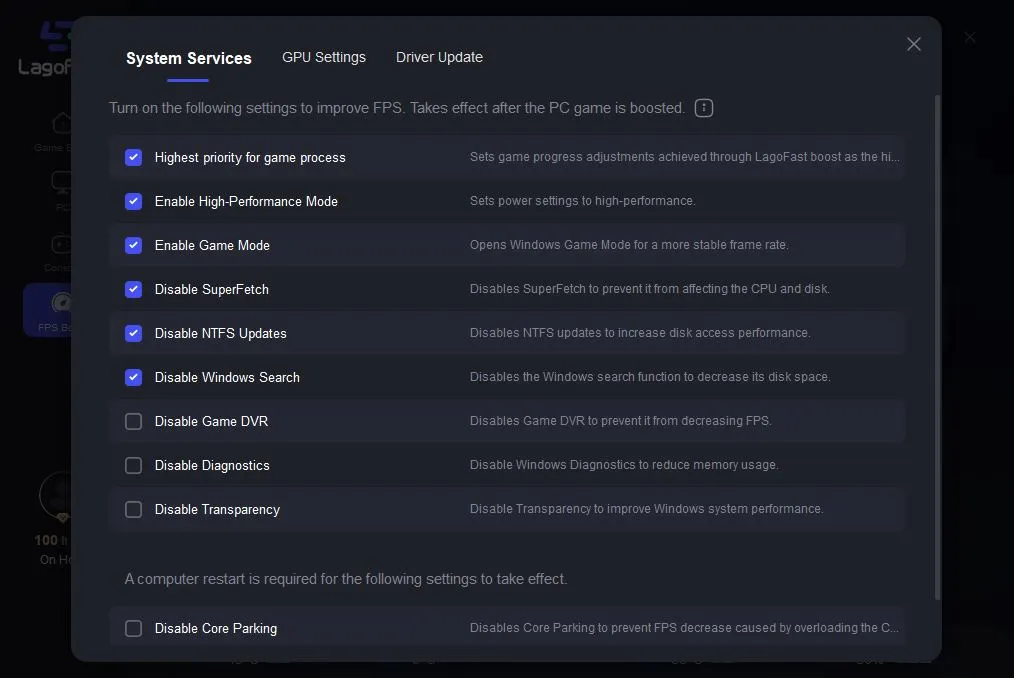 Other solutions
We have collected some other solutions for you, and hope one of them can solve your troubles.
Improve your wireless signal: Because we have already discussed the drawbacks of wireless networks, we generally recommend that you use wired networks. If this is not possible, we can reduce the number of obstacles between the dwelling machine and the router, particularly metal objects, which are extremely useful for shielding the wireless network. You can also improve network speed by reducing the number of devices connected to the router.
Close background apps: We know that when there are many applications running in the background, the network and the computer will become laggy. Because they take up network data and CPU processing power, which we can see visually on it by opening the Task Manager. At this point, you just need to right-click on the program you want to close and click on End Process to ensure the best gaming performance and stability.
Delete the temporary files: When you play games, you generate a large number of temporary files, which exist to reduce loading time. If these files are corrupted, they will not help the game and will slow it down. At this point, we must delete all temporary files. When you launch FIFA 23, the standard temporary files are recreated.
Avoiding the use IPv6: For online gaming and matchmaking, FIFA 23 employs a peer-to-peer connection or a connection shared by you and one or more other players. Players whose routers are configured to utilize Internet Protocol version 6 (IPv6) for their connections have interoperability concerns with players whose routers are configured to use the more prevalent IPv4. For example, if one person is connected to an already-poor IPv6 connection, all players are frequently removed.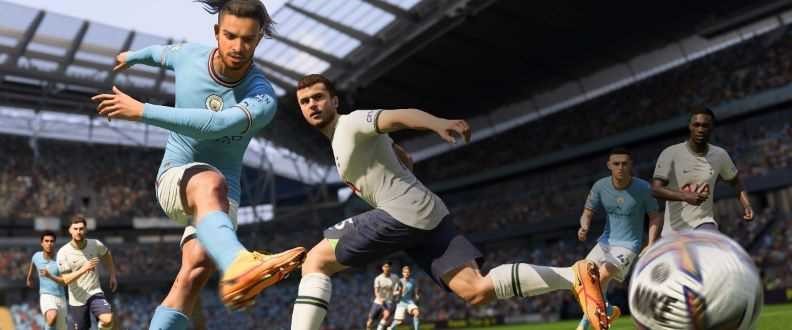 FIFA 23 FAQs
1. What are the system requirements of FIFA 23?
Here are the minimum system requirements for FIFA 23.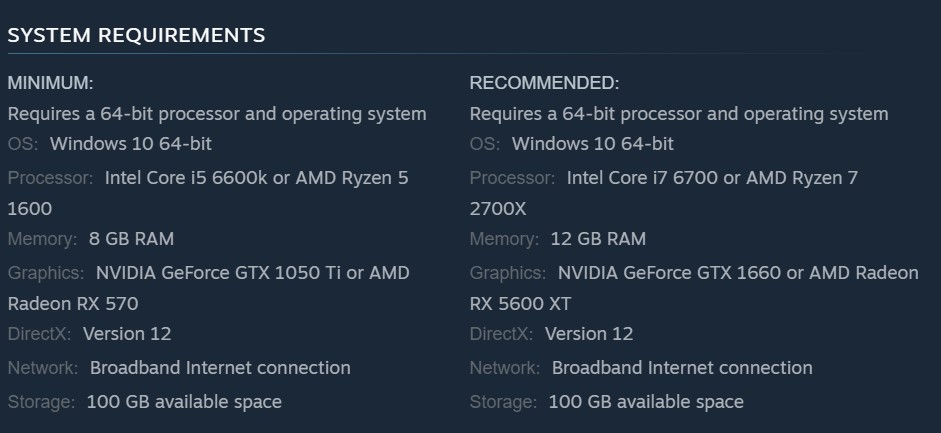 2. What are the pre-order awards of FIFA 23?
FIFA 23 will be available for pre-order on July 20, 2022. FIFA 23 will be available in two editions: Standard and Ultimate. People who pre-order FIFA 23 Ultimate Edition will be able to play the game three days before the Standard Edition's release date.