Battlefield™ 2042 is a first-person shooter that marks the return to the iconic all-out warfare of the franchise. In a futuristic world when disorder has taken control, learn to adapt and triumph. Join forces and deliver a cutting-edge weaponry to 128 player, unprecedented scale, and epic destruction battlegrounds that are always changing.
Battlefield 2042 is a multiplayer-focused first-person shooter, just like its predecessors. Due to the game's setting in the near future, it includes cutting-edge tools and equipment like deployable turrets and drones in addition to player-controllable vehicles. Any area can receive a vehicle airdrop request from players. The "Plus" mechanism that the game introduced enables players to instantly personalize their weaponry. The four distinct classes from prior games are gone, and in their place, players can take control of a specialist who fits into one of the four gameplay classes used in classic Battlefield games: Assault, Engineer, Medic, and Recon. Any of the weapons and technology that a player has unlocked can be used by these characters. Each operator possesses a special set of abilities and equipment.
For example, Maria Falck has a healing pistol, while one of the experts, Emma "Sundance" Rosier, is outfitted in a wingsuit. Battlefield 2042 has the evolution and catastrophic terrain from Battlefield 4, as well as significant weather phenomena like tornadoes and sandstorms that could impact gameplay. At launch, the game has seven maps, including "Breakaway," the biggest map in the Battlefield series' history.
However, it is inevitable to encounter ping issues on windows when playing Battlefield™ 2042, which drives players crazy. Use LagoFast, in my opinion. If you unluckily face battlefield ping, try LagoFast, an experienced and effective game booster. Besides, it can also solve fps drop, packet loss and other Battlefiel 2042 issues.
Part1: The Best Battlefield 2042 High Ping Fixer
Part2: Why Battlefield 2042 High Ping Happened?
Part3: Other Solutions to Battlefield 2042 High Ping
The Best
Battlefield 2042 High Ping Fixer
When I consider how to fix high ping issues in Battlefield 2042, LagoFast, a great Battlefield 2042 game booster, is the first thing that springs to mind. In practice, it is difficult to achieve reduced ping in all situation, but employing Lagofast may be successful. LagoFast has more than 8 years of experience in the field of game boosting and has helped millions of customers fix difficult problems with online games, such as low fps and excessive ping. LagoFast is becoming recognized as an expert in this field thanks to the popularity of its proprietary game data transfer protocol. There are a lot of widely used, pricey game boosters on the market right now, some of which you might even be familiar with. LagoFast, in comparison, offers a Pay-per-Minute plan to every user, which makes it more affordable. In addition, we provide a free trial to new customers.
Here are the advantages of LagoFast.
Fix ping, lag and other connection issues

8+ years of experience with gaming boosters

a widely used protocol for sending game data

Simple to setup and operate

Support a pay-per-minute system

Support many popular games, such as Overwatch
Follow four steps to use it:
Step 1: Download then install LagoFast.
Step 2: Input " Battlefield 2042" into the search bar and press it.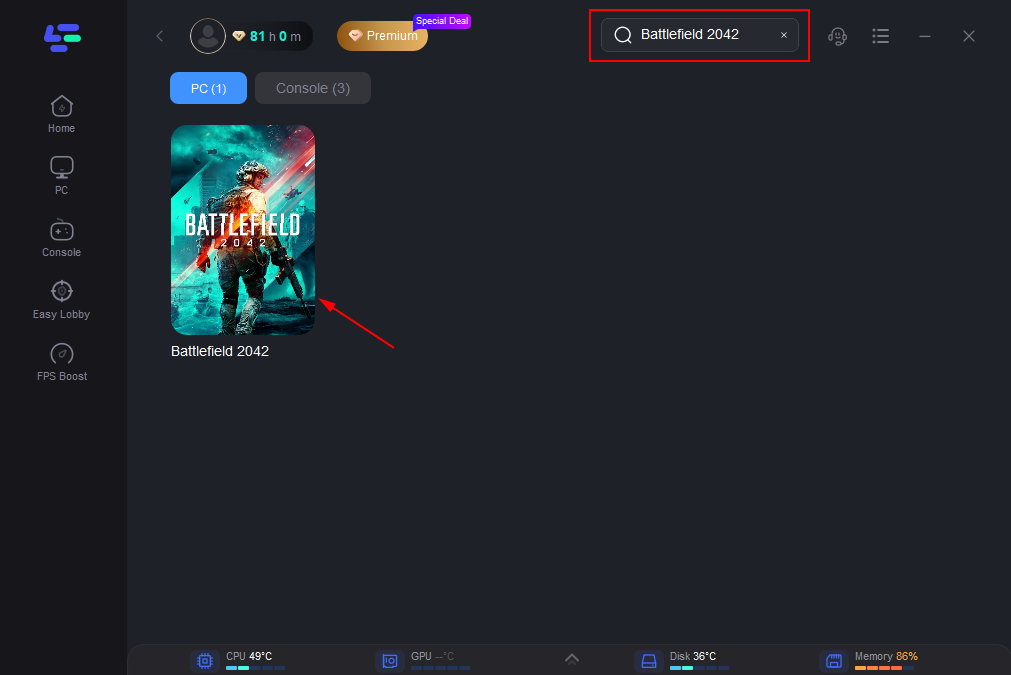 Step 3: Choose the server that match Battlefield 2042.
Step 4: Click booster to begin. The real-time displays of the ping and packet loss rates have an immediate effect on Battlefield 2042 frame rate performance.
Why
Battlefield 2042 High Ping Happened?
The round-time that is used for data transmission between your computer and the gaming server is referred to as ping. Additionally, Ping is timed in milliseconds. Ping typically lasts 50 to 150 milliseconds. Pings under 50 ms are difficult to obtain but will greatly improve your game experience. But when playing games, ping that stays under 100 ms is fantastic. You will notice game latency when your ping exceeds 100 or even 150, which is at a high level. Ping spikes are what happen when your ping suddenly increases to more than 200 or more than 200. You'll notice that certain orders take a while to execute and that some actions pause before temporarily moving incredibly swiftly. Ping spikes are quite irritating.
Why does my ping suddenly increase? Ping spikes are typically brought on by a bad network connection. For instance, network and bandwidth congestion, an erratic wireless connection, and inadequate routing... An unstable connection will have the biggest effect on ping spikes in games of all these factors.
Ping spikes can be influenced by hardware settings, game files, and the health of the game servers in addition to the network connection.
Other Solutions to
Battlefield 2042 High Ping
There are some other ways to fix battlefield ping issues, just in case.
Select the gaming server that is most conveniently located for you. You should first grasp what ping is, which is the amount of time it takes for data to go back and forth from your location to the game server, in order to comprehend why your game's ping increases. The value of distance will then become clear to you. As a result, try choosing the game server that is closest to your location when you launch the game. You can select the North America server, for instance, if you are playing the game in the USA. This action will cut down on both the time and the distance traveled greatly.
Eliminate all unneeded background activities. Applications that are operating in the background might slow down your computer's performance as well as interfere with your network connection. To free up more space for the game you wish to play, try eliminating any superfluous background programs. For instance, before playing the game, you should close a few superfluous Chrome tabs.
Implement a Hardwired Connection. There may be less interference with a wired connection than a wireless connection since a wired connection, like an Ethernet wired connection, may be transparent to other wireless connections. Data flow through a cable link would be faster and more dependable without the presence of concrete walls or other obstructions. As a result, upgrading to an Ethernet wired connection might be advantageous for increasing network speed and stability as well as for reducing ping spikes in games.
Check to see if the game server is having any problems. Data transmission will be unsuccessful and ping spikes will arise if there are any problems with the game server. There are issues with gaming servers, such as when there are a lot of players playing online at once, when the server is being attacked, or when server optimization is necessary. You can visit the Status Site on the game launcher's official website to verify server conditions, or you can visit Reddit to see if other players are experiencing the same thing.