EA FC 24 is a gem for football enthusiasts in the gaming community. EA has embarked on a new journey by introducing a fresh football gaming series, EA Sports FC 24, under its renowned EA Sports brand. This game, essentially "FIFA 24" in a modern guise, comes with a notable addition: it enables players to select both women's and men's teams for the first time. EA Sports FC 24 marks the inception of the EA Sports FC series, following EA's separation from FIFA. In order to have an immersive game experience, games should read this article. Like FIFA, FC 24 also faces FC 24 low fps issues that impact the gaming experience. This article helps gamers to boost FC 24 FPS.
Part 1: The Reasons Why FC 24 FPS Drops
Part 2: The Best And Quickest Solutions To Increase FPS In FC 24
Part 3: Step-by-step Tutorial To Try LagoFast For Boosting FPS In FC 24
Part 1: The Reasons Why FC 24 FPS Drops
Understanding the root causes of FC 24 FPS drop is crucial for understanding how to boost fps in FC 24. Here are the primary factors leading to FC 24's FPS drops.
Outdated Graphics Drivers
Outdated graphics drivers can cause FPS drops due to compatibility issues with new software, missing bug fixes and optimizations, lack of support for the latest graphics APIs, and failure to utilise new hardware capabilities. Therefore, if gamers tend to increase fps in FC 24, they need to pay more attention to PC Graphic Drivers
Background Applications
Runing background applications and processes can consume system resources, such as CPU and RAM, causing them to be less available for the game's smooth operation and ultimately degrading overall game performance and causing FC 24 fps drop. Enough system resources is crucial to increase fps in FC 24.
Firewall And Antivirus Softwares restriction
Firewalls are designed to monitor and control network traffic, ensuring that unauthorised or malicious data does not enter or leave your computer. However, FPS drops can occur in games if a firewall or security software is misconfigured or if it is too aggressive in monitoring network traffic. Samely, If FC 24 is erroneously classified as suspicious software, it can lead to FPS drops in FC 24. This will potentially prevent boosting FC 24 fps.
Network connecting issue
Some gamers prefer playing multiplayer online mode that is more exciting and challenging. But bad network connection can also cause FC 24 low fps. Network connection issues can lead to FPS drops in online games due to delayed data transmission and synchronisation problems, causing gameplay to feel less responsive and resulting in perceived frame rate drops.
Inadequate Graphics Card
Football games, especially the more recent releases like the FIFA series, can be graphically demanding. If your graphics card is outdated or doesn't meet the game's requirements, you may experience FC 24 fps drop. Therefore, gamers who want to learn how to boost fps in FC 24 should also focus on Graphics Cards.
Insufficient system specifications
If gamers' PCs don't meet the minimum or recommended system requirements for the FIFA game, like a less capable CPU, can result in FPS drops in FC 24 as the hardware may struggle to cope with the game's graphics and processing requirements, causing a decrease in frame rates.
Related Article: How to Fix FC 24 Lost Connection & Server Down >
Part 2: The Best And Quickest Solutions To Increase FPS In FC 24
After attaining a thorough comprehension of the primary factors contributing to the FC 24 low fps, we are now poised to explore the most effective and efficient method for boosting FC 24's FPS. The detailed solutions are outlined below.
Updating Graphics Drivers
Updating Graphics Drivers can be beneficial to increasing FPS in FC 24, the detailed steps are as follows:
Step1: Begin by accessing the Quick Access Menu: Right-click on the Start Menu.
Step2: Select "Device Manager" from the displayed list.
Step3: In the Device Manager window, expand the "Display adapters" category by double-clicking on it.
Step 4: Right-click on the name of your dedicated graphics card.
Step 5: Choose "Update driver"and then select "Search automatically for drivers".
Step 6: If an update is available, it will be downloaded and installed automatically.
Step 7: After the update process is complete, be sure to restart your computer to apply the changes.
Alternatively, you can manually download the latest graphics driver version from your graphics card manufacturer's official website and install it directly.
Closing all background applications
To ensure a smoother and more enjoyable gaming or computing experience, gamers should proactively check if other background applications are closed before running FC 24, as closing all background applications is a crucial step that will undoubtedly succeed in significantly boosting its FPS.
Running FC 24 as an administrator
You should also run the FC 24 game as an administrator to avoid being incorrectly categorized as virus-risky software. In this way, you can also boost FC 24 FPS.
To do this:
Step 1: Click on the FC 24 file on your PC.
Step 2: Now, select Properties > Click on the Compatibility tab.
Step 3: Ensure to click on the Run FC 24 as an administrator checkbox to checkmark it.
Step 4: Click on Apply and select OK to save changes.
Upgrading network devices
When gamers encounter network issues and wonder how to boost FPS in FC 24, the optimal solution involves upgrading network devices, such as opting for a high-bandwidth network connection or utilising a wired internet connection. These measures can significantly increase FPS in FC 24.
Upgrading system hardware and software specification
Ensuring that your PC meets the minimum or recommended system requirements for the FC 24 game you are playing is crucial, and upgrading hardware components like the CPU and GPU to fully meet FC 24's system requirements may be necessary to increase FC 24 FPS.
Part 3: Step-by-step Tutorial to Boosting FPS In FC 24
If the above solutions haven't been effective or if gamers seek a convenient way to boost FPS in FC 24, we recommend using LagoFast - a quick and efficient FC 24 fps booster. LagoFast offers gamers the easiest and most convenient solution to increase FC 24 FPS with its free FPS boost feature. Additionally, it effectively reduces high ping and prevents lag, assists in server and node selection, and currently offers a free trial download. Don't miss out on this opportunity. Here's a detailed LagoFast usage tutorial.
Step 1: Access the official website of LagoFast and click on Free Download.
Step 2: Before you start running FC 24, you should search for it in LagoFast. Then you will find the FPS Boost button on the left, you can firstly click the Game Boost button to explore more features.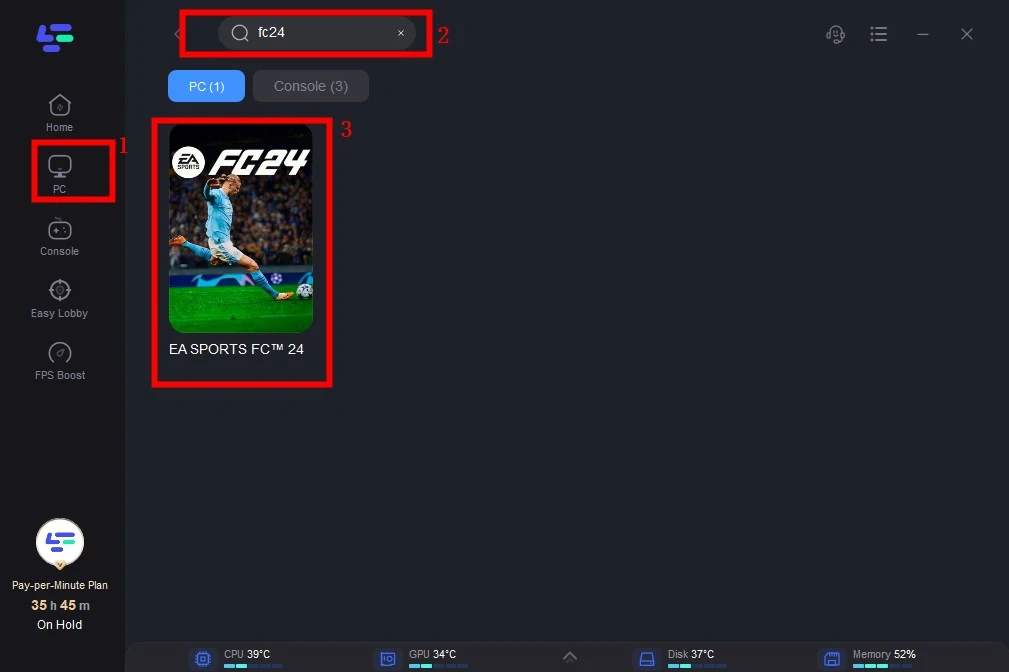 Step 3:Click on Select Server so you can choose the right server that will allow FC 24 to connect stably, then click on the Node on the right, you can also select the best Node for FC 24.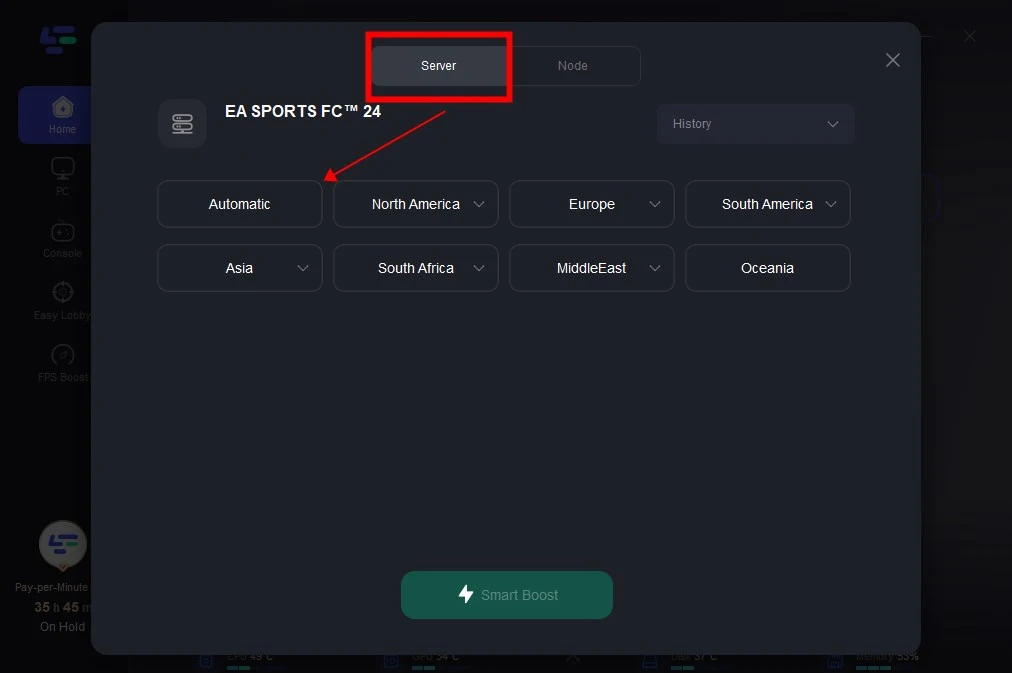 Step 4: By clicking the Smart Boost button enjoy your game with boosted FPS!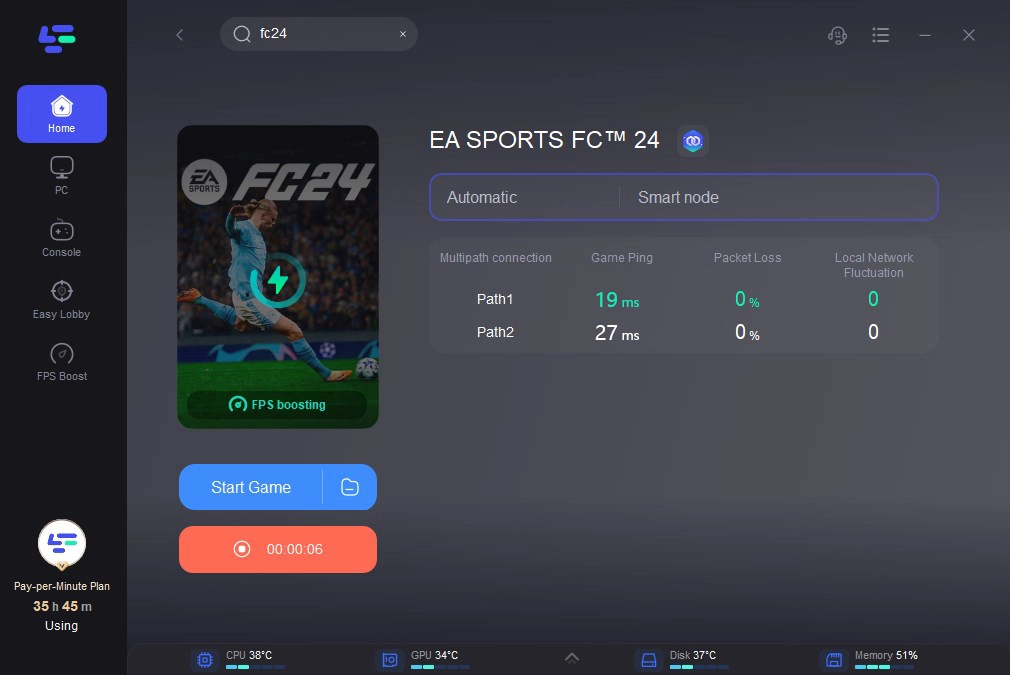 Conclusion
In total, the primary reasons for FPS drops in FC 24 include outdated graphics drivers and background applications, among others. Gamers can resolve these issues by following the respective solutions. If gamers tend to a more convenient FPS boost in FC 24 and want to have a superior gaming experience, LagoFast is the top choice.