Fortnite is an online video game developed by Epic Games. Although it uses the same basic gameplay and game engine, it is offered in three different game mode variations: Up to 100 players compete in the free-to-play battle royale game Fortnite Battle Royale to be the last person standing. Fortnite: Save the World is a cooperative hybrid tower defense-shooter and survival game in which up to four players fend off zombie-like creatures and defend objects with traps and fortifications they can build. And Fortnite Creative gives players complete freedom to create worlds and battle arenas.
Players can gather the basic resources of wood, brick, and metal by demolishing existing buildings on the map with their pickaxe. The player can then use these resources to construct fortifications like walls, floors, and stairs in all game modes. It is possible to edit these fortification components to include doors or windows. The used materials have various levels of durability and can be upgraded to stronger varieties by adding more of the same kind of material. This gives players in Save the World the ability to build defensive defenses around objectives or passageways full of traps to entice husks through. This gives players in Battle Royale the ability to move through the map rapidly, defend themselves from enemy fire, or hold off an approaching foe. In Creative, players are urged to use their best creativity when creating their defenses.
In Fortnite, fps is critical to the gaming experience. After all, players don't want the game to fail due to fps issues when they are evading poisonous storms or evading attacks from other players. So both showing fps and unlocking fps are important. To achieve them, you can use LagoFast, a practical fortnite fps unlocker, and fortnite fps calculator. Besides, it is also good at solving other fortnite problems, such as packet loss, high ping. I'm no longer concerned about Fortnite failing because of fortnite fps issues thanks to LagoFast.
Part 1: How to Unlock Fortnite FPS
Part 2: Why Fortnite FPS Drop Happened
Part 3: Other Ways to Unlock FPS
How to Unlock Fortnite FPS
LagoFast, with more than 8 years of experience, can boost Fortnite FPS, handle lag problems, and lower high ping. It independently created a special Fortnite data transmission protocol that protects both quality and privacy in order to better serve clients. LagoFast does offer a fair price, which is what people are most concerned about when it comes to expenses. The only top booster that enables a Pay-per-Minute plan and has the lowest subscription pricing allows you to cancel at any time. For someone unsure, LagoFast provides free trial. Just have a try! I am confident that LagoFast can help you unlock fps on Fortnite.
Pros:
Plan of Pay-per-Minute

Increasing FPS for games

Globally dispersed self-developed game data transmission protocol

Support for over a thousand well-known games, such as CoD series

Fix latency, crashes, and other connectivity problems
Follow the four steps to learn to use LagoFast.
Step 1: Click free trail bottom to install LagoFast
Step 2: In the search box, type "Fortnite", and then choose it from the list of results.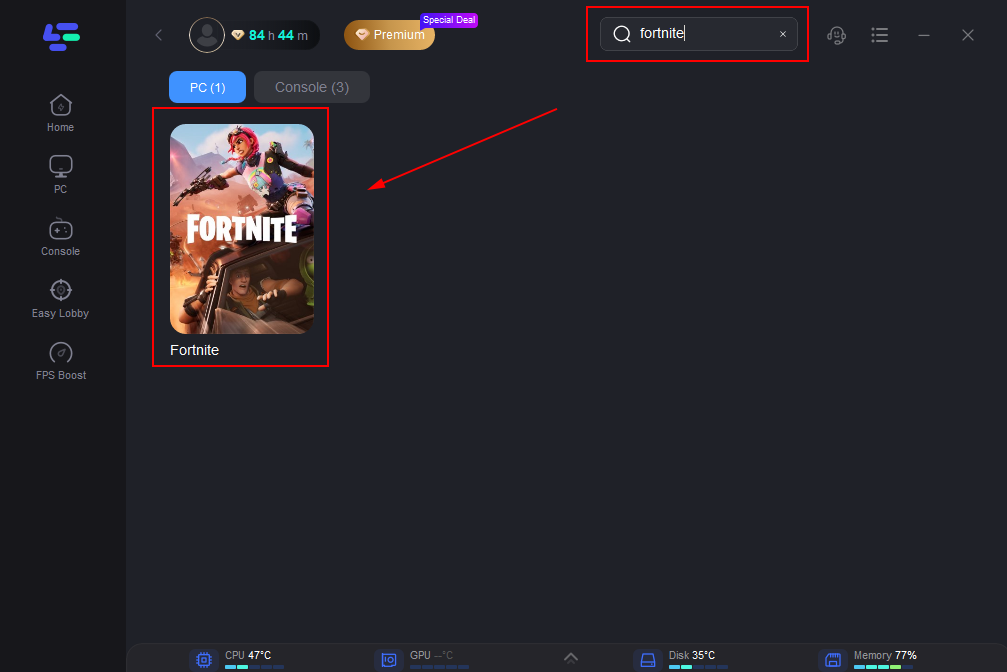 Step 3: Choose a server that matches Fortnite.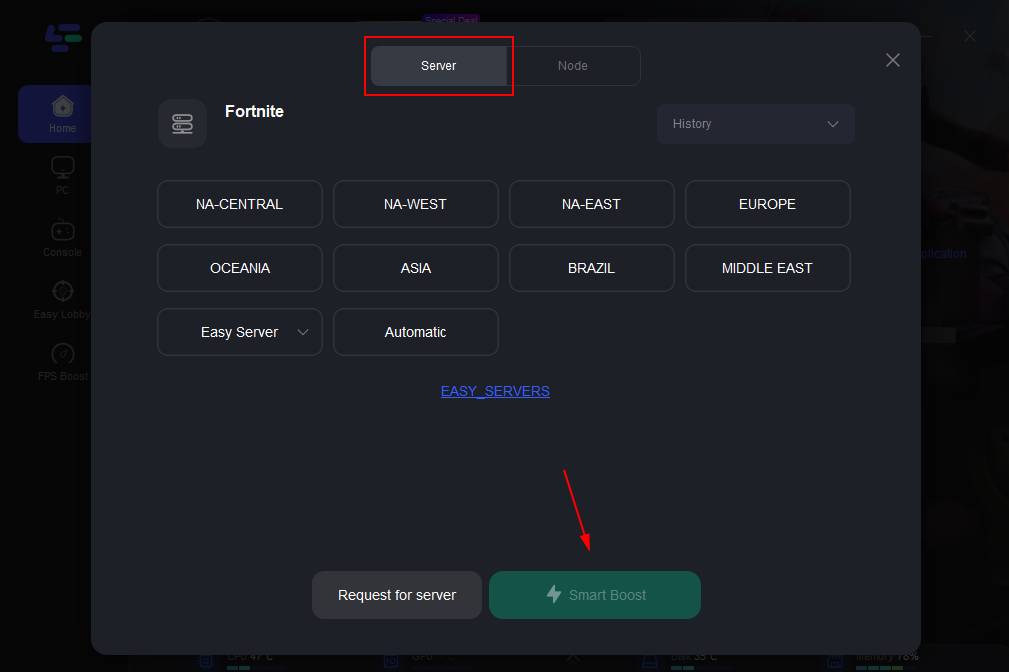 Step 4: Click the Boost button to start boosting.
Your current packet loss rate and ping rate are displayed on the following page. If the rates are too high, it will also begin to fix. This way, Fortnite 120 fps will show up.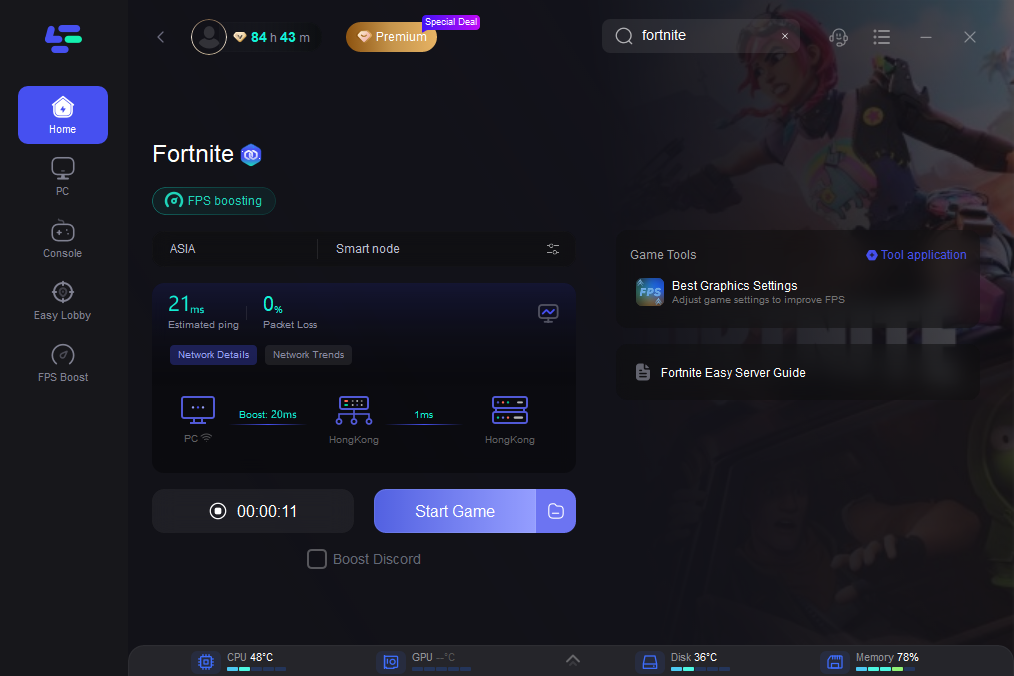 Why Fortnite FPS Drop Happened
How does FPS work? In the graphics business, "FPS" refers to the number of frames per second that a screen transmits (also the abbreviation for First-Person Shooter game). It also refers to the number of frames in an animation or film that are displayed on the monitor. The more frames per second there are, the smoother the action is displayed. In general, 30 is the bare least to avoid incoherence action. The minimum frame rate for gaming is frequently around 30Hz, and a basic smoothness level of above 60Hz is needed. Incoherent visuals, stuttering, and even a white screen, as well as a computer crash, are all indications that your FPS has dropped below 60.
Fortnite FPS will be affected by lots of things.
Excessive graphics settings: The stunning visuals and difficult gameplay of Fortinite are popular draws. Fortinite, on the other hand, will stutter as your computer struggles to process the images if your graphics levels are set too high. This means that such high graphics levels are beyond your graphics card's capabilities.
Hardware that does not satisfy the bare minimum: Fortinite has computer hardware needs. If you execute the game on an old computer, it may lag like a movie projector. If you observe that your FPS is consistently dropping, particularly during the shooting sequences, check your computer's specifications to see if it meets the minimum system requirements. To ensure that players' PCs can correctly render their meticulously created games, the minimum system requirements are typically mentioned on the game's download screen.
Other Ways to Unlock Fortnite FPS
Unlocking Fortnite FPS may not be fixable from a single point of view, but you can still try to increase FPS on your computer. We've compiled a list of some of the most well-liked and successful strategies. These should improve your gaming experience, we hope.
Verify the game's integrity: An incomplete game can cause a variety of issues, including sluggishness, a low frame rate, and even failures. Use LagoFast to ensure that the game files are correctly installed on your PC.
Active Windows game mode: The most current version of Microsoft's Windows operating system includes a game mode option. With this tool, you can remove any unnecessary background programs, which instantly unlocks Fortnite FPS. If your FPS in Fortnite is low, try turning on the game option to see if it helps.
Verify your system: Once Fortnite is released, the developers will disclose the game's minimum and recommended system requirements. The term "minimal system requirements" alludes to the hardware and software specifications required for the game to function on your PC. The recommended system requirements for your computer are those that allow you to operate Fortnite at higher settings while still feeling comfortable.
Use LagoFast to unlock FPS in Fortnite and thousands of other games! More information on Fortnite FPS booster.