LagoFast is a professional FPS booster that can help players to fix Total War: Warhammer 3 lag.
Total War: Warhammer 3 Overview
Using its self-developed game data transmission protocol, LagoFast has served players all around the world for more than 8 years. The game-specific routes provide players with the ultimate game experience in hundreds and thousands of games, and Total War: Warhammer 3 is not an exception. LagoFast, the Total War: Warhammer 3 FPS booster, helps players to improve their in-game experience and offers them real-time supervision for PC performance.

Total War: Warhammer 3 is a video game developed by Creative Assembly and published by Sega that combines turn-based strategy and real-time tactics. It is the third game in Games Workshop's Warhammer Fantasy fictional universe, following Total War: Warhammer in 2016 and Total War: Warhammer 2 in 2017. It was announced on February 3, 2021, and was released the following year. Like its predecessors, it features turn-based strategy and real-time tactics gameplay similar to other Total War games. In Total War Warhammer, players build their own heroes, armies, and empires. They take turns moving armies around the map and managing settlements, negotiating with each other and fight against AI-controlled factions. The game also includes a custom battle mode where players can design their own real-time battles, as well as online multiplayer battles.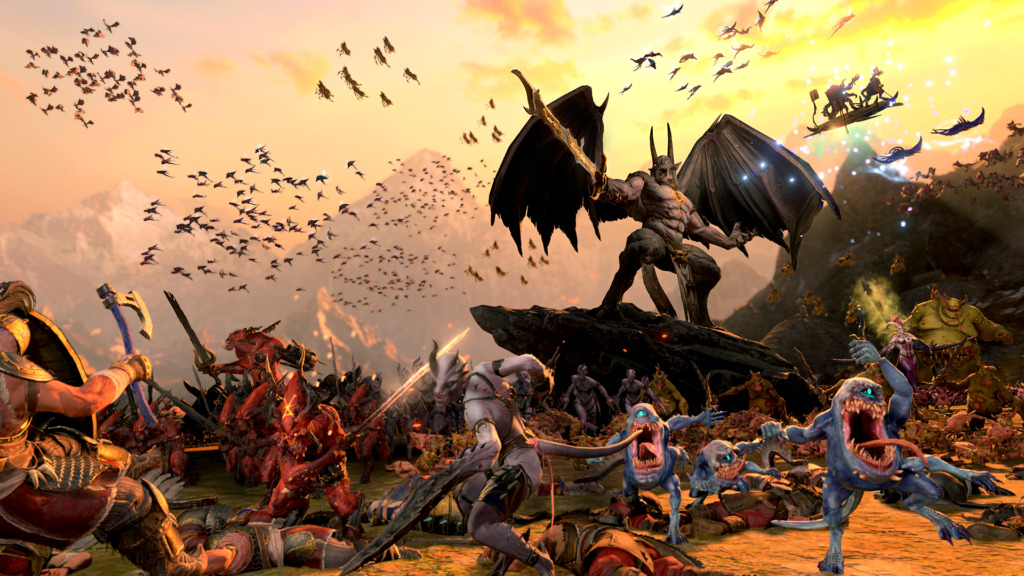 Loyal fans of the Total War: Warhammer series have been looking forward to Warhammer 3' s release for such a long time. But the Total War: Warhammer 3 low FPS soon disappoint many of them. Low FPS issues definitely affect players' game experience in a bad way. I strongly suggest you use Total War: Warhammer 3 FPS booster LagoFast to run a ping test first. Doing this can help you check whether there are lag spikes when you are playing the game. And lag issues can also be the reason for Total War: War hammer 3 low FPS. Luckily, with LagoFast, low FPS, lag, and high ping are no longer tricky. It can free you from all these problems and offer you a smooth&wonderful game experience!
How Does LagoFast Improve Players' In-game Experience?
Total War: Warhammer 3 lag, FPS drop, and high ping problems are common issues that happen almost in every PC game. Like I've suggested above, if you are not sure what's the cause of these problems, you can use LagoFast to run a Total War: Warhammer 3 ping test beforehand. This can give you a direct view of your current ping rate and you may have a hint of what to do next. Moreover, Total War: Warhammer 3 lag happens because there is something wrong between your computer and the game server, overloaded players are always the main reason. A ping test will also do you a favor in looking for solutions.
However, you don't even have to find out what to do next if you choose LagoFast. LagoFast, specifically for Total War: Warhammer 3 FPS boosting, has 8-year experience in reducing high ping, avoiding crashes, and fixing lag. Its worldwide distributed servers of it guarantee every player's smooth game experience and stable network conditions. And it also makes LagoFast very different from other normal VPNs for its originality, security, and practicability.
The features of LagoFast are as follows:
Enable Total War: Warhammer 3 ping test
Effectively reduce Total War: Warhammer 3 lag and crashing
Highly boosted: Total War: Warhammer 3 FPS
Self-developed game-specific data transmission technology
Globally distributed servers
Originality, Security, and Practicability
How Can I Use LagoFast?
As a wonderful VPN, LagoFast can help you solve all kinds of problems. In the next, I will show you how to use the product.
Step 1: Download LagoFast.
Step 2: Search the game in the Search Box and select it in the search result.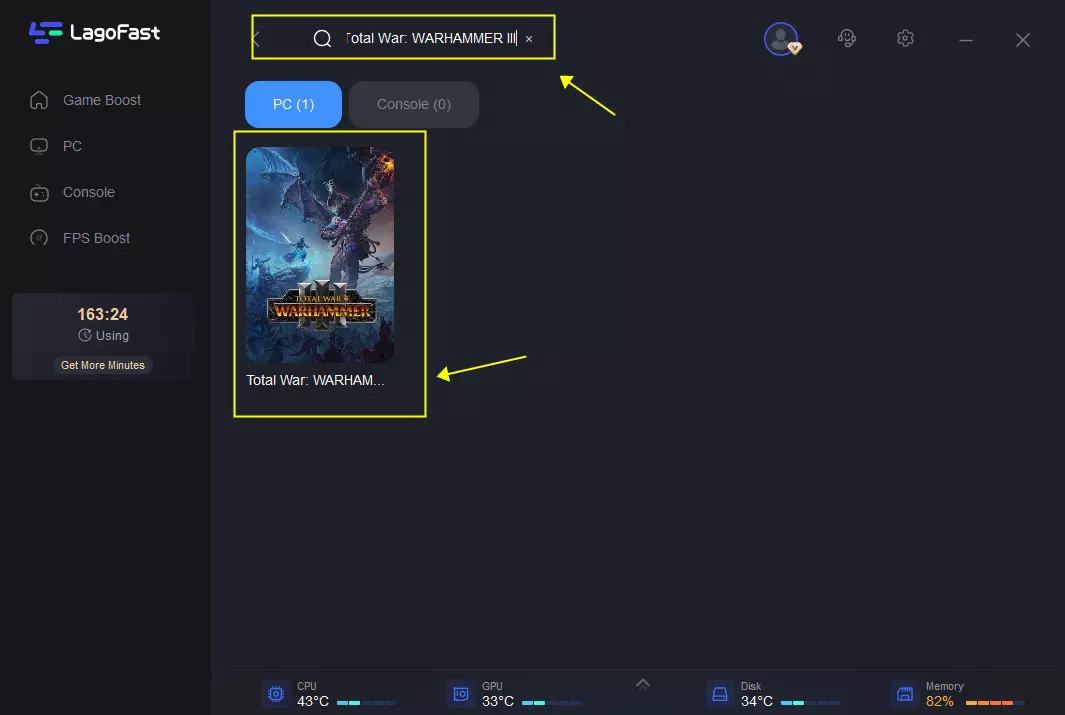 Step 3: Choose the server.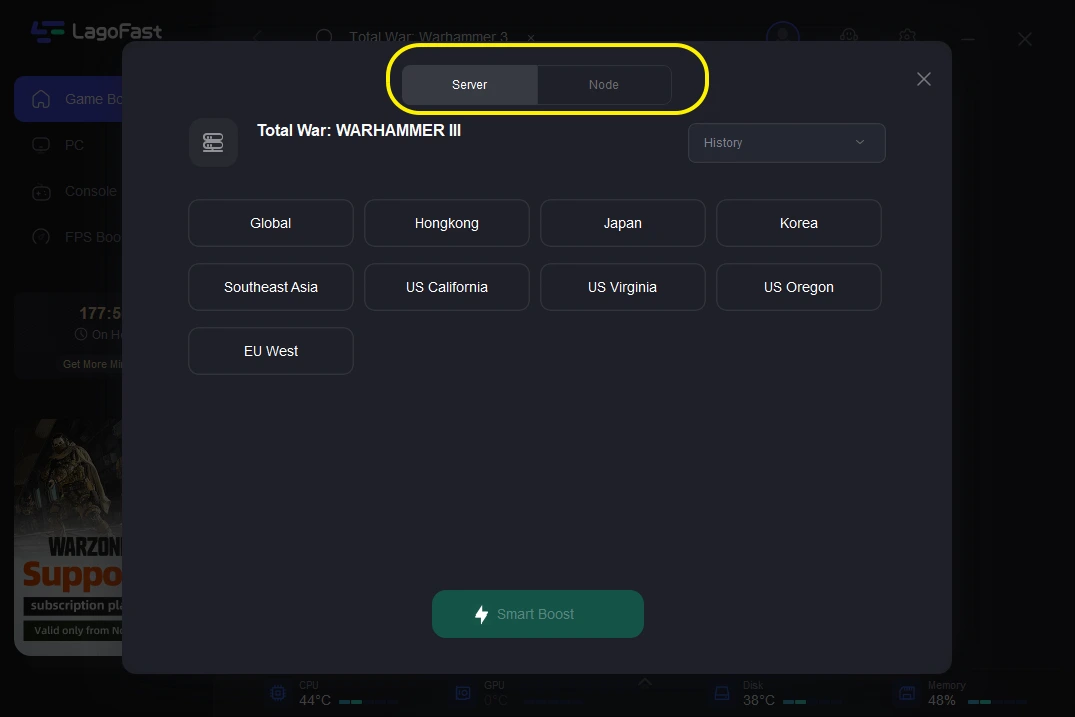 Step 4: Click on the Boost button and start boosting. Here, you can see your real-time ping & packet loss rate.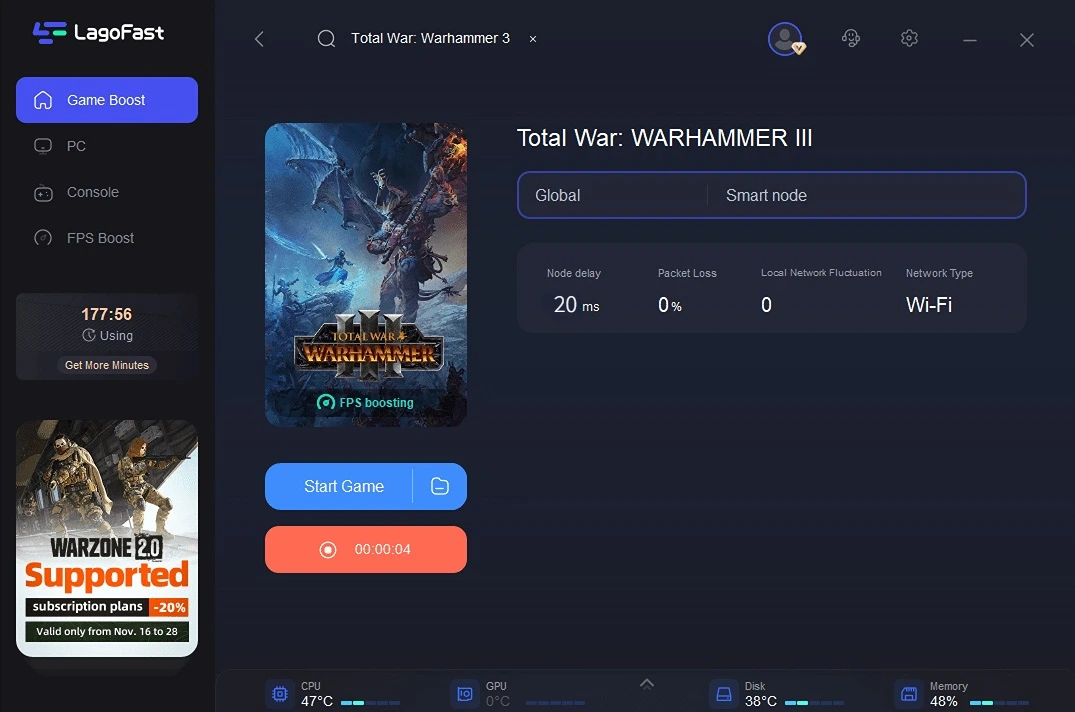 Video of How To Use LagoFast