Human: Fall Flat ping booster brings you the perfect boost service.
Human: Fall Flat Overview
Human Fallen is a very endearing, healing game. However, the operation of characters is not easy. If you encounter network lag when playing games, this may make you crazy. Therefore, I recommend a game booster for Human: Fall Flat to the player, which can perfectly solve high ping and provide game booster service. LagoFast is a very professional Human: Fall Flat ping booster that optimizes your connection by reducing the number of hops between the game and the booster server, which will significantly improve your network performance.
Who doesn't like Bob walking wobbly like a baby? I'm sure there's no one who doesn't love such a cute character. Human: Fall Flat is a witty, light-hearted physics-based platformer set in a floating dream world that can be played solo or with up to eight players.
The game does not let players place various organs for the villain to trigger, but to operate the protagonist Bob in the dream, and use physical effects to solve various puzzles in the dream, such as swinging, prying open iron fences, etc., and finally escape from the dream. Each dream level offers a whole new environment for players to explore, from mansions, castles, and Aztecs to snowy mountains, spooky nightscapes, and industrial areas. There are multiple route puzzles throughout each level, ensuring that exploration-minded and clever players are rewarded.
Of course, the limp body and wobbly movements of the villain in the dream will not make things easy, whether it is jumping, climbing, carrying weight, or swinging, the situation can easily become very bad - very funny the result. If the floppy little guy slips his hand on the rope, misjudges the space and stumbles, or even gets pushed off the edge of a cliff by his teammates... don't be afraid: he'll just fall back into the dream, ready to go again, again and again. As mentioned earlier, the game is set in a fantasy floating dream world, and the player's goal is to escape the collapsing dream through a series of puzzles, all relying on the player's wisdom and knowledge.
Best Game Booster for Human: Fall Flat
How to lower Human: Fall Flat ping? People all over the world know how difficult it is for players to fight endlessly against lag, ping spikes, etc. when playing games. Are there solutions to these problems? The standard answer is to download Human: Fall Flat ping booster by LagoFast.
Top Human: Fall Flat ping booster
Get better Human: Fall Flat boost service
Say goodbye to Human: Fall Flat high ping
Fix jitter or latency flux in Human: Fall Flat
Boosting over a million PC gamers worldwide
How Can I Use LagoFast?
As a wonderful VPN, LagoFast can help you solve all kinds of problems. In the next, I will show you how to use the product.
Step 1: Download LagoFast.
Step 2: Search the game in the Search Box and select it in the search result.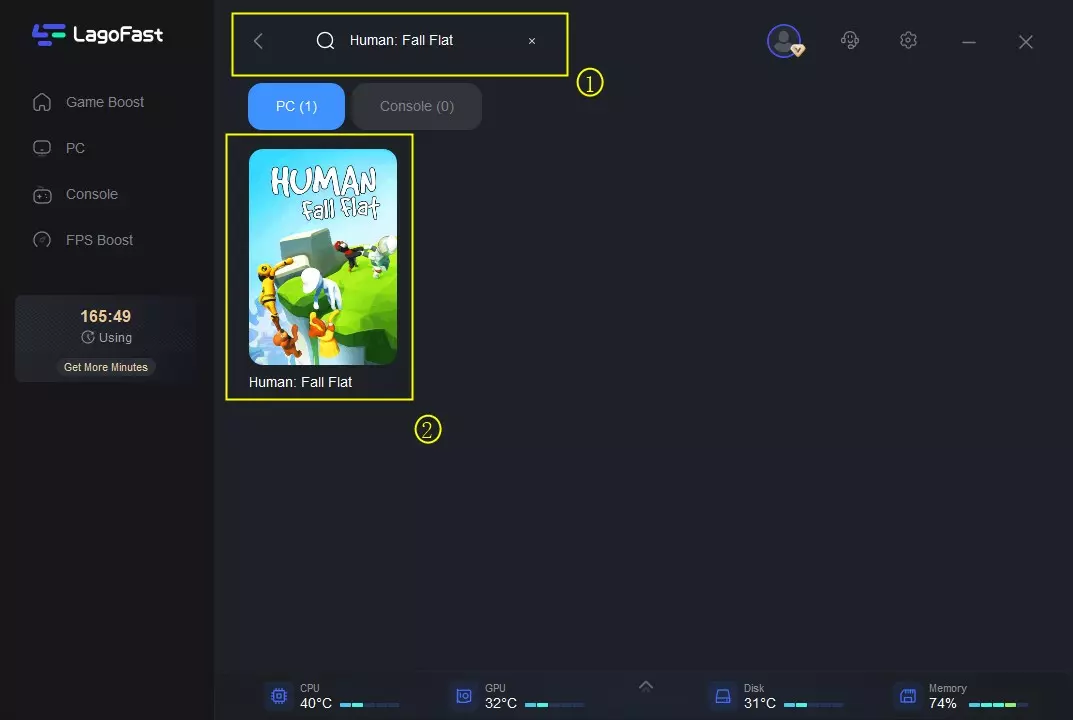 Step 3: Choose the server.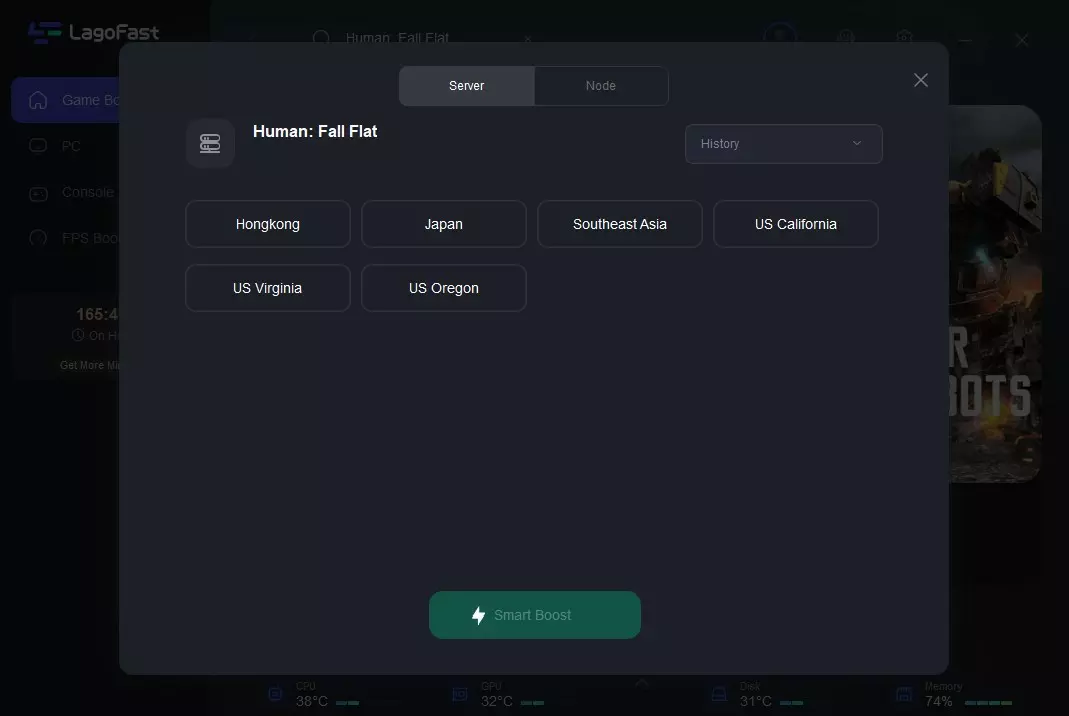 Step 4: Click on the Boost button and start boosting. Here, you can see your real-time ping & packet loss rate.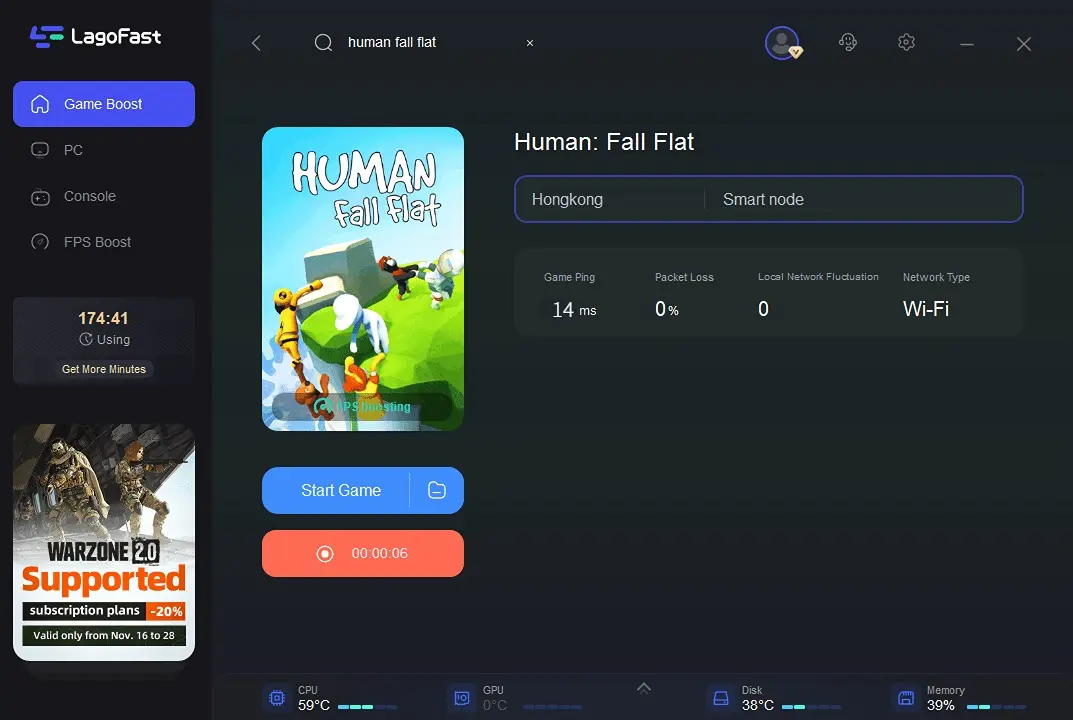 Video Of How To Use LagoFast