Countless players are excited about Warzone 2 Season 2 update and would like to find out when is Warzone 2 Season 2. This article introduces the important updates in Warzone 2 Season 2 patch notes and the methods to resolve the common issue in Warzone 2, for your best game experience.
After a minor delay, COD: Warzone 2 Season 2 will be released on 15 February 2023. In this new season, new map and the Resurgence Mode are certainly the highlights that you should not miss.
Part 1: New Map: Ashika Island
Part 2: 5 New Weapons in Season 2
Part 3: Resolve Crashes in Warzone 2 Season 2
Part 4: Use LagoFast to boost your gameplay
New Map: Ashika Island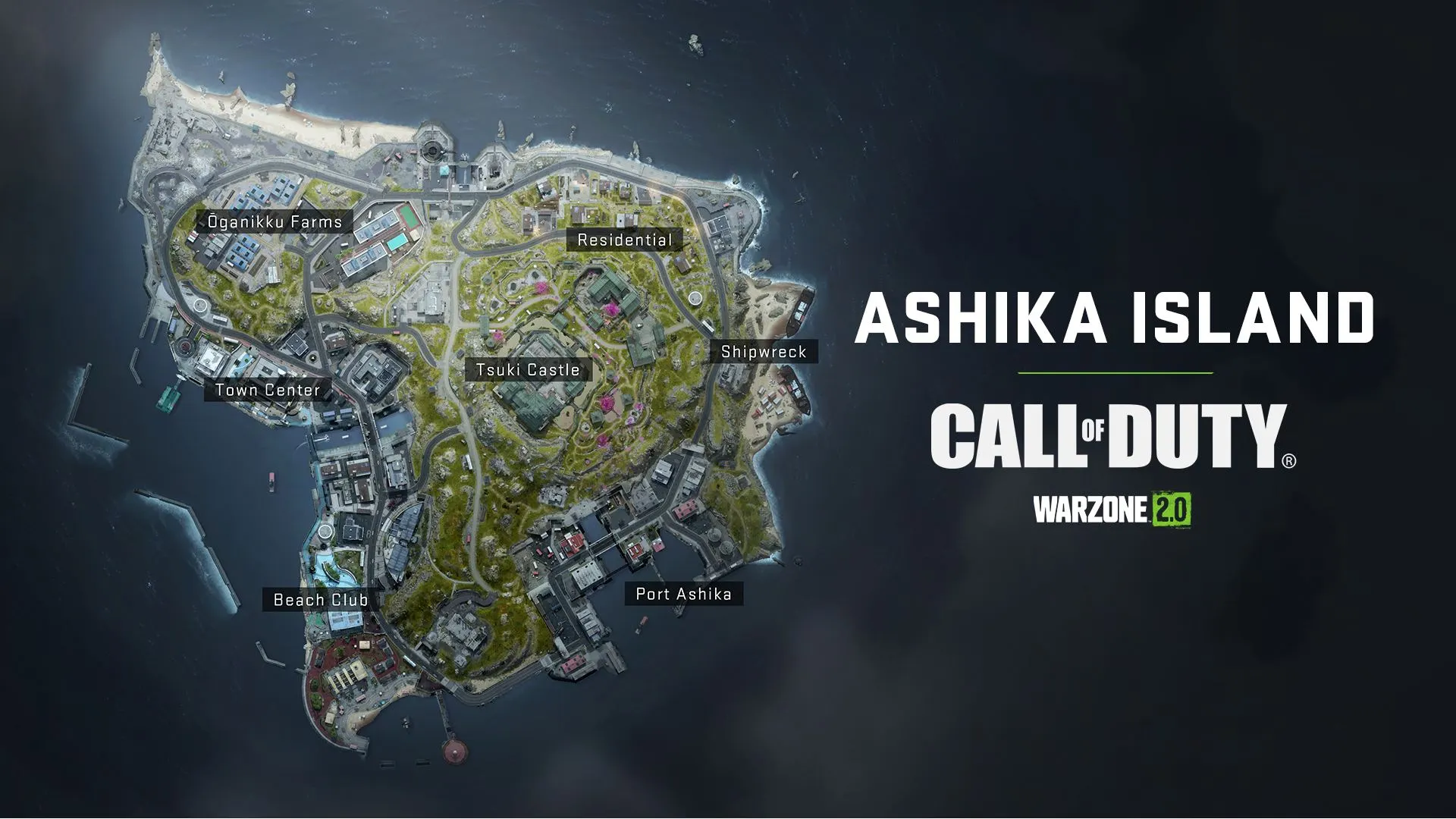 Resurgence Mode Returns with New Map - Ashika Island!
Developed by High Moon Studios, Ashika (Japanese for Sea Lion) Island is a centuries-old village currently under siege by Shadow Company forces. Seven areas in Ashika Island are marked in the officially released map: Oganikku Farms (which means organic in Japanese), Residential, Town Center, Tsuki Castle (Japanese for the moon), Shipwreck, Beach Club, and Port Ashika.
As for the Resurgence Mode, it's a frenetic game mode returning from the original Call of Duty®: Warzone™, which allows multiple redeploys as long as one squad member is still standing.
5 New Weapons and a New Lethal Item
Here's a list of the 5 new weapons in Warzone Season 2, including their arrival time and the way players will be unlocking them:
ISO Hemlock Assault Rifle – ISO Platform (Launch, Battle Pass)
KV Broadside Shotgun – Kastov Platform (Launch, Battle Pass)
Dual Kodachis Melee Weapon (Launch, Battle Pass)
Crossbow Marksman Rifle (Launch Window, challenge unlock, or store)
Tempus Torrent Marksman Rifle (Midseason)
New Boss – Bombmaker – holds the new Weapon Case on Ashika Island, be ready to get the new weapon!
Resolve Crashes in Warzone 2 Season 2

Crashes in Warzone 2 have been notorious and hopefully, this update in Season 2 will address this issue for all the players. If you are still bothered by hateful crashes which cause your loss in the game, try the following fixes:
1. Disable Antivirus Software While Gaming
The reason why you need to disable Antivirus Software is that the security scanning can potentially lead to PC hanging and then Warzone 2 crashes. Instead of simply disabling Antivirus Software, you can also change your security software for one with a "game mode", which is designed to optimize CPU and GPU performance when gaming, so the antivirus software can still run in the background without causing Warzone 2 to crash.
2. Update your graphics drivers and operating system
Unsuitable graphics drivers and operating system are likely to bring about the Warzone 2 crashes, as a result, it's important to always keep graphics drivers and the PC system up-to-date.
A tool that helps you check out drivers updates - LagoFast.
Use LagoFast to boost your gameplay
With the function of Easy Lobby, LagoFast is your best choice to reduce ping and get rid of lag. LagoFast is also capable to solve Warzone 2 crashing issues if the crash happens due to network issues. In addition, LagoFast is an expert in boosting FPS, ensuring your best performance in Warzone 2 Season 2. With LagoFast, you can also check your graphics driver easily with just one click.
The detailed features of LagoFast are as follows:
More than 8 years of game booster and gaming VPN history
Exclusive nodes worldwide to reduce ping
Support 1000+ popular online games
Increase FPS while improving network connection
Easy Lobby for your special need in COD: Warzone 2
Pay-per-minute plan
Click the 'Free Trial' button below, and download LagoFast.
How do I use LagoFast to boost Warzone 2?
Step 1: Search for "COD: Warzone 2" and click the result.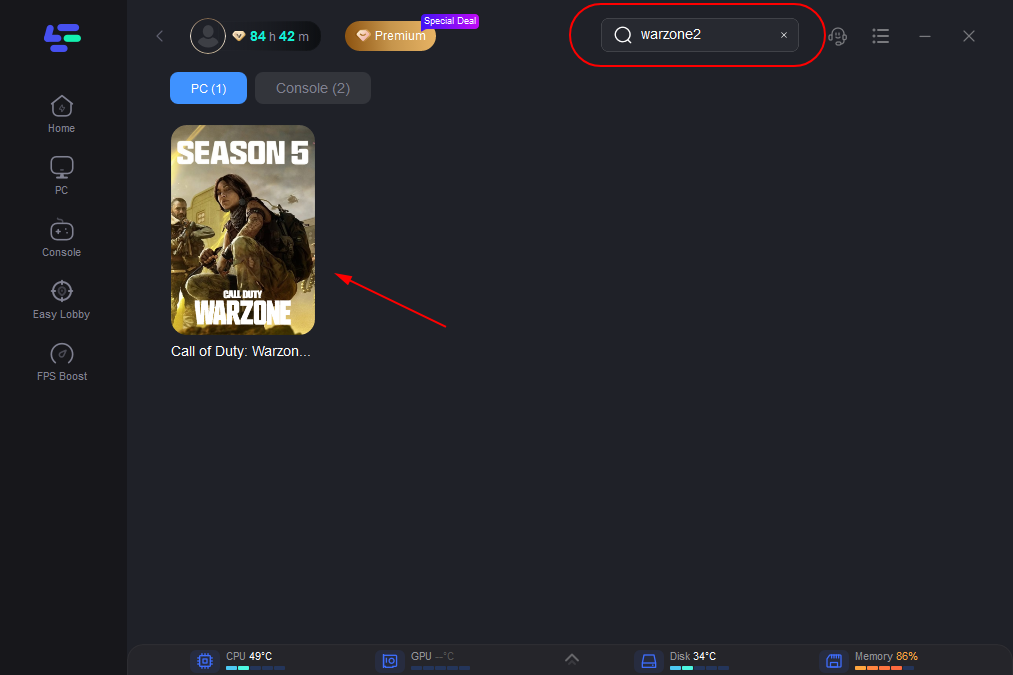 Step 2: Choose your server and recommended nodes.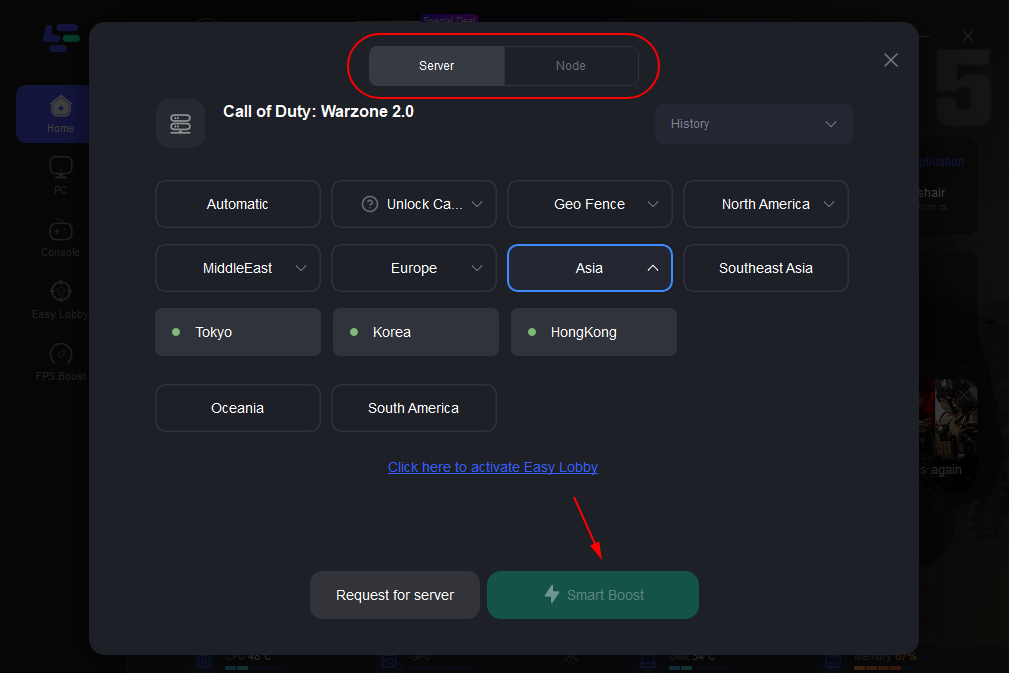 Step 3: Start Boost and examine your real-time ping and packet loss. FPS Boost works in the meanwhile automatically and will end when the Game Boost stops.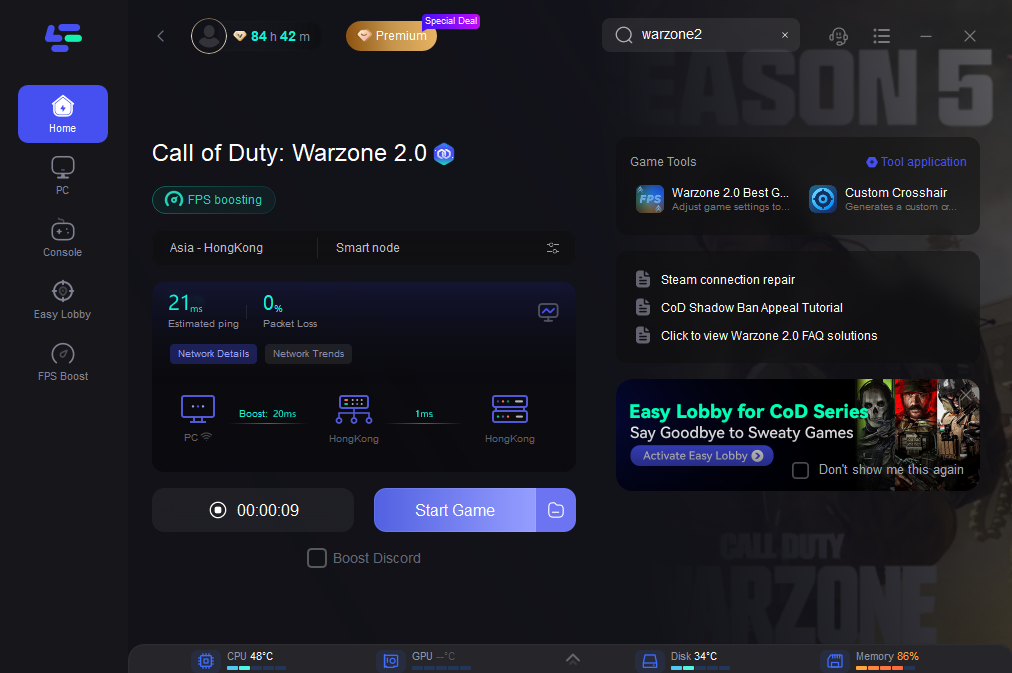 If you are interested in Easy Lobby for Warzone 2.0 Season 2, check out: How to use Easy Lobby.
To sum up: if you are troubled by Warzone 2.0 lagging or Warzone 2.0 high ping, LagoFast will easily fix all the Warzone 2.0 issues for you, guaranteeing stable performance in Warzone 2 Season 2. Don't forget to get a FREE TRIAL, and have fun in Warzone 2 Season 2.