Call of Duty: Warzone is the most well-known Battle Royale game in the Call of Duty franchise, Infinity Ward claims the game offers "the best experience across all platforms." Warzone allows 150 players to compete online across multiple platforms. There are two game modes available: Battle Royale and King of Capture the Gold. Battlezone differs from Black Ops 4 Battle Royale mode in that it encourages the accumulation of newly added in-game currency rather than relying on equipment. As many players are aware, Warzone uses skill-based matchmaking (SBMM), which means that you will spend the majority of your time competing with players of similar skill levels. While intense and exciting gaming can be had, long hours of nerve-wracking play can be exhausting. That is when players require bot lobbies in order to have a more enjoyable killing experience. But how to get bot lobbies in Warzone? Use LagoFast! You can get easy lobbies while reducing game ping.
Part 1: LagoFast: More Professional Client, Reduce K/D in Just 3 Steps
Part 2: Other Recommended Products for Bot Lobby?
Part 3: Why do We Use the Game Booster instead of the VPN?
LagoFast: More Professional Client, Reduce K/D in Just 3 Steps
Don't waste time on products that are cumbersome to operate and have countless bugs! LagoFast was created by a team of professionals with over 8 years of experience. There is no need to download multiple files, no multi-step operation, and only three steps to reduce your Warzone K/D.
LagoFast also has the following benefits. To begin with, LagoFast has excellent network compatibility and can adapt to a wide range of network environments, ensuring complete protection for your gameplay. Second, it offers intelligent network diagnostics, displaying the ping value of each network node in order to dynamically match you with the best node. And, because it has a network of servers in over 60 countries, you can use LagoFast from anywhere. The most incredible feature is that it charges by the minute and is the only one of all game boosters and game VPNs that has a time charge package. To some extent, LagoFast is the best VPN no-lag alternative!
Here is the list of LagoFast features:
Get bot lobby more easily and safer
Support Pay-Per-Minute, wallet-friendly!
Easy to use, boost with only one-click
Exclusive routes around the world
Excellent network compatibility
Let's see how to use LagoFast to get the easy lobby!
Step 1: Download LagoFast and register, remember to get a free trial time.
Step 2: Type " easy lobby " in the Search box and click it.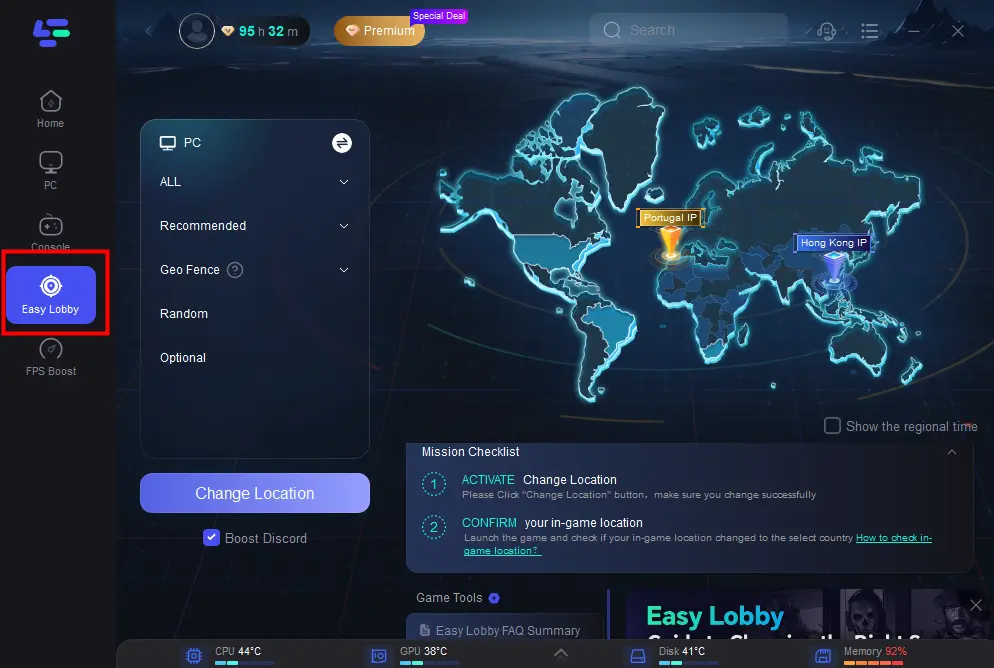 Then, you can adjust the server you wanted and choose the best nodes with lower ping.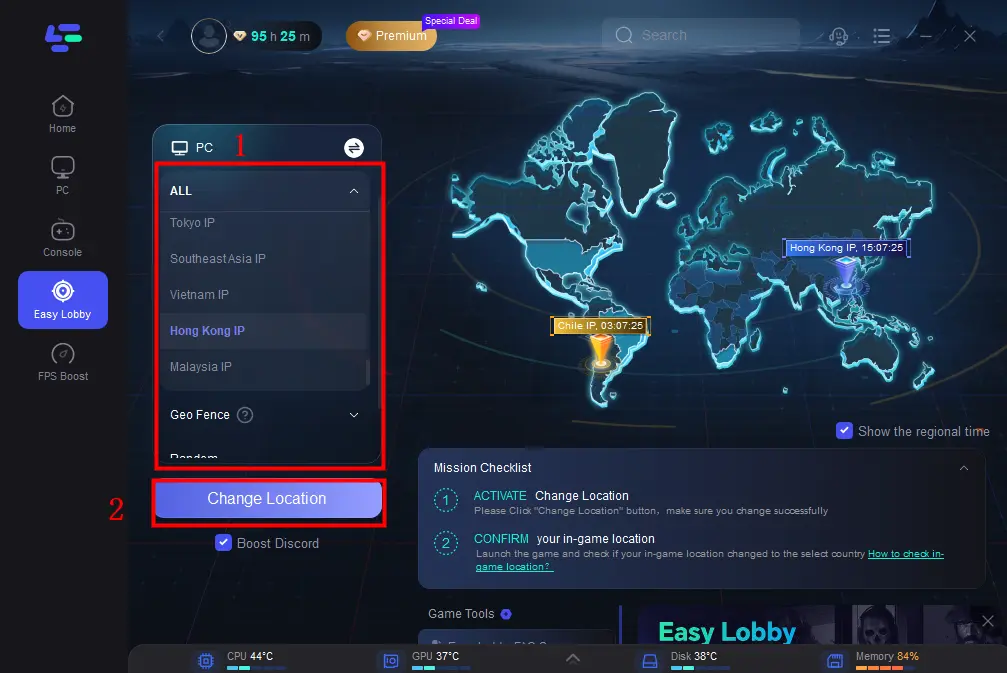 Step 3: Click on the Boost button to begin boosting.
On this page, you can have a direct view of your real-time ping rate and packet loss rate which are related to FPS performance.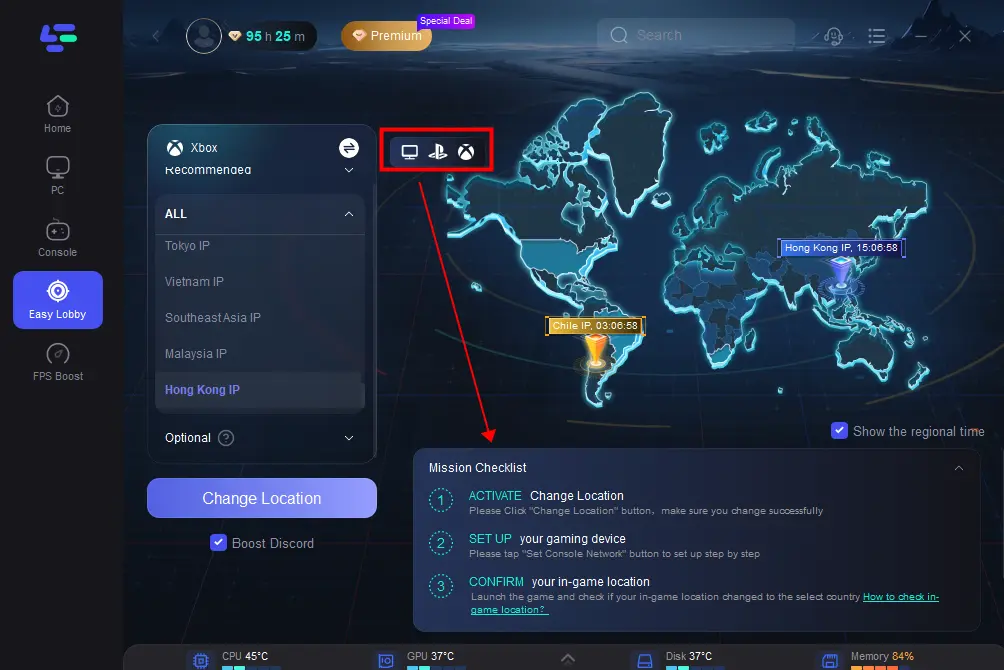 You can also use LagoFast to adjust your settings about the FPS Boost. To do so:
Step 1: Click on "FPS Boost" on the left side.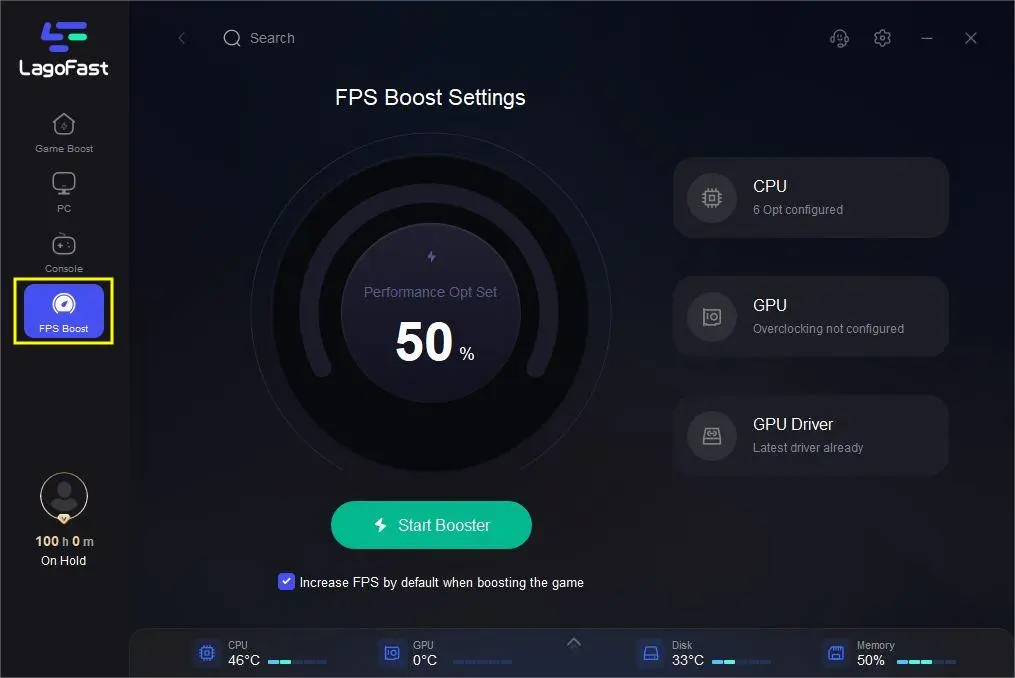 Step 2: Click "CPU Optimization" on the FPS Boost page and choose the settings that you want to open.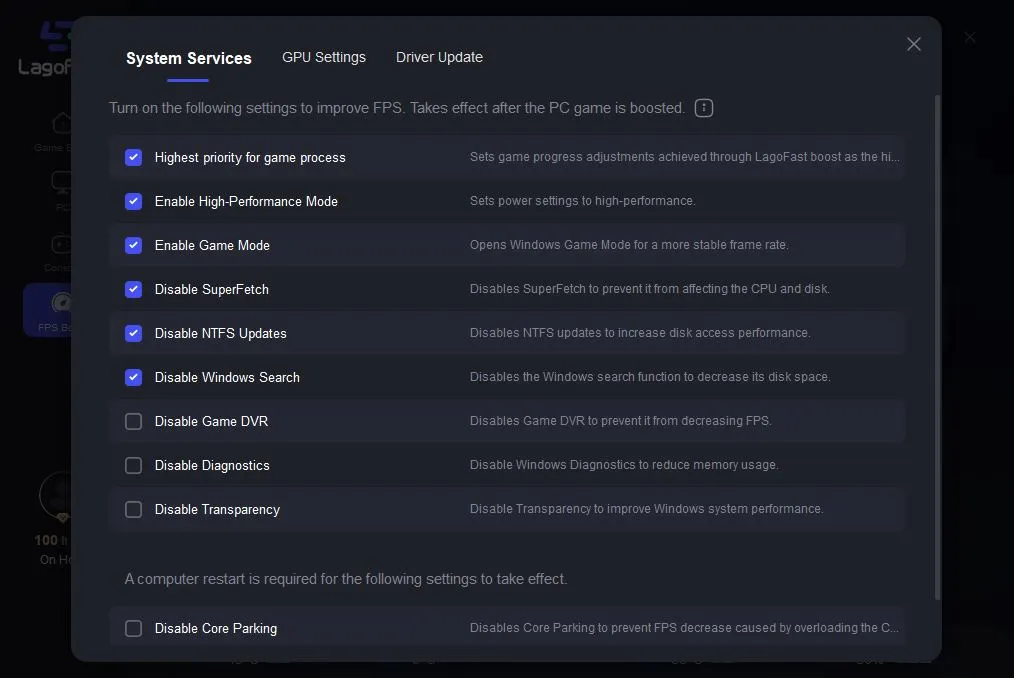 Step 3: Click "GPU Settings" on the FPS Boost page.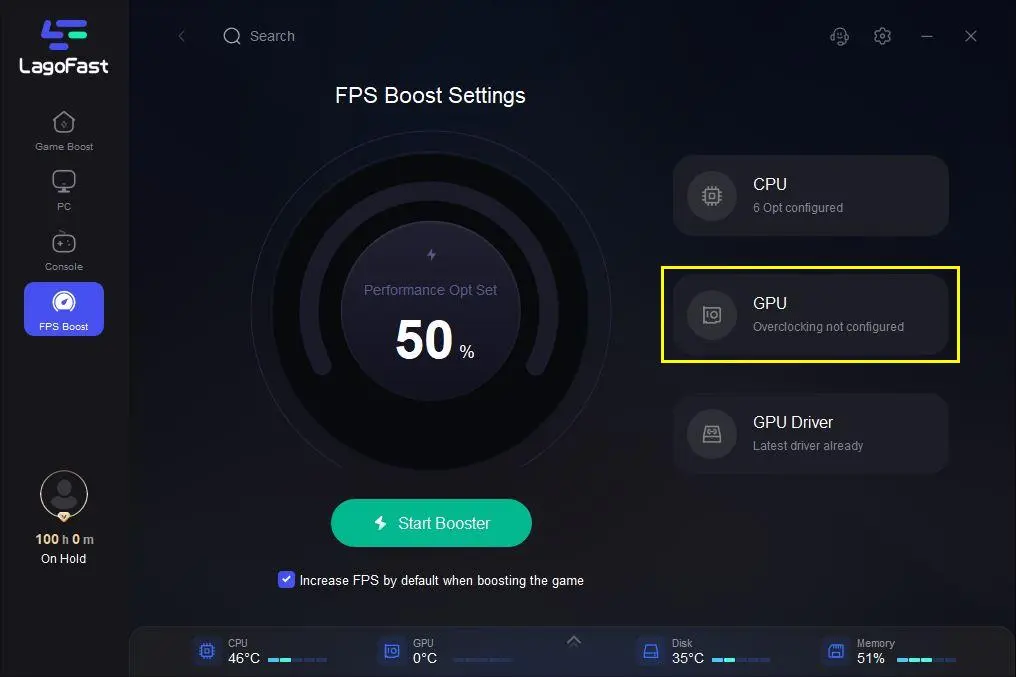 Step 4: Slide to choose your overclocking level in the first bar and tick "Enable GPU Boost" in the second bar.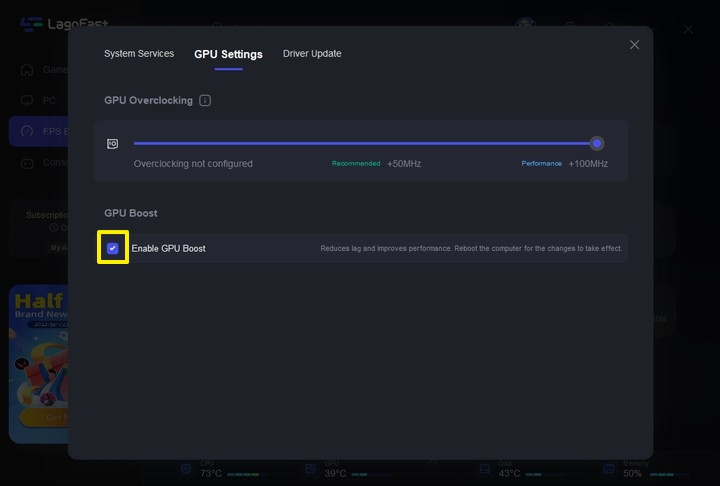 Step 5: Click "GPU Driver" on the FPS Boost page to check your GUP Driver updating version.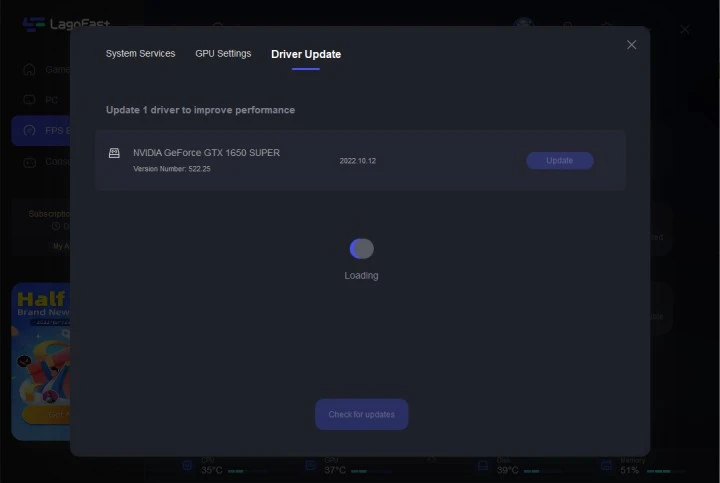 Other Recommended Products for Bot Lobby?
Of course, there are many other products that can be used to enter the bot lobby in the Warzone, each has its own set of benefits and drawbacks. Let's take a look!
Express VPN: Express VPN can establish connections at any time and from any location. In 94 countries, the high-speed server network is available. To keep you safe, you can connect to the VPN on up to 5 devices, and it has AES 256-bit military machine encryption and an automatic termination switch. ExpressVPN has a slightly higher monthly fee of $6.67 per month for a yearly subscription. It also has fewer features than other VPNs.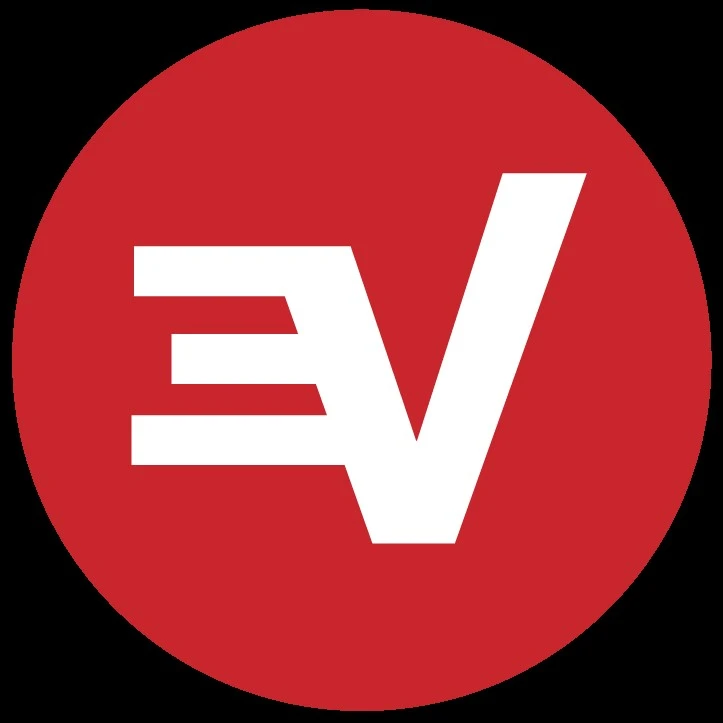 NoLag VPN: NoLagVPN was created specifically for bot lobbying. The only advantage it has is easy lobby access, which it outperforms other products in. However, it is not a VPN because it does not encrypt your data, does not establish a secure connection, and provides no security. It can't even bypass any kind of online setup.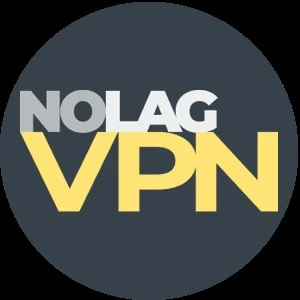 SBMMOFF: SBMMOFF can connect you to less crowded servers by using their IP algorithm and database. It will build a geo-fence around your game connection, allowing you to connect to the servers you want. SBMMOFF can also optimize Warzone game ping values for smooth gameplay. It does not, however, support host acceleration and is not cheap, averaging $4.20 per month if you subscribe on an annual basis.

We have summarized a table so that you can see the advantages and disadvantages of each product more visually.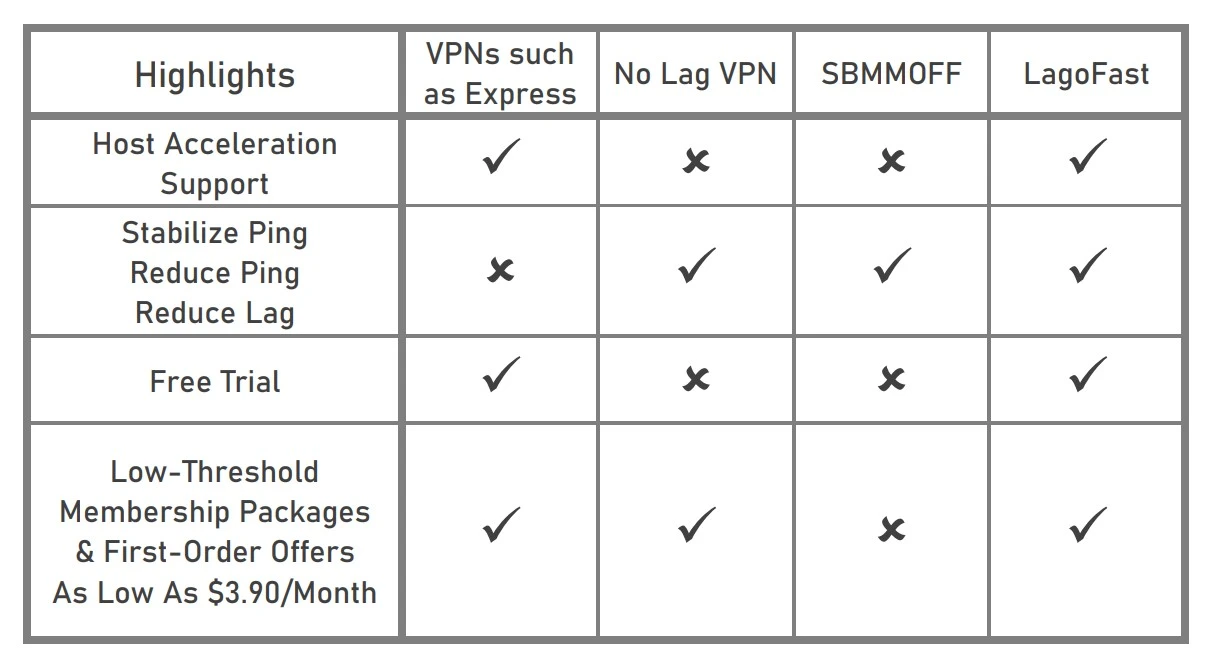 Why do We Use the Game Booster instead of the VPN?
VPNs are primarily used to conceal the player's IP address, change the location of the game player's server, and thus prohibit regional games. VPNs, in contrast, have two drawbacks. On the one hand, most games explicitly prohibit players from hiding IP addresses in order to unlock games that are blocked due to address restrictions, and using a VPN puts players at risk. However, because a VPN may route you to a more distant server, the extra distance may result in higher ping values.
However, using a game booster does not result in the aforementioned issues. It will connect you to areas where bot lobby access is easier, but it will not change your GEO location data or other information, making it extremely safe. Additionally, the game booster can detect your computer's CPU, GPU, RAM, and other components in order to control them properly and create a more conducive gaming environment. It can also close down unnecessary apps in the background. So, before making a choice, weigh the benefits and drawbacks of VPNs and game boosters.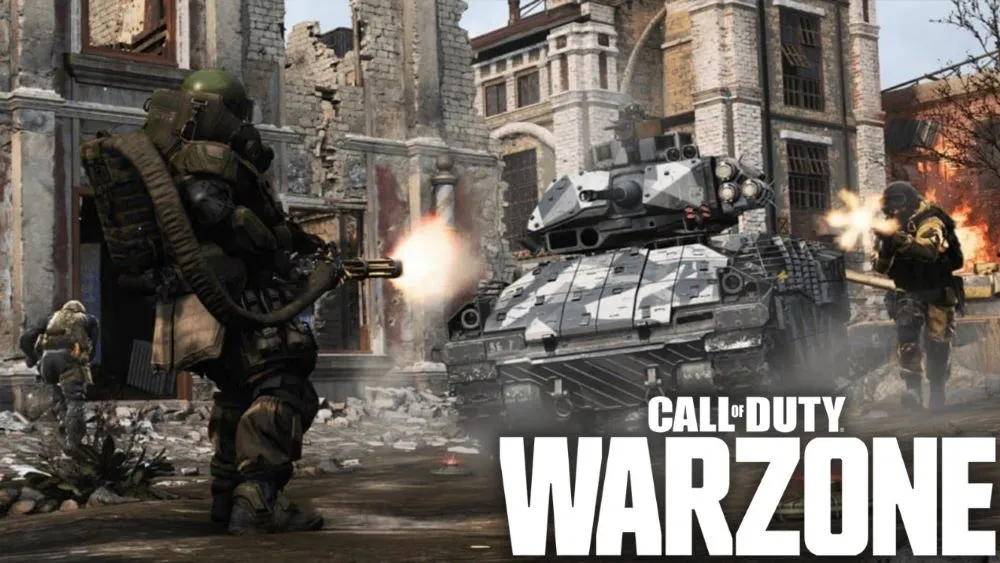 Warzone FAQs
What are the suitable VPN locations for bot lobbies?
Taking into account the number of people per server, popularity, and other factors, the best VPN locations for bot lobbies(https://www.lagofast.com/en/blog/best-vpn-locations-for-warzone-bot-lobbies/) are Santiago, Amsterdam, Paris, Madrid, Rome, Stockholm, Cape Town, Moscow, Riyadh, Singapore, Seoul, Tokyo, and Sydney.
What platforms is Warzone available to play on?
Warzone can be played on the PlayStation 4, PlayStation 5, Xbox One, Xbox Series S | X, and PC via Battle.net.