The Activision Games servers are what enable COD games to be played across the world and to give the best network connection, players are usually assigned to the server that is closest to them. But there are needs when one warzone server is down, or you want to play with someone with a long geo-distance, or simply just want a server not so full to get a lower ping in warzone 2, in these situations, you need to know how to change server in warzone 2. In this article, we present you with a legal, safe, and easy solution, LagoFast Game Booster to save your time, change your server, and give a smooth gaming experience with only a few clicks.
Part 1: Change Server in Warzone 2 With LagoFast - Easy & Reliable
Part 3: How Does LagoFast Reduce Ping
Change Server in Warzone 2 With LagoFast
Step 1: Free Download LagoFast
Step 2. Find Warzone 2 in LagoFast.
Search "warzone 2" or any other game you want to boost. and click the game.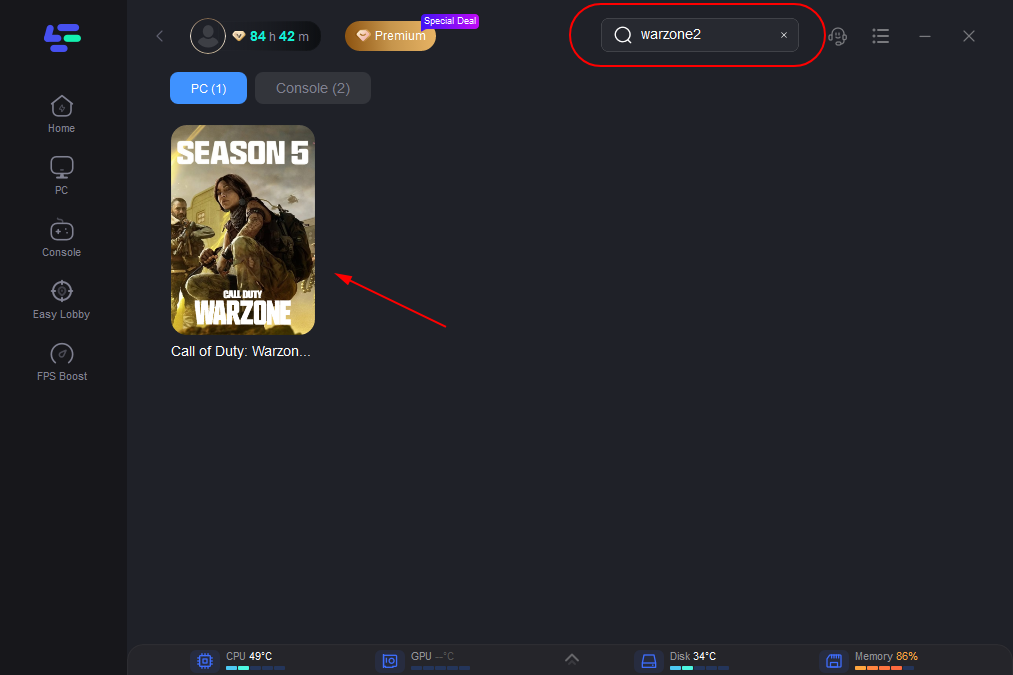 Step 3: Choose the server you want to change in Warzone 2.
Firstly, choose from the server list.
If you just want a server with the lowest ping (any location): Choose "Automatic", LagoFast will do all the math to make the best choice from all the servers and nodes considering the distance between you and the game server and real-time network conditions.
If you want a server with the lowest ping in Europe: Choose "Low Ping (Europe)", LagoFast will choose from its servers and nodes located in Europe, and find the best one for you.
If you want to make your own choice: Choose your target server and move to the next Node selecting step.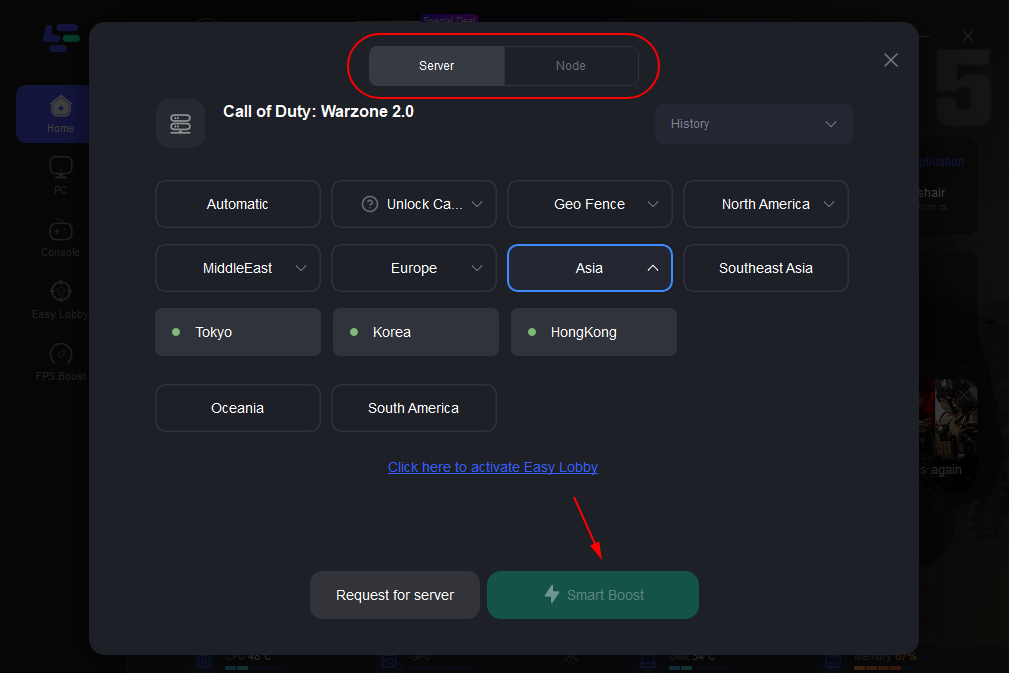 Step 4: Choose a Node (Optional)
You will need to choose from the node list if you picked one specific target server. The list shows all the options in ascending order according to ping rate. So, simply pick the first one will be fine!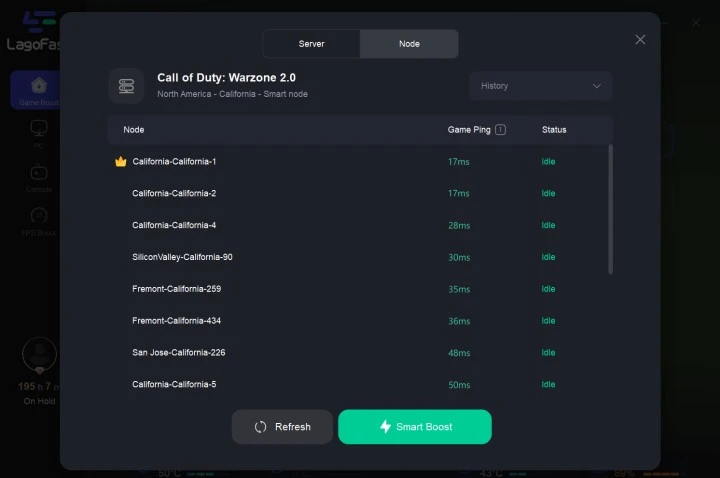 Step 5: Start and Enjoy!
Press the Start Game button and enjoy your game with 0 packet loss and the best network connection.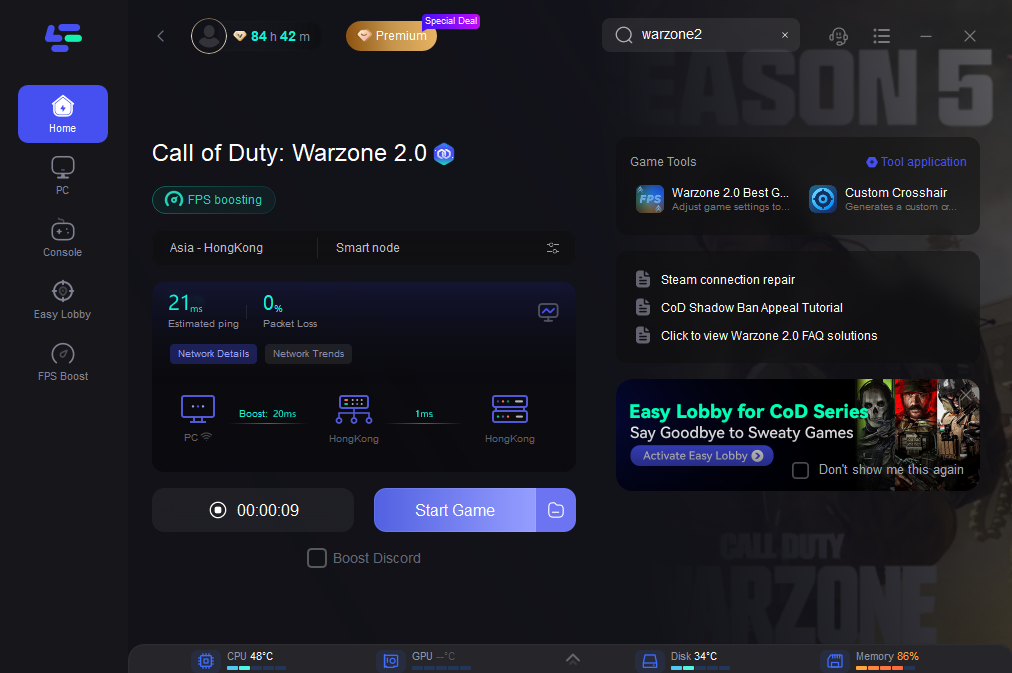 Why Choose LagoFast
LagoFast is a Game Booster, it is designed for players who want a better gaming connection speed, it transfers your game data through its worldwide servers and nodes, and with a potent traffic path system, it calculates from your real-time net connection and sends your game packet in the fastest speed possible to the target server, which leads to a result of lower game ping, less game lag, and even 0 packet loss. You could totally count on it.
LagoFast can obviously increase the player's internet speed when you change the COD warzone 2 servers. At the same time, LagoFast is easy to use and affordable with its Warzone 2 bot lobbies. For those who want to get a more economic plan, besides the monthly subscription price, they can find a user-friendly Pay-per-Minute plan. Compared with the same-rank products, LagoFast also has the lowest monthly plan. Besides normal features like other game boosters (like reducing ping, lag, packet loss, fixing fps drop and stuttering), it gives more personalized functions like:
Increases your FPS performance during gaming. (Here you can see how to use LagoFast's FPS boost function.)
Provides easy servers in games like Apex and Lost Ark. (Servers with more low-K/D real-person players)
Boosts your download speed of games with massive download size or massive update patches.
Many useful functions are still under development, wanting to know more about LagoFast? Download and Take a look at this software!
How Does LagoFast Reduce My Ping
You can call Ping rate the time that the computer spends on the data transmission route. In general, if your ping is higher than 100, you are likely to run into server lag. On the other hand, if you increase the distance between the computer and the game server, the ping rate might also increase. Based on this, many players are worried too much. If they changed the server location of Warzone 2 to implement Warzone 2 bot lobbies, would their in-game ping value increase?
If you use LagoFast, these concerns are no longer there. As we mentioned in the previous article, LagoFast can minimize ping rate, which is its advantage as a great game booster. When we start LagoFast and enhance the game with one click, you will be able to connect to the server of your choice. The system will help the player ping the network node with the lowest value through a real-time network server.
Here are the differences between VPN and LagoFast, which will give you an idea of our product.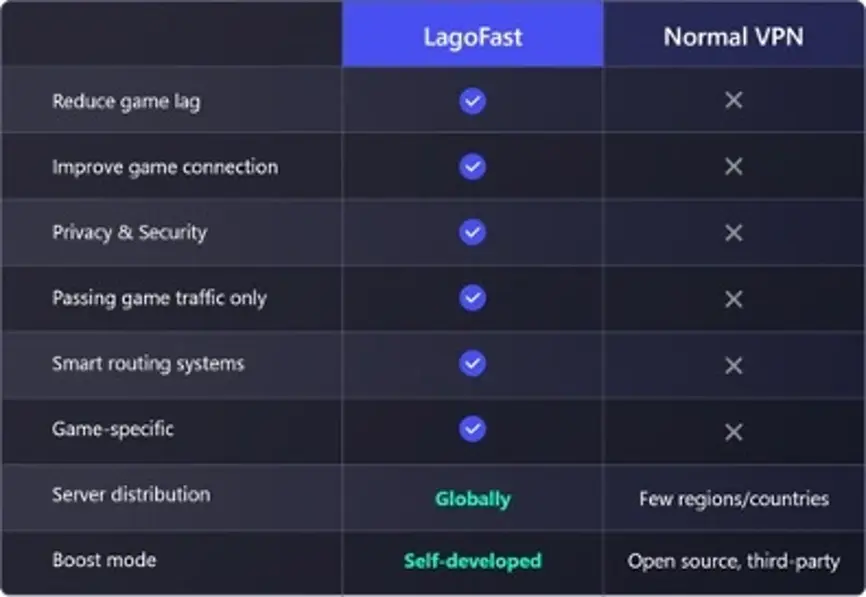 Unlike VPNs, LagoFast doesn't encrypt your data, nor hide your IP information from the game provider, if focuses on optimizing your traffic only when you begin to play, as a result, LagoFast saves a lot of Internet speed. Try LagoFast and enjoy its advantages!
Is LagoFast Safe
LagoFast won't modify your traffic, the purpose of LagoFast is to optimize the traffic, not hide activity or get access to the geo-restricted region. I can tell you, don't worry when you use LagoFast. Activision does not explicitly stipulate that it is illegal to use Warzone 2 VPN. However, the Call of Duty Security and Enforcement Policy states stipulates that any attempt to hide, disguise or confuse your identity or the identity of hardware devices may result in an indefinite suspension. It is possible that the use of Warzone 2 VPN will be considered cheating. Because it hides the players' real IP address and location information. It is also reported in many news that some players are permanently prohibited from participating in the game due to the use of Warzone 2 VPN. The permanent ban applies to all games, including those released by CoD and those not announced. However, many players believe that it is safe to use Warzone 2 VPN. However, this will not happen with LagoFast. It is 100% safe absolutely. In addition, you do not need to update the information hidden from you to comply with the CoD security policy. Therefore, you will not be prohibited from using the LagoFast Warzone 2 bot easy lobbies. After using LagoFast to booster, you will have a completely different gaming experience from Call of Duty: Warzone 2. Don't hesitate in trying this risk-free game helper!
If you find this article helpful, please give us a thumbs up at the end of the article, thank you!