Are you prepared to experience the new Overwatch 2? Officials have planned a variety of exciting activities for players to enjoy. Blizzard Entertainment has gathered player feedback in order to make significant changes to the game. To begin with, the attack and defense combat modes were canceled due to widespread criticism. Simultaneously, Push mode was introduced, in which the two teams competing in the symmetrically designed map must compete for control of the central robot, pushing obstacles from the map's center to the enemy's base. Second, the PVE seasonal event mode has been well received by many players, and the officials have been inspired to add a lot of PVE content to the game as a result. In the new episodic missions, four players take on the roles of the Watchtower's heroes, completing a series of tasks and launching a counterattack on the Returned. So many updates have whet fans' appetites. But how inconvenient is it when you're all set to play the reimagined game with your friends and suddenly Overwatch 2 connection errors appear? But, good news: LagoFast doesn't even think it's worth mentioning.
Part 1: LagoFast: The Best Assistant for Overwatch 2
Part 2: Common Fixes for Connection Errors
Part 3: What Causes Overwatch 2 Connection issues?
LagoFast: The Best Assistant for Overwatch 2
As the name implies, the main issue is caused by the network, your unstable network environment, and poor network conditions can cause you to encounter this problem. So, in order to solve this problem, LagoFast may be the best option. It has over 8 years of experience in resolving network issues by utilizing industry-leading data transfer protocols. LagoFast will also provide you with real-time network diagnostics and match each player with the best network node to ensure that LagoFast fans have the best gaming experience possible. I'd also like to point out that LagoFast is the only game booster and VPN service that offers an hourly fee package. You can pause it whenever you want! Don't use those buggy and cumbersome products anymore! Try LagoFast, which is the fittest game booster for Overwatch 2.
Let's see the features of LagoFast!
Free trial, make the decision after having a try
Exclusive routes cover more than 60 countries
Pay per minute, stop it whenever you want
Easily fix Overwatch 2 network issues
Only in 4 steps, you can get smooth gameplay!
Step 1: Download LagoFast and register, remember to receive the free trial time.
Step 2: Type Overwatch in the Search box and click on Overwatch 2.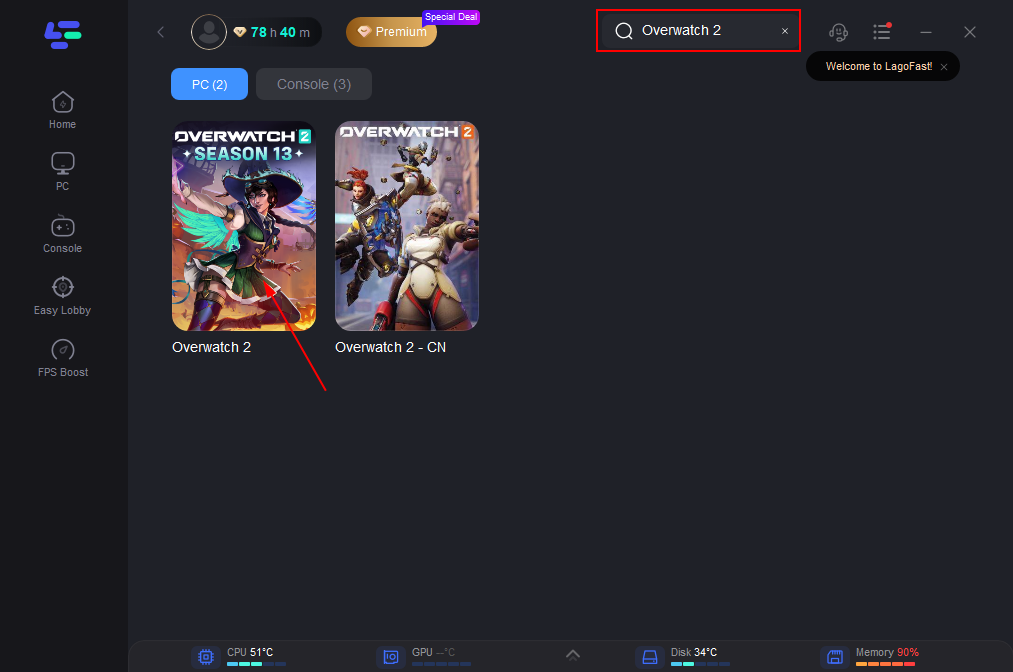 Step 3: Choose your needed server and the best nodes with the lowest ping by yourself.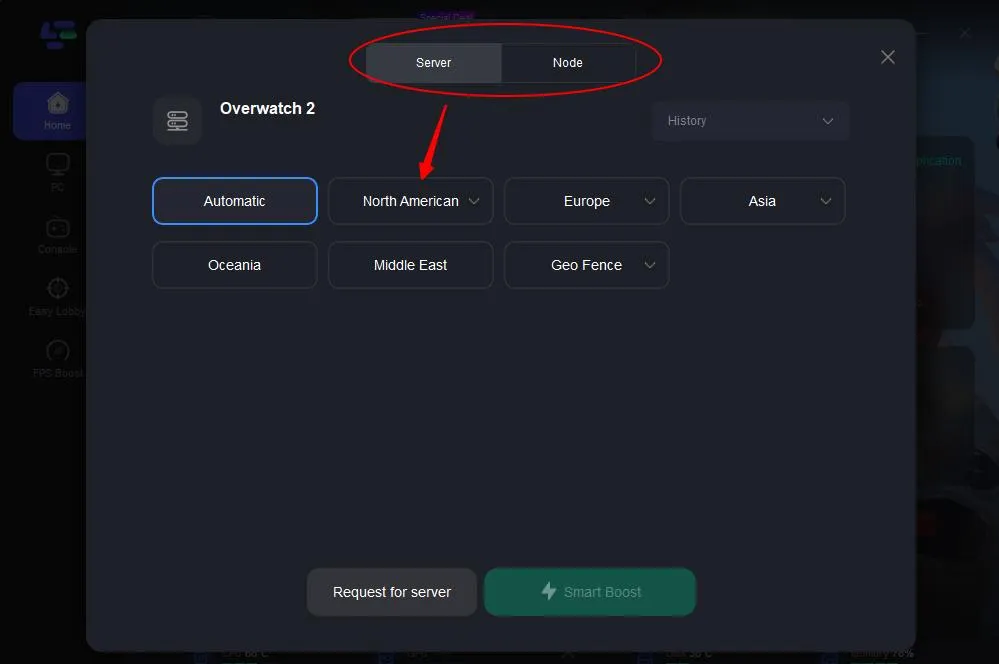 Step 4: Click on the Boost button to start boosting.
You can know Overwatch 2 real-time ping and packet loss rate, which are closely related to your FPS performance.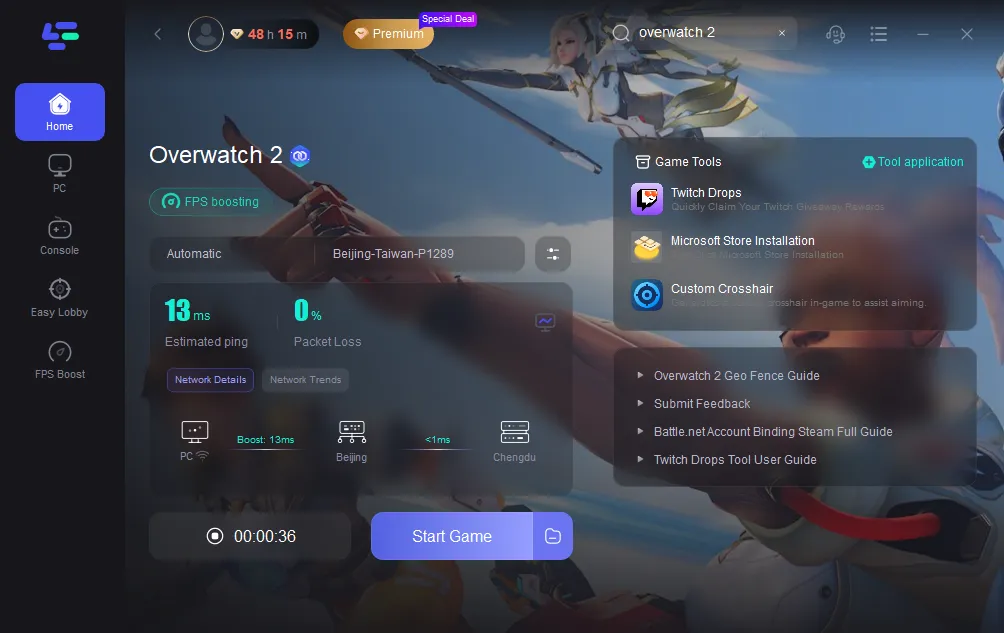 Also, change the settings manually by clicking on the ones you want to turn on/off.
To do like this:
Step 1: Select the FPS Boost tab on the left side of the desktop.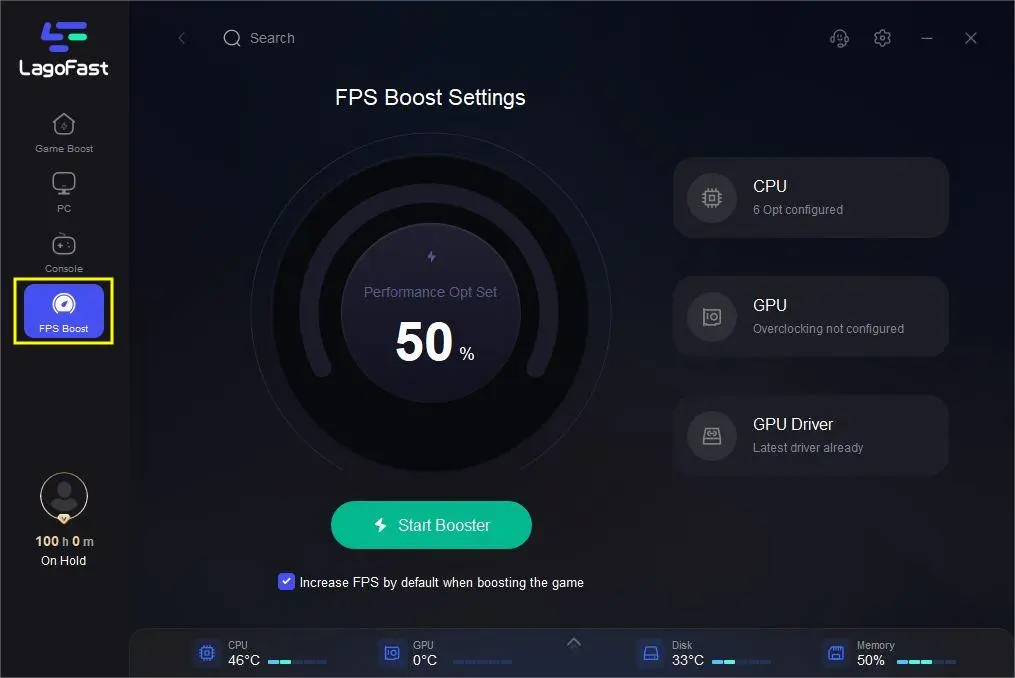 Step 2: Turn on/off the settings to boost Overwatch 2 FPS.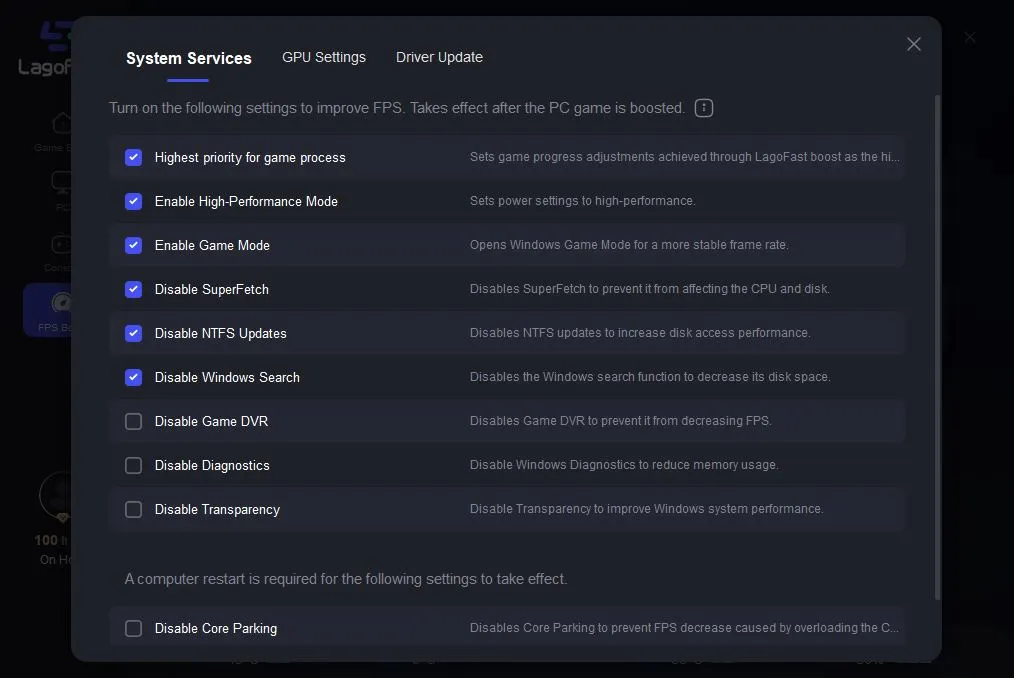 Common Fixes for Connection Errors
Whitelist Overwatch 2: Our computers are regularly scanned for malicious software by firewall/anti-virus software. When they are overprotected, however, they misinterpret Overwatch 2 and interfere with its activity, examining the packets it sends and receives. This can result in Overwatch 2 connection errors and even crashes. That is why, by whitelisting Overwatch 2, we can ensure that the game runs without any virus software interference. Do like this:
1. To open the Run dialog box, press the Windows logo key + R combination.
2. Enter "control" (without the quotes) and then press the OK button. This brings up the Control Panel.
3. Select "Large icons" from the "View by" dropdown menu in the top-right corner of the window.
4. Select Windows Defender Firewall.
5. On the left side of the window, click the "Allow an app or feature through Windows Defender Firewall" link.
6. Under "Allow apps to communicate through Windows Defender Firewall," click the "Change settings" button.
7. Select the Private and Public checkboxes next to Overwatch 2 on the list, and click OK.
Update network driver: When we have network issues with games, network drivers are usually to blame. This is due to the fact that this driver is in charge of ensuring that all network-related functions on your computer run smoothly. As a result, if this driver is missing, out of date, or corrupted, you will have Overwatch 2 connection issues.
1. To open the search box, press the Windows logo key + S.
2. Enter "device" (without quotation marks) and then choose the Device Manager search result.
3. Scroll down to the "Network adapters" section in the new window. Then double-click it to enlarge it.
4. Right-click your Network driver and select "Update driver."
5. Select Search automatically for drivers.
6. Then, wait for the driver to be installed automatically on your PC.
7. Reboot the machine once the process completes.
Using Ethernet connection: A wired connection is the best option for FPS gamers. Because wireless network connections are unstable and prone to interference, even if your laptop and router are separated by a wall, the Wi-Fi signal will become very weak. However, a wired network connection will not have this issue, and you will not be forced to share the limited network data with other devices.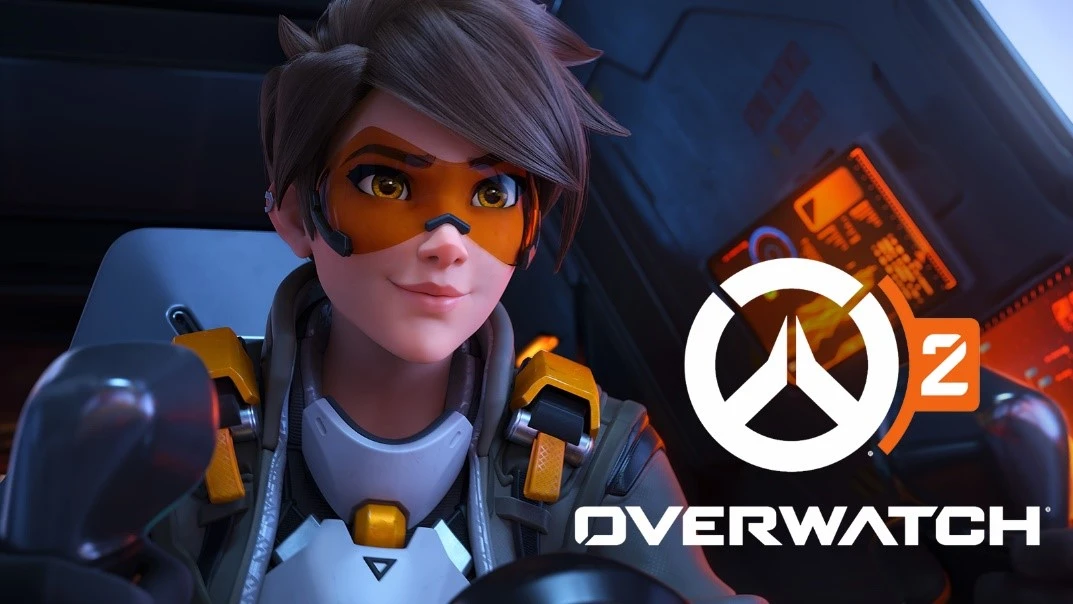 What Causes Overwatch 2 Connection issues?
Since Overwatch 2 was just released, tens of thousands of players are logging in every day, causing the servers to become overburdened. However, it is still possible that the issue is client-side, and we will now go over some of the most common causes of Overwatch 2 connection errors.
Server problems: This is a very common problem for popular games, where the game officials do not have servers that can withstand thousands of players entering at the same time. Overwatch 2 is a sequel to a very popular game, so it's no wonder that people are clamoring to get on the servers and be among the first to experience the game.
Unstable internet connection: This is a common cause of Overwatch 2 connection errors. It is possible that you have chosen an unstable wireless network connection, or it is possible that the Internet provider you have chosen is providing a poor-quality network.
Error cache: Cache is a type of storage that is used for games to provide fast data transfer. It stores data directly on the CPU and is the fastest storage medium. Caches are updated very frequently, and previously stored files can become corrupted after a while and can take up unnecessary resources.
Blacklisted by anti-virus software: Firewall/anti-virus software protects computers by prohibiting anti-virus software that they consider a threat from accessing data from the network. When they blacklist Overwatch 2, connection errors occur.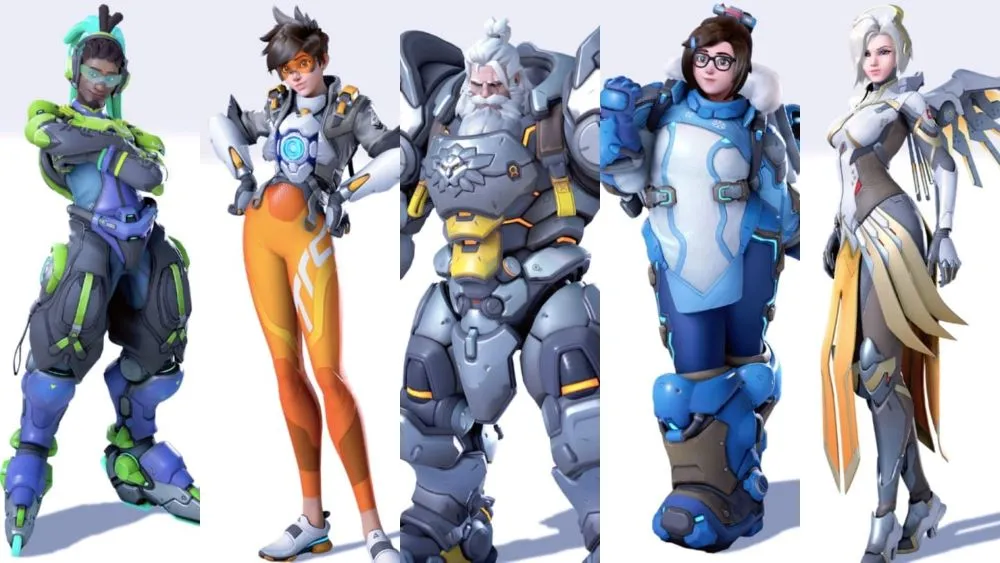 Overwatch 2 FAQs
Other than the game booster—LagoFast, Overwatch2 crashing can be caused by a variety of factors. If you want to know how to fix Overwatch 2 not launching, you should consider a variety of options. Here are some options for you to consider.
Keep CPU at a low temperature
Check game file integrity
Use the wired online connection
FPS is very important to the Overwatch 2 gaming experience, but do you know how to solve the low FPS problem when you encounter it?
Close background apps
Defragment Your HDD
Use fullscreen mode
Check if the system meets the minimum requirements
Lower graphics settings