LagoFast can lower Overwatch 2 game ping when ping is high. No more server Lag spikes.
LagoFast is an expert in reducing Overwatch 2 game ping. It's pretty easy to use and you don't need to configure it. Having served online gamers for over 8 years, LagoFast is reputed in terms of game boosting. It is also picked by professional e-sports players as LagoFast can indeed reduce Overwatch 2 game ping, which is so crucial to their performance. This Overwatch 2 ping enhancer & booster allows players to boost the game by customized boosting solutions considering players' locations and game features. LagoFast also makes it easy for players to monitor lag spikes during overwatch 2 gameplay. When your location is far from the Overwatch 2 server, lag will easily come out. LagoFast can match the best nodes for players, so the Overwatch 2 ping will not be high and be kept at a stable level!
Overwatch 2 is the second franchise of the Overwatch series developed by Blizzard Entertainment. It is set to be published in 2022. In the new season, a whole lot of maps of cities all over the world are added, such as Toronto, Canada; Gothenburg, Sweden; Rio de Janeiro, Brazil; New York, USA; and Monte Carlo, Monaco. The 'Control' and 'Assault' mode in Overwatch 1 will no longer exist in Overwatch 2 and the PVP mode will be 5V5. A brand new map type introduced is Mobile Propulsion. In this map, two teams fight to control the central robot and the one that pushes to the finish line of the enemy base will first win. For those players of Overwatch 1, their account can be transferred to Overwatch 2 with their previous achievements, loot, and collections, including skins, avatars, spray paint, and others. Also, a 'Talents' system will be introduced in Overwatch 2. A professional Overwatch 2 ping enhancer & booster - LagoFast will smooth your game experience a lot!
A Good Overwatch 2 Ping Enhancer & Booster - LagoFast
When players encounter high Overwatch 2 game ping, it is necessary to use a professional Overwatch 2 ping enhancer & booster. When you want to check if Overwatch 2 ping is high, LagoFast can show you the ping in real-time. If your Overwatch 2 ping is quite high, this means there could be something wrong with your network connection. If the distance between your physical location and game servers is great, you will easily suffer lag spikes. At this time, you might wonder how to fix high ping in Overwatch 2. LagoFast can exactly match the most suitable routes for you to minimize your game ping and get rid of lag spikes in overwatch 2. In this way, you will be able to spend more time training yourself and fully enjoy the gameplay. LagoFast has many features which are as follows:
Monitor Overwatch 2 game ping in real-time
Reduce the ping when Overwatch 2 ping is high
A professional Overwatch 2 ping enhancer & booster
Specific solutions for thousands of online games including Overwatch 2
Intelligent match of routes over the globe for players
4 Steps to Fix Your Overwatch 2 Lag and High Ping Issues
Step 1: Download LagoFast.
Step 2: Search Overwatch 2 in the Game Library.
Step 3: Choose your server and the node with the lowest ping.
Step 4: Click on the Boost button to start boosting.
You can see your real-time ping and packet loss rate.
You can also fix Overwatch 2 FPS drop issue by changing the settings manually on the FPS Boost tab in LagoFast.
To accomplish this:
Step 1: Download LagoFast.
Step 2: Click on "FPS Boost" on the left side.
Step 3: Click "CPU Optimization" on the FPS Boost page.
Step 4: Tick the settings that you want to open.
Step 5: Click "GPU Settings" on the FPS Boost page.
Step 6: Slide to choose your overclocking level in the first bar.
Step 7: Tick "Enable GPU Boost" in the second bar.
Step 8: Click "GPU Driver" on the FPS Boost page.
Step 9: Check your GUP Driver updating version.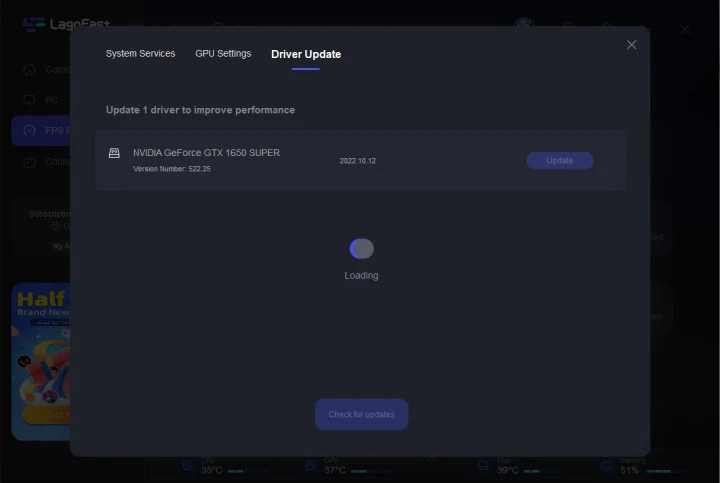 At last, you need to return to the FPS Boost page, and clicking "Start Booster" is OK.
---
Video of How To Use LagoFast