'I am called, and I must answer, as always' Overwatch came out in the summer of 2016, and it attracted lots of players all around the world. As a game with exquisite style, Overwatch is a first-person shooter game, and it incorporates the elements of MOBA games. When Blizzard developed this game, it made the corresponding in-game CG, which explained the in-game characters' backgrounds and in-game skills. Blizzard has announced that it would release Overwatch2 in 2020. After one year delay, Overwatch 2 will be tested on Nov 4. This attracts the return of many experienced players. However, while players return to this game, many of them may worry about Overwatch 2 performance issues, such as Overwatch 2 crashing. To enjoy the game more conveniently, I think LagoFast is a very useful Overwatch Game booster. Except for this, the article also provides other features for how to fix Overwatch 2 crashing at launch.
Part 1: What is Overwatch 2 crashing?
Part 2: How to fix Overwatch2 crashing to improve Overwatch2 performance issues?
Part3: Why do we encounter Overwatch2 crash at launch and Overwatch2 not loading on PC?
What is Overwatch 2 crashing?
Game crash refers to the phenomenon that the game can't run smoothly due to a network connection error or abnormal computer operation. Overwatch 2 is an online game with lots of different servers, it needs to support a million players at the same time. Considering that Overwatch 2 is a 5v5 online PvP(player vs player)game. A game requires ten people to be ready at the same time to start. This means that if one player has network or computer problems, the whole game will meet Overwatch 2 crashing. Common types of Overwatch 2 crashing may be Overwatch 2 unable to launch, Overwatch 2 not loading on personal computer, Overwatch 2 crashing on startup, and so on.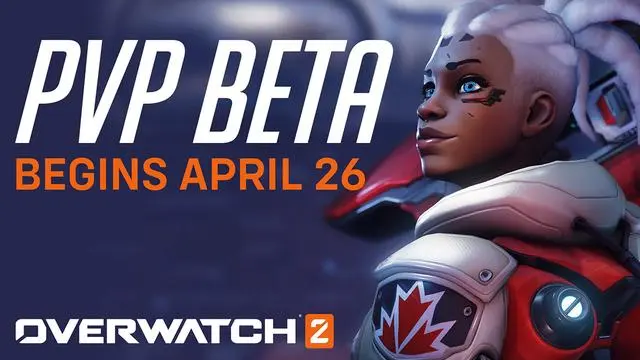 H
ow
to
fix Overwatch2 crashing to improve Overwatch2 performance issues?
Use the experienced Overwatch2 game booster-----LagoFast!
Now I have to recommend LagoFast to you strongly, it can effectively improve Overwatch2 crashing. There is no doubt that LagoFast is worth choosing. On one side, LagoFast has a self-developed internal data transfer protocol. This protocol can offer a stable network connection. It can also help to launch Overwatch 2. It also works on improving network conditions and selecting the online node with the lowest ping rate. On the other side, Lagofast, in terms of other Overwatch 2 performance issues, players can help to reduce the problems that Overwatch 2 not loading on pc with just a button. After clicking the button, there is less Overwatch2 performance crashing. The player-friendly price is also the factor worth your choice. LagoFast is the only Overwatch2 booster and game VPN with a per-minute plan. It means that although you can't afford the monthly or yearly price, you can also afford the product at whatever minute you like.
LagoFast has many advantages compared with other
Offer

a

Pay-Per-Minute

plan

, player-friendly, and nice to your wallet!
Longer than 8 years of game

booster

experience
Easy to use, just one button
Cheap and useful

S

upport over 1000 games, you can choose whatever you want
The steps on how to use LagoFast:
Step 1: Download LagoFast
Step 2: Type Overwatch2 in the Search box and click the Overwatch2 button.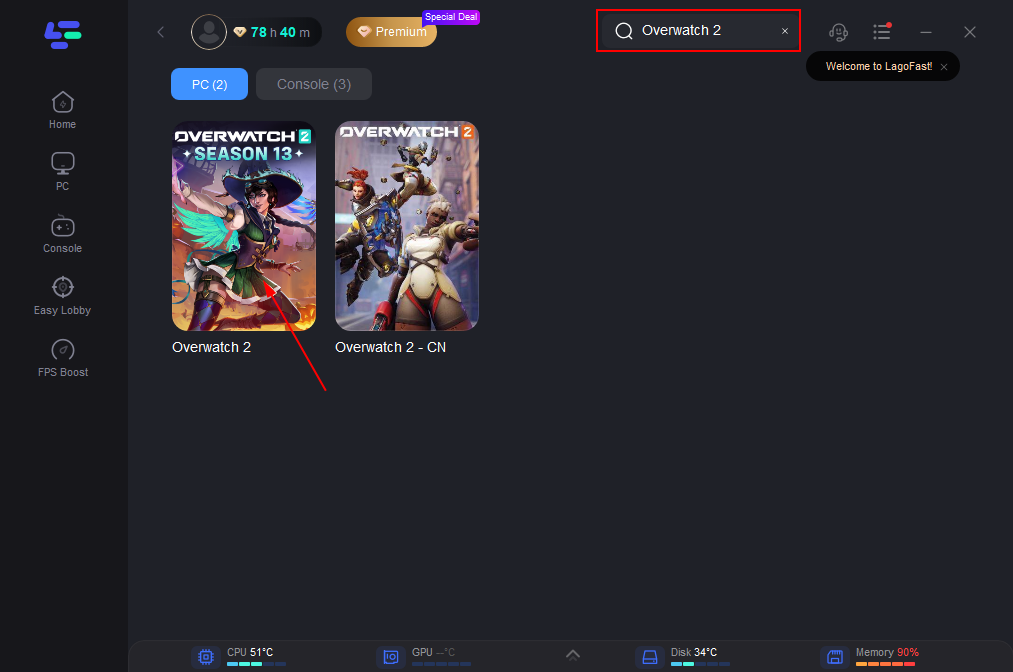 Step 3: Choose the server you like or the nearest.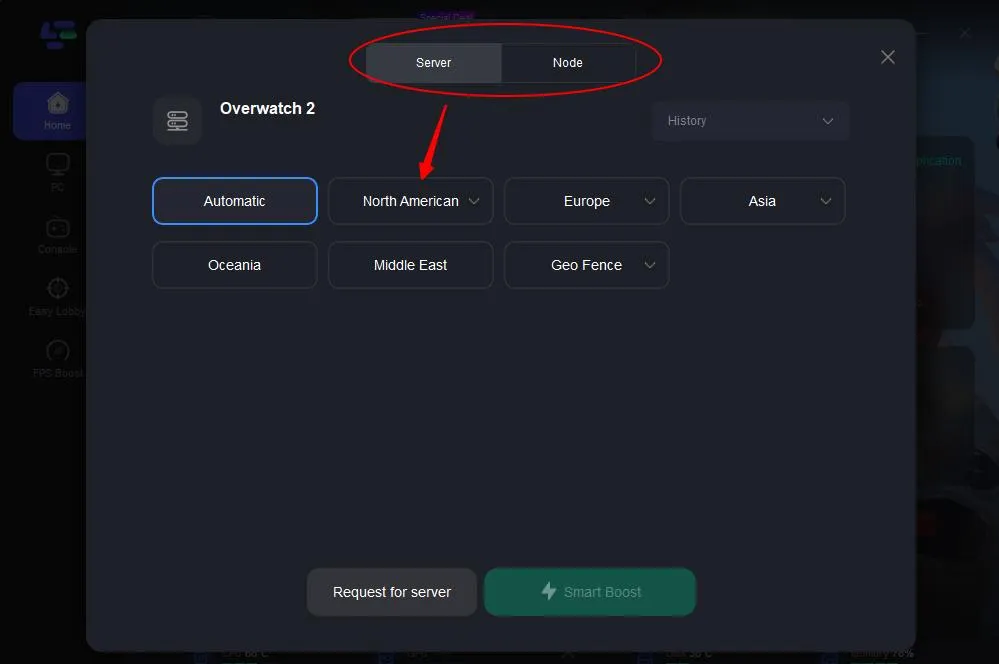 Step 4: Then you can see ping and status of packet loss after Overwatch2 Game boosting.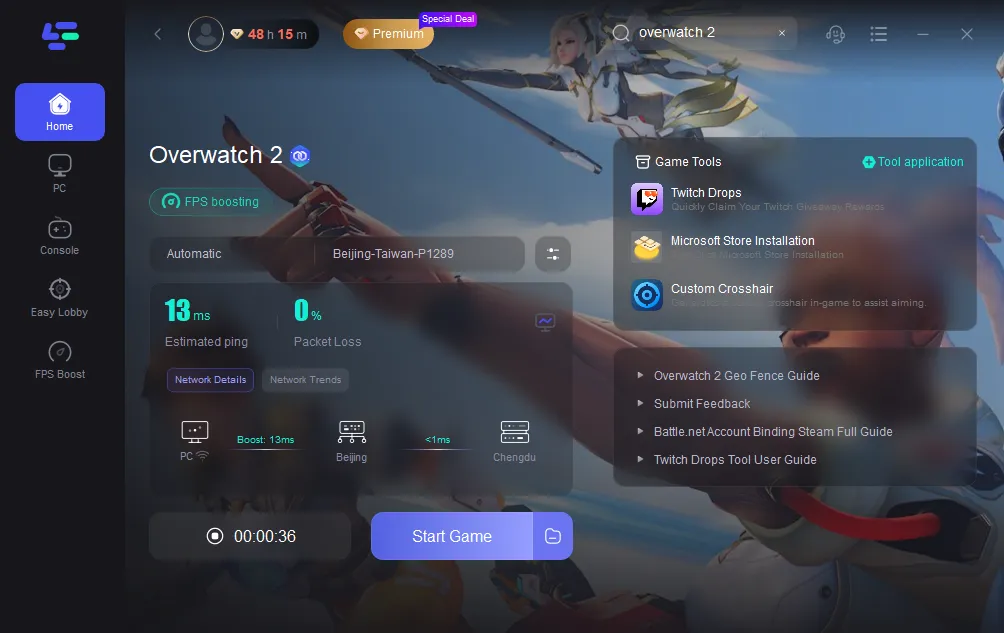 Other settings for Overwatch2 crashing and O
ver
watch 2 performance issues
Except for the game booster--LagoFast, Overwatch2 crashing can be caused by some other reasons. If you want to know how to fix that Overwatch 2 is unable to launch, you need to consider lots of possibilities. Here are some settings you can use, I hope they can be useful.
Keep CPU at low temperature

:

When the computer is

performing

O

verwatch

2, it needs a lot of

inside

space

and makes the temperature of

y

our computer too high. To protect itself, the CPU will

r

educe operation efficiency to prevent operation overload and protect itself. You can pad up the computer or place the mainframe in an open area

,

which

will

be

useful

to

release

heat

.
Close background applications: As we talked about above, if your computer needs to process many applications at the same time, the memory space will be taken up. CPU will

r

educe operation efficiency, therefore Overwatch2

is

limited

to

run. For a better gaming experience, I advise you

to

check

the task manager of your computer before playing Overwatch2. M

ake

sure

those unimportant applications

are

turned

off.

Change to a wired online connection: Even if the wired connection is not more convenient than a wireless connection, it can't be interfered with by something like a wall or door. It is very important for the stable operation of Overwatch2. Because ethernet can provide the stability of your network connection and prevents your online connection from O

ver

watch 2 crashing on startup. However, if your environment cannot ensure limited network usage, you should

shorten

the distance between the computer and the router, or reduce the number of devices connected to the router.
Why do
we
e
ncounter Overwatch2 crash at launch and Overwatch2 not loading on pc?
Many reasons will lead to Overwatch 2 being unable to launch. For example, there is something wrong with the player's computer hardware. The influence of online speed is also a factor. If there are issues in Overwatch 2 performance, high temperature of CPU leads to Overwatch2 not loading on pc. Here are the factors worth considering.
Too

h

eavy CPU load: The previous article tells the fixes. You may be wondering why too heavy a CPU load will make O

ver

watch 2 unable to launch. When the CPU has to perform many applications, a CPU that is too old or not advanced enough will be overwhelmed. They will cause the temperature of the CPU to rise rapidly. Because the CPU has limited working

space

, every computer software occupies a part of it. T

oo

high a temperature may cause abnormal operations

.

Unstable online connection: As a game which needs ten players playing together, each player's online connection is a must. So if you suffer from O

ver

watch 2 crashing, but there is nothing wrong with your network, please let your teammate check their network at the same time.