While numerous gamers want to have fun in Lost Ark, server lag happens and drives people mad. But don't worry, this article will inform you what exactly is Lost Ark server lag and how to fix it. Especially, the professional lag reducer LagoFast could be very helpful in resolving lag issues in Lost Ark.
Part 1: What Does Lost Ark Server Lag Mean?
Part 2: Why Does Lost Ark Server Lag Exit?
Part 3: How To Fix Lost Ark Server Lag Effectively?
Part 4: Other Solutions To Fix Lost Ark Server Lag
What Does Lost Ark Server Lag Mean?
Most players are familiar with Lost Ark lag issues. What is Lost Ark server lag? Lag is the time that players experience between giving input and seeing the appropriate reaction on the screen. This time delay is unavoidable, but it is not noticeable due to its small magnitude. When it grows large enough to be noticed, the lag becomes an annoyance. At the same time, lag is a broad term that can refer to a variety of problems, like high ping, spikes, packet loss, etc. It has put a large number of game players through a difficult situation. Lag may be a minor annoyance for some players, but for others, it renders the game completely unplayable. More detailed information in: What Does Lag Mean?
Why Does Lost Ark Server Lag Exit?
In general, there are three major causes of Lost Ark lag:
1. Hardware configuration: If you want Lost Ark to run smoothly and without lag, you must first ensure that your computer meets the minimum Lost Ark requirements. The details are listed in Part 4.
2. Network connection: Aside from hardware configuration, the network connection is possibly the most important factor, due to the fact that lag is associated with high ping in games. The amount of time spent on game data transmission increases when your Lost Ark ping exceeds 100, or even 150. The delay will then become more apparent. As a result, Lost Ark lag will appear more frequently if there is network congestion, poor routing, bandwidth congestion, or network overloading.
3: Game server problems: Also, do not be concerned. Your Lost Ark lag issues may not always be the result of computer problems. Lost Ark lag can occur when the game servers are experiencing problems, such as bugs or being attacked. To gain a better understanding, read this article: Why Do I Lag With Good Internet?
How To Fix Lost Ark Server Lag Effectively?
As mentioned above, Lost Ark server lag could be caused by many issues, like hardware configuration, network connection, and also server issues. Therefore, you can take corresponding measures to fix the issues due to different reasons. However, sometimes you do not know the real reason, so you have to take the time to rule out the causes one by one. Why not save that time to enjoy gaming instead by using the lag reducer LagoFast? Only a click before starting the game, LagoFast will test your game running situation and then take the suitable measure automatically. In addition to fixing Lost Ark server lag, the professional game booster LagoFast could also offer the FPS boost service. And it is the most economical because there are 2 options to choose from: monthly membership & plan per minute.
If you want to try using LagoFast, here are the steps you can follow:
Step 1: Click the Free Download button to download the LagoFast client and experience the game boost service.
Step 2: Before running Lost Ark, you just need to find the game in LagoFast.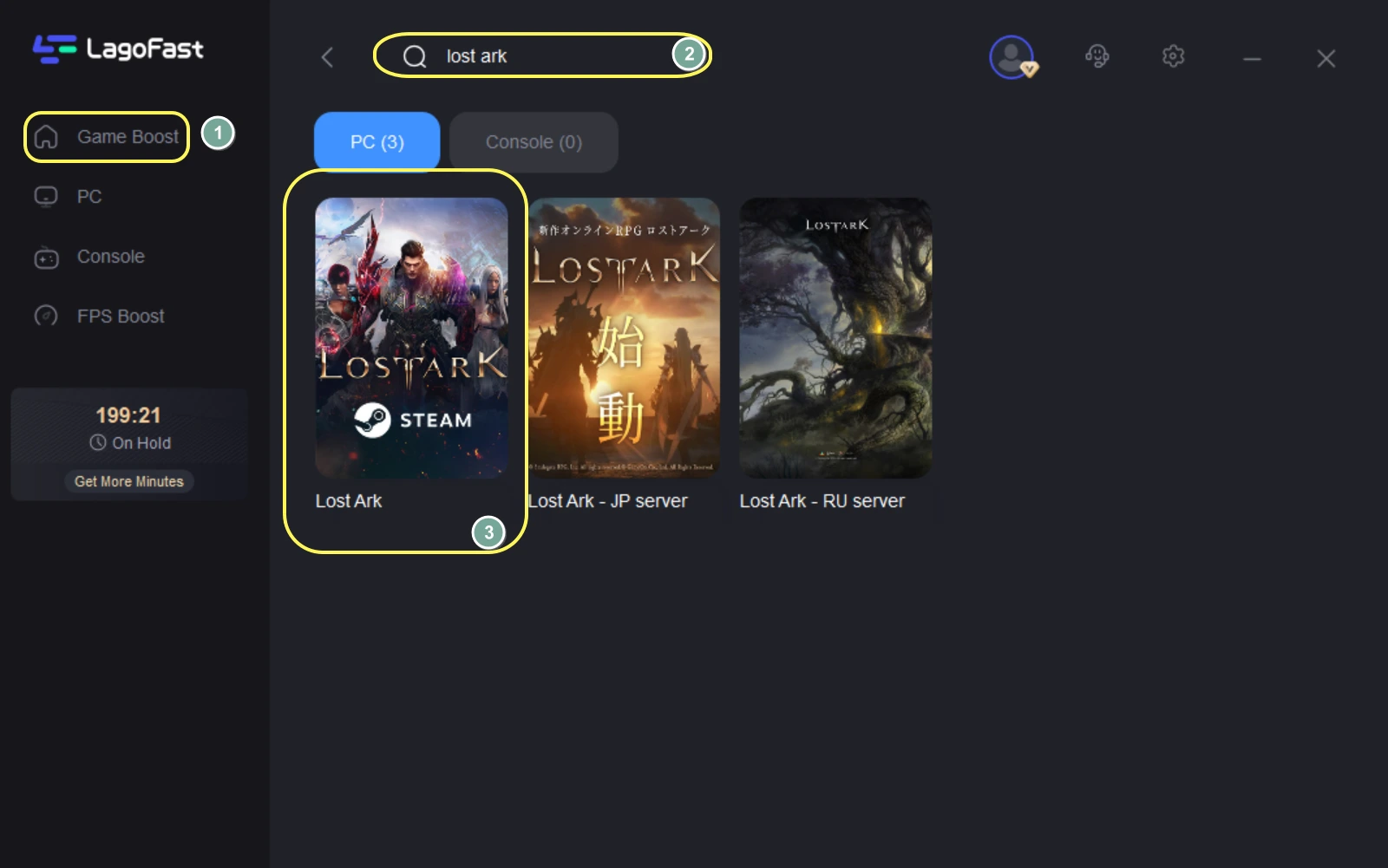 Step 3: And then you can choose the Lost Ark server and the fastest node to boost your gameplay in Lost Ark.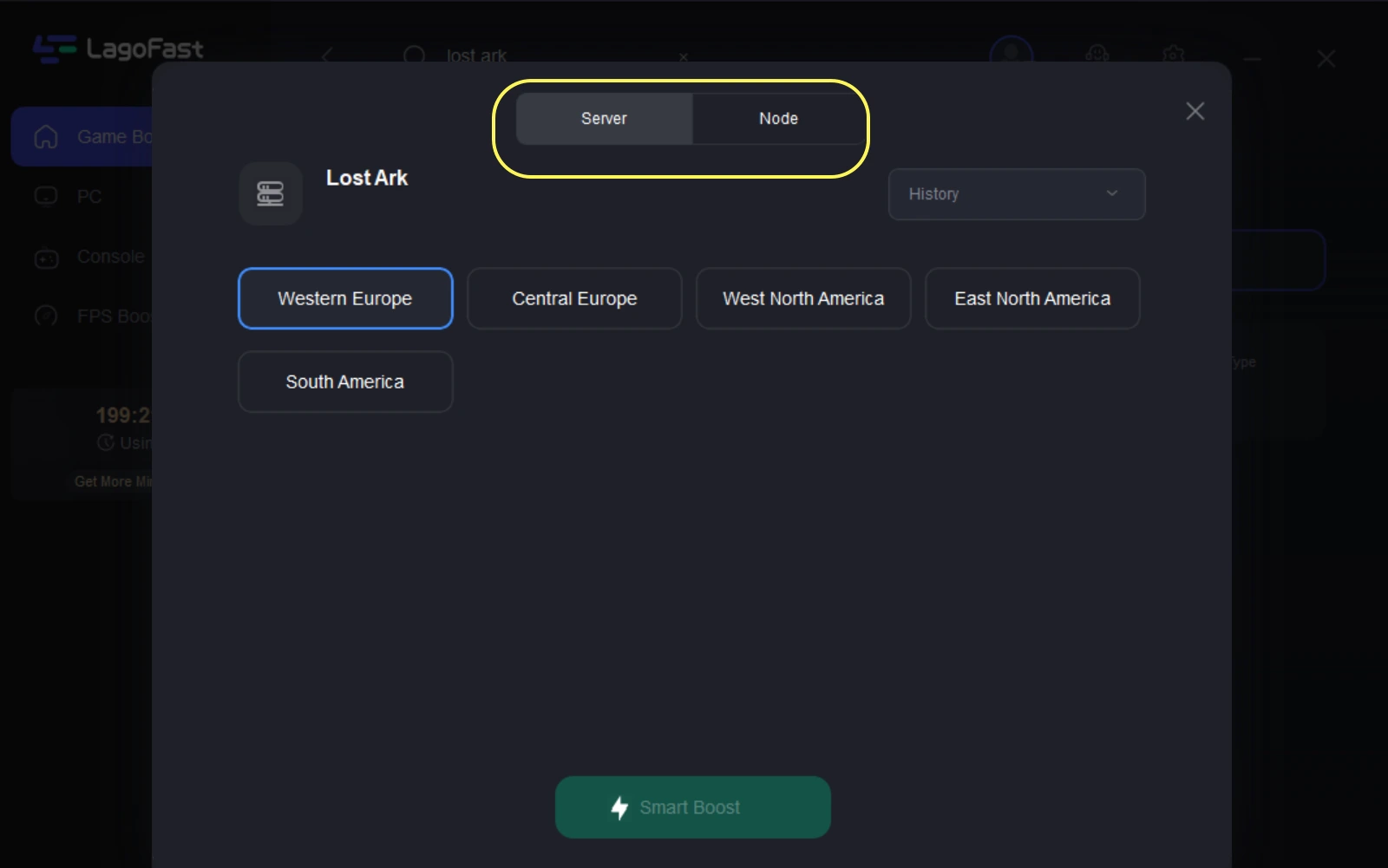 Step 4: After this easy click, the LagoFast game booster will improve your game internet connection, decrease Lost Ark high ping, and reduce lag issues in the background. While you are playing the game, you can see the accurate ping test result. And in addition, LagoFast could also provide you with many other tests, like packet loss and local network fluctuation.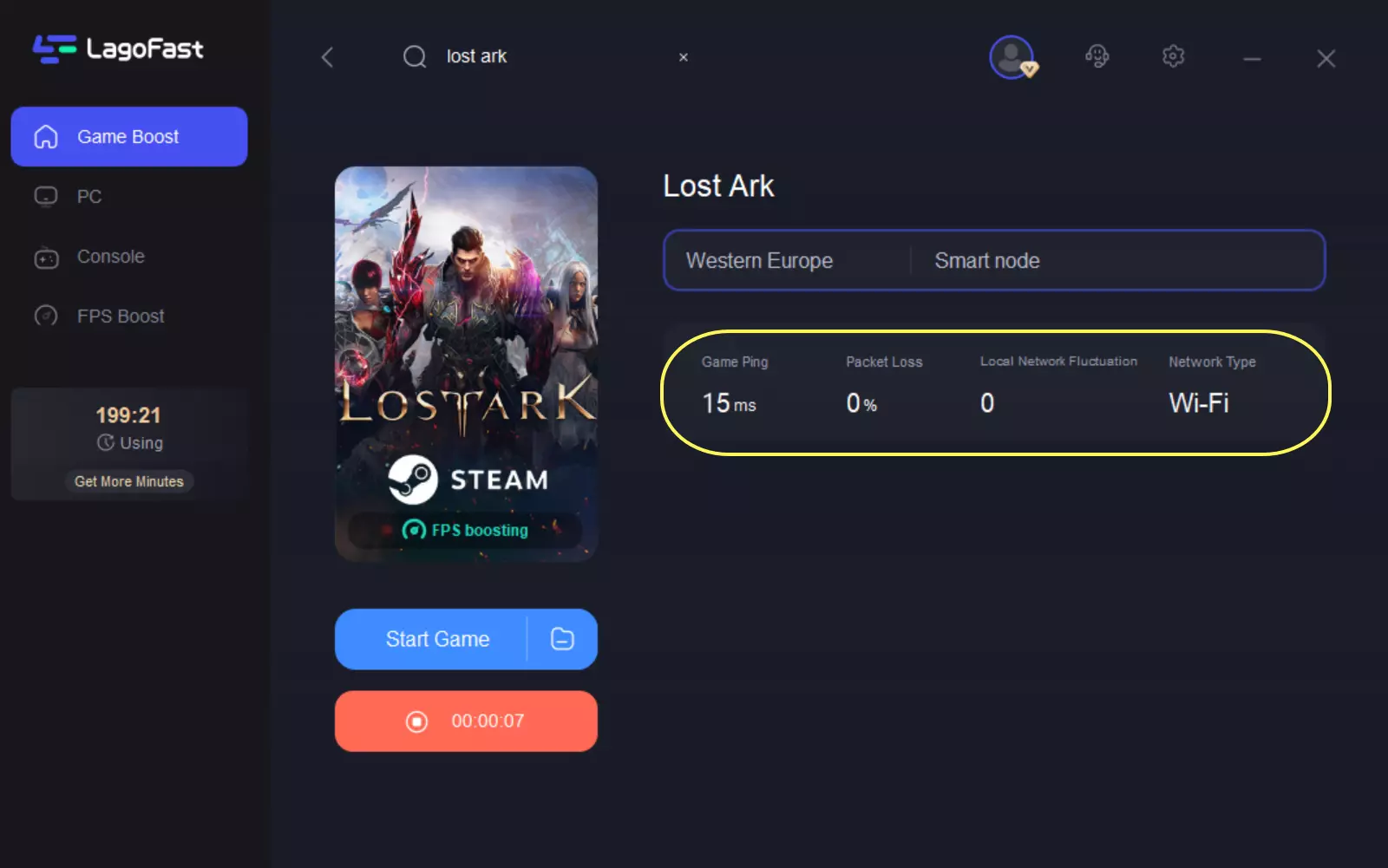 Other Solutions To Fix Lost Ark Server Lag
Solution 1: Make certain that you have met the minimum system requirements.
The minimum system requirements may include information on hardware configuration that will help your game run smoothly and with less latency. If you cannot meet these requirements, you should update your hardware. The minimum system requirements of Lost Ark are as follows:
OS: Windows® 10 64-bit.
Processor: Intel®️ Core™️ i5-6600 / AMD Ryzen™ 5-2500U.
Memory: 16 GB RAM.
Graphics: Nvidia GeForce® GTX 1060 / AMD Radeon™ RX 580.
DirectX: Version 12.
Network: Broadband Internet connection.
Storage: 15 GB available space.
Sound Card: Direct X Compatible.
Solution 2: Double-check your Wi-Fi connection.
Try moving your router to a more central location in your home. Reboot the router. If this does not improve your connection, your Wi-Fi signal may be having trouble reaching your gaming console or wherever you are with your PC. If your Wi-Fi signal does not reach your gaming devices far enough, lag will occur. Wi-Fi extenders are useful for spreading your wireless signal and thus your internet connection throughout your home.
Solution 3: Make use of an Ethernet wired connection.
An Ethernet wired connection, as opposed to a wireless connection, may be invisible to other connections, resulting in less interference. If there were no concrete walls or other impediments, data transfer over a wired connection would be faster and more reliable. As a result, switching to an Ethernet wired connection may aid in the resolution of lag issues.
In conclusion, you can fix Lost Ark server lag with LagoFast easily. Other methods, such as checking your Wi-Fi connection and switching to a wired connection, are also effective, but more demanding.