The Lost Ark was just released on Steam. We're all wondering why the game suddenly has 1.2 million people watching it on Twitch. Even if you remove the big streamers, there are still a lot of people playing the game. The game is a massive ARPG with tons of content. For those who don't know, the game was initially released in South Korea in 2019 and was released globally today. The game is well-optimized and runs best on all types of PCs. The discussion forums are full of bugs and uproar about the game not being unlocked for certain countries. But performance-wise, I was unable to find a thread. It is quite unfortunate that some Lost Ark PC players are facing various issues during gameplay such as stuttering, lag, crash, frame drop, etc. Depending on the compatibility factor this can be a serious problem on some PCs. So, it is always a better idea to fix this issue so that at least you can play the game with a respectable FPS count. There can be several reasons behind such an issue which can be resolved by following this guide. Like many online games, the game isn't exactly smooth. After a few server woes and connection issues later, fans are wondering how to improve their experience with the new game.
We will guide you on how to fix Lost Ark lag and why the Ark is so lagging. Most of the gamers have been facing huge Lost Ark lag. In this article, we'll explain to you how to fix Lost Ark lagging.
Part 1: How Does Lagofast Fix Lost Ark Lagging? Why Is Lost Ark so Lagging?
Part 2: Other Methods to Fix Lost Ark Lag?
How Does Lagofast Fix Lost Ark Lag? Why Is Lost Ark so Lagging?
Lost Ark lag issues are common problems for this online game, and many players have complained about it.
Lagofast connects to a fast and secure server and you will be able to fix Lost Ark Lag as the game VPN's servers are faster and less congested than the servers used for the game. There is a possibility of an even better, game VPN will also encrypt your traffic, so your ISP won't know what you are doing and therefore won't be able to throttle your speed. Many players proved that the lag issues in Lost Ark are solved with Lagofast. Lagofast offers the fastest problem-solving service, the most comprehensive game support, and other advantages over Lost Ark Lag. Lagofast is one of the most popular providers and services for gaming issues, Lost Ark lagging, Lost Ark lag issues, why is Lost Ark so laggy, and many more.
I will recommend this professional Lost Ark lag reducer - LagoFast, which has a history of over 8 years of providing excellent services, dealing with server glitches, and connection issues.
LagoFast has a self-developed game data transmission protocol that offers the games the best gaming experience without server errors. LagoFast is easy to use and provides better services.
When players cannot manage the cost of month-to-month subscription costs, they can look for easy-to-use pay-per-minute plans. Next are the highlights of Lagofast.
Easy to use
Fix Lost Ark lag
Get a lower ping in game
Optimize gaming packet rate
Boost FPS
Cheapest monthly plan
Providing the best services and a much better gaming experience
Support hundreds of popular online games, such as Diablo 4, Albion Online, etc.
Step 1: Download LagoFast.
Step 2: Search the Lost Ark in the search box and select it in the search result.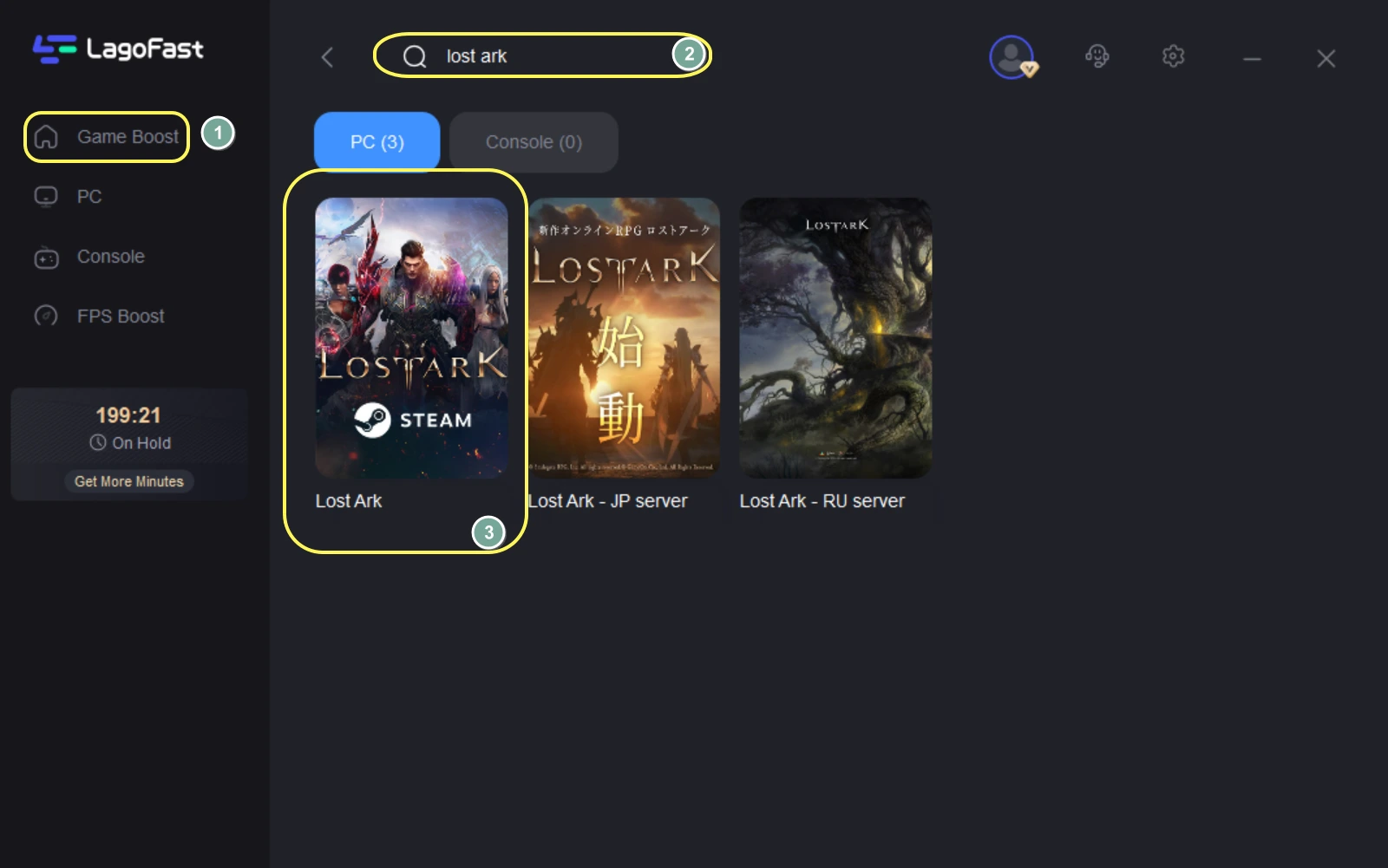 Step 3: Choose the server you are currently playing on.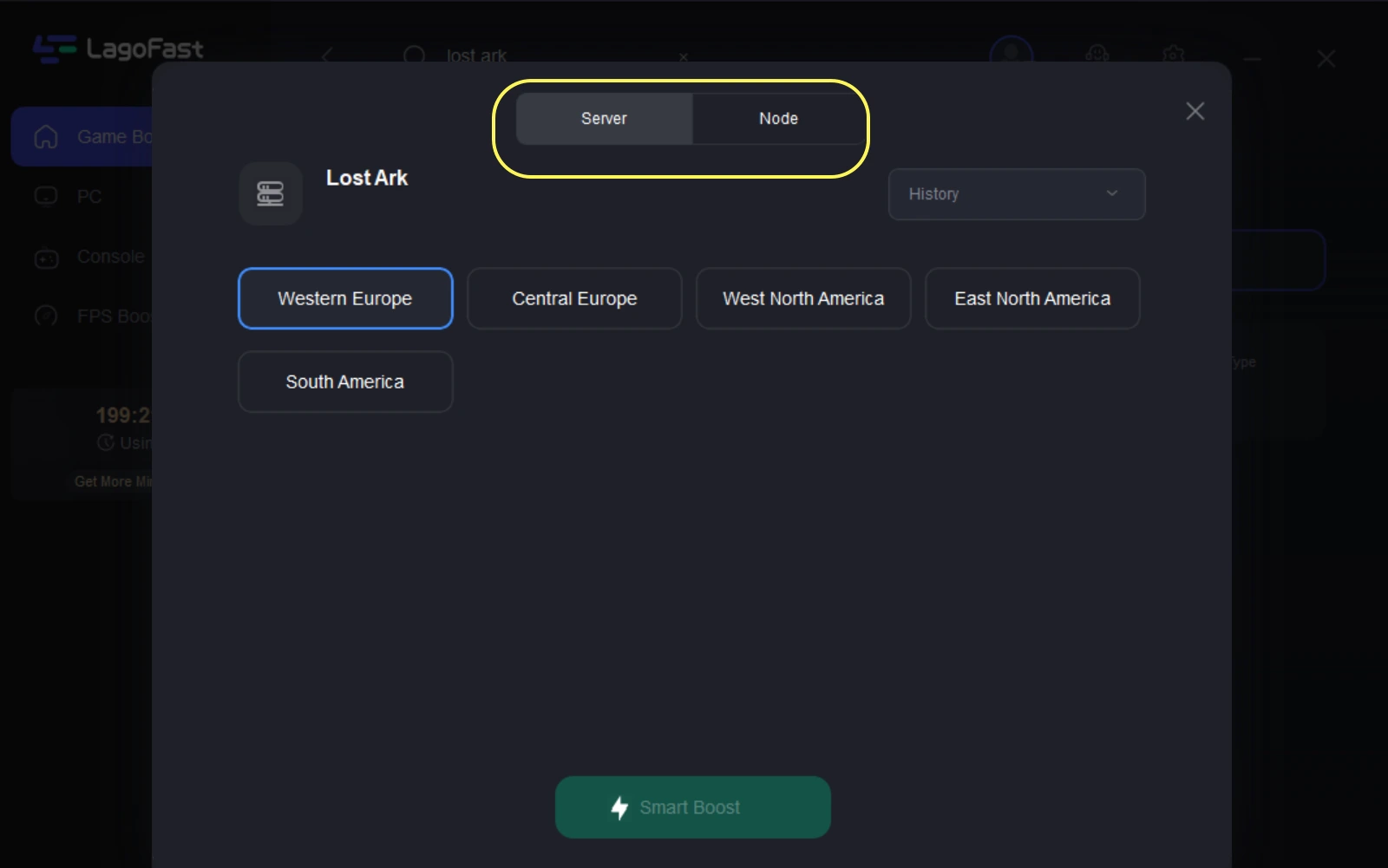 Step 4: Click the Boost button and start boosting. Here, you can see your real-time ping, local network fluctuations and packet loss rates.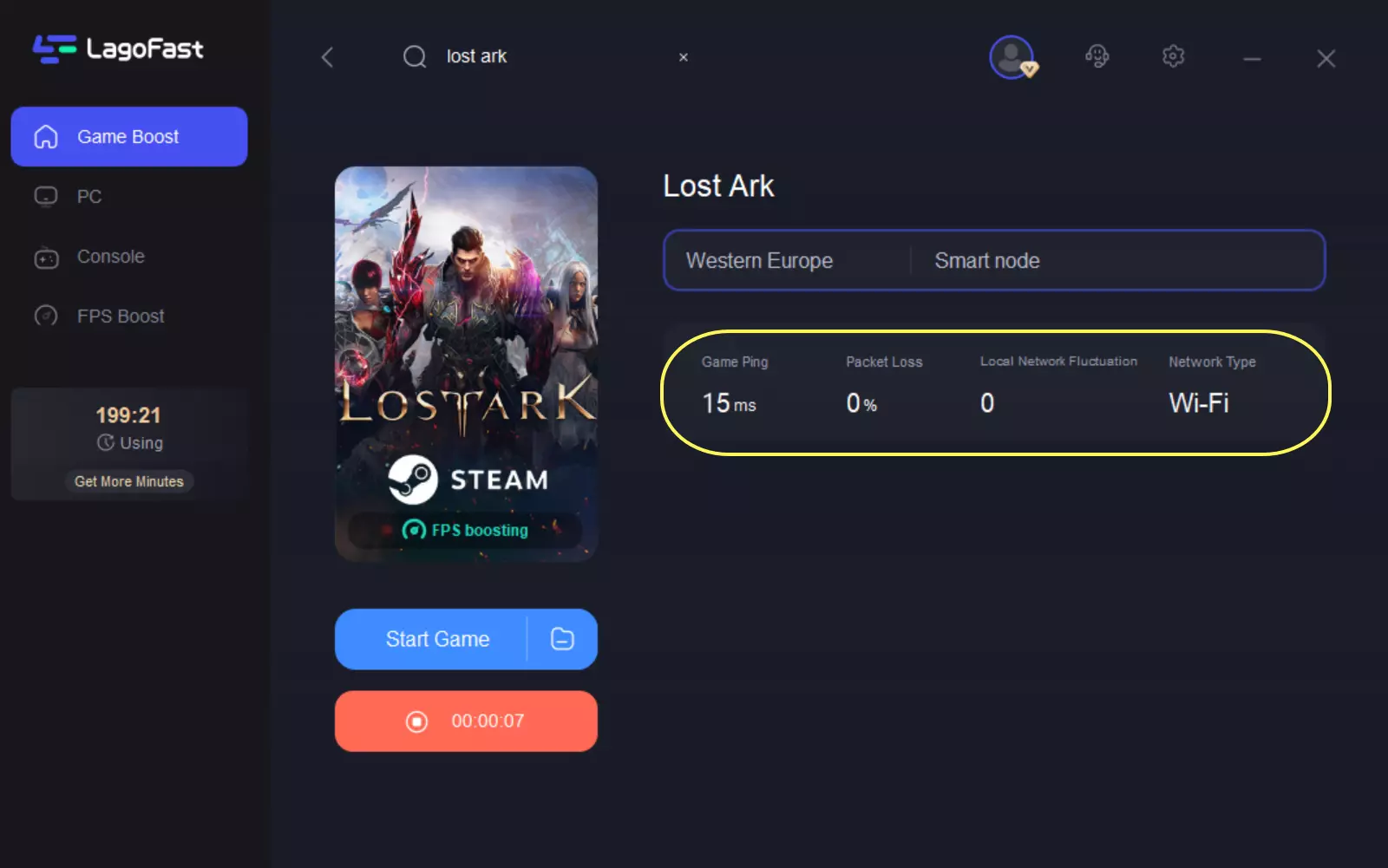 Other Methods to Fix Lost Ark Lag?
Check the system requirements of Lost Ark.
Check the Lost Ark game system requirements below to make sure whether your PC configuration meets the game's system requirements or not.
Minimum System Requirements:
OS: Windows 10 (64-bit only)
Processor: Intel i3 or AMD Ryzen 3
Memory: 8 GB RAM
Graphics: NVIDIA GeForce GTX 460 / AMD HD6850
DirectX: Version 9.0c
Storage: 50 GB available space
Recommended System Requirements:
OS: Windows 10 (64-bit only)
Processor: Intel i5 or AMD Ryzen 5
Memory: 16 GB RAM
Graphics: NVIDIA GeForce GTX 1050
DirectX: Version 11
Storage: 50 GB available space
Lost Ark lagging and shuttering
Fixing lag or frame drop issues in Lost Ark is not an easy task as it depends on multiple factors like PC hardware, display resolution of the game, maximum FPS limit count, conflicting third-party apps, etc. So, we would recommend that you try all the methods one by one until the problem is solved or greatly reduced. Changing or lowering most in-game graphics-related settings can solve many problems in an instant.
This may include the game's screen resolution, in-game texture resolution, shadow resolution, maximum frame rate, number of displayable characters, or other visual effects that require high graphics or memory. So, you can follow the steps below to try to reduce the lag or frame drop to some extent depending on the resolution and quality of the game in addition to the FPS count.
Screen resolution
Changing the resolution of the game according to the PC configuration will be quite helpful to fix the lag in Lost Ark. Lowering the in-game screen resolution should increase the FPS count and reduce lags.
Texture Resolution
If you are not interested in playing in full detail or texture resolution, you can try reducing or turning off the texture resolution. Reducing this will reduce bottlenecks with the GPU/CPU and may increase smooth gameplay. Make sure to set it from 'High' to 'Low'.
Shadow resolution
Shadow texture may look good visually but if your PC hardware is quite old or doesn't take much stress then make sure to either turn it off or set it to 'low'
Frame rate
If your computer is struggling to run the game at a high FPS rate with medium or low settings, it's best to manually set the maximum frame rate count to 30/60FPS. This will improve the consistency of the gameplay in Lost Ark.
Characters Displayed
Characters displayed in gameplay can sometimes consume VRAM and other system resources to render and load properly. It is also recommended to reduce the number of figures presented on-screen at a time.
Enable game mode
We've seen a lot of improvements in Game Mode in Windows 11. For Windows 10, we recommend disabling both Game Mode and Game Bar in order to fix Lost Ark lag, while this option should be enabled on Windows 11.
Update your device drivers
Download Nvidia Drivers.
Download AMD Drivers.
Are you wondering why you should update your graphics card drivers? It would be nice to see new updates for two main reasons. First, it's the only way to make sure you have the latest drivers for your device. More recent drivers will allow your computer to run every graphics-based application and keep up with any changes in technology without falling too far behind, fixing lag issues in Lost Ark.
Disable in-game chat.
The game uses an interesting chat system that I'm sure most won't use. Nowadays everyone loves using Discord and online communities for information and communication.
You can disable the chat overlay, which has shown a significant improvement in FPS. Thanks to a Reddit post. To disable chat, click Chat, select Settings, and uncheck the Area chat checkbox.
In a word, using LagoFast to fix Lost Ark lag is probably the simplest solution for Lost Ark lag issues. Hope you find this guide useful.