Get no lag and stuttering, enjoy top gaming performance in Diablo 4.
Diablo 4 Overview
Blizzard launched Diablo 4 beta on March 17, 2023. On that day, a huge number of players pulled into the game and crowded the server heavily. Besides the server-overloaded issue, multiple discussions on Reddit and Blizzard forums show that players got lag spikes and rubberbanding in Diablo 4. Now, the new season 1 of the game started, and also many players reported that they encountered some problems during the game: including invisible walls, Extremely laggy, high delay, skipping ping, frame drop, etc. Here you will get 5 ways to fix Diablo 4 lag issues easily.
Hot Read: Fix Diablo 4 FPS Drop in One Click
Part 1: Why is My Diablo 4 Lagging & Choppy
There are a few reasons for Diablo 4 lag issues according to different user feedback. Generally, the 4 reasons mainly consist of Diablo 4 lagging, including:
Not meeting the recommended system requirements;
Server issues;
You are far away from the server you connected;
Old Graphics Driver.
You can try the corresponding methods below to stop lag in Diablo 4 for a better gaming experience.
Part 2: 5 Ways to Fix Diablo 4 Lag/Stuttering new season one
Method 1. Use LagoFast Lag Reducer to fix crazy lag easily
LagoFast is an all-in-one game booster designed to optimize your system's performance and improve your gameplay experience. With LagoFast, you can connect with the best game server to play Diablo 4 Lag-Free, and node to enjoy smoother gameplay. Just 4 steps, and you will say goodbye to Diablo 4 lag issues/high latency.
Step 1. Free Download and sign in.
Step 2. Search Diablo 4 and click boost.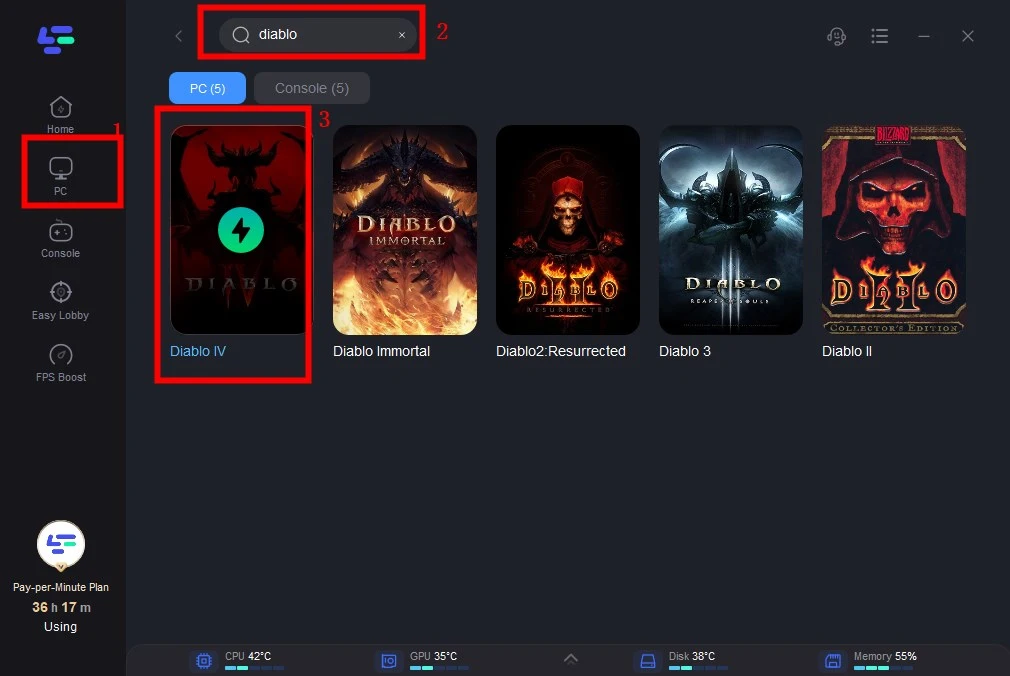 Step 3. Choose your server and the optimized node.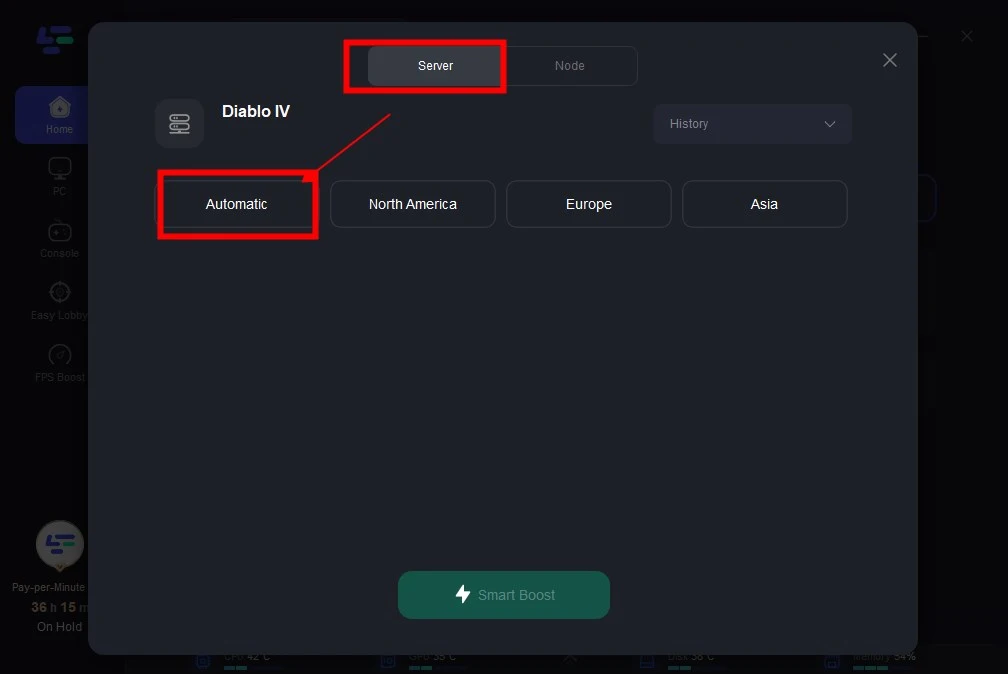 Step 4. Smart boost Diablo 4 and then launch the game in Blizzard.
When boosting, you can check the real-time ping, packet loss and local network fluctuation for better preparation. In addition to optimizing the gaming performance in Diablo 4, LagoFast will also improve the Battle.net connection at the same time. It provides double optimization for Diablo 4 to ensure lag-free and the lowest ping.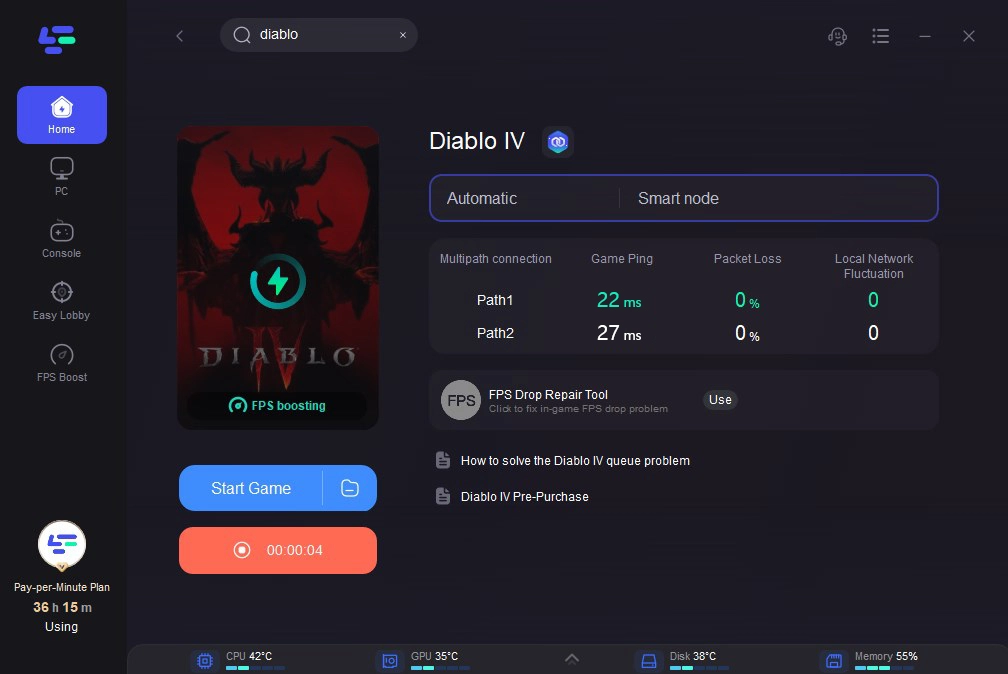 You can check the overall advantages of LagoFast in the following:
Multiple Game Servers Provided
Improve Network Connection to Avoid Game Crashing
No Lag Spikes & Stuttering Issues
Accurate Ping Test in Real-time
Unique Game Mode without Disturbing Other Programs
Lowest Price Among All Game VPNs or Game Boosters
According to the full features, LagoFast is a master in improving gaming performance. Don't hesitate to try it and get a lag-free experience in Diablo 4!
Method 2. Repair Diablo 4 Game File
Sometimes, you may get corrupted or damaged game files that can cause a wide variety of problems and errors, including lag spikes and crashing issues. Follow the steps below to run repair tools in Battle.net to fix Diablo 4 game files easily.
Step 1. Open the Battle.net desktop app.
Step 2. Click the icon of the game you are going to repair.
Step 3. Click the cogwheel next to the play button and select scan and repair.
Step 4. Start scanning the game files.
Step 5. Wait for the scanning and repairing to finish.
When the process is done, you can restart your Battle.net and launch the game again.
Method 3. Update Graphics Driver
An outdated graphics driver will also cause lag issues and FPS dropping in Diablo 4. If you haven't updated the graphics driver for a long time, you'd better check and update it. Go to the device manager and right-click the display adapter to update your graphics driver.
Method 4. Run Diablo 4 as an Administrator
Run the game as an administrator can also fix Diablo 4 beta lag and stuttering. Check the next steps and run Diablo 4 as an administrator.
1. Right-click on Diablo 4 EXE file;
2. Select properties, and click on the compatibility tab;
3. Check the box that says "Run this program as an administrator", apply and click OK.
Method 5. Disable Full-screen Optimizations
Disable Full-screen optimization and DPI settings on Windows programs that may affect game performance. Try the settings and disable full-screen optimizations when playing Diablo 4.
1. Press the Windows key and I key together to open Settings.
2. In Settings, click System.
3. Click Display tab from the left panel.
4. Choose Advanced graphics settings.
5. In the pop-up, you can untick the option Enable fullscreen optimizations.
You May Like: Change Server WoW Classic Season of Discovery easily >
Part 3: How to Fix Discord Lag When Launching Diablo 4
In the previous beta test and after releasing Diablo 4, several gamers said on Reddit that they got lagging in Discord with Diablo 4 launching. The issues vary from different situations. One gamer shared " Diablo 4 Lags when connecting to a Discord Call", and another said "Diablo 4 and typing lag in Discord". It fails them to use Discord normally when playing Diablo 4. To solve the Discord lag issue, you can try the following methods.
1. Optimize Diablo 4 and Discord Performance
You can use LagoFast game booster to optimize your Discord performance with Diablo 4.
Step 1. Launch LagoFast and go to the settings;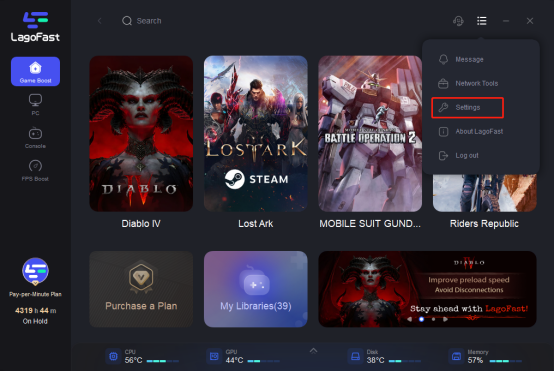 Step 2. Click on "Game Settings" and enable "Boosting the game while boosting Discord";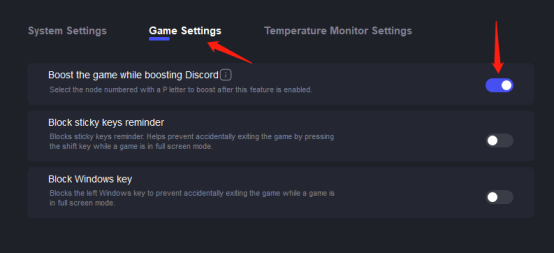 Step 3. Go to the main page and boost Diablo 4 performance will solve your Discord lag issue. LagoFast supports boosting game performance together with Discord, it's also the best choice for fixing Discord lag on PC.
2. Disable Hardware Acceleration in Discord
Hardware Acceleration in Discord may cause fps drop or other issues when playing games, you can disable hardware acceleration in Discord through User Settings>Voice & Video>Hardware Acceleration path. After that, you can restart Discord and Diablo 4 and check again.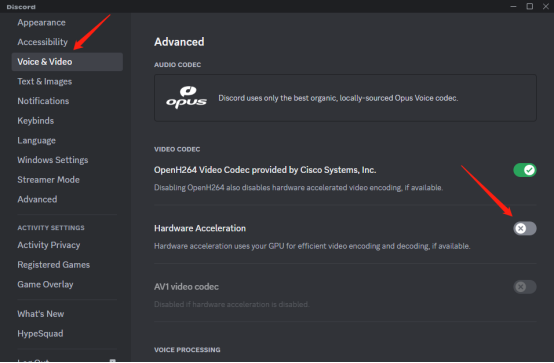 Bonus tips: How to Fix Diablo 4 Rubberbanding on PC
Gamers everywhere have reported on Reddit that they got rubberbanding in Diablo 4 more or less.
"The rubber banding and lag in cities during the betas didn't really bother me since I thought it was because of the massive amount of players etc. But in some of the reviews, the problems seems to be there in their limited release as well and that seems less promising, then it seems like it might not be just due to the massive amount of players?"
"Rubber-banding is making this game I paid for early access unplayable."
"I installed and started playing this morning around 11, no issues for HOURS, around 2 or 3 maybe I started getting god awful rubber banding, unplayable."
These are what gamers have discussed in the forum since the Diablo 4 preload started. Some of them didn't encounter this issue in the beta test, while now it's even unplayable. This rubberbanding issue is mainly caused by a crowded server or an unstable network connection. To solve Diablo 4 rubberbanding on PC, you can use LagoFast to change your server to an uncrowded one or just boost your gaming performance with the optimized route. After smart boosting Diablo 4, you'll get the lowest ping and the rubberbanding feeling will go.
Conclusion
No matter which is the cause of your Diablo 4 lag and stuttering, you are recommended to use the above methods to fix any game issues and get back the best gameplay. Comparatively, LagoFast is a skilled tool for fixing lag spikes in Diablo 4. Have a free trial and you will love it.