As tech experts, we took our time to review the issues in FIFA 23, and fortunately, we've come up with the best solutions to fix FIFA 23 common issues without requiring technical knowledge. So, if you're in a similar situation, fret not. Read this article to find solutions to your problem.
Part 1: Best Way to Fix FIFA 23 Bugs & Glitches
Part 2: Fix FIFA 23 Server Error
Part 3: Fix FIFA 23 Can't Invite Friends
Best Way to Fix FIFA 23 Bugs & Glitches
We all know FIFA for its bugs and glitches since. But this time, many players complain about cases of team management bugs and created player bugs.
If you're experiencing server errors, FiFA 23 team management bugs, or FIFA 23 created player bugs, we recommend using LagoFast software to get rid of the error.
LagoFast is a powerful tool that's packed with lots of helpful features to fix both basic and advanced issues in popular games, including FIFA 23.
The tool enables you to enjoy a seamless gaming experience while playing FIFA 23 by providing you with efficient features like FPS boost, smart routing, and lots more. Plus, unlike regular game tools, it boasts a simple user interface, making it easy for users with any skill level to navigate their way around its features.
Key Features
It's compatible with over 1000 games, including popular games like Call of Duty (COD), FIFA 23, Fortnite, and many others.

Provides top-notch 360-degree protection for users to enjoy a seamless gaming experience.

FPS boost enables super smooth game visuals.

Supports smart routing and precise boosting that allows players to enjoy games with lower ping and less lag.

Effectively solve connection errors
Step 1: Install LagoFast on your computer and launch it.
Step 2: Navigate to the top left side of the screen and select Game Boost. Then, type " FIFA 23" in the search bar.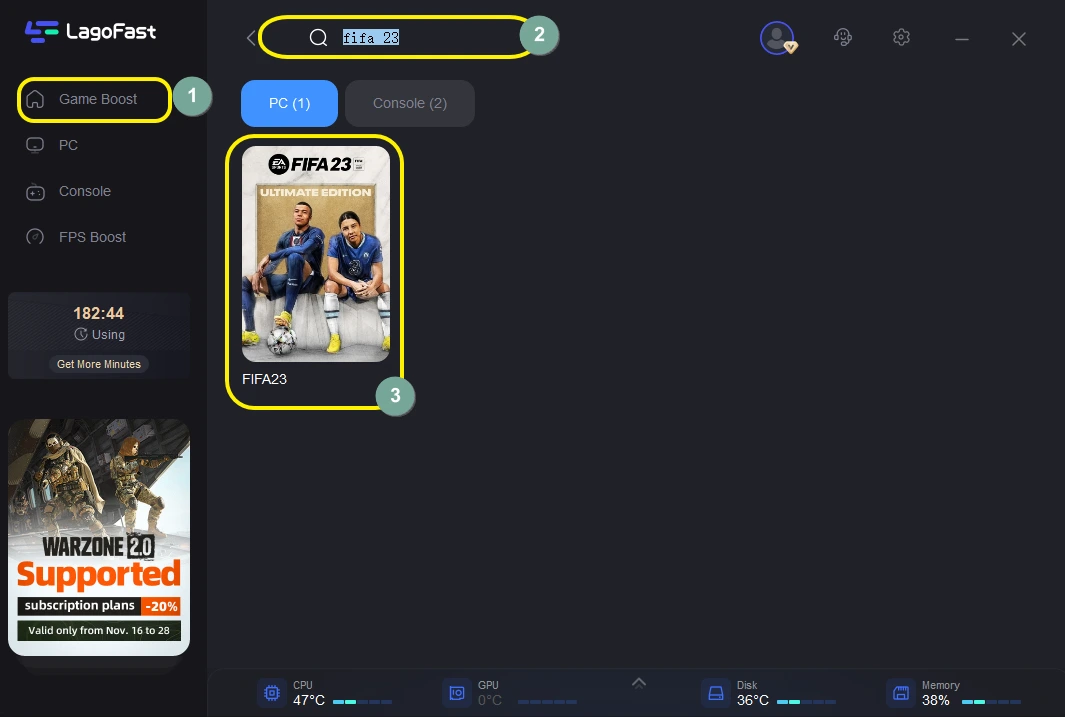 Step 3: Choose a node with a suitable ping.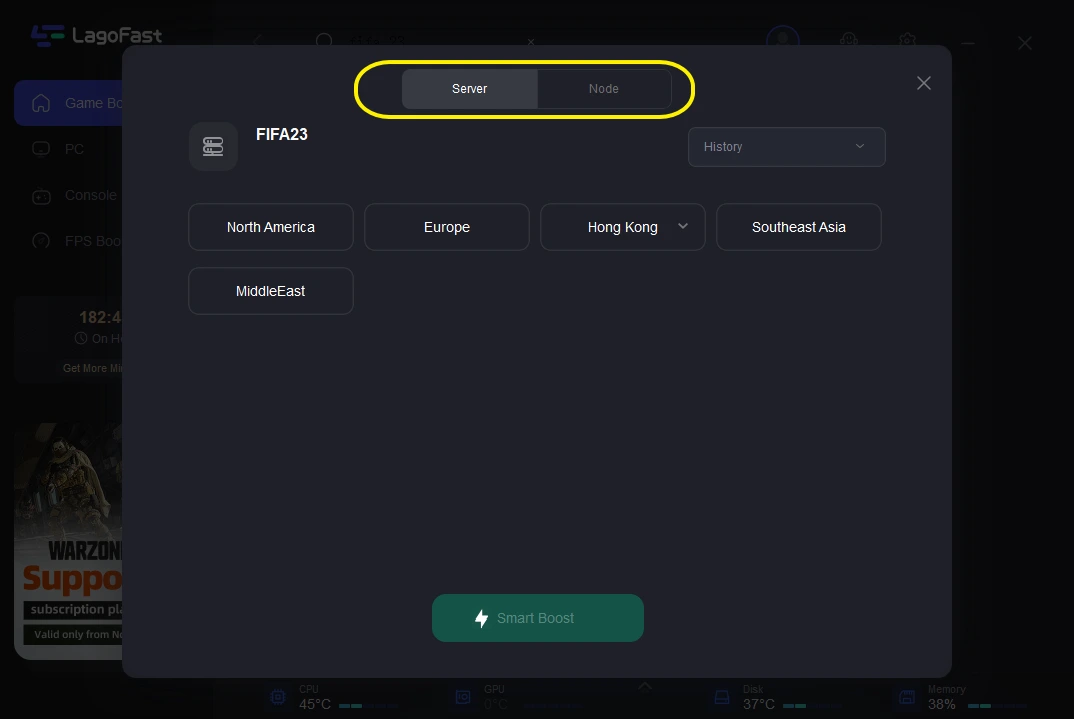 Step 4: Click Smart Boost to get rid of bugs and glitches in FIFA 23 instantly.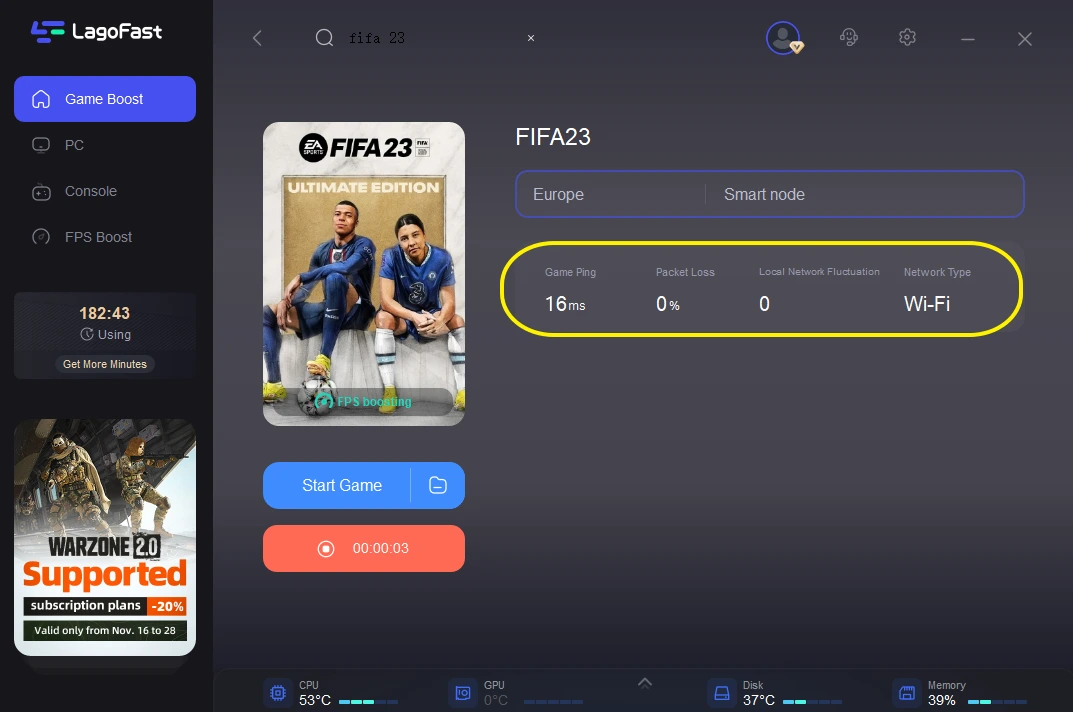 Fix FIFA 23 Server Error
FIFA 23 server error usually causes players to unexpectedly get logged out of their account while playing. This is usually due to errors from the EA server. However, the good news is there are several solutions you can employ to approach the situation.
Fix 1: Restart PC or Console: The first thing you should do when you experience the FIFA 23 server error is to restart your PC or gaming console. This will help you to fix temporary bugs that might be causing FIFA 23 server errors.
Fix 2: Refresh Modem or Router: Another efficient way to resolve FIFA 23 server error is to refresh your modem or router.
Fix 3: Switch DNS: As surprising as this might sound, bad DNS can cause problems in connecting to the EA server So, so it's advisable for you. Switching to a better DNS is another great way to fix FIFA 23 errors.
Fix FIFA 23 Can't Invite Friends
If you're finding it difficult to invite your friends to FIFA 23, then the problem must be from either your friend's end or your end. You should do the following to resolve the issue;
Ensure both you and your friend have a stable internet connection.

Both players must be running the same version of the latest FIFA 23 game.
If you don't know how to invite your friend on FIFA 23, you just need t follow the procedure below;
Start the FIFA 23 game and navigate to the Friends tab by pressing R2 if you're using PlayStation, RT for Xbox, and ZR for Nintendo Switch.

You should see a list of your existing friends displayed on your screen. Invite the one you wish to play the game with.
Final Thoughts
There you have it! While FIFA 23 is a fantastic game that offers an immersive and realistic football experience, it's not without its fair share of issues. From bugs and glitches to connectivity problems, many players have reported encountering various problems while playing the game. However, with the solutions outlined in this article, you can fix FIFA 23 common issues and get back to enjoying the game to its fullest. If you are encountering FIFA 23 crashing or FIFA 23 lag, click to get the solutions to fix them!
Whether it's adjusting your settings, troubleshooting connectivity issues, or updating your game software, the fixes introduced above will help you resolve the issues within a few clicks.