The upcoming FIFA season is almost here! The 30th game in the FIFA series is FIFA 23. On September 30, 2022, it will be leaked on Stadia, PlayStation®5, PlayStation®4, Xbox Series X|S, and Xbox One. The new FIFA season, FIFA 23, will contain a number of new features, including the men's and women's FIFA World Cup competitions, women's club football, HyperMotion Technology 2, cross-play elements, and others. The game will mark the end of the football series' association between EA and FIFA. Future EA football games will have names under the EA Sports FC umbrella rather than using the FIFA moniker. However, no matter how exciting the game itself is, there will be no more fun if players encounter constant FIFA 23 crashing. That's why you need the FIFA 23 game booster —— LagoFast! And you can find some other effective fixes for this issue in this article.
Part 1: The Reasons for FIFA 23 Crashing
Part 2: 5 Best Fixes for FIFA 23 Crashing
Part 3: Why Does My Fix FIFA 23 Keep Crashing at launch?
The Reasons for FIFA 23 Crashing
What causes my pc to crash? When you run into this situation while playing FIFA 23, this question may pop up in your mind. Typically, it can be attributed to hardware and software problems. So let's investigate why your computer crashes while you are playing FIFA 23. Here are some possible reasons:
Too many unnecessary apps running in the background: The first potential software problem is that there are too many background processes using a lot of RAM. In this case, your game could be unable to access the memory it requires and end up crashing or running extremely slowly.
Incompatible Graphics Card: The majority of computer users nowadays have upgraded to Windows 10 and use it to play games. This OS can be stated to be particularly gamer-friendly. However, the incompatibility between the graphics card and your operating system is a major issue that can lead to in-game crashing.
Software issues: The majority of games today require additional software, such as Java and DirectX to function effectively. Therefore, you must ensure that you download and install the necessary software from a reputable and authorized website. You can get pertinent information on Google or by reading FIFA 23's manual if you are unsure of the software your games require.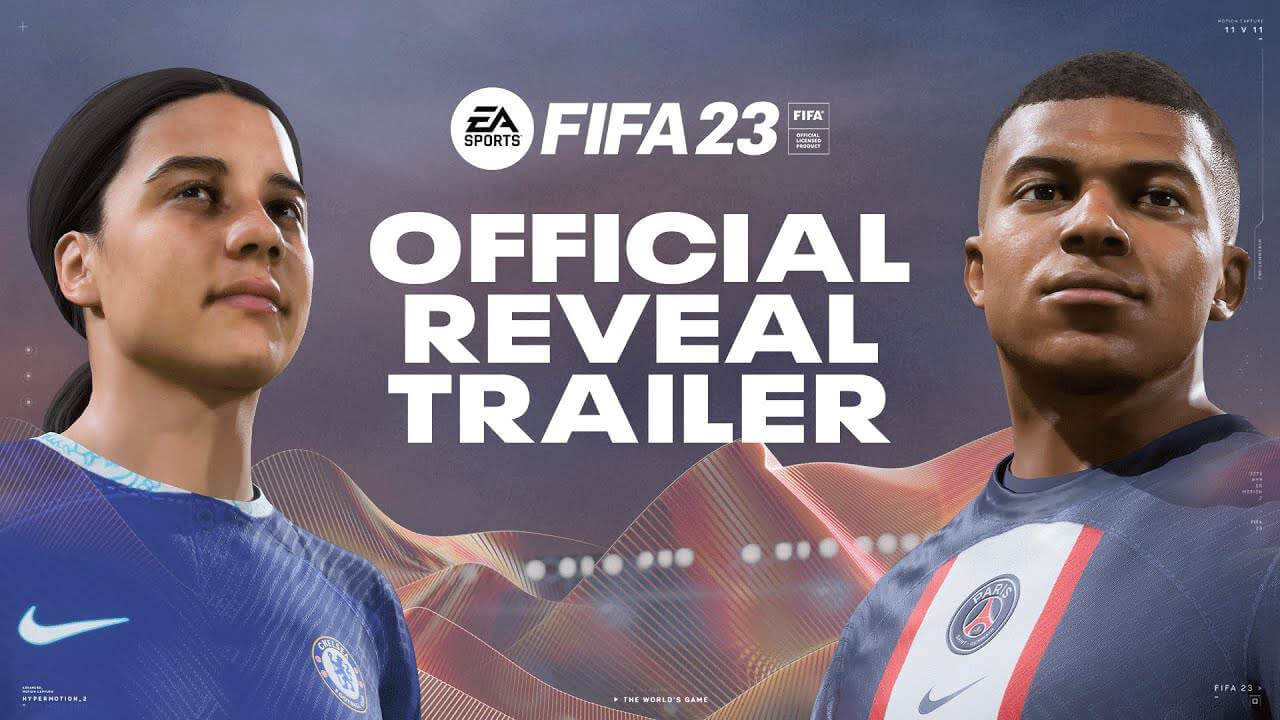 5 Best Fixes for FIFA 23 Crashing
If you don't want to bother adjusting the settings on your PC to prevent FIFA 23 from crashing, LagoFast is your perfect choice! It is a developed game booster that has more than 8 years of experience in fixing in-game issues like crashing and high ping, and low FPS. LagoFast can help you effectively fix FIFA 23 crashing on your PC by adjusting your PC to the ultimate state. Moreover, it has globally-distributed servers so that you can use it wherever you are. Most importantly, LagoFast is not only powerful but also cost-efficient. It offers new users a free trial and has the lowest monthly plan among the same-rank game boosters. So feel free to use LagoFast!
The features of LagoFast are as follows:
Well-developed & experienced
Unique game data transmission protocol
Worldwide distributed servers
Free trial for new users
Lowest monthly plan among the same-rank boosters
To use it:
Step 1: Download LagoFast.
Step 2: Search FIFA 23 in the Search Box and click it in the search result.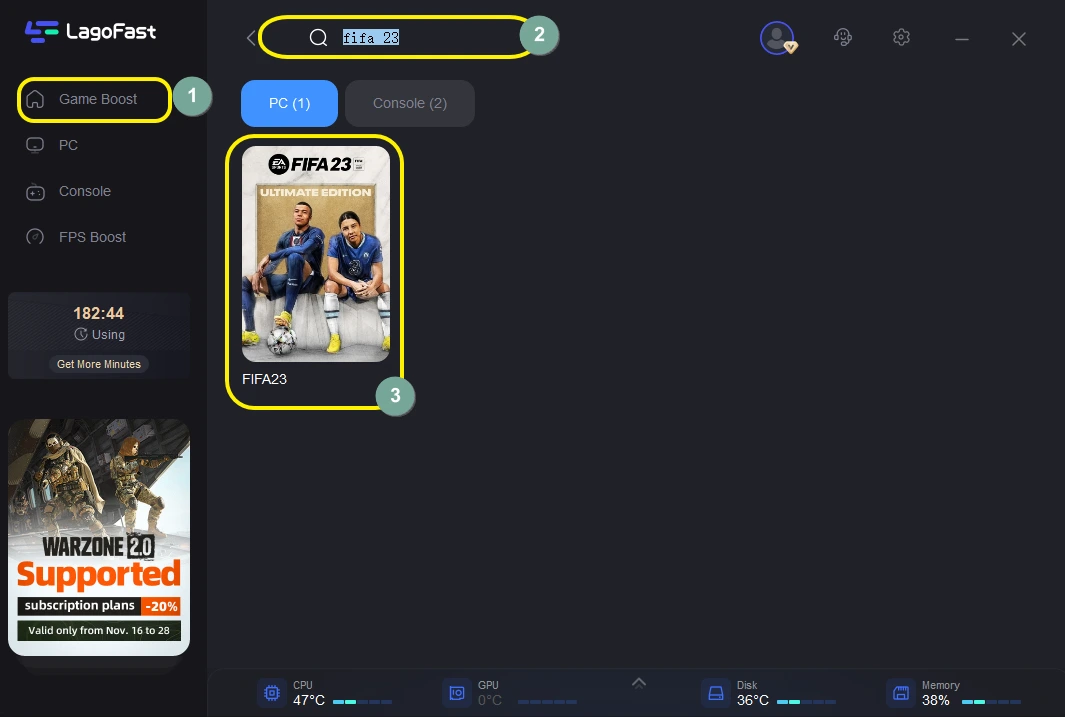 Step 3: Stop FIFA 23 crashing by clicking on the Boost button.
On this page, you can also monitor your real-time ping & packet loss rate which are both crucial to in-game crashing issues.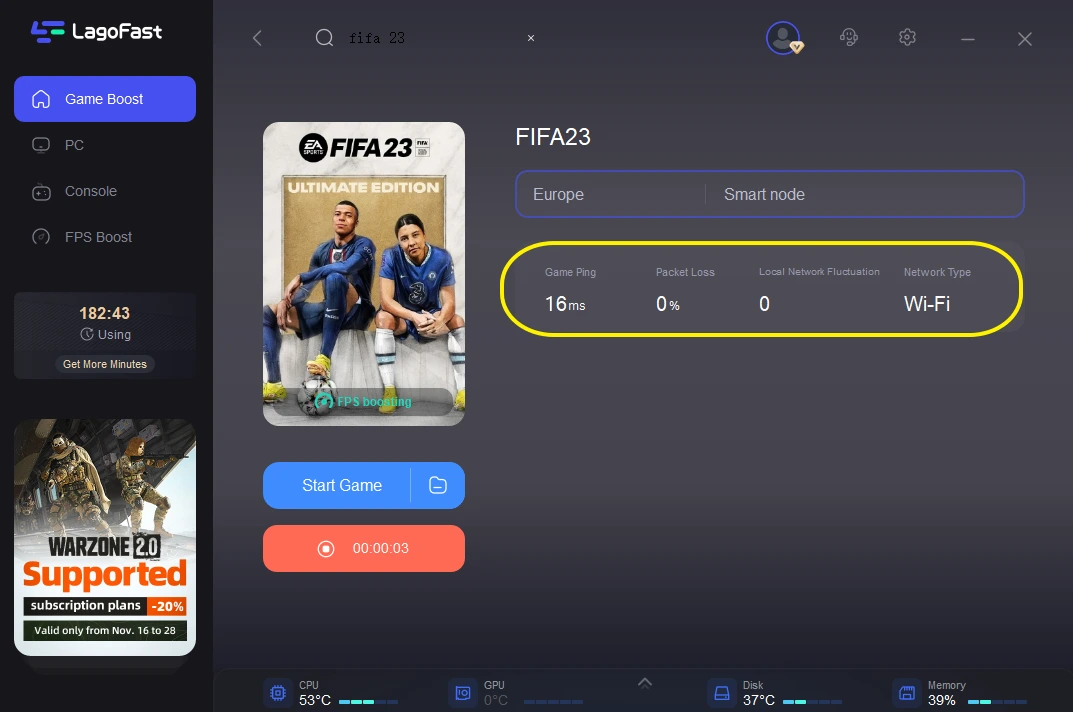 Fix 2: Meet the minimum requirement
If FIFA 23 keeps crashing on your PC, it can be your PC's fault. If your computer doesn't fit the minimum requirement of FIFA 23, then it's very likely to encounter FIFA 23 crashing and FIFA 23 not loading on PC issues. To make it convenient for you to check whether your PC fits the requirements, here they are as follows:
OS: Windows 10 64-bit
Processor: Intel Core i5 6600k or AMD Ryzen 5 1600
Memory: 8 GB RAM
Graphics: NVIDIA GeForce GTX 1050 Ti or AMD Radeon RX 570
DirectX: Version 12
Network: Broadband Internet connection
Storage: 100 GB available space
Fix 3: Close unnecessary apps
Please refer to the following guide to close the programs that are using your RAM in the background.
Step 1: To open the Task Manager, click on the Taskbar.
Step 2: Find out the Startup tab.
Step 3: Close up the unnecessary apps and the RAM-consuming apps like this: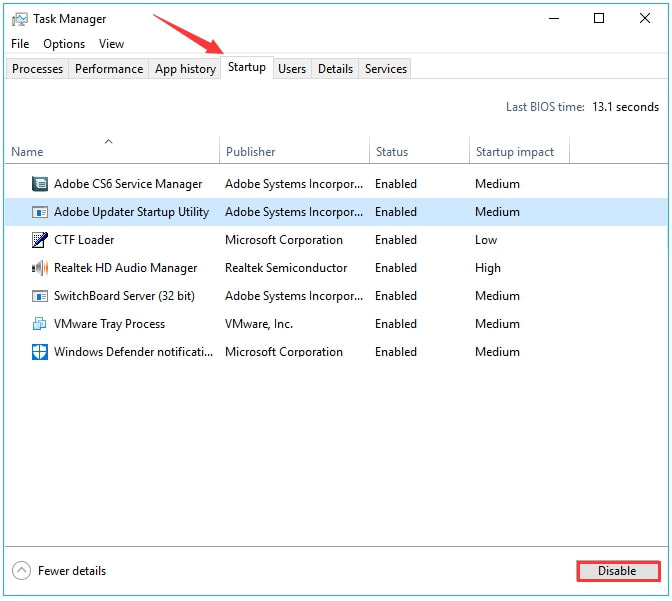 Step 4: Restart your PC and FIFA 23 to check whether the crashing issues have been fixed.
Fix 4: Update your Graphics Card to the latest version
Please refer to the tutorial below to learn how to update graphics card drives in Windows 10 by using Device Manager.
Step 1: Enter "Control Panel" into Cortana's search box and click it in the result.
Step 2: Once you've accessed the Control Panel, go to Hardware and Sound, and then select Device Manager.
Step 3: Locate Display Adapters and expand them to view the specifics of your graphics card. To upgrade the graphics card driver, right-click on it and select Update driver.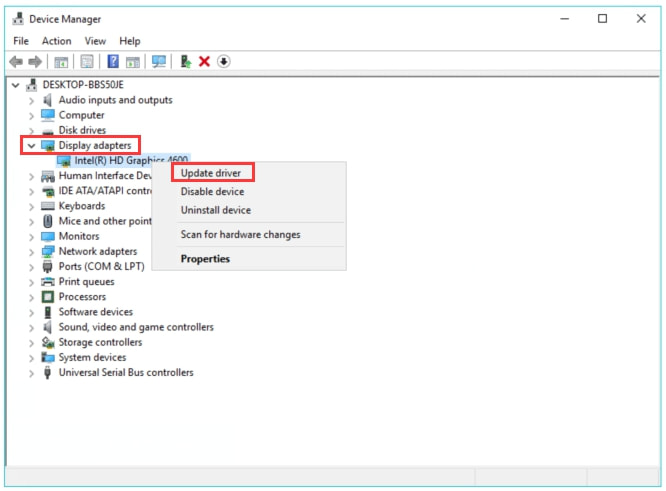 Step 4: Select Automatically check for driver software updates.
You can restart your games after updating the drivers for your graphics card and other devices. I sincerely hope that a computer crash won't disturb you this time.
Fix 5: Prevent your computer from overheating
If your PC is overheating, you must ensure that the cooling system's components are functioning properly and clean the fan and all other hardware of dust and other debris. It is essential to apply thermal paste to the CPU. It will significantly lessen overheating. Moreover, if there is enough room, you can also install some other coolers. Please be cautious not to overload your power supply too. You may also get some dependable software to assist you to keep track of your computer's temperature.
Why Does My FIFA 23 Keep Crashing at Launch?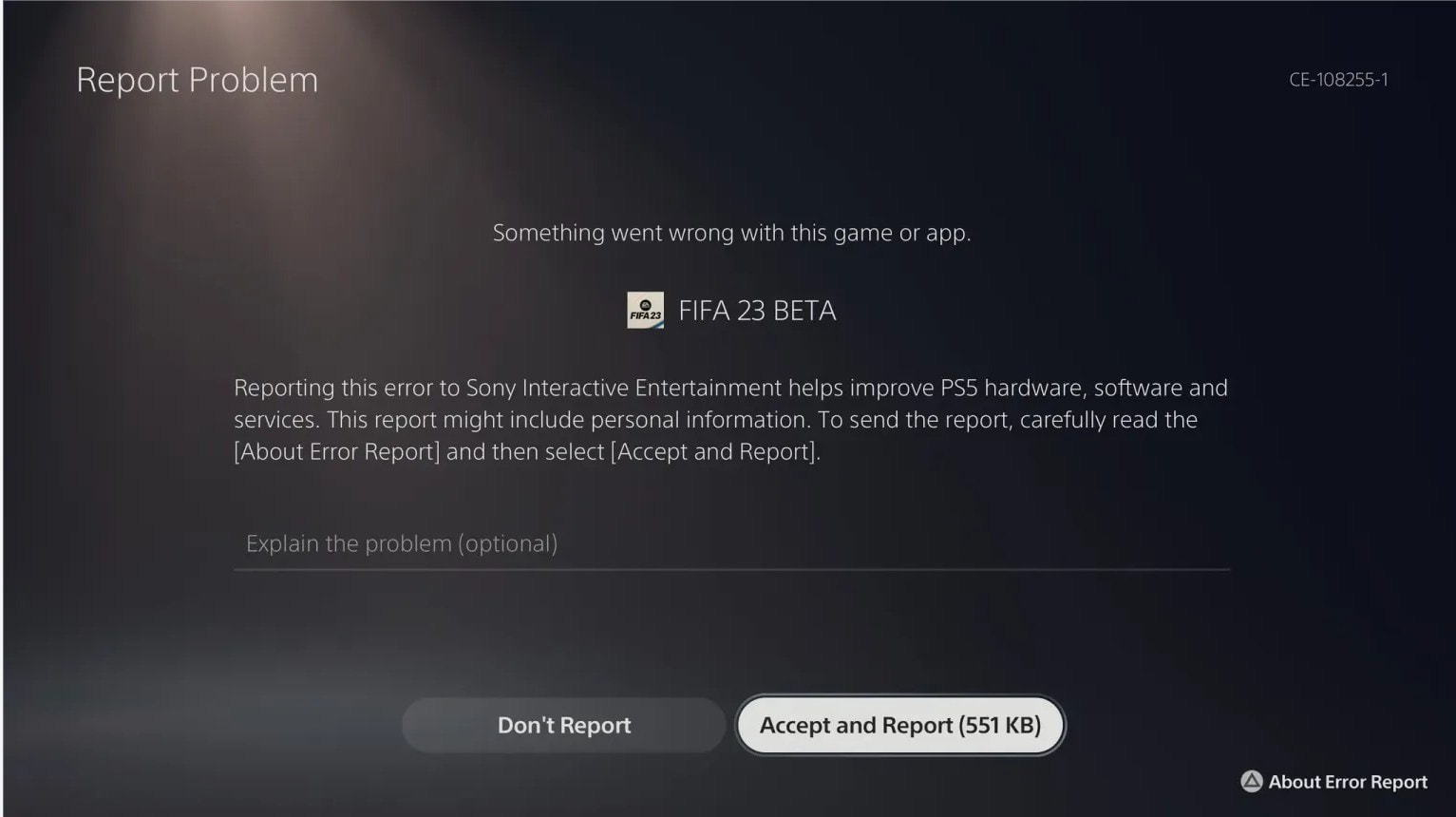 Except for the reasons for FIFA 23 crashing issues I've mentioned above, there are also some other causes that lead to FIFA 23 crashing at launch:
Power availability is unreliable and insufficient. You can change to a superior power source if you run across this problem.
Your computer's parts are getting older. Perhaps it's time to replace your gear with newer models.
The stability of your memory bank is weak. You must now purchase a dependable item for your pc.
You forget to upgrade FIFA 23 to the latest version. If so, FIFA 23 on your PC may be incompatible with the operating system and has more bugs like crashing at launch.