Elden Ring is a 2022 action role-playing game directed by Hidetaka Miyazaki with worldbuilding provided by fantasy writer George R. R. Martin, which was released for PlayStation 4, PlayStation 5, Windows, Xbox One, and Xbox Series X/S on February 25.
Players can freely explore Elden Ring's interactive open world while the game is being played from a third-person viewpoint. The player character's mount Torrent is used to travel between the game's six major regions, and linear hidden dungeons can be explored to find useful items. Many different kinds of weapons and magic spells can be used in combat, including non-direct conflict made possible by stealth mechanics. The player can use the Runes, an in-game currency, to enhance their traits at checkpoints spread across the globe. Checkpoints also serve as hubs for quick travel. Online multiplayer is available in Elden Ring, allowing players to team up for both cooperative play and player versus player fighting.
Elden Ring was well-received by critics, who praised its open world, gameplay systems, and location while criticizing some of its technical shortcomings. It sold more than 20 million copies in a single year and received numerous Game of the Year awards. In February 2023, Shadow of the Erdtree, an update, was declared.
Imagine you're exploring the vast and beautiful world of Elden Ring, but suddenly your FPS drops and the game starts stuttering. You try to fix it yourself, but nothing seems to work. Frustrated, you start to lose interest in the game. But wait! There's a solution that can help you get back into the game and enjoy it to its fullest: LagoFast. With LagoFast's effective Elden Ring FPS boost service, you can say goodbye to constant stuttering and connection errors. No more insufferable FPS drops that ruin your gaming experience. With LagoFast, you can optimize Elden Ring for more FPS, reduce input lag, and dramatically increase performance. Don't let technical issues ruin your gaming experience - use LagoFast to get back into the game and explore the beautiful world of Elden Ring without any interruptions.
Part 1: The Best Elden Ring FPS Drops Fixer
Part 2: What Is FPS in Elden Ring?
Part 3: Why My Elden Ring Fps Drops?
The Best Elden Ring FPS Drops Fixer
It is very difficult to solve the Elden Ring FPS increase problem on your own. To assist you with all the difficult tasks, I advise using LagoFast. Due to its affordability and professionalism, LagoFast is the product that is most frequently suggested. It has more than 8 years of expertise in increasing in-game frame rates, addressing lag problems, and lowering high ping. It has separately created a special game data transmission protocol to ensure both quality and privacy in order to better serve customers. LagoFast does give a fair price when it comes to costs, which are what users are most concerned about. The only top booster that supports a Pay-per-Minute plan and has the lowest subscription rate allows you to cease paying whenever you like.
The features of LagoFast are as follows:
Support Pay-per-Minute plan

Not only professional but also cost-efficient

More than 8 years of boosting in-game FPS (including Elden Ring)

Self-developed game data transmission protocol

Worldwide distributed servers and nodes

Support 1000+ popular games including League of Legends, Apex Legends, FIFA 22.

Fix

lag

and

packet loss
Here's how to use LagoFast:
Step 1: Download LagoFast.
Step 2: Type Elden Ring in the Search box and choose it among the results.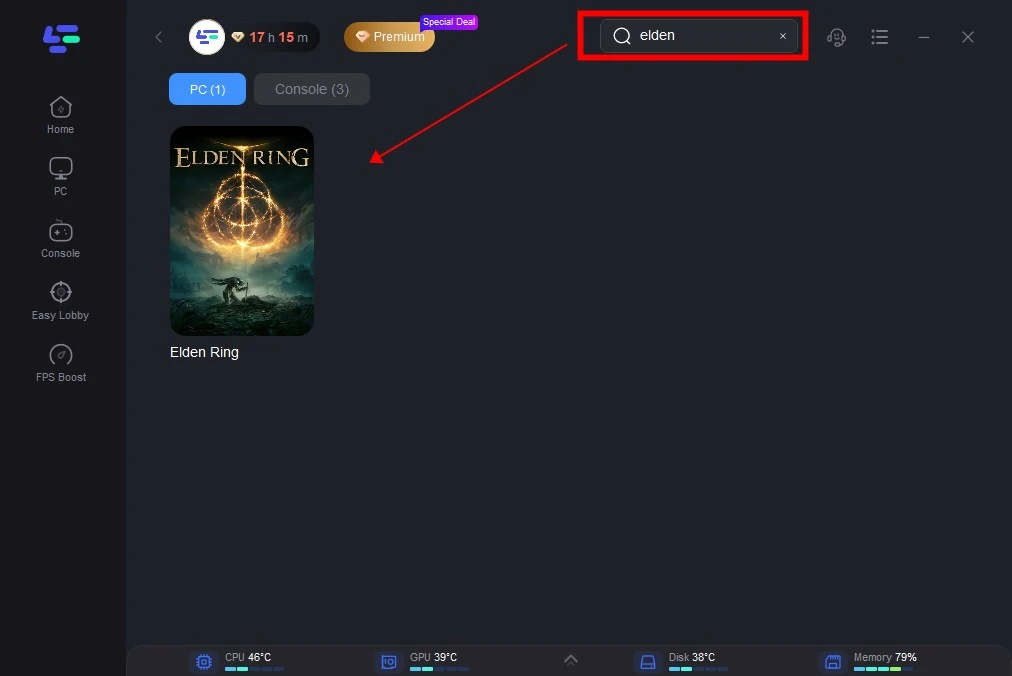 Step 3: Choose the server that you want.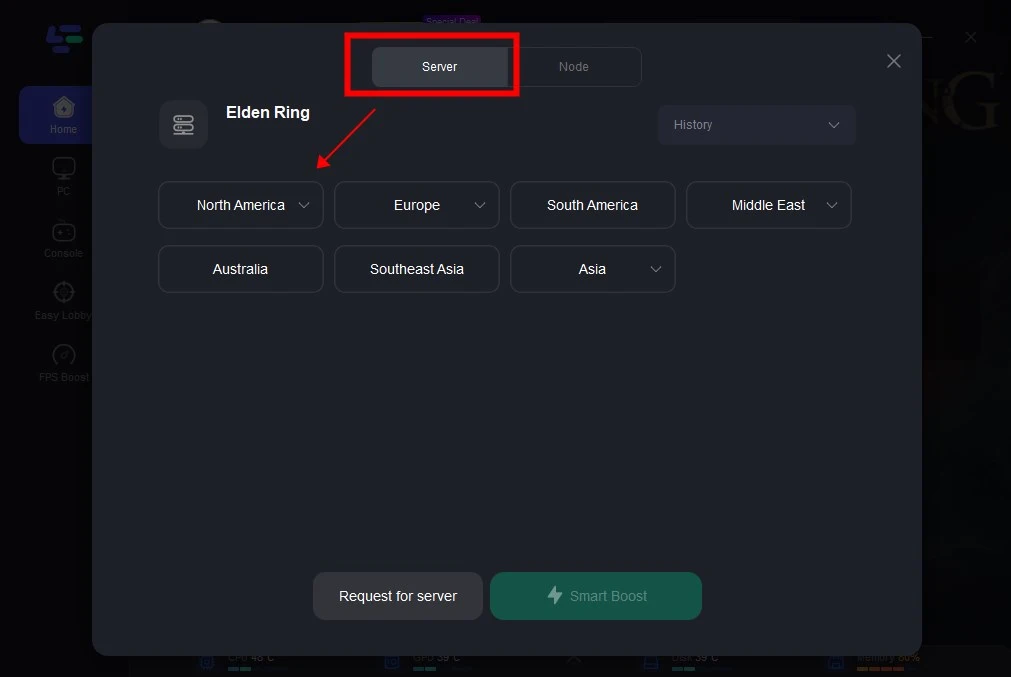 Step 4: Click on the Boost button to start boosting.
On this page, you can have a direct look at your real-time ping and packet loss rate which are closely connected to your FPS performance.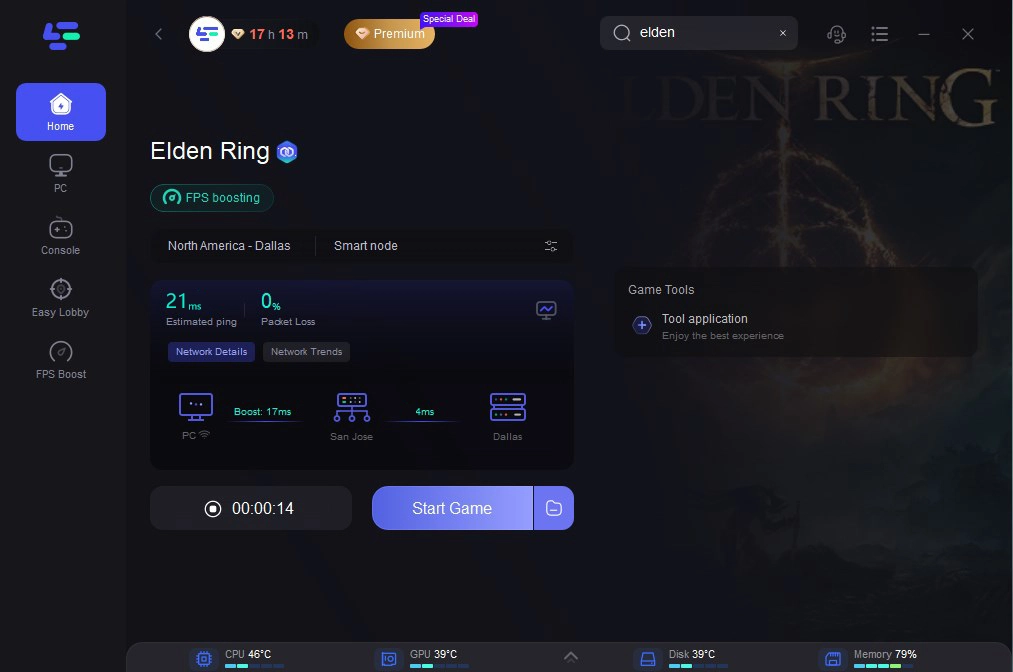 Except for game boosting, there is a specific FPS Boost service provided by LagoFast. You can manually adjust settings by clicking on the ones you want to turn on/off.
To do so:
Step 1: Click on "FPS Boost" on the left side.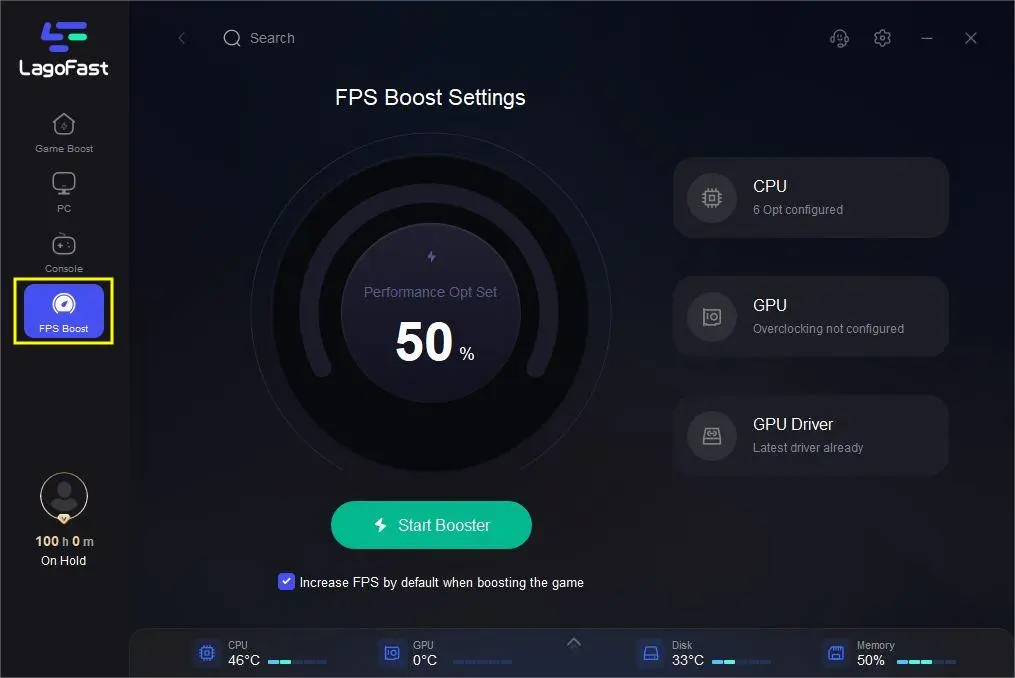 Step 2: Click "CPU Optimization" on the FPS Boost page and choose the settings that you want to open.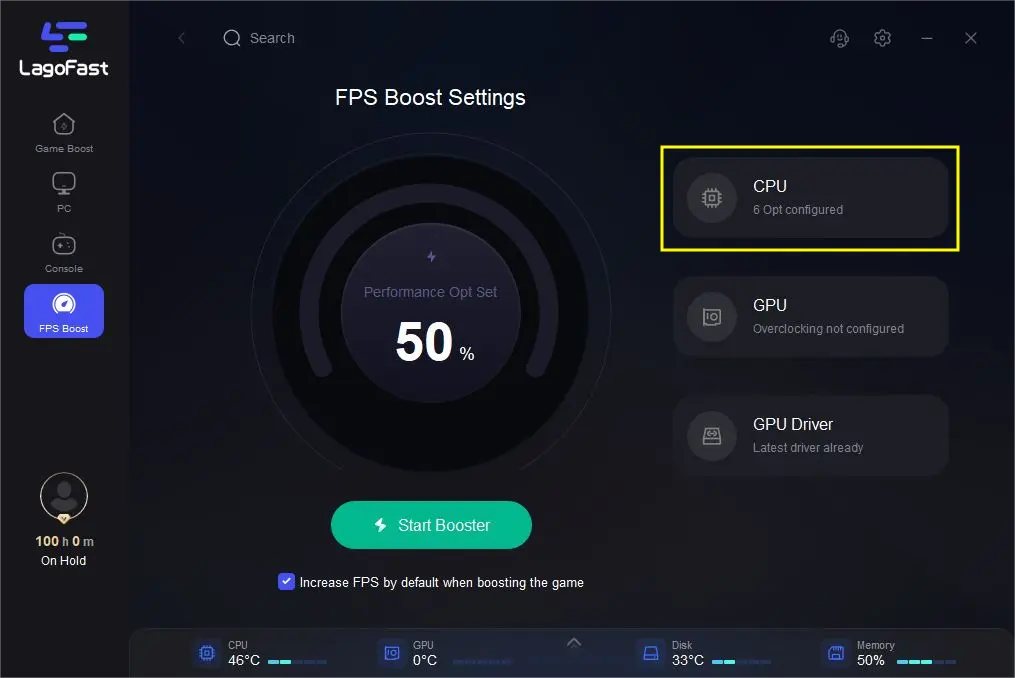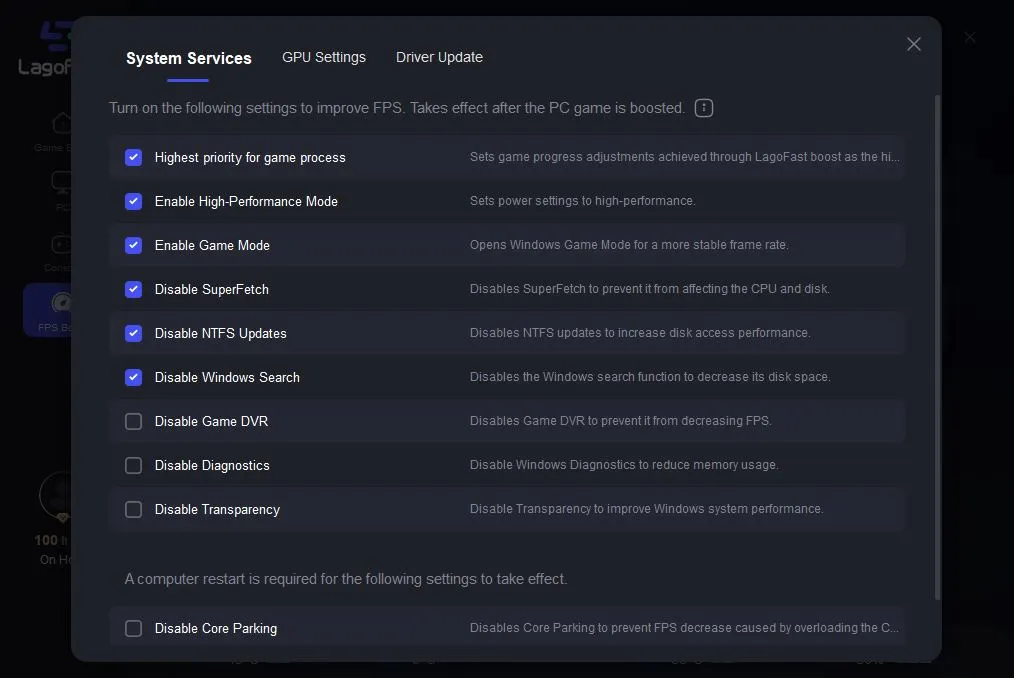 Step 3: Click "GPU Settings" on the FPS Boost page.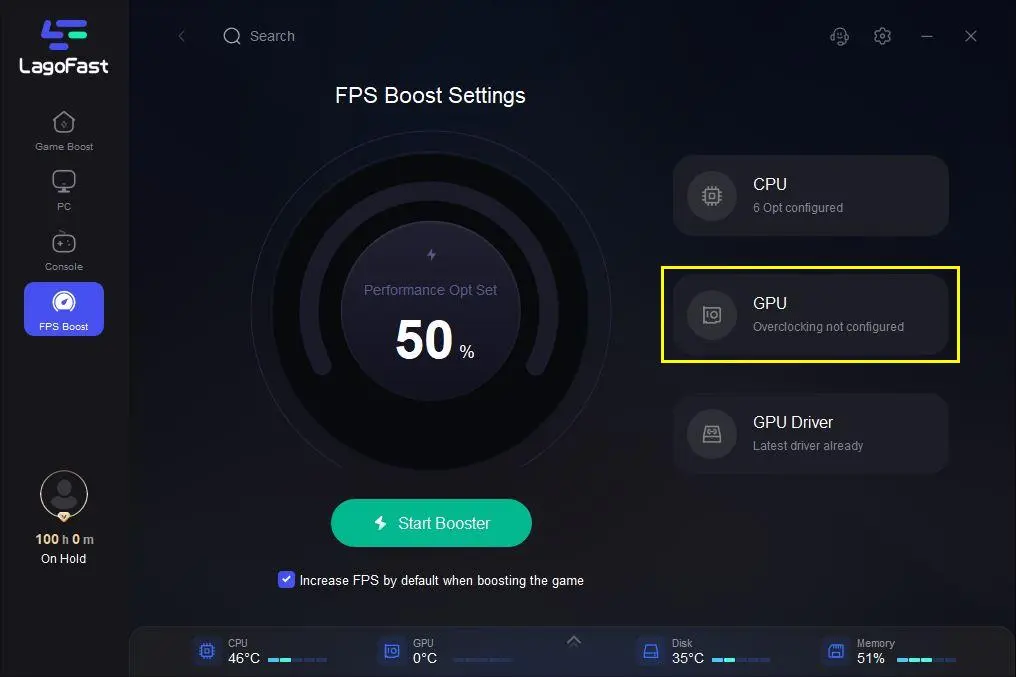 Step 4: Slide to choose your overclocking level in the first bar and tick "Enable GPU Boost" in the second bar.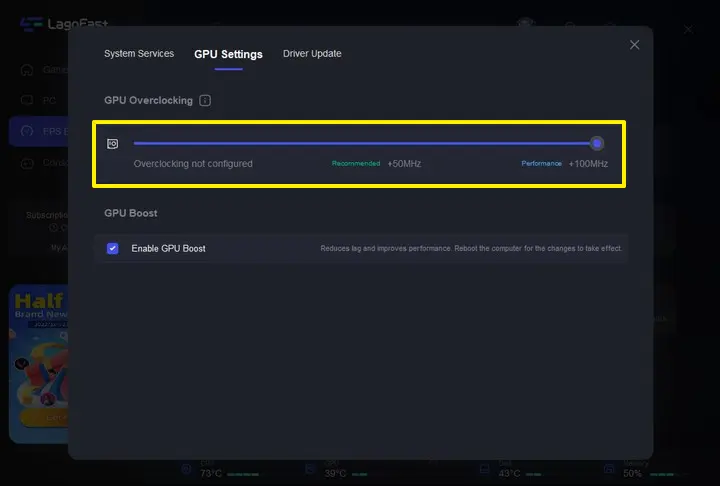 Step 5: Click "GPU Driver" on the FPS Boost page to check your GUP Driver updating version.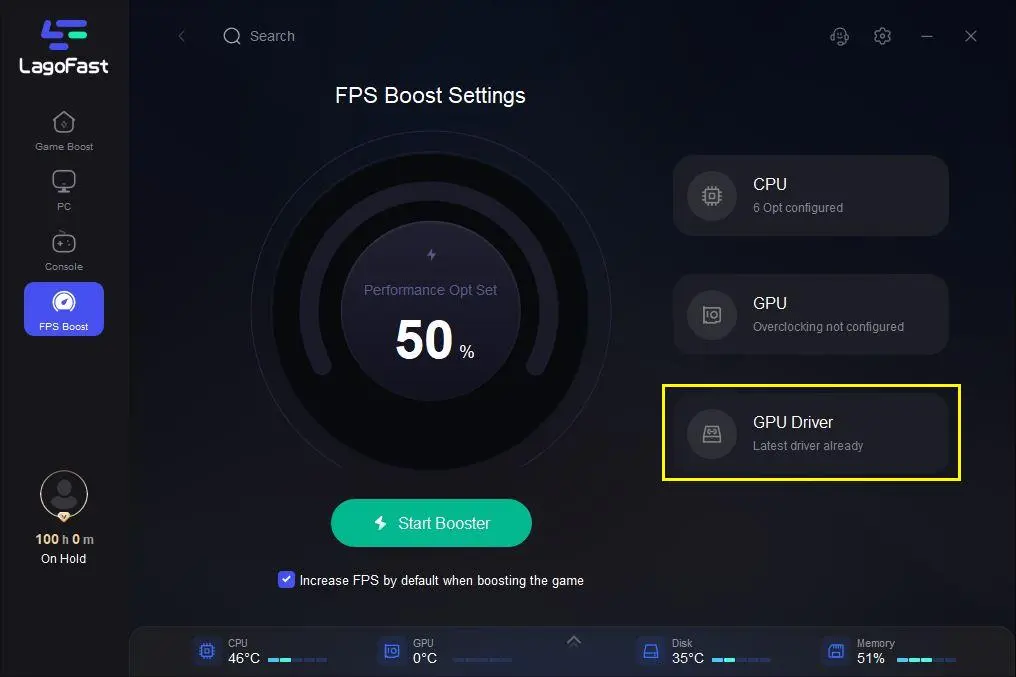 At last, you need to return to the FPS Boost page, and clicking "Start Booster" is OK.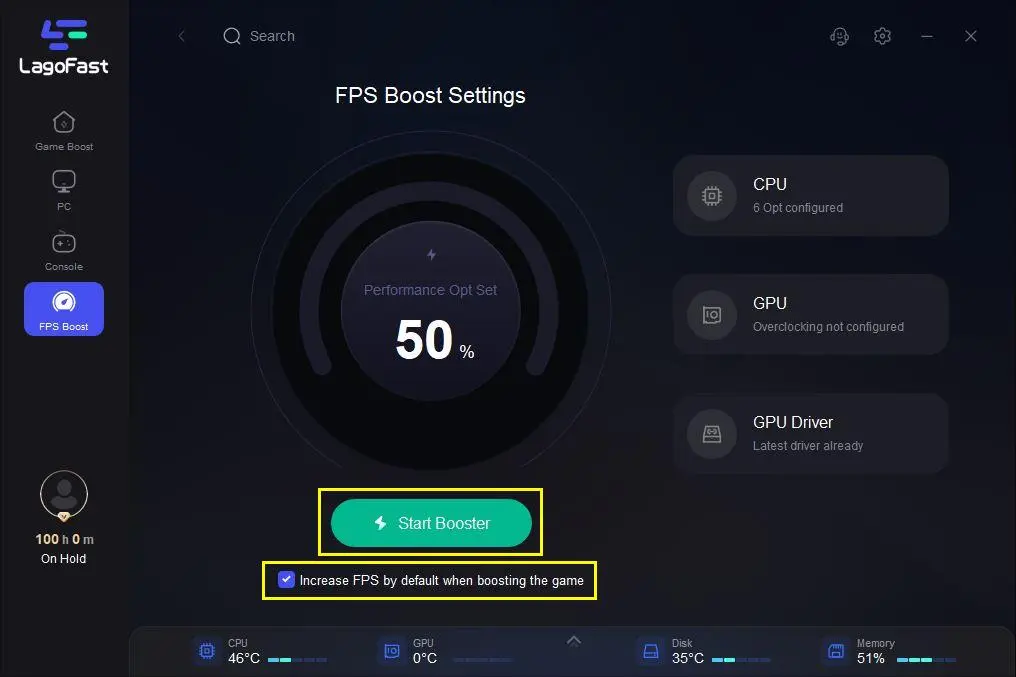 What Is FPS in Elden Ring?
One of the key elements of a good game is the first-person shooter. A certain quantity of static images—referred to as frames per second—are displayed during each second to create a moving picture. As the FPS rises, the gameplay experience becomes more fluid. Of course, not everyone will have access to high-end hardware with 240 frames per second, but that doesn't mean they can't appreciate the game.
Now that we are aware, FPS stands for frames per second. Therefore, it is clear that a greater frame rate is preferable. FPS decline thus denotes a sudden decrease in frame rate to a low rate. For instance, your FPS is consistently over 100 while you are playing Elden Ring. Your gaming experience is intended to be seamless in this instance. It abruptly slows down to a pace under 60. You might encounter stuttering or stalling. We refer to this as an FPS decrease.
We can now talk about what a decent FPS for Elden Ring is after defining what FPS in Elden Ring is. In general, FPS above 60 is advised and can already provide you with a smooth gameplay experience whether you're playing Elden Ring or another video game. 60 frames per second is usually regarded as the magic number for a great gaming experience without being at a hardware disadvantage to other players, even though a higher FPS might make the experience more fluid. Additionally, the majority of monitors have a refresh rate of 60 hertz (Hz), so increasing your frame rate above that would be totally useless because it would require your screen to refresh more frequently than 60 Hz.
You might be wondering if Elden Ring laptop FPS is preferably the higher.
The fact that the superior FPS is not necessarily higher may surprise you. Of course, it has to be higher than 60. Why is 60 the frame rate that is generally advised? The benefit to the wellness of your hardware is the explanation. Even though playing a resource-hungry online multiplayer game like Elden Ring on these high performance settings might be entertaining, doing so will damage your hardware much faster than playing in a completely acceptable 60 FPS configuration would. Both the processor and graphics card must work very hard to sustain a functional frame rate of 120 frames per second. This can quickly result in overheating and a shorter lifetime for the hardware.
Why My Elden Ring Fps Drops?
Many players are unsure of the cause of Elden Ring randomly fps drops. I'll give you the following causes of Elden Ring low fps so you can find a more specific answer to your issue. You can determine which one best fits your circumstances.
Problems in the Elden Ring. If you only notice a significant FPS decrease in the Elden Ring item store and a fluid gaming experience while engaging in combat. Then it might not be the problem of your PC. It's conceivable that the item shop has bugs that cause the Elden Ring item shop FPS drop to occur frequently.

Network communication issues. A reliable network link is crucial regardless of the type of game issues you encounter. An FPS drop is very likely to occur if you always use WiFi when making a purchase in the Elden Ring item store.

Unreliable graphics hardware. If the apparent FPS drop in the Elden Ring item store is not an isolated incident, you may also notice it while playing other portions of the game or in other video games. It is most likely due to an outdated graphics device that cannot support the FPS that Elden Ring demands.

Background programs. The likelihood of an FPS drop while playing Elden Ring will greatly rise if there are too many background programs open. Because it will occupy space on your CPU and RAM, preventing Elden Ring from functioning correctly.
All in all, this article tells players how to fix Elden Ring FPS drops and this cause. Besides, it shares some knowledge about fps.