With these VPNs, you'll be able to enjoy smooth gameplay and lag-free gaming. Plus, they'll keep your data secure and private. So don't wait any longer - check out our list of the top 5 Diablo Immortal VPNs today!
Diablo Immortal is a free-to-play, massively multiplayer online action role-playing video game developed by Blizzard Entertainment and NetEase. Immortal, unlike earlier games in the series, offers a "Class Change" system that allows players to switch a character's class and obtain a fresh set of "appropriate" items without having to restart their progress. (although focusing on a specific class may ultimately yield advantages, such as a broader range of available gameplay styles). Players can only change a character's class once per week, and there are no in-game or microtransaction costs associated with this choice.
Immortal replaces the mana and other class-specific resources found in earlier Diablo titles with a cooldown-based system for skills. (with typical cooldown times ranging from 8–12 seconds). Attacking will also fill the character's "Ultimate meter," which, when full, enables the use of stronger attacks and amplifies the benefits of the character's fundamental attack for a finite amount of time.
If you're a fan of Diablo Immortal, you know how frustrating it can be to experience lag while playing. Fortunately, LagoFast offers the best Diablo Immortal lag reducer and ping fixer to help you get the most out of your gameplay. With LagoFast, you can reduce lag and enjoy smoother gameplay without any interruptions. Plus, with its easy-to-use interface, you can quickly connect to a server and start playing right away. Don't let lag ruin your gaming experience - try LagoFast today and see the difference for yourself!
Part 1: 5 Best Diablo Immortal VPNs 2023
Part 2: What Characteristics Define the Best Diablo Immortal VPN?
Part 3: Is It Legal to Use a Diablo Immortal VPN?
5 Best Diablo Immortal VPNs 2023
1.
LagoFast
We are not surprised by LagoFast's superior performance to all other services as the top Diablo Immortal VPN pc.
If you want to be positive that your gaming experience will be flawless, it is crucial to check that your VPN has intelligent, real-time network diagnostics. Every user experiences lower ping and fixed lag thanks to LagoFast's combination of intelligent, real-time network monitoring and dynamic matching with the best nodes. In this manner, not only is ultra-smooth gameplay guaranteed, but also using Twitch, Spotify, or browsing any other kind of online material is completely unaffected.
LagoFast has eight years of experience in implementing market-leading data transfer protocols when it comes to safeguarding data privacy. Strong compatibility enables it to be flexible in even the most challenging network environment and to offer all-around security for your gameplay to prevent privacy leaks.
Additionally, LagoFast can increase frame rates, which can be improved with a single click to enjoy high-definition, ultra-smooth visual effects or through customization options that let you unleash a truly immersive gaming experience in accordance with your unique needs.
Additionally, it provides a pay-per-minute option, making it a cheap VPN. It provides a free trial to those who are unsure.
LagoFast should be at the top of your list if you're searching for a Diablo Immortal VPN that lowers your ping in Diablo Immortal.
2.
Surfshark
In our evaluation of Surfshark, we found the low-cost provider to be very impressive across the board. Surfshark is a very capable and affordable VPN that performs admirably as a gameplay VPN.
Despite not always being as fast as LagoFast, Surfshark still has a sizable network of 3,200 servers. However, what draws users the most is the combination of limitless connections and a cheap price. Both are extremely uncommon in the VPN industry, making that combo unbeatable. The simplest way to find an inexpensive gaming VPN is by using Surfshark.
3.
NordVPN
You would expect NordVPN, a well-known VPN service, to function splendidly as a VPN for gaming, and you would be right.
In our NordVPN evaluation, we found that the Panama-based company offered some of the fastest download and upload speeds we've tested, and you could select from a network of more than 5,500 servers spread out across 60 different countries. This implies that you can pretty much rely on having a great link to your regular internet line wherever you are.
The apps from Nord are very stable, and you can set them up on a router to cover all of your devices, so you won't need to check on them very often. Furthermore, streaming is well supported, enabling you to watch almost anything from any location. However, unlike LagoFast, Nord doesn't offer a particular router software, making setup difficult.
Nord is still a powerful competitor even though it isn't quite as user-friendly or reliable as LagoFast.
4.
CyberGhost
The Romanian provider of CyberGhost VPN demonstrated excellent performance in our review and is a reliable choice for anything needing a quick connection, including as a gaming VPN.
Cyber Ghost excels at more than just gameplay. The app has a ton of helpful features, such as server load (great for gamers), Smart Rules, which starts the VPN whenever a particular app is launched, and a trustworthy kill switch.
We regret the capability to get desktop notifications that inform you when you join and disconnect, though. In addition, we found a couple of real-world issues. First of all, each device must be entered even though CyberGhost permits up to 7 devices to be used on a single account.
You must unregister one before adding any of the aforementioned 7 services, in comparison to other services where you can simply check out on a device.
Noting that the CyberGhost support website falls short of the best options is also essential.
5.
Proton VPN
Proton VPN provides an extremely private service that excels at streaming and is more than just a game VPN.
Connection rates are essential, and Proton VPN excels in this regard. With speeds of up to 670Mbps on WireGuard and a truly impressive 440Mbps when using OpenVPN, Proton VPN can keep up with whatever you're doing. It is slower than LagoFast in comparison.
It is slightly more expensive than all but LagoFast, which might be a deal breaker for some users, even though it is unquestionably worth the expenditure. Other than that, it's one of the best gameplay VPN services out there.
What Characteristics Define the Best Diablo Immortal VPN?
By using a Diablo Immortal VPN, users can avoid network throttling and remain safer. Speed will be important if you plan to use your selected service as a gaming VPN, but privacy shouldn't be sacrificed. LagoFast is currently the best Diablo Immortal VPN thanks to its flawless speeds, low ping times, real-time network diagnosis, powerful privacy features, and straightforward apps for all kinds of platforms.
The best Diablo Immortal VPN for PC, LagoFast, is built on the internally created LFP data transfer protocol and offers intelligent matching for the best nodes while offering exclusive routes from all over the globe to provide ultra-smooth gameplay so you can have a fully immersive experience.
Follow the guidance below and start enjoying the excellent service of LagoFast in four steps.
Step 1: Install LagoFast.
Step 2: Search Diablo Immortal in the search box and select it in the search result.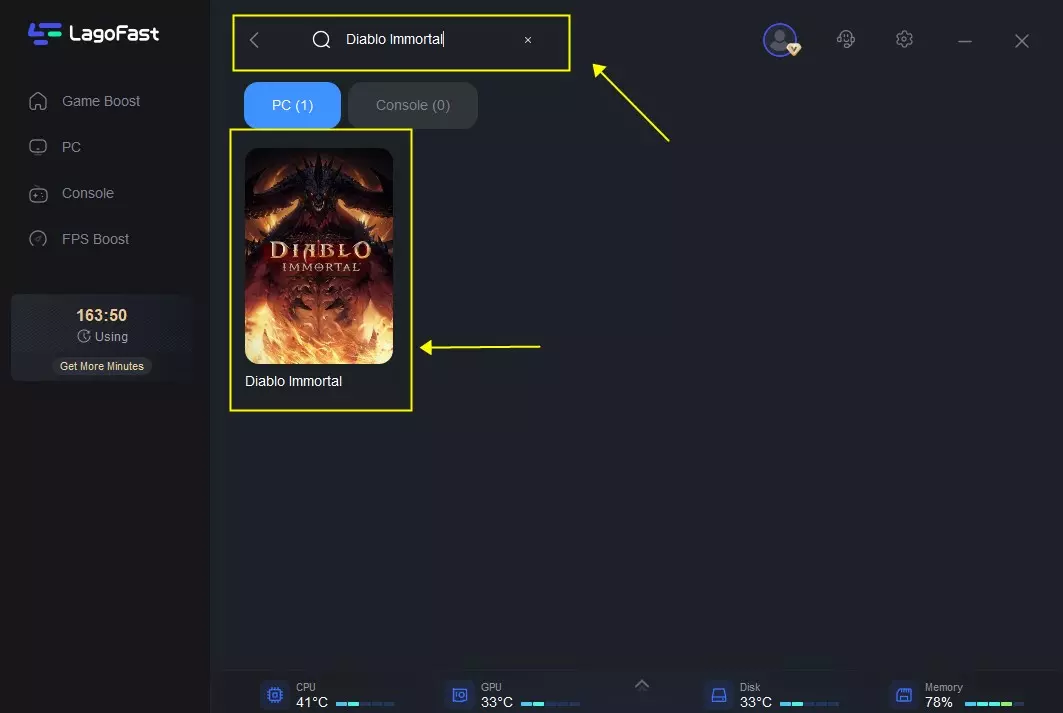 Step 3: Choose the server you want.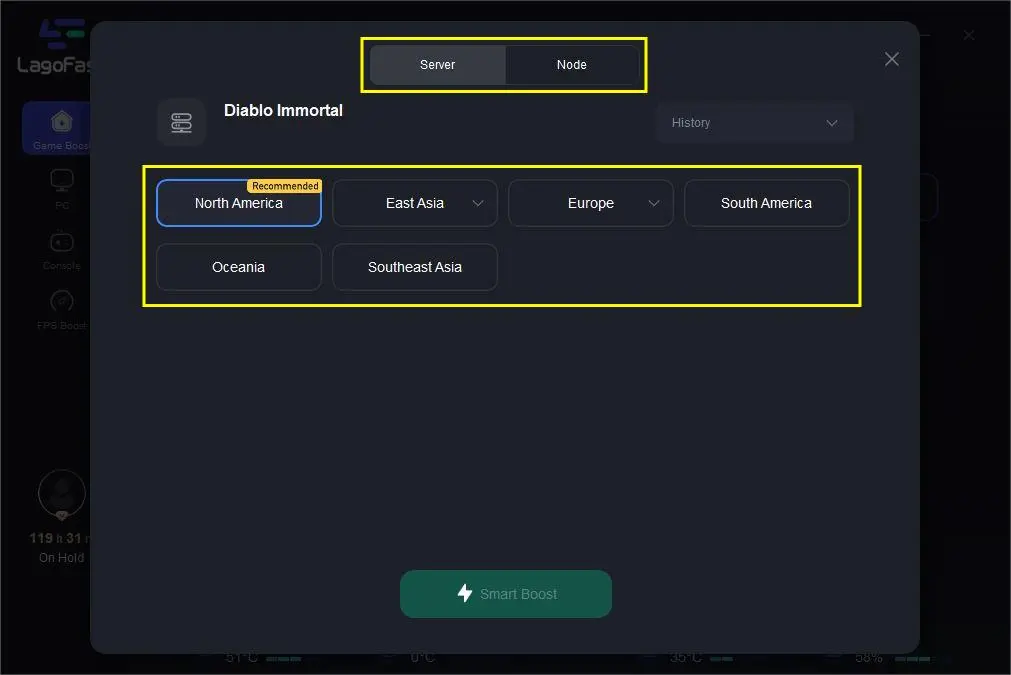 Step 4: Click on the Boost button and start boosting. Here, you can see your real-time ping & packet loss rate.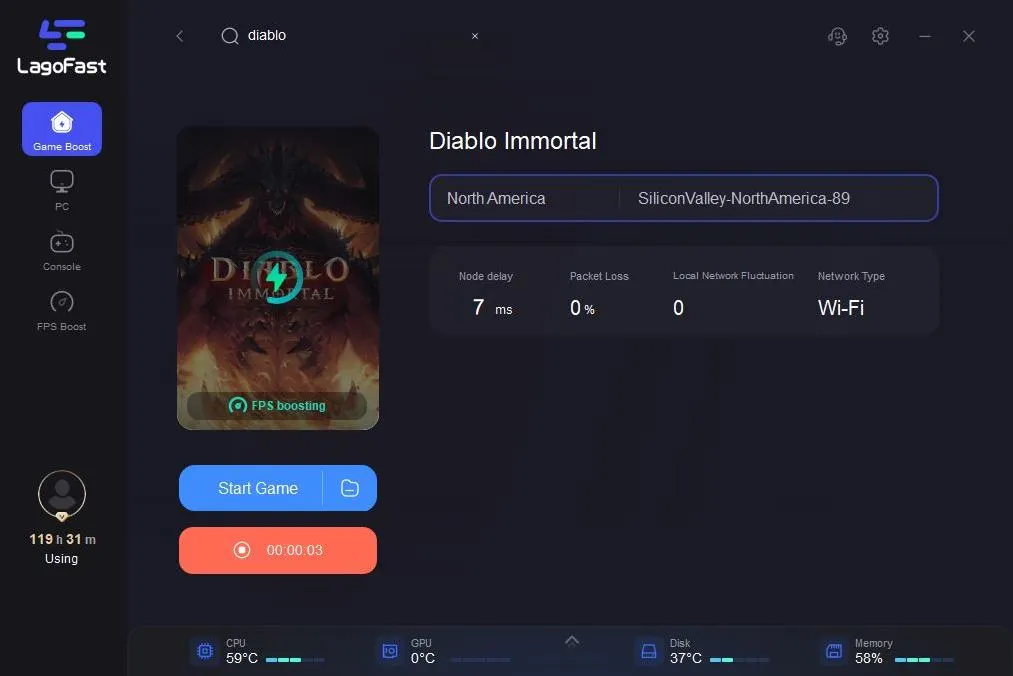 LagoFast can increase FPS in addition to decreasing latency, which will enhance your visual experience while playing Diablo Immortal. The stages are listed below.
Step 1: Click on "FPS Boost" on the left side.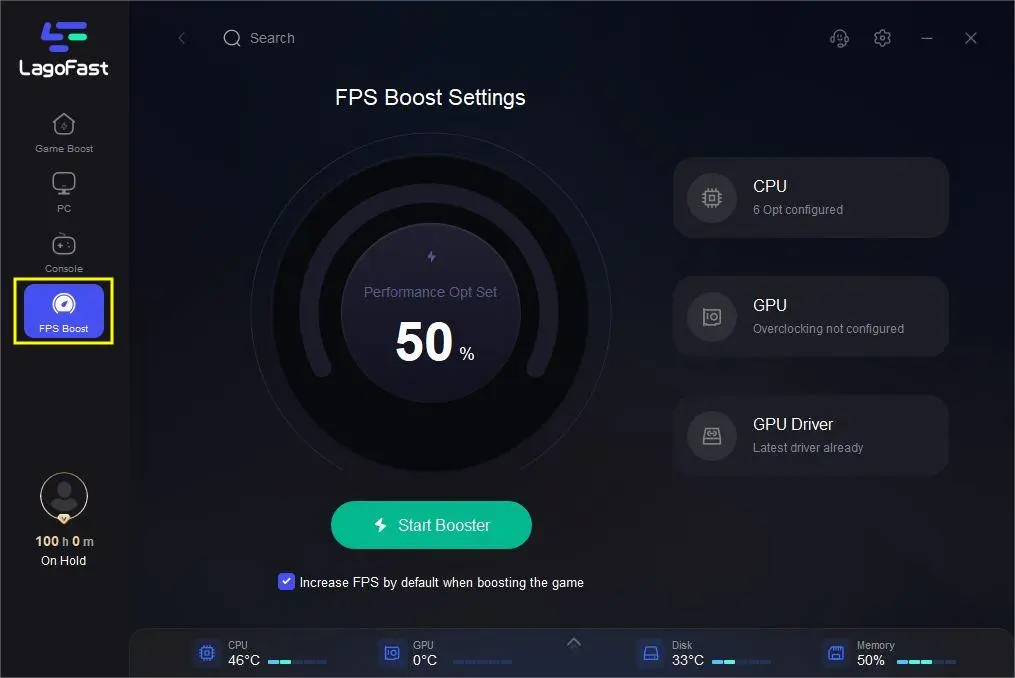 Step 2: Click Start Booster and get FPS boost.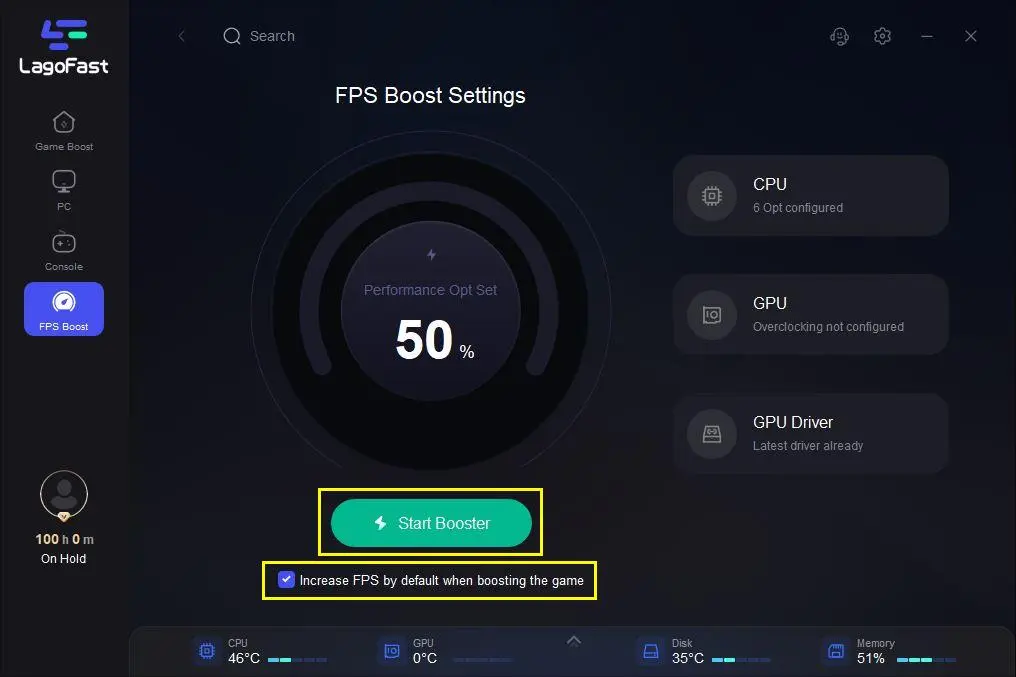 Is It Legal to Use a Diablo Immortal VPN?
The simple answer is yes. Utilizing a diablo immortal VPN is permitted. Be cautious about how you use your diablo immortal VPN because even though it might make illegal activities possible or simpler, it still does not make them legal.
Using a VPN to hide your location in order to buy games for less is certainly against the terms and conditions set forth by the developer or distributor; if you are discovered, you risk having your account suspended or worse.
If you're only using it to make sure your service provider isn't making you go slower, you shouldn't be worried, though.
All in all, it is legal to use a diablo immortal VPN. Besides, this post tells players the 5 best diablo immortal VPNs and shares the traits that define the best diablo immortal VPN.