A gaming VPN might not be quite as tantalizing as a new GPU or a mechanical keyboard, but for serious players, it's an important tool to have on hand.
Getting a VPN for gaming isn't just about staying secure while playing. Your network is probably being throttled by your ISP if you've ever observed that it starts to fluctuate after you've been online for a while. You can prevent your ISP from identifying you as a high-bandwidth user by using the best VPN to conceal your data from them.
What's more, you may also be able to find a better price for games by changing your location. There is no assurance of this, but all you have to do is run a game VPN and check if the next AAA game is being sold cheaper in other regions.
For gamers who are dedicated to fps games, a lower ping means a better chance to react faster and beat the enemy, which makes a game VPN non-substitutable.
LagoFast is currently the best gaming VPN because of its fast speeds, low ping, strong privacy features, and even FPS boost, and user-friendly apps for all kinds of platforms.
Part 1: What characteristics define the best game VPN?
Part 3: Is it legal to use a game VPN?
What characteristics define the best game VPN?
Players can avoid network throttling and stay safer with a game VPN. If you're planning on using your chosen service as a gaming VPN, speed will be a priority – but privacy shouldn't take a back seat. LagoFast is the best game VPN 2023 for players to reduce lag, lower ping and boost FPS. It has worldwide game servers and routes for more than 2000 popular online games and you can choose your preferred server and node without changing your IP. In this case, LagoFast will provide you with fast gaming speed, extremely low ping, real-time network diagnosis, plus powerful privacy features for your online data security.
Based on the in-house developed LFP data transfer protocol, LagoFast, as the best game VPN on PC, provides intelligent matching for the best nodes, with exclusive routes from all over the world to provide ultra-smooth gameplay for gamers to enjoy a truly immersive experience.
Easy to setup

Support over 2000 games

Reduce ping and lag

Boost fps

Provide a pay-per-minute service.

More than 8 years of gaming increasing expertise
Follow the guidance below and start enjoying the ultimate service of LagoFast in four steps.
Step 1: Install LagoFast.
Step 2: Search the game you play in the search box and select it in the search result. Take Valorant as an example.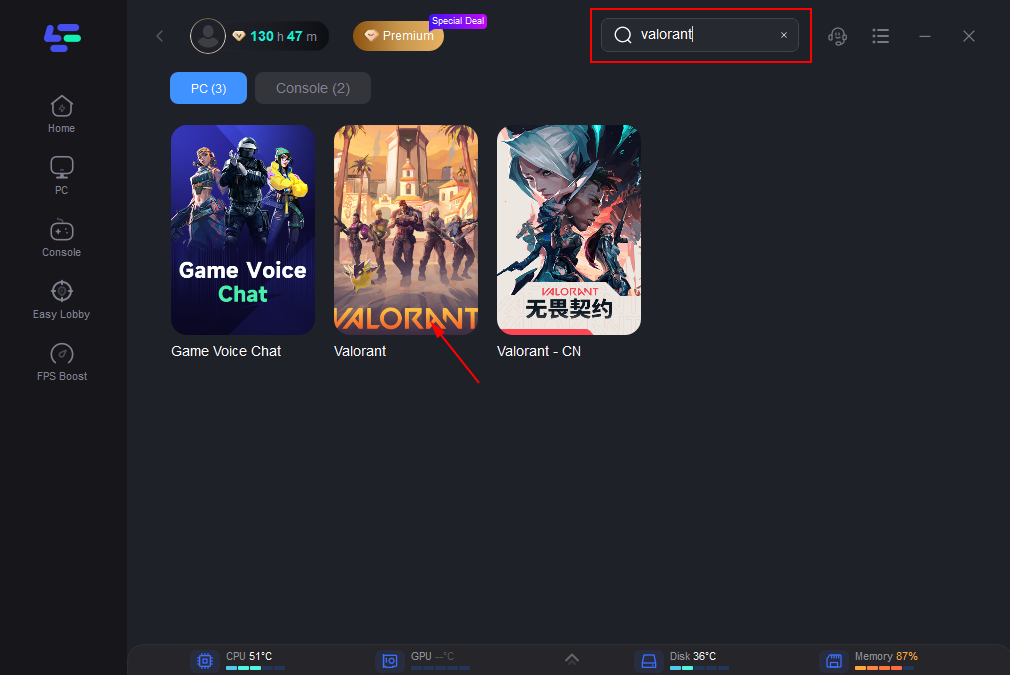 Step 3: Choose the server you want.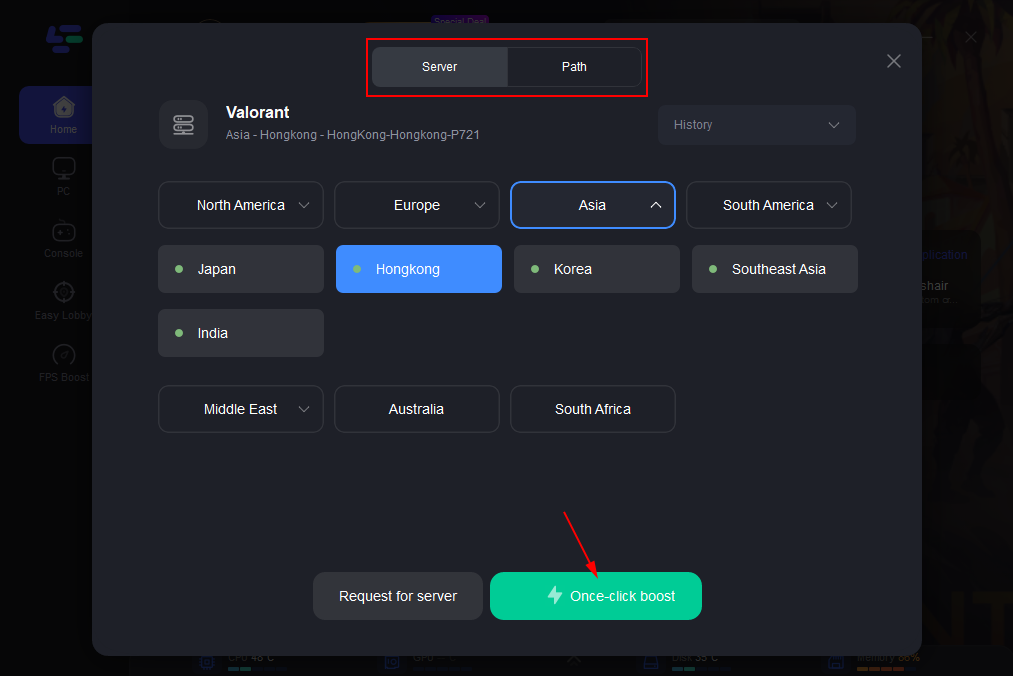 Step 4: Click on the Boost button and start boosting. Here, you can see your real-time ping & packet loss rate.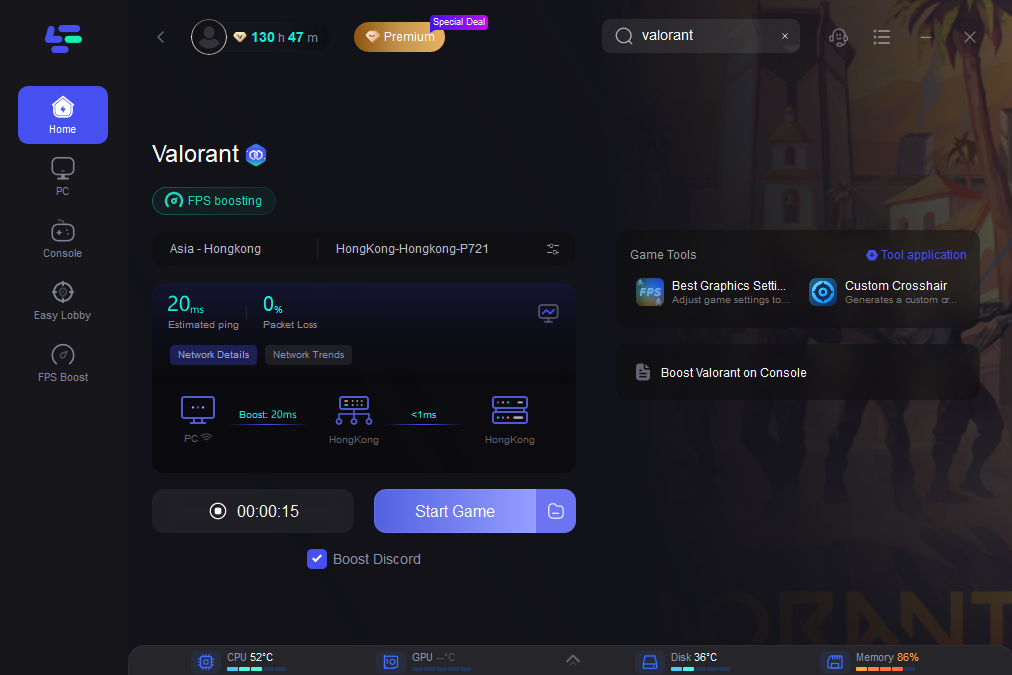 LagoFast can also increase FPS for you, enhancing your visual experience when playing Valorant. When you boost your game, the FPS boost starts at the same time. If you need to change your settings for FPS boost, follow these simple steps:
Step 1: Click on "FPS Boost" on the left side.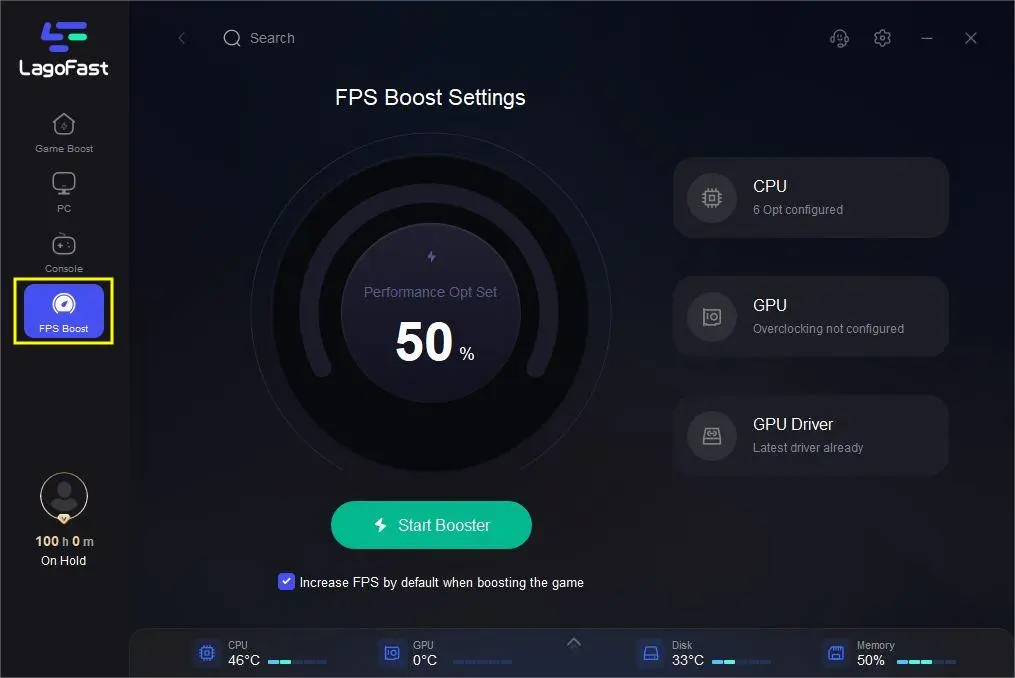 Step 2: Customize the settings for your CPU and GPU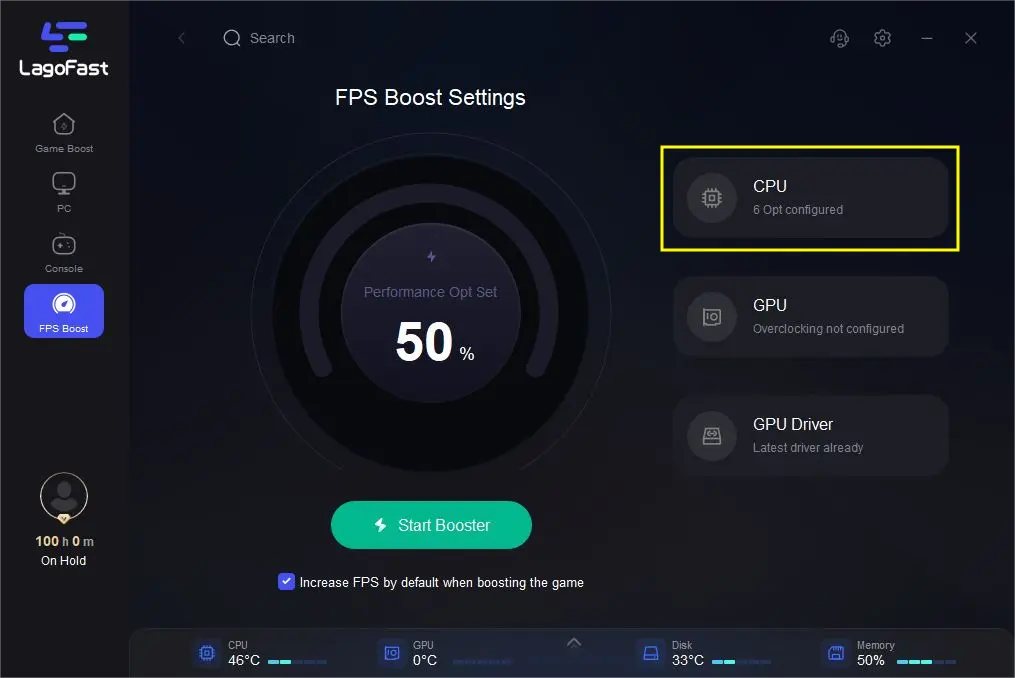 Other Popular Game VPN 2023
Without changing IP for gaming, LagoFast is the best game VPN to get a better experience. But if you want to use VPNs to change your IP to change the server in games, you may try the following VPNs.
Top 2: NordVPN
You'd anticipate that NordVPN, a well-known VPN available, would perform admirably as a VPN for gaming, and you'd be correct.
In our NordVPN review, we discovered that the Panama-based provider provided some of the fastest speeds we've tried, and you can choose from a network of more than 5,500 servers spread across 60 different nations. This means that wherever you are, you can pretty much count on having a fantastic connection to your standard internet line.
You won't need to frequently check on Nord's apps because they are very stable, and you can set them up on a router to encompass all of your consoles. Additionally, there is strong support for streaming, so you can view pretty much anything you want, wherever you are. But because Nord doesn't provide a specific router software, unlike LagoFast, setup can be challenging.
Even though it's not quite as user-friendly or dependable as LagoFast, Nord is still a strong contender.
Top 3: Surfshark
Our Surfshark review found the budget provider to be very impressive in a number of areas. Surfshark is an incredibly effective cheap VPN that functions really well as a gaming VPN.
Although Surfshark hasn't always been as quick as LagoFast, its network of 3,200 servers is still substantial. However, the mix of unlimited connections and a low price point is what attracts users the most. In the VPN business, neither is nearly common, making that combination unbeatable. The best method to get a cheap gaming VPN is simply through Surfshark.
Top 4: CyberGhost
In our CyberGhost VPN review, the Romanian provider displayed excellent performance and is a sure option for anything requiring a quick connection, including as a gaming VPN.
Cyber Ghost is not just excellent for gaming. Many helpful features are included in the app, including server load (great for gamers), Smart Rules, which launches the VPN whenever a specific app is opened, and a reliable kill switch.
We do, however, lament the ability to receive desktop notifications that let you know when you connect and disconnect. Besides, there are a few practical problems that we discovered. First off, even though CyberGhost allows 7 devices to be used on a single account, each device must be registered. In contrast to other services, where you can simply check out on a device, you must unregister one before adding any of the above 7.
It's also important to note that the CyberGhost support website falls short of the finest offerings.
Top 5: Proton VPN
More than just a game VPN, Proton VPN offers a highly private service that works well for streaming.
First and foremost, connection speeds are crucial, and Proton VPN shines in this area. Proton VPN can keep up with whatever you're doing with speeds of up to 670Mbps on WireGuard and a genuinely impressive 440Mbps when using OpenVPN. Compared to LagoFast, it is not quite as quick.
Although it's certainly worth the investment, it is also slightly more expensive than all but LagoFast, which might be a deal breaker for some users. But aside from that, it's among the finest gaming VPN services available.
Is it legal to use a game VPN
Yes, it is legal to use LagoFast game VPN to change servers and nodes for the different gaming experiences. Without changing your real location and manually testing the server status of the games, LagoFast specializes in games and provides all-in-one protection and gaming optimization. However, if you use other VPNs, make sure that you are not visiting illegal websites.
All in all, if you are searching for a gaming VPN and you want more game-related convenience and security, LagoFast is the best choice. Try it out now and get a brand-new online gaming experience!