Dark and Darker Official Release Date
Dark and Darker is on its 4th test now. According to IRONMACE, Dark and Darker will be released in the last season of 2023. You can follow IRONMACE Tweet or pay attention to Dark and Darker Steam News Hob. Also, join Dark and Darker Discord for further information about Dark and Darker in time.
Dark and Darker Playtest 4 New Features & Updates
- New Gathering Hall System - Hang out at the Gathering Hall and build the perfect dungeon party.
- New Karma System - Rate your fellow allies after your adventure. Beware! Scoundrels and deviants are unable to participate.
- New VoIP - In-game voice chat to interact with other adventurers.
- New experimental Goblin Caves for a solo adventurer experience!
- New Trading Channel QoL features.
- New Report system to help us round up and punish the wicked.
- New Cosmetics.
- New Weapons - Short Sword and Quarterstaff.
- Some Unique Weapons have been greatly improved.
- Attack animation improved for the War Maul, Double Axe & Battle Axe.
- Weapon attack animations now do more varying amounts of damage.
- New Armors for the 'head' slot.
- New 'Sanctuary' spell for the Cleric.
- New Ore and Craft Items.
- New 'Valentine' NPC.
- The secretive 'Goblin Merchant' now sells mysterious wares.
- An improved party invite system.
- Added bundled items to the merchants.
- Added Flavor texts for more immersive game mood.
- Added a new Tokyo Region + preliminary Japanese localization - first draft.
Dark and Darker Playtest 4 Download & Install
1. Go to the Dark and Darker Steam page, and click the "download demo" button to get the Dark and Darker Demo. Since it's released on Steam only, ensure that you have installed the Steam first;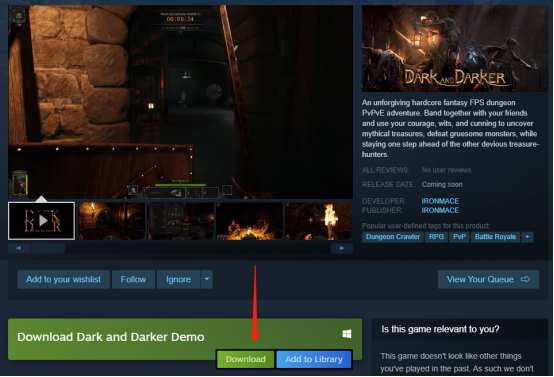 2. Create your own character and choose one of the game classes;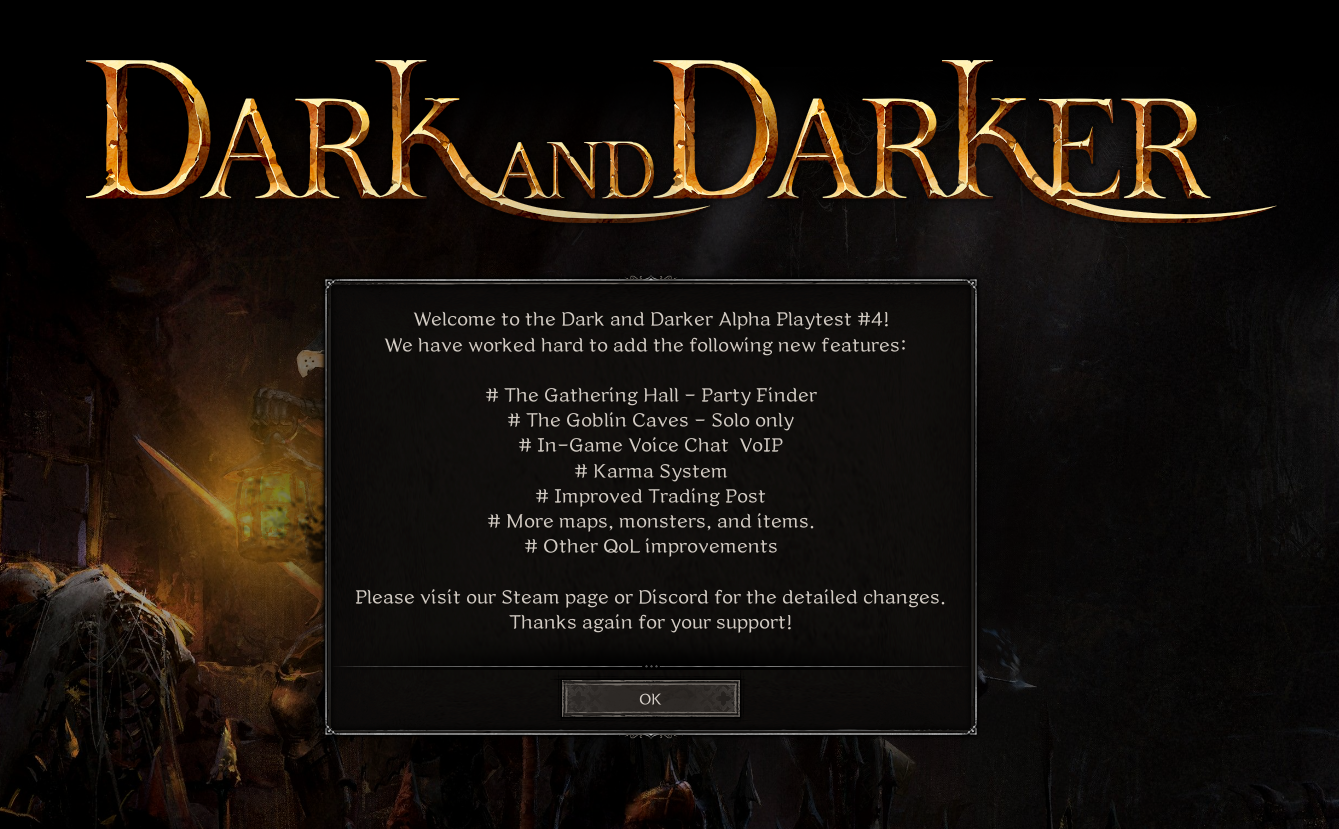 3. Queue up to enter a dungeon either alone or with your friends;
4. Here you can choose the map and server you want to play;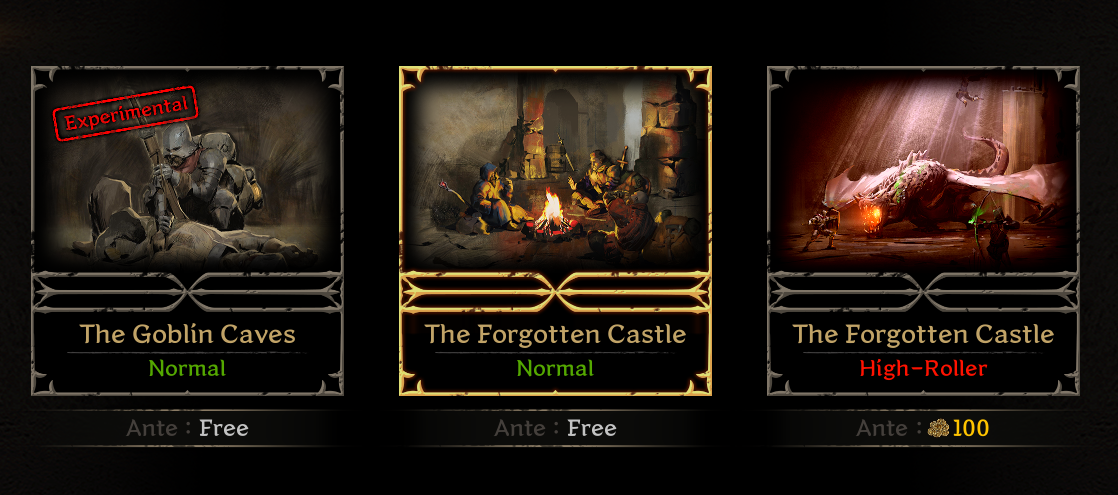 Please note that playing by yourself is pretty hard to beat the monsters or get rescued from your partners. As a starter, we recommend you to party up with your friends and get into the dungeon.
If your download speed is too slow, you can try LagoFast and improve the speed.
Follow the steps to boost your Dark and Darker game performance.
Step 1. Log into LagoFast, search for Dark and Darker, and click the result;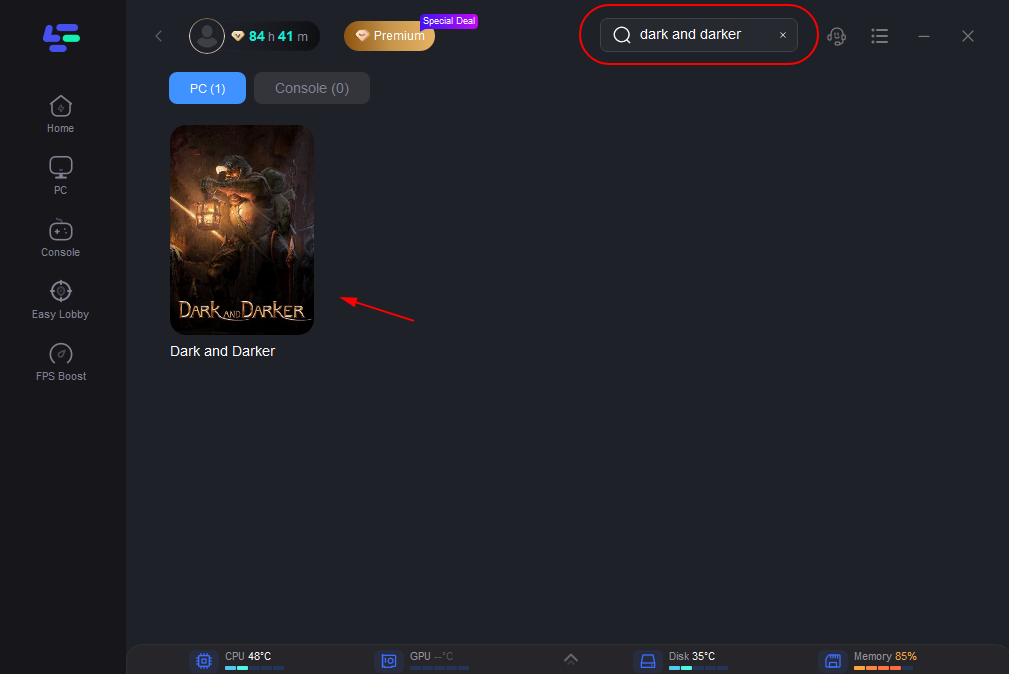 Step 2. Choose the server and nodes you want to play Dark and Darker;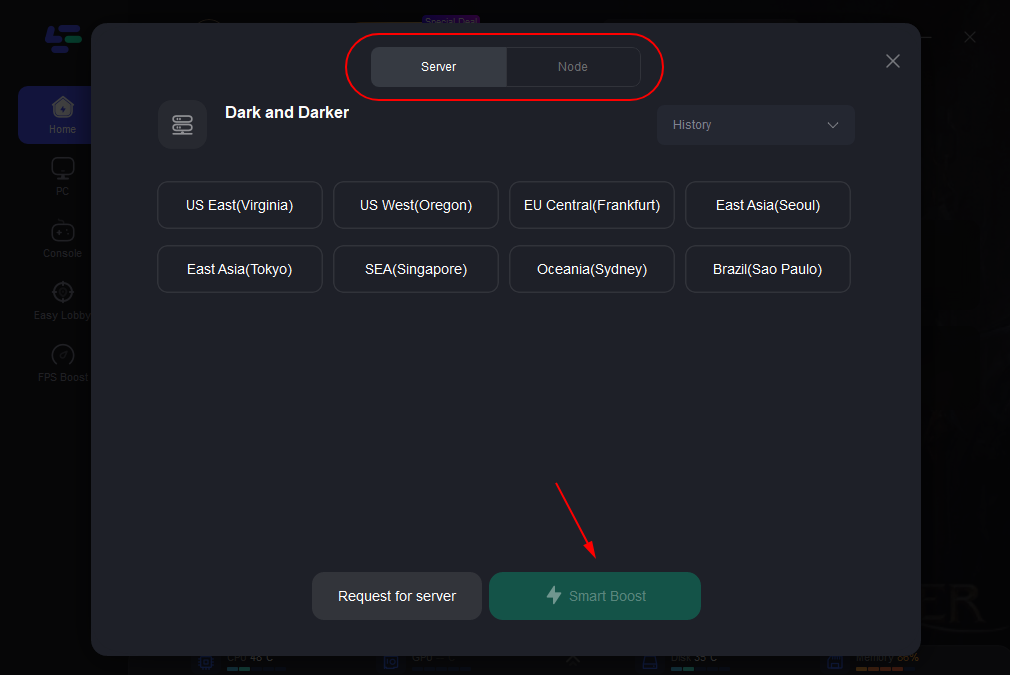 Now you can enjoy the adventure!
Dark and Darker Playtest 4 Maps
The Goblin Caves (Normal): solo-only. They're brand new for this playtest, and many players are reporting difficulty surviving the unforgiving mobs. Not recommended for new players.
The Forgotten Castle (Normal): It is the regular map, where teams of 1-3 players compete for loot and get the chance to escape. New players are recommended to queue into this mode and get to grips with combat first, either solo or with friends.
The Forgotten Castle (High-Roller): High Roller costs 100 Gold to enter. It's a high-difficulty dungeon, but the drop rate for high-quality gear is also increased. Experienced players who are able to bring decent gear with them are recommended to play here so that they can heal items at the very least.
Dark and Darker Servers
There are 8 servers in Dark and Darker playtest 4, including:
US East (Virginia), US West (Oregon), EU Central (Frankfurt), East Asia (Seoul), East Asia (Tokyo), SEA (Singapore), Oceania (Sydney), Brazil (Sao Paulo)