Warlander is an action-packed third-person online multiplayer game with a distinct style that combines a Medieval-inspired setting with fantastical items and abilities... and...EVEN STRONG ROBOTS! Featuring intense competitive skirmishes and epic castle siege warfare with up to 100 players, you must control the battlefield using the almighty powers of god-like Warriors, Clerics, and Mages, as well as siege weapons and cataclysmic spells. To win, you must work as a team, defend your Keep, and break into the enemy's stronghold tactically to destroy their core! Across its 2 Army Battle & 5 Army Battle game modes, Warlander combines the tactical team-fighting of a modern-day MOBA, the knock-out style gameplay of a Battle Royale, a smooth blend of 3rd person hack-and-slash and ranged combat, and a touch of 4X-inspired strategic diplomacy – all within large scale battles of up to 100 players.
The planned release date of Warlander is on 25 Jan 2023. And this game plans to unlock in approximately 19 hours. You can download Warlander directly on steam.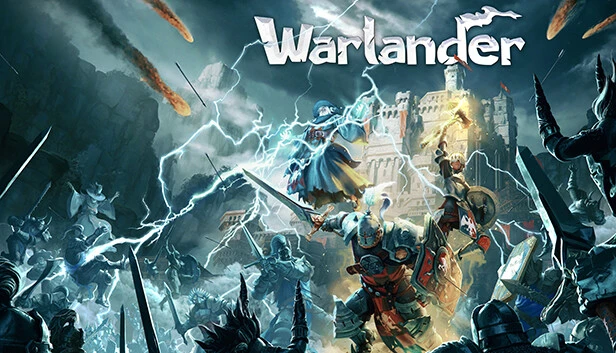 But in this game, the common game problems will also bother players. Such as Warlander lag, high ping, low FPS, etc. How to resolve it? Here is the answer: use LagoFast.
How About Using LagoFast To Ensure Your Good Gaming Experience
What exactly is LagoFast? Is it useful? Is it secure? LagoFast is a professional game VPN with over 8 years of game-boosting experience that can resolve any game issue quickly and easily. But how will LagoFast achieve this? Using its own game data transmission protocol, LagoFast allocates the best routes for players, accurately identifies game traffic, and allows live streaming and music listening while playing games. Because the servers are distributed globally, we can access accelerated servers from anywhere in the world. Concurrent use of game-specific routes is used to avoid unstable ping. The proprietary game data transmission protocol ensures a stable and smooth game experience (superfast connection, simultaneous server acceleration, on-the-fly server switching), allowing every player to enjoy games with lower ping and less lag. As a result, if you are experiencing Warlander game issues such as Warlander lag, low FPS, or other connection failure issues, try using LagoFast! Then you can unwind and enjoy the game! To summarize, LagoFast includes the following features:
Troubleshoot Warlander lag

Boost Warlander low FPS based on your requirements

Reduced Warlander packet loss

Improve your Warlander network connection situation

Display the real-time Warlander ping test

Reduce Warlander high ping Avoid Warlander stuttering

2 ways to choose: join in as a membership to pay monthly Or plan per minute
How To Use LagoFast
Step 1: Click the Free Trial button to download the LagoFast client and experience the game boost service. Or directly go to LagoFast official website.
Step 2: Before running Warlander you just need to find the game in LagoFast and click the Boost button. And then you can choose the highest node.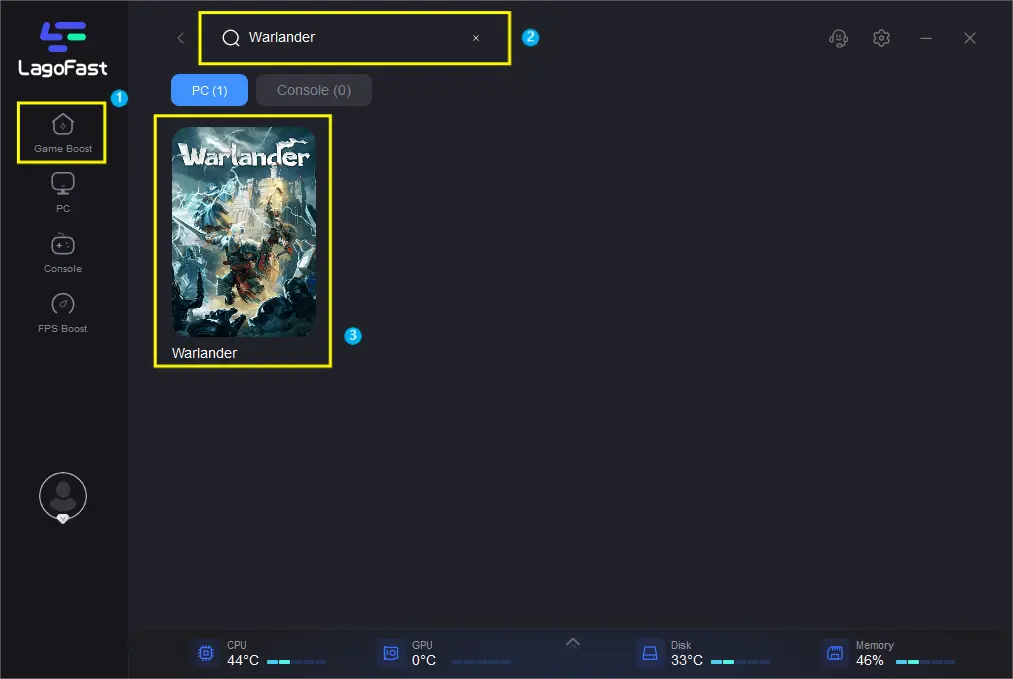 Step 3: And then you can click the FPS boost button to change settings to improve your game FPS based on your specific requirements.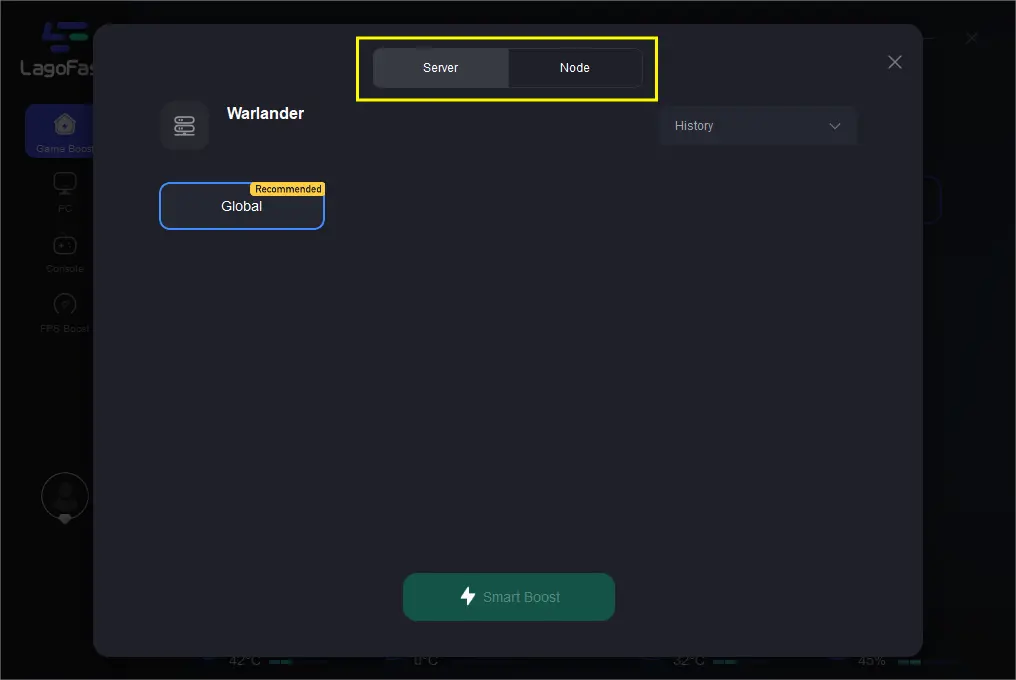 Step 4: After this easy click, the LagoFast game booster will improve your game's internet connection and reduce lag issues in the background. While you are playing the game, you can see the accurate ping test result. And in addition, LagoFast could also provide you with many other tests, like packet loss and local network fluctuation.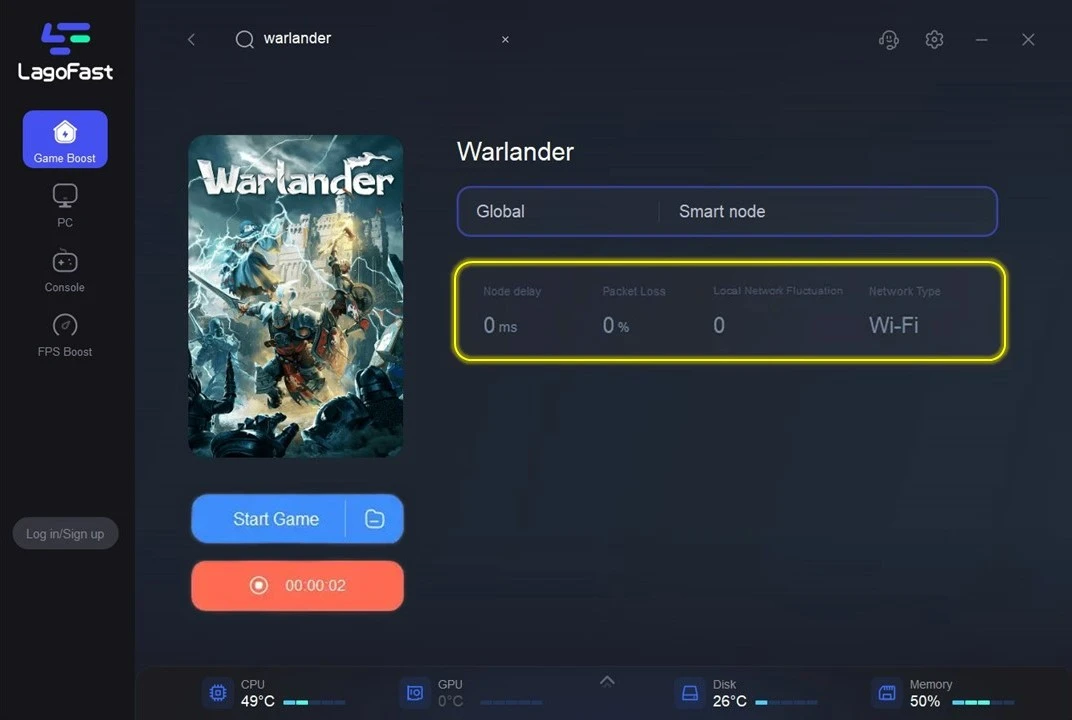 Video Of How To Use LagoFast