Warframe FPS booster Lagofast is useful to boost FPS, reduce lag, and avoid stuttering and launcher crash...
Warframe FPS Booster: Fix Stuttering And Launcher Crash On Startup
As a developed ping reducer product, which has more than 8 years of lag fix experience, LagoFast has recently launched a brand new FPS boost service. For the lag problems, Warframe could use a unique data transmission protocol to choose a better server and route to transfer, reducing effectively the lag issues. Nowadays, because of the more and more excellent frames and effects, game players' demand for FPS boost becomes more and more important. Fortunately, LagoFast could boost FPS to increase the number of frames the monitor can display in each second, reducing the incoherence of the game. What's more, this FPS booster could be used easily. You just need to click the FPS Boost button before running, and then LagoFast will ensure your smooth experience in the background. Therefore, more and more players choose this product to reduce their enemy will only be the player in front of another monitor.
Warframe is a PVE third-person shooter game which is developed and published in 2013 by Canadian Digital Extremes. It can be played on Microsoft Windows, PlayStation 4, Xbox One, and Nintendo Switch platform. In this story-driven, free-to-play online action game Warframe, you can grow into an unstoppable warrior and fight alongside your friends. Warframe is set in the solar system, where exists the militarized empire Grineer, the giant industrial and commercial complex corpus, and the infected group of mutated beings "Infested". These factions would like to take over the power of the solar system by force. To resist them, a sleeping race Tenno was awakened, you need to work with them to stop the conspiracy of the evil forces, and maintain the balance of the world. You could follow the guidance of the mysterious Lotus to confront rival factions across a vast galaxy, level up your battle armor, build an armory of devastating firepower, and design your armor... Because of its popular science fiction subject and its various character, it has obtained plenty of recommendations since its release.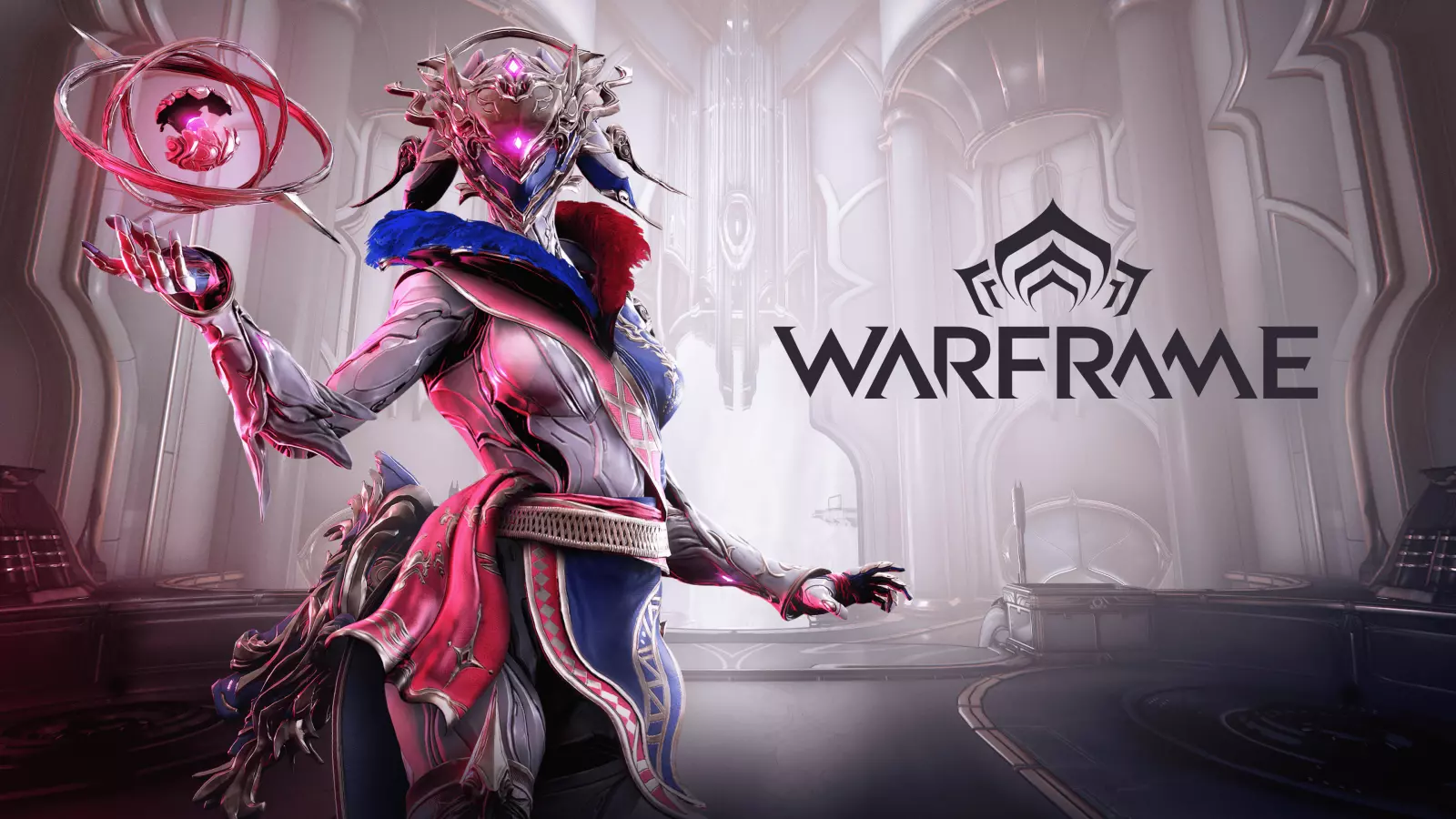 Reasons for Warframe Low FPS And Stuttering
However, there are also many complaints about Warframe by players. For example, the low FPS issue is the question the most mentioned in Warframe. In addition, the Warframe stuttering and the Warframe launch crash on startup are also common Warframe game issues. To fix these problems, you can first check if your computer meets the minimum system requirement as follows:
OS: Windows 7 64-Bit (32-bit not supported)
Processor: Intel Core 2 Duo e6400 or AMD Athlon x64 4000+
Video: DirectX 11+ capable Graphics Card
Memory: 4 GB RAM
Storage: 35 GB available HD space
Internet: Broadband Internet Connection Required
Note: There is no Mac or Linux client currently available.
If there is no problem with the system requirement, you can try to reduce your monitor resolution and graphic settings which will strongly affect the FPS. You can also check whether there are many applications in the background. For example, if many chrome tabs are running in the background, you should give much performance to match these applications running, leaving a little performance to your game. However, you should pay attention to closing the applications in the background which is necessary to run the Windows. You can also try verifying your game files. What's more, the network connection would also play an important role in the Warframe low FPS, stuttering, and the launch crash on startup... To improve your network connection, you can try changing to a better ISP like optical fiber, asking your internet carrier to expand bandwidth, using the wired connection, etc. Fortunately, there exists an ultimate solution that you can use the Warframe FPS booster to boost FPS, avoid stuttering, and fix Warframe launcher crash on startup and other issues. The Warframe FPS booster could help you to get a faster and more stable network connection to fix Warframe lag and stuttering, and boost Warframe FPS and ping. In addition, Warframe FPS booster LagoFast could also help you to change game and system settings to boost FPS and better run the game. For example, the Warframe FPS booster can close the unnecessary applications in the background, adjust graphics settings, open the Windows game mode, etc. The main features of the Warframe FPS booster are as follows:
Boost effectively the Warframe FPS
Close automatically unnecessary applications in the background
Adjust settings easily for better running Warframe
Offer a fast, stable, and secure network connection
Avoid Warframe stuttering
Fix Warframe launcher crash on startup
Fix the Warframe lag
Identify accurately Warframe game traffic
How Can I Use LagoFast?
As a wonderful VPN, LagoFast can help you solve all kinds of problems. In the next, I will show you how to use the product.
Step 1: Download LagoFast.
Step 2: Search the game in the Search Box and select it in the search result.
Step 3: Choose the server.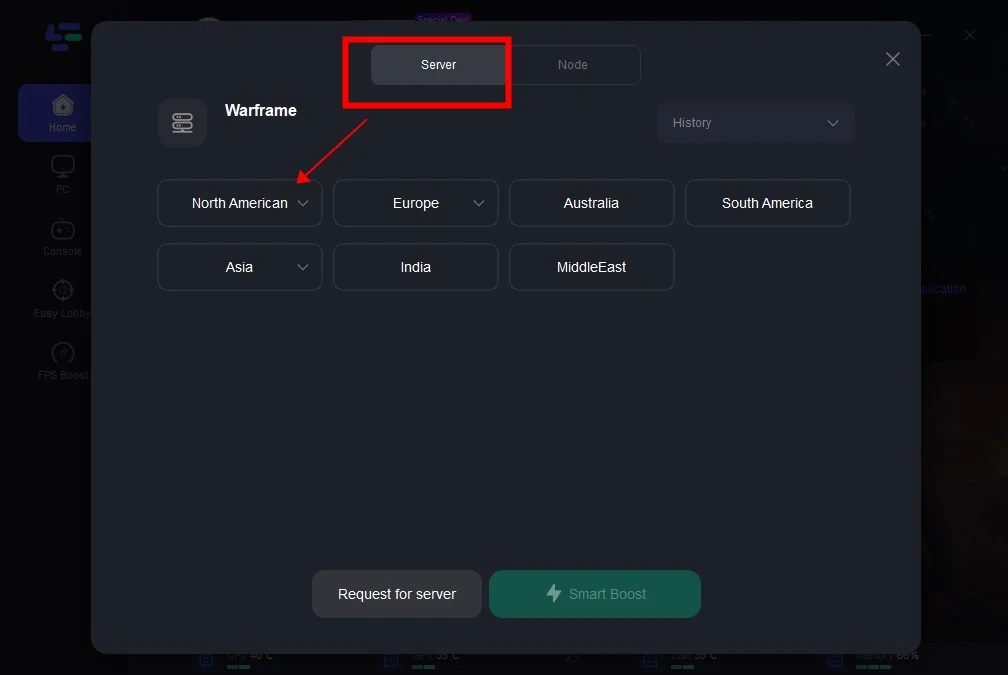 Step 4: Click on the Boost button and start boosting. Here, you can see your real time ping & packet loss rate.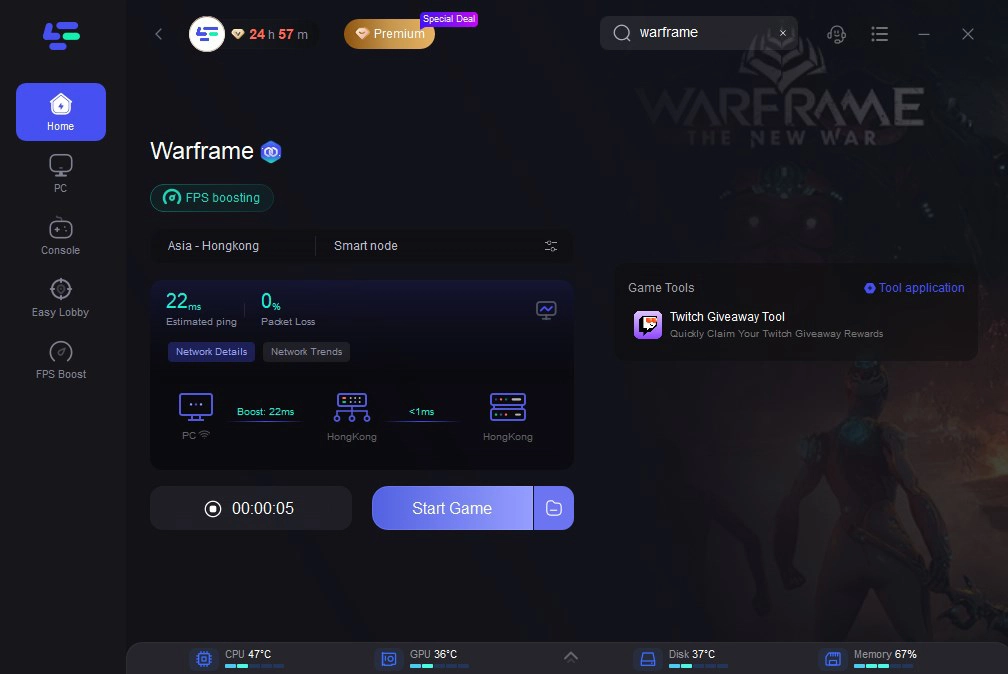 Except for the above functions, LagoFast can boost Fps, improving your visual experience when playing the game. Here are steps to do it:
Step 1: Click on "FPS Boost" on the left side.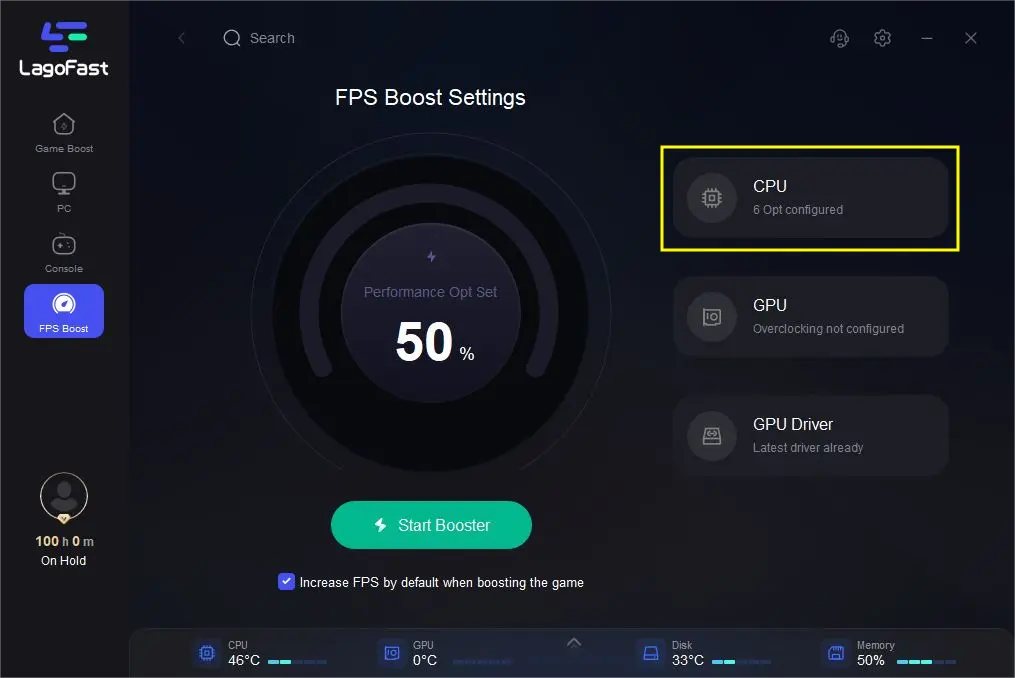 Step 2: Click "CPU Optimization" on the FPS Boost page and choose the settings that you want to open.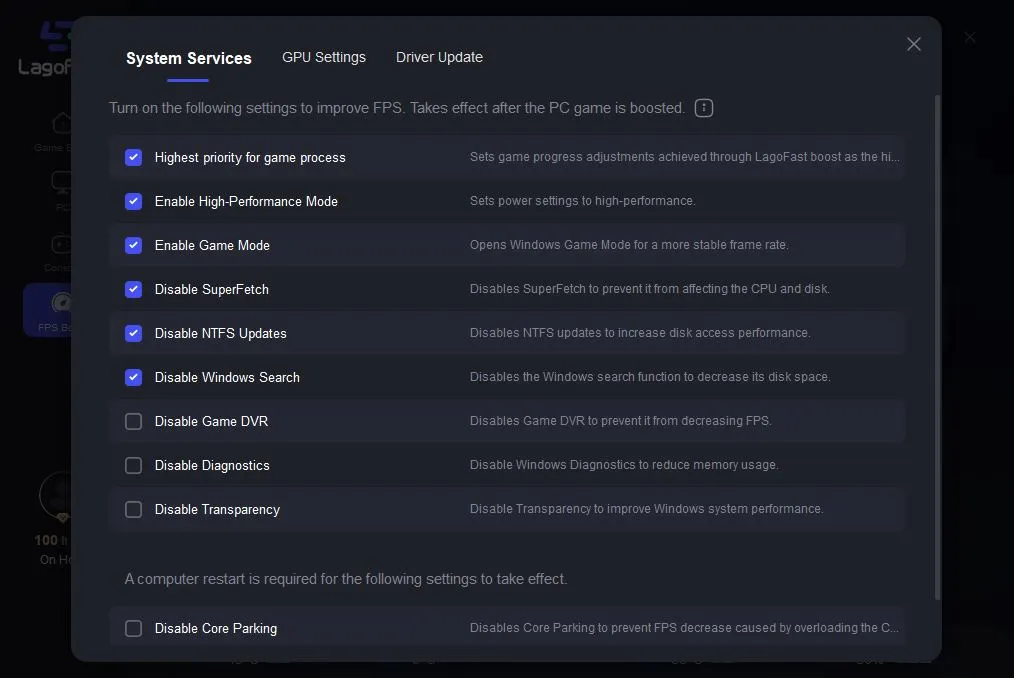 Step 3: Click "GPU Settings" on the FPS Boost page.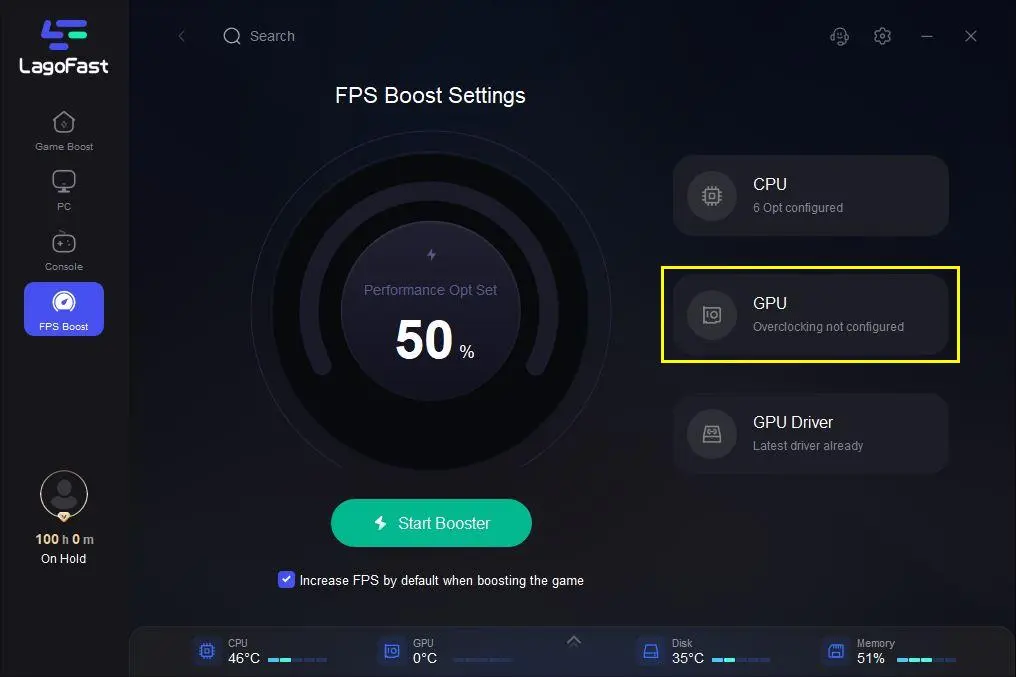 Step 4: Slide to choose your overclocking level in the first bar and tick "Enable GPU Boost" in the second bar.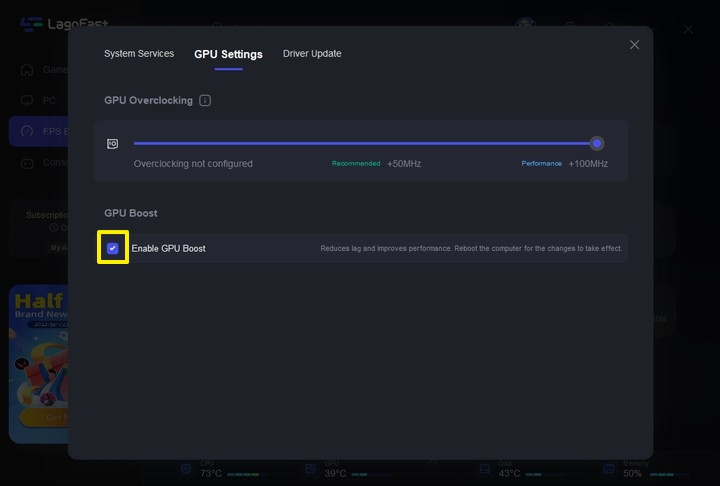 Step 5: Click "GPU Driver" on the FPS Boost page to check your GUP Driver updating version.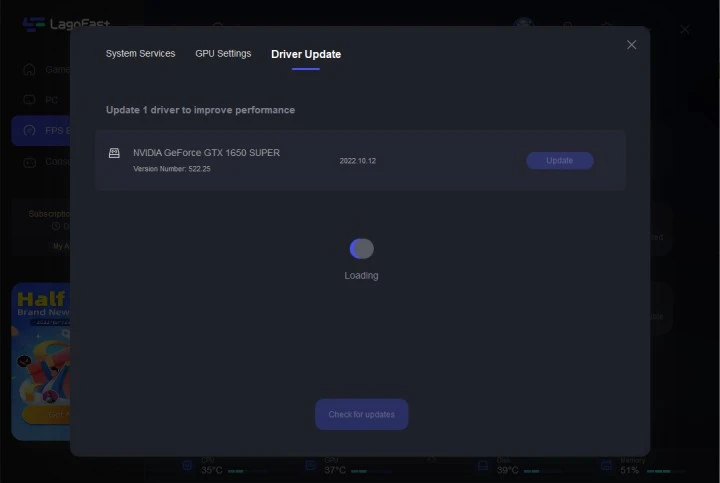 At last, you need to return to the FPS Boost page, and clicking "Start Booster" is OK.
Video Of How To Use LagoFast