You can use the LagoFast to effectively reduce War Thunder ping.
Use War Thunder Ping Reducer To Fix Input Lag And Crash
When you would like to reduce the ping of War Thunder, there is a good suggestion to realize by using the War Thunder ping reducer LagoFast. Ping is referred to the round-trip time of the connection between the computer and server. Generally speaking, the lower ping is, the more smooth game runs. While ping is at the level above 100, you would feel the existence of input lag. And while the ping is higher than 150 or even 200, War Thunder would be so laggy that your game will crash and be unplayable. Therefore, as one of the most important factors of game issues like game lag, crash, and other connection errors, reducing the War Thunder ping is becoming essential to ensure your happy and smooth gaming experience. War Thunder ping reducer LagoFast uses its unique data transmission protocol, which would choose a better game data route, to reduce the game ping and lag. In addition, with more than 8 years of specialized experience, LagoFast becomes the choice of more and more players.
War Thunder is a comprehensive free game developed and published by Gaijin Entertainment in 2012. The background of War Thunder is based on World WarⅡ, the Korean War, the Vietnam War, and the Afghanistan War, spanning from World War II to modern times. In this game, players can meet many military aircraft, tanks, warships, and helicopters of various countries, and also players can participate in the major battles of historical fame. There exist so many aircraft that War Thunder has broken the Guinness record of most planes in a flight simulation game. What's more, because of its interesting military setting and relatively real simulation of military equipment, War Thunder has been one of the most popular vehicular combat games. And it has also broken the Guinness record of the most players online simultaneously on one aerial combat multiplayer videogame server. Many players recommended this game to those who get turned on by players and other military stuff.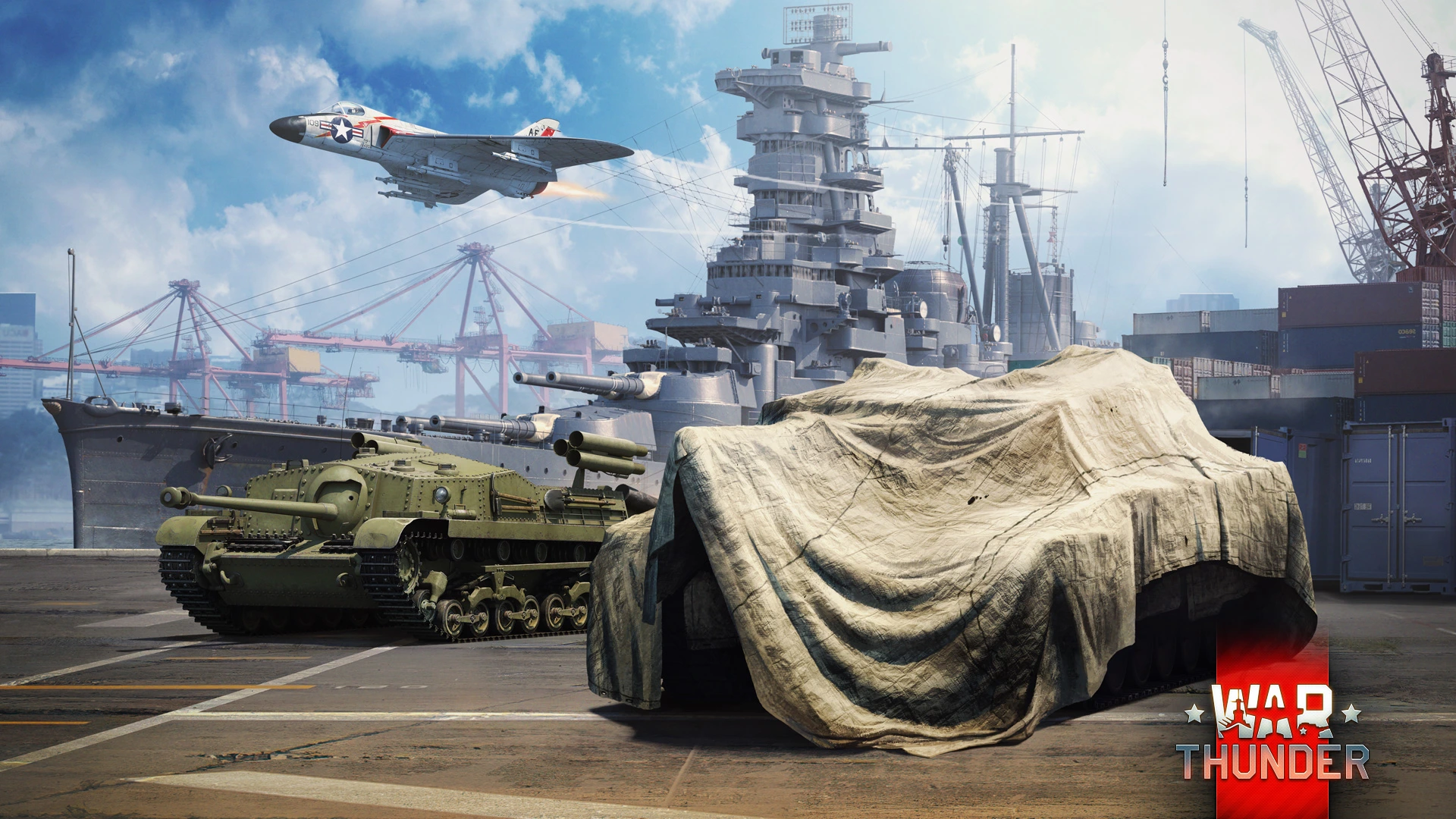 Follow These Suggestions to Reduce War Thunder Ping
However, although there remain plenty of positive comments to War Thunder, many network problems are reported by players online. Firstly, a high level in War Thunder is very common. This situation will lead to the War Thunder lag, which will seriously affect your combat game experience. Secondly, many players have reported that they have usually experienced the annoying existence of War Thunder input lag. For example, when you want to dodge the attack of another country's aircraft, you press the key of your keyboard. However, you could not see the reaction from the monitor immediately, which makes you hit by other's attack. In addition, complaints about the War Thunder crash has are also frequent since its release. The causes of all these problems can be divided into two categories: computer hardware and network connection. For the factors of hardware, you should first check if your computer meets the minimum system requirements as follows:
OS: Windows 7 SP1/8/10
Processor: Dual-Core 2.2 GHz
Memory: 4 GB RAM
Graphics: DirectX 10.1 level video card: AMD Radeon 77XX / NVIDIA GeForce GTX 660. The minimum supported resolution for the game is 720p.
DirectX: Version 11
Network: Broadband Internet connection
Storage: 17 GB available space
And for the reasons of network connection, to improve the connection and avoid the War Thunder connection error, you can try to use a wired network that is more stable than a wireless one. You can also try to switch to a better ISP like optical fiber to boost the data transmission speed, ask your carrier to expand your bandwidth to fix the congestion, remove unnecessary to avoid the network congestion or connect to the server closest to your geographic location to find a better transmission route, etc. Fortunately, there exists an ultimate solution, using the War Thunder ping reducer LagoFast to solve all these problems at once easily. And the main features of War Thunder ping reducer LagoFast to resolve War Thunder issues are as follows:
Reduce effectively War Thunder ping
Provide accurate War Thunder ping real-time test
Fix War Thunder input lag
Avoid War Thunder crash
Improve the War Thunder network connection
Offer a more secure and stable MIR4 VPN service
Set power settings to high-performance
How Can I Use LagoFast?
As a wonderful VPN, LagoFast can help you solve all kinds of problems. In the next, I will show you how to use the product.
Step 1: Download LagoFast.
Step 2: Search the game in the Search Box and select it in the search result.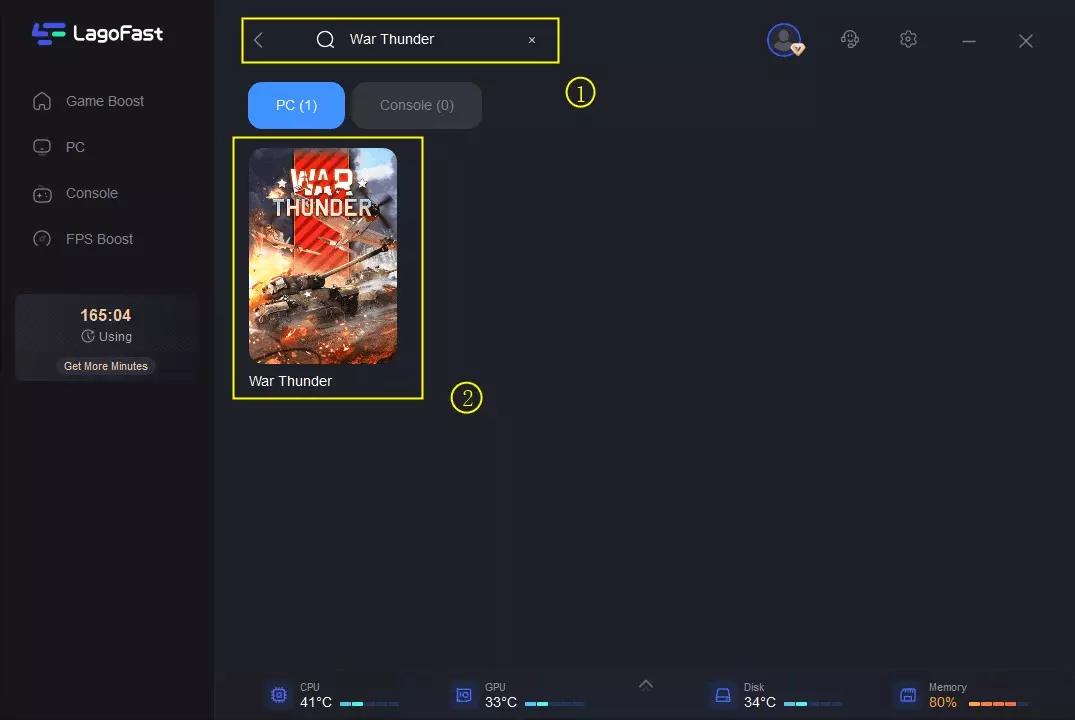 Step 3: Choose the server.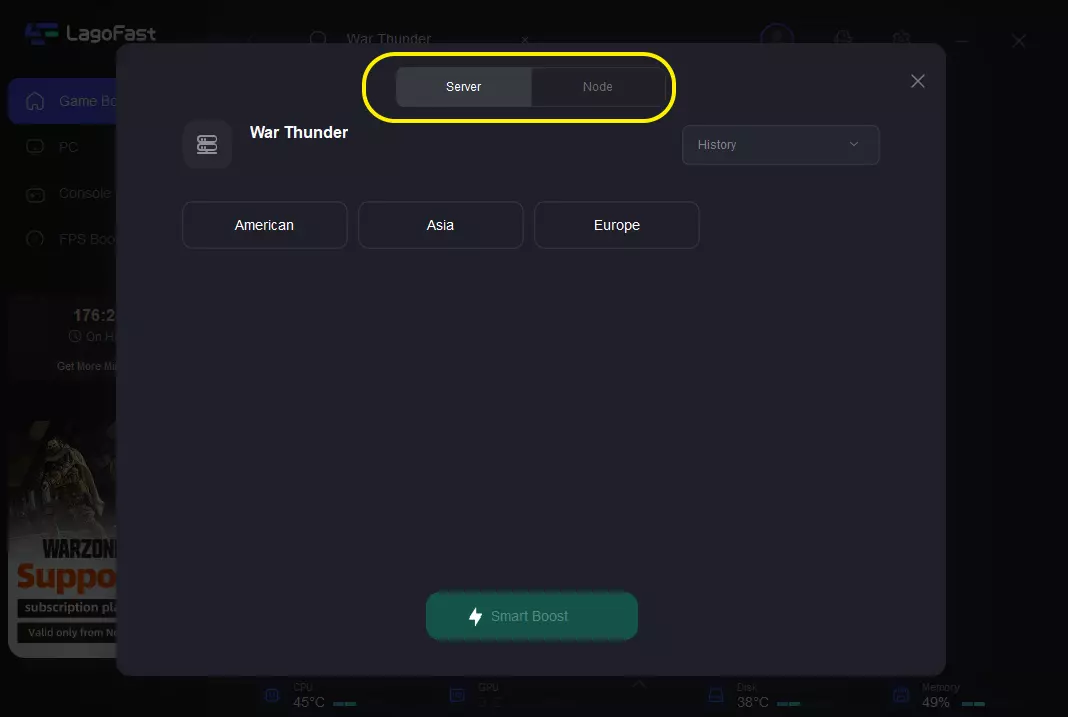 Step 4: Click on the Boost button and start boosting. Here, you can see your real-time ping & packet loss rate.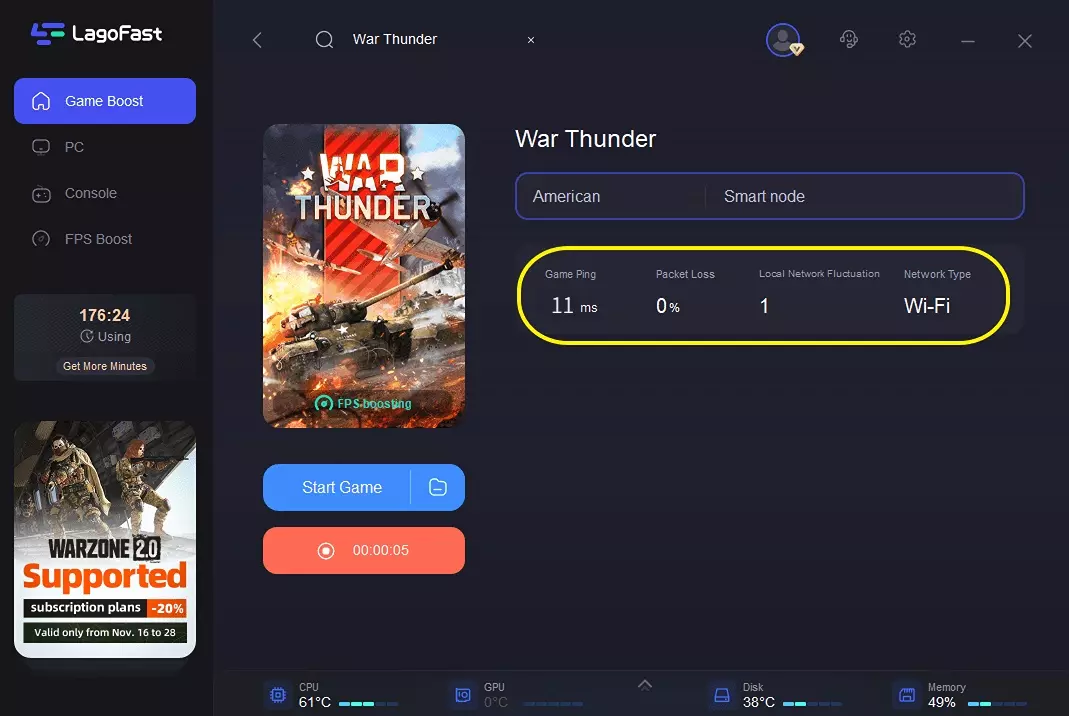 Video of How To Use LagoFast