V rising Lag reducer Lagofast is useful to reduce Lag, fix fps drop and high ping, avoid sign-in error and other performance iss
V Rising Lag Reducer: Reduce FPS Drop And High Ping Effectively
LagoFast, with more than 8 years of lag fix experience, has lately launched a brand new lag reducer service as a designed ping reduction product. Players of V Rising can experience a unique data transmission protocol to identify a better server and transfer path, effectively minimizing not only latency issues and FPS drops, but also high ping issues. V Rising developed amazing frames and effects to give players a better gaming experience. In this instance, the chances of a drop in FPS and a high Ping are bigger. With a single click on the FPS Boost button before running the game, LagoFast could avoid the problems mentioned above and eliminate other lag issues. Therefore, more and more players tend to choose LagoFast as their reliable guarantee to survive and thrive in V Rising world.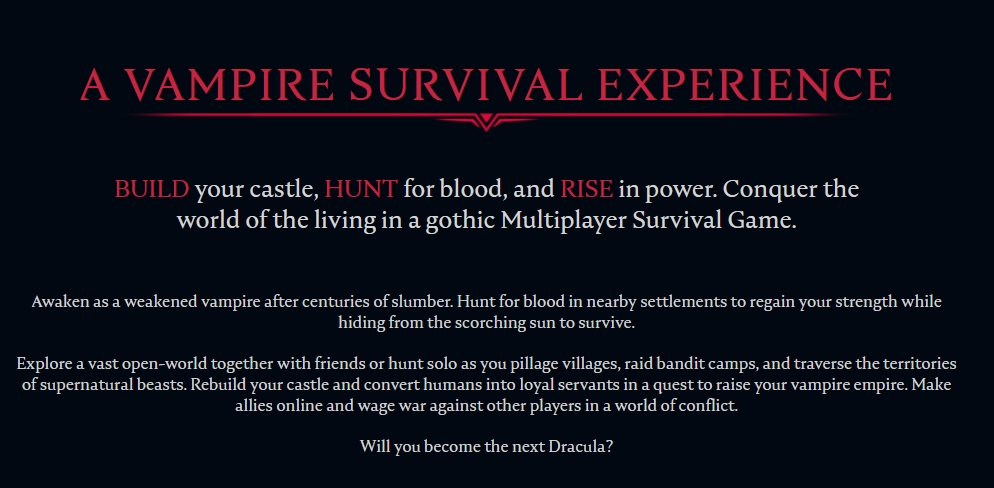 V Rising is a gothic multiplayer online role-playing game developed by Stunlock Studios and released on May 17th, 2022. It's currently only available for $19.99 on Steam for Windows PC, but a release for Xbox, PlayStation, or Nintendo Switch is in the works. In this game, you rise as a weakened vampire after years of hibernation. To survive in this human-ruled world, hunt for blood in adjacent tribes to regain your vitality while hiding from the hot sun. As you loot villages, raid bandit camps, and travel the realms of otherworldly monsters, you can either explore the vast open world with pals or hunt solo. Because of its high-quality image and interesting settings, show FPS of V Rising is highly required and the number of players has boomed since its release. Meanwhile, problems like high ping, FPS drop, and constant Lag have been complained by players. In this case, a reliable helper to solve these problems is very necessary.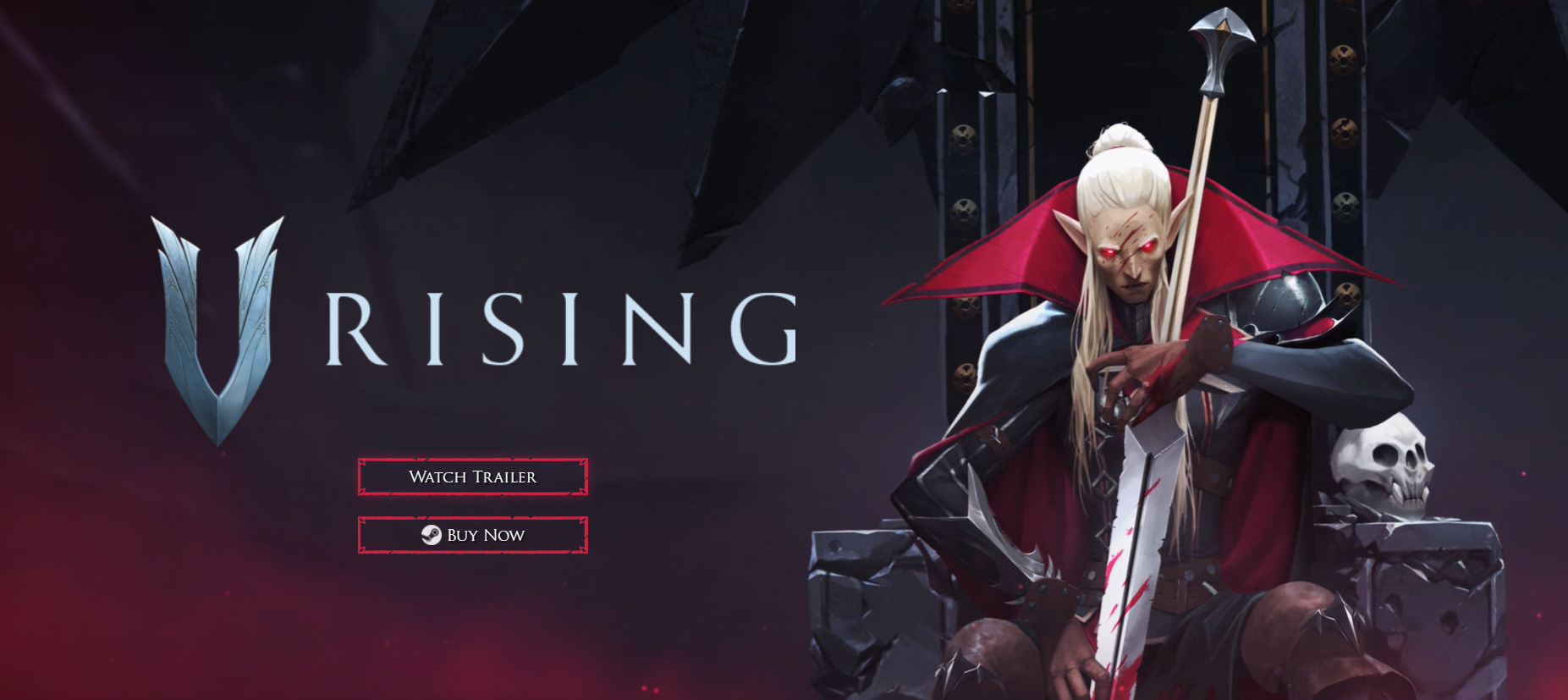 Reasons for V Rising FPS Drop And High Ping
Several players have expressed their dissatisfaction with V Rising. FPS drops and excessive Ping difficulties have been widely reported, which might result in a poor gaming experience. To resolve these issues, first ensure that your computer fulfills the following minimum system requirements:
OS: Windows 7 64-Bit (32-bit not supported)

Processor: Intel Core 2 Duo e6400 or AMD Athlon x64 4000+

Video: DirectX 11+ capable Graphics Card

Memory: 4 GB RAM

Storage: 35 GB available HD space

Internet: Broadband Internet Connection Required

Note: There is no Mac or Linux client currently available.
If the system requirements are not an issue, you can try lowering the monitor resolution and graphic settings, which will have a significant impact on the FPS. You can also see how many applications are running in the background. For example, if you have a lot of Chrome tabs open in the background, you'll offer a lot of performance to match these apps, leaving little for your game. Furthermore, the network connection would play a key role in the V rising FPS drop, high ping, and lag issues...You can try switching to a better ISP, such as optical fiber, asking your internet provider to increase bandwidth, or using a wired connection, and so on to enhance your network connection.
Lucky for you, there is an ultimate solution in the form of V Rising Lag Reducer, which you can use to effectively avoid FPS drops, high ping, and other lag difficulties. It's highly recommended to use LagoFast to run the V Rising ping test. It can effectively help you confirm whether there are ping spikes. If the ping is continuously over 80 or regularly over 100, then it may be the major cause of latency. If the ping is at a normal level, LagoFast can help you acquire a faster and more reliable network connection in V Rising by allocating the optimal routes for players via its own data transmission technique, which is not only faster but also safer. Furthermore, the V Rising lag reducer LagoFast may serve players from all over the world, not just a few countries or areas. Last but not least, in addition to its advanced routing methods, it also has a game-specific lag reducer that only serves passing game traffic. So V Rising Lag Reducer LagoFast takes every effort to improve players' game experiences and match your requirements by decreasing lag issues, guaranteeing show FPS performance, and avoiding high Ping concerns.
The main features of the V Rising Lag reducer LagoFast are as follows
Effectively reduce the V Rising Lag issues
Automatically allocate the best routes for players
Independently-developed data transmission protocol
Offer a fast, stable, and secure network connection
Avoid V Rising FPS drop and high ping
Game-specific routes
Identify accurately V Rising game traffic
How Can I Use LagoFast in V Rising?
As a wonderful VPN, LagoFast can help you solve all kinds of problems. In the next, I will show you how to use the product.
Step 1: Download LagoFast.
Step 2: Search V Rising in the Search Box and select it in the search result.
Step 3: Choose the server.
Step 4: Click on the Boost button and start boosting. Here, you can see your real-time ping & packet loss rate.
Except for the above functions, LagoFast can boost Fps, improving your visual experience when playing the game. Here are steps to do it:
Step 1: Download LagoFast.
Step 2: Click on "FPS Boost" on the left side.
Step 3: Click "CPU Optimization" on the FPS Boost page.
Step 4: Tick the settings that you want to open.
Step 5: Click "GPU Settings" on the FPS Boost page.
Step 6: Slide to choose your overclocking level in the first bar.
Step 7: Tick "Enable GPU Boost" in the second bar.
Step 8: Click "GPU Driver" on the FPS Boost page.
Step 9: Check your GUP Driver updating version.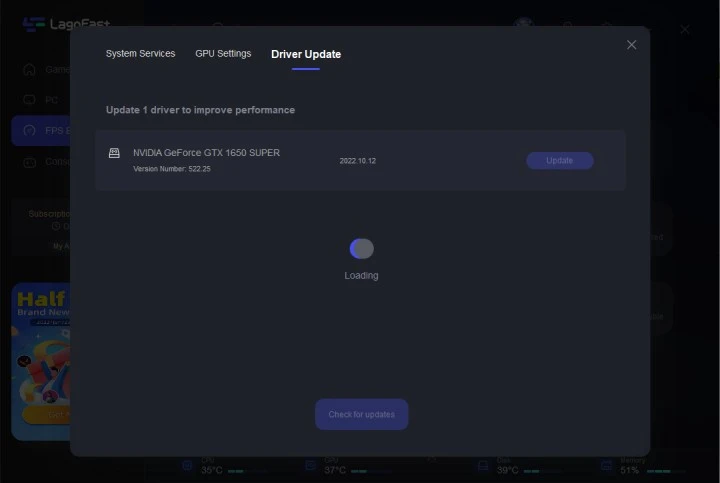 At last, you need to return to the FPS Boost page, and clicking "Start Booster" is OK.
Video Of How To Use LagoFast