PC gaming is now a popular topic among young people, but, unlike professional gaming computers, most older computers or laptops lack the processing power to run games and cannot meet the minimum system requirements for PC gaming. As a result, high ping and lags are common issues. And it's difficult to have a smooth gaming experience if the game is high graphics settings. Following that, you will require the assistance of a game booster. In this article, we will explain how game boosters work, why they can help you improve your gaming experience, and introduce you to a few useful game boosters.
Part 4: Why Do We Need Game Booster?
Useful Game Booster
If your computer is lagging while playing your favorite games, the game boosters listed below will provide you with the necessary speed boost to keep your games running at peak performance.
1. LagoFast: LagoFast is a game booster that I highly recommend because it performs admirably in all areas. Allow me to persuade you with the following arguments: To begin with, LagoFast has over 8 years of experience in data transmission, and its strong compatibility can deal with all types of tricky network environments, protecting your perfect gaming experience. Second, it provides real-time, intelligent network diagnostics and connects you to the best network nodes with low ping values. You also don't have to worry about being unable to use other online software while playing games, Twitch and Spotify are both perfectly acceptable. Finally, by pressing the Boost button, you can unlock a fantastic gaming experience, and you can customize the game booster to suit your specific needs by adjusting the custom buttons in LagoFast.
Let's see the features of LagoFast:
Support Plan-Per-Minute service, more economical and cost-effective.
8+ years of experience in data transfer.
Easy to use, with only one click on the Boost button.

R

educe ping while boosting FPS
Worldwide exclusive routes for our users
Here's how to use LagoFast(take Apex for example):
Step 1: Download LagoFast.
Step 2: Type Apex Legends in the Search box and choose it among the results.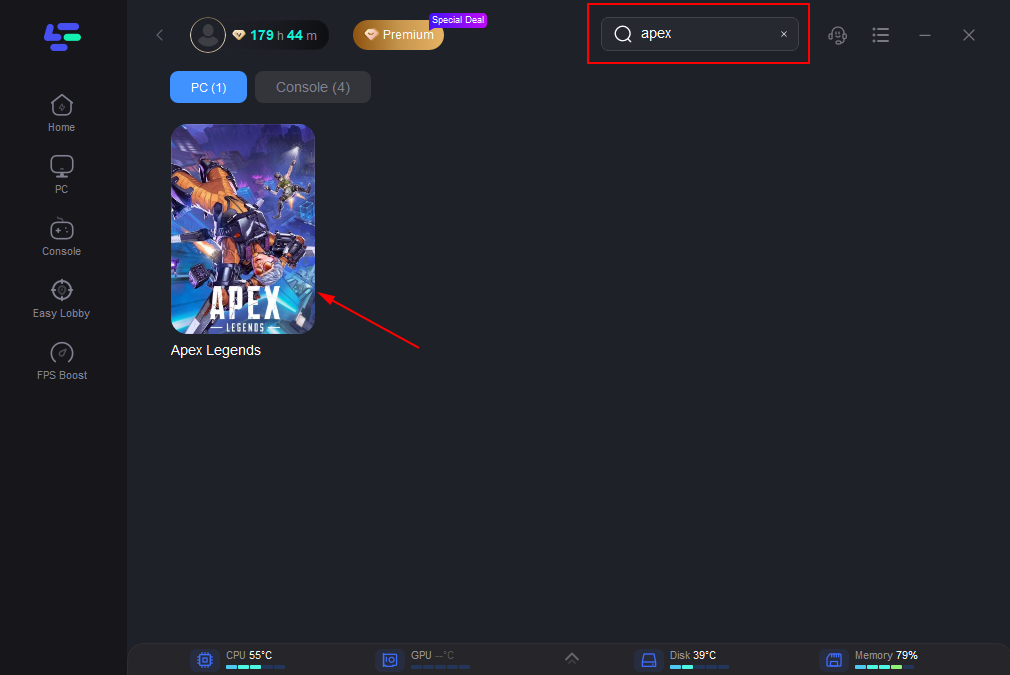 Step 3: Choose your needed server.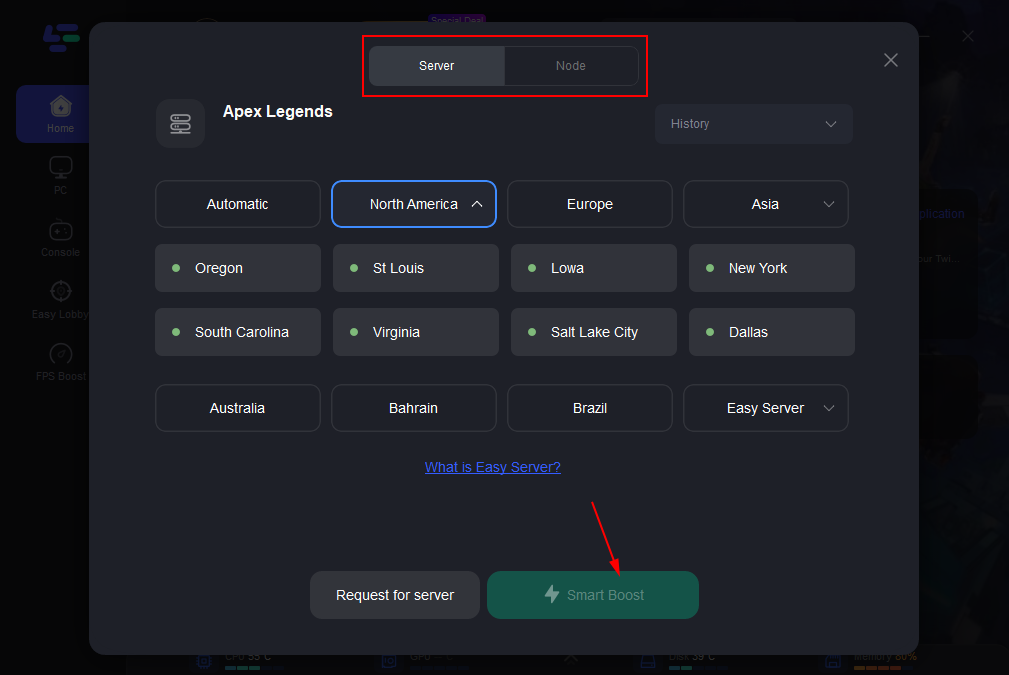 Step 4: Click on the Boost button to start boosting.
This page displays your real-time ping and packet loss rate, both of which are directly tied to your FPS performance.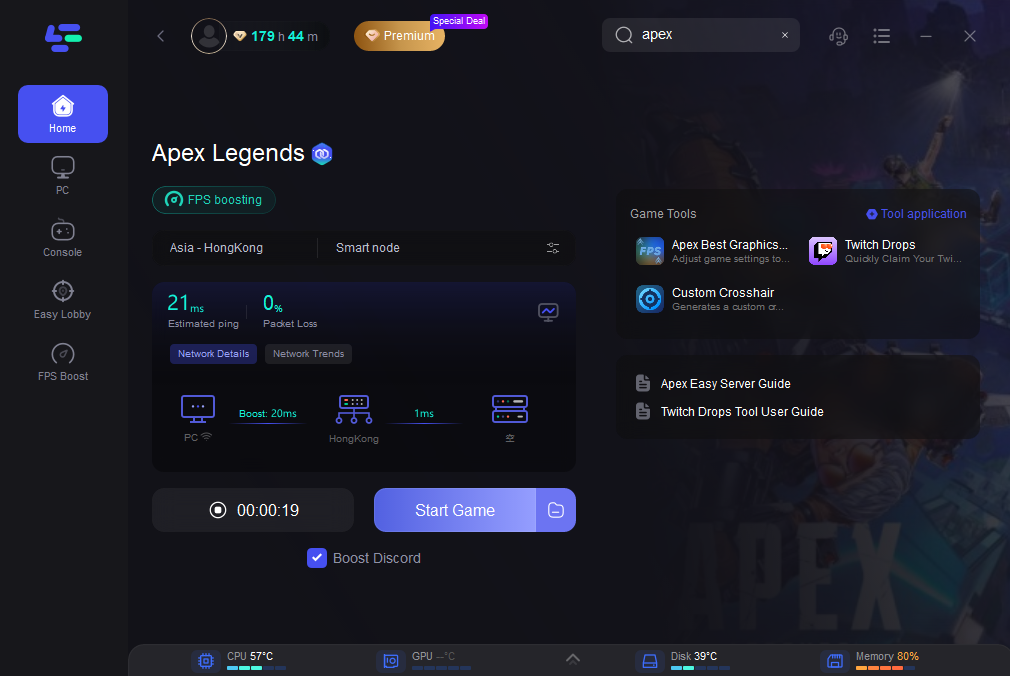 You can change the settings manually by clicking on the ones you want to turn on/off.
To accomplish this:
Step 1: Select the FPS Boost tab on the left side of the desktop.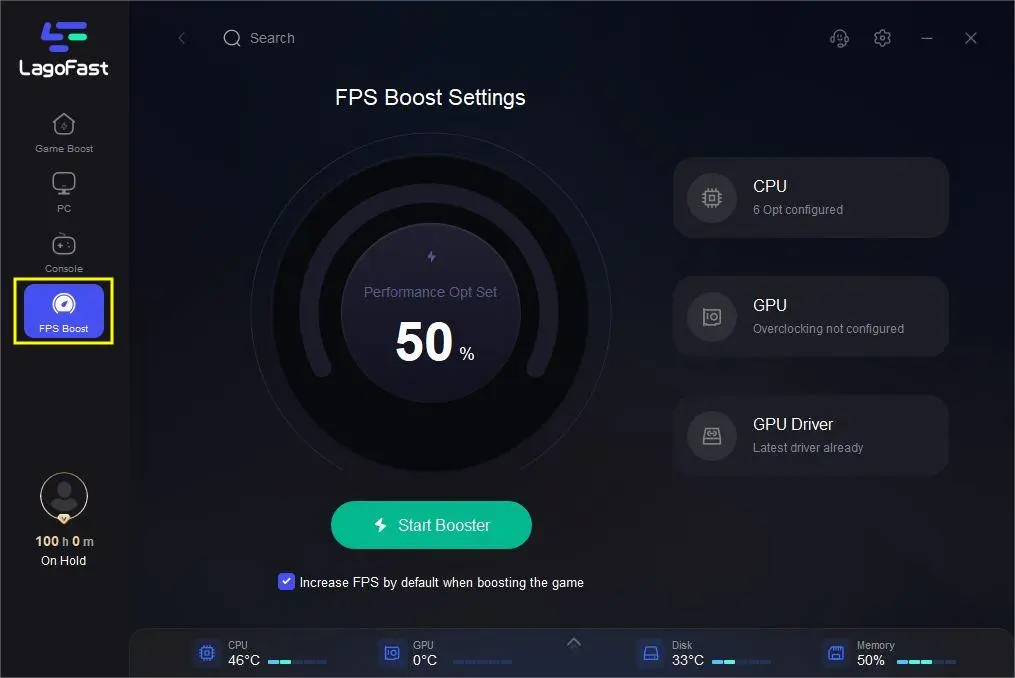 Step 2: Turn on/off the settings to boost Apex Legends FPS.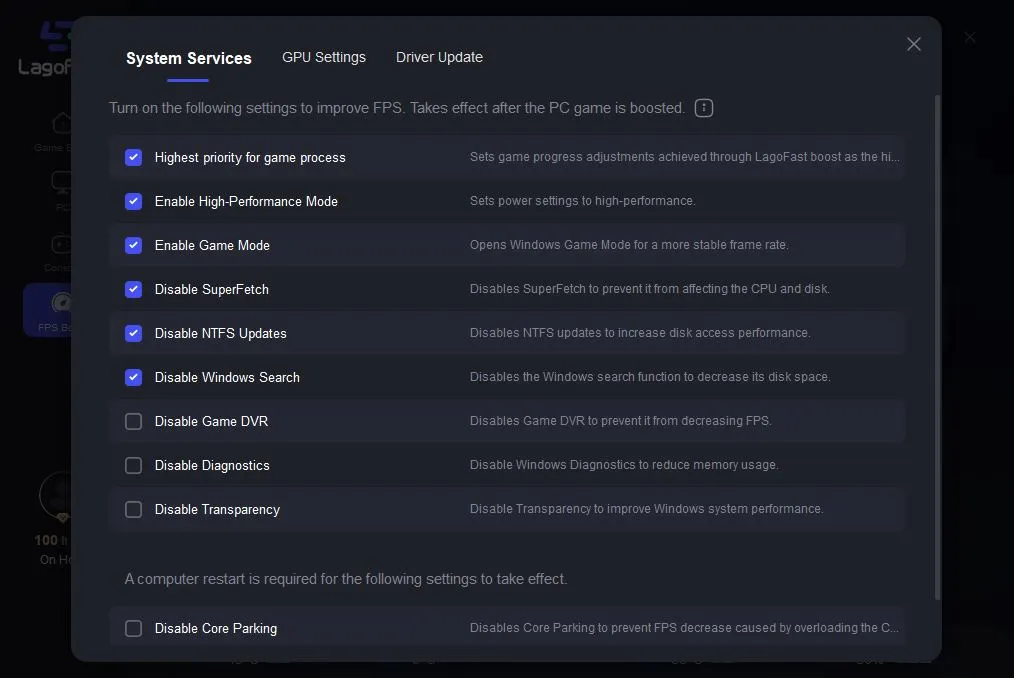 2. WTFast: WTFast uses GPN to optimize game connection data without affecting IP addresses or network settings, and it can also choose the best network route for your game using machine learning. WTFast pricing structure is as follows: $9.99/month, $28.47/quarterly. $53.95 bi-annually and $99.90 annually. However, it has some drawbacks: WTFast is less compatible, and the pricing result is not as appealing as with other GPNs.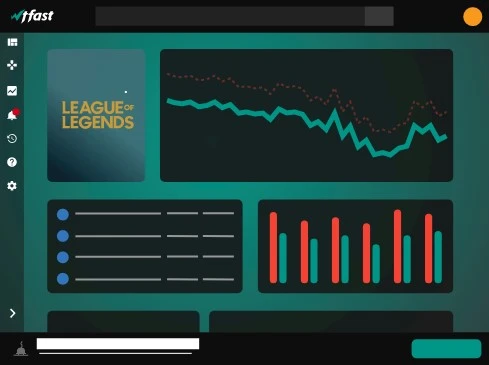 3. Game Fire 6: Game Fire 6 includes several performance improvements. It includes a variety of powerful optimization tools, including Disk Defragmenter, Application Optimizer, System Settings Tweaker, and others. Furthermore, Game Fire 6 provides real-time status monitoring reports on CPU temperature performance. It also serves as a free game booster. However, many people are unfamiliar with the Game Fire 6 interface.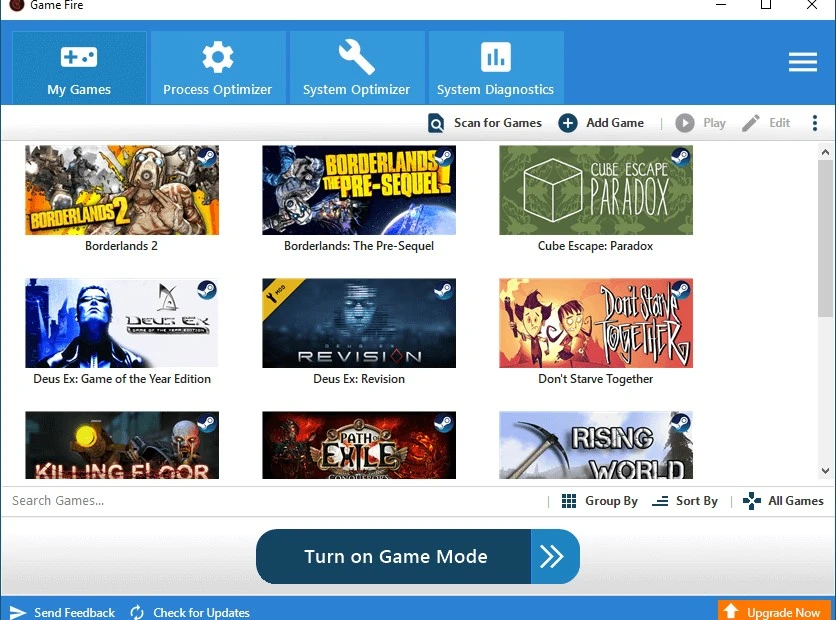 4. Wise Game Booster: Wise Game Booster aids in keeping your computer's gaming performance at its peak. Wise Game Booster allows you to close unnecessary programs with a single click, freeing up RAM and allocating system resources to the game you're playing. It also serves as a free game booster. There is a downside to everything, its system cannot keep up with evolving game features, and it does not support specific processes in "My Games," even though it is simple to access games.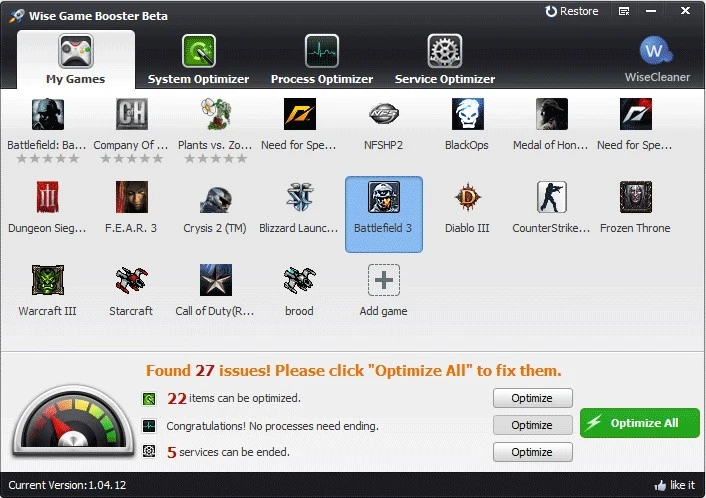 LagoFast FAQs
1.
How Does LagoFast work to improve FPS?
Using some simple LagoFast settings, you can improve system performance and make the game run faster. The results may vary due to a variety of factors such as CPU/GPU speed, monitor and graphics frame rate, current in-game scene complexity, and so on.
2.
How Do I Choose the Suitable Server and Node for Me?
The server you select in LagoFast and the one you use in-game must be consistent. It is also advised to select the node with the lowest ping.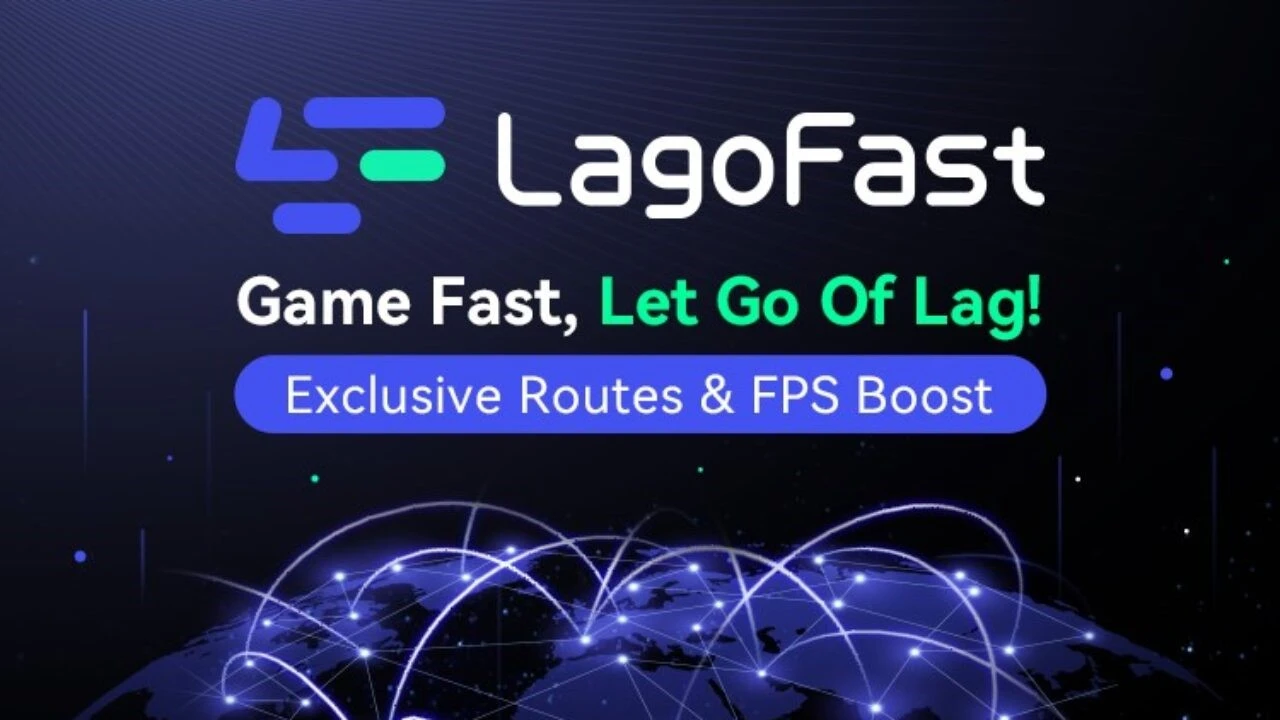 What's Game Booster?
A game booster is a piece of software that is designed to boost the performance of PC games. The game booster works similarly, primarily by monitoring memory and temperature, optimizing relevant system settings, and terminating unnecessary background applications to improve FPS. It assists users in freeing up RAM and CPU power in order to provide a lag-free gaming experience. Even if you think the game is running just fine, trying a game booster will definitely improve the performance of the game. What's more, some boosters ensure a better internet connection for you. Game VPN is also used by gamers to improve their gaming experience. Game VPN and game booster function differently, with game VPN increasing game speed by changing the location of the user's server.
Why do We Need a Game Booster?
How does Game Booster Work?
Before we get into the benefits that game booster brings to us, let me introduce how game booster works. Below, I will introduce you to two typical game booster acceleration principles.
Real-time monitoring: Game Accelerator monitors and controls game connections, CPU, GPU, RAM, disks, and motherboard in real-time to ensure the best gaming environment.

C

lose unnecessary apps: It takes a series of actions to improve the game while being monitored by the game booster. As we all know, background applications can consume CPU processing power and network data on your computer, causing the game to lag. If you have several applications running in the background and forget to close them after starting the game, the game booster will set their status to "closed." In addition, the game booster will notify you of any unnecessary background services that are not related to the game. Furthermore, some game boosters clean up RAM for further PC optimization.
What are the benefits of the game booster?
Game booster not only significantly improves PC performance for gaming needs but also offers many other attractive advantages:
It frees up system resources and RAM needed to play games on the PC.
It can reduce CPU load and help your game reduce lag or high ping.
It can boost FPS and optimize your PC so you can enjoy better gaming performance.
It allows you to overclock various components of your computer, giving you complete control over them and improving system performance.
You will be able to enjoy gaming on your business laptop or desktop which was previously only available on gaming laptops.