LagoFast can provide a useful FPS boost service to improve Red Dead Redemption 2 gaming experience.
How Can I Have A Smooth Red Dead Redemption 2 Experience?
Rockstar Games created and released Red Dead Redemption 2, an action-adventure game, in 2018. The game, a prequel to Red Dead Redemption from 2010, is the third installment in the Red Dead series. The plot takes place in a fictionalized version of the Western, Midwestern, and Southern United States in 1899 and centers on the exploits of bandit Arthur Morgan, a member of the Van der Linde gang. Players in Red Dead Redemption 2 can freely traverse the game's dynamic open environment, which is displayed from both first- and third-person views. They can also experience many game elements like Shootouts, heists, horseback riding, hunting, interacting with non-player characters, and maintaining the character's honor rating through moral decisions and deeds. What's more, there exists also the game's online multiplayer mode, which lets up to 32 players engage in a variety of cooperative and competitive game modes. Since its release, it has become the most popular game in the world. And it has obtained the " GAME OF THE YEAR AWARD" and "OUTSTANDING STORY-RICH GAME" on steam. So don't hesitate, to enjoy your fantastic and unforgettable second life in Red Dead Redemption 2!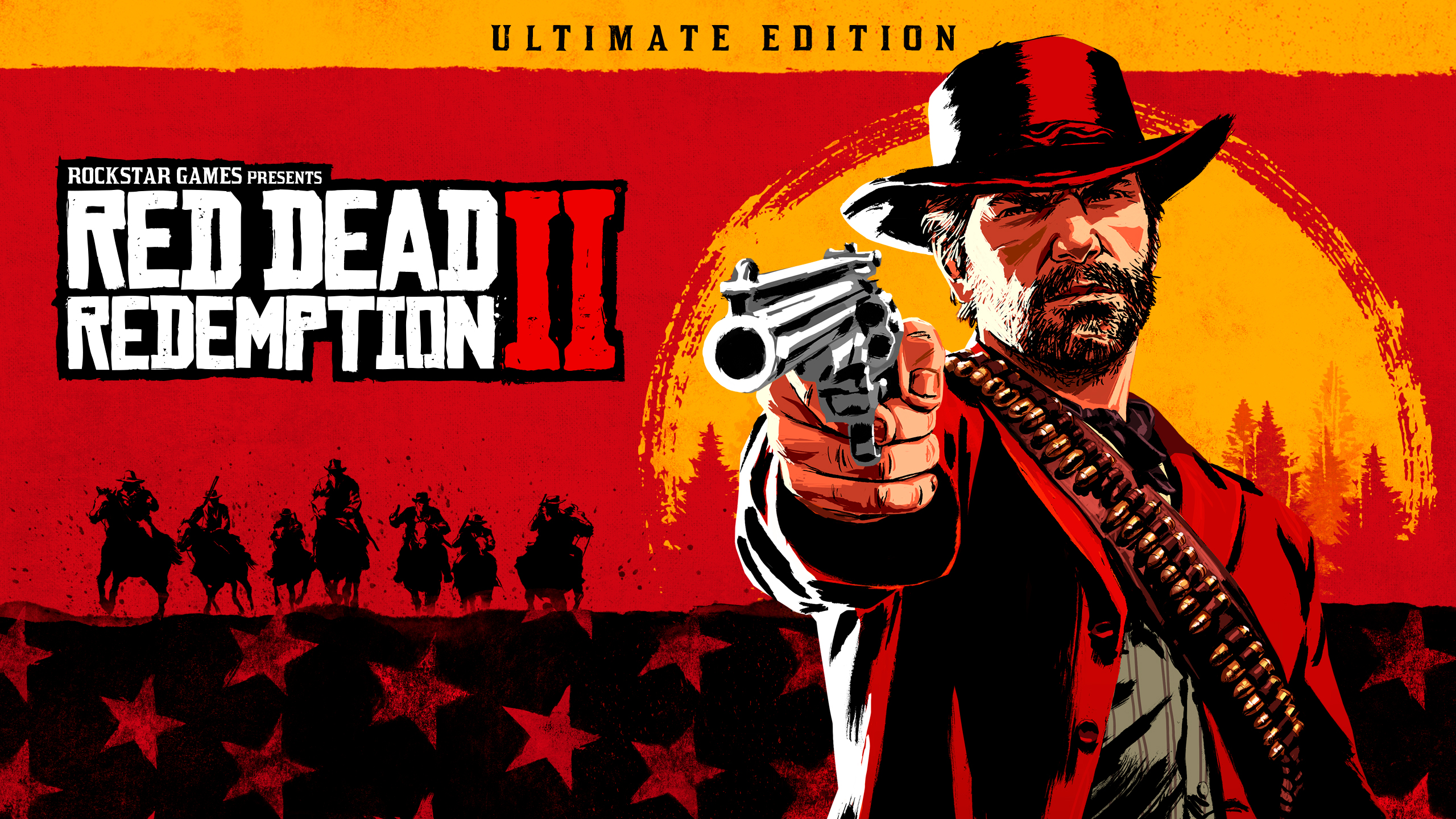 But I think, you certainly don't want to experience low FPS, lag, crashing, and other loading issues when you are playing Red Dead Redemption 2. And these issues are very common and almost all of the Red Dead Redemption 2 players have encountered the problems mentioned above. Therefore, using the Red Dead Redemption 2 FPS booster LagoFast is a good way to ensure your smooth gaming experience. This Red Dead Redemption 2 FPS booster LagoFast could provide you with comprehensive services to avoid these annoying problems. The features of the Red Dead Redemption 2 FPS booster are as follows:
Provide custom options to boost Red Dead Redemption 2 FPS
Fix Red Dead Redemption 2 low FPS issue
Avoid Red Dead Redemption 2 network crashing
Offer servers to choose from with low ping
Close automatically unnecessary background applications
Fix the issue of Red Dead Redemption 2 not loading
Ensure Red Dead Redemption 2 players HD and super-smooth visuals
How Can I Use LagoFast?
As a wonderful VPN, LagoFast can help you solve all kinds of problems. In the next, I will show you how to use the product.
Step 1: Download LagoFast.
Step 2: Search the game in the Search Box and select it in the search result.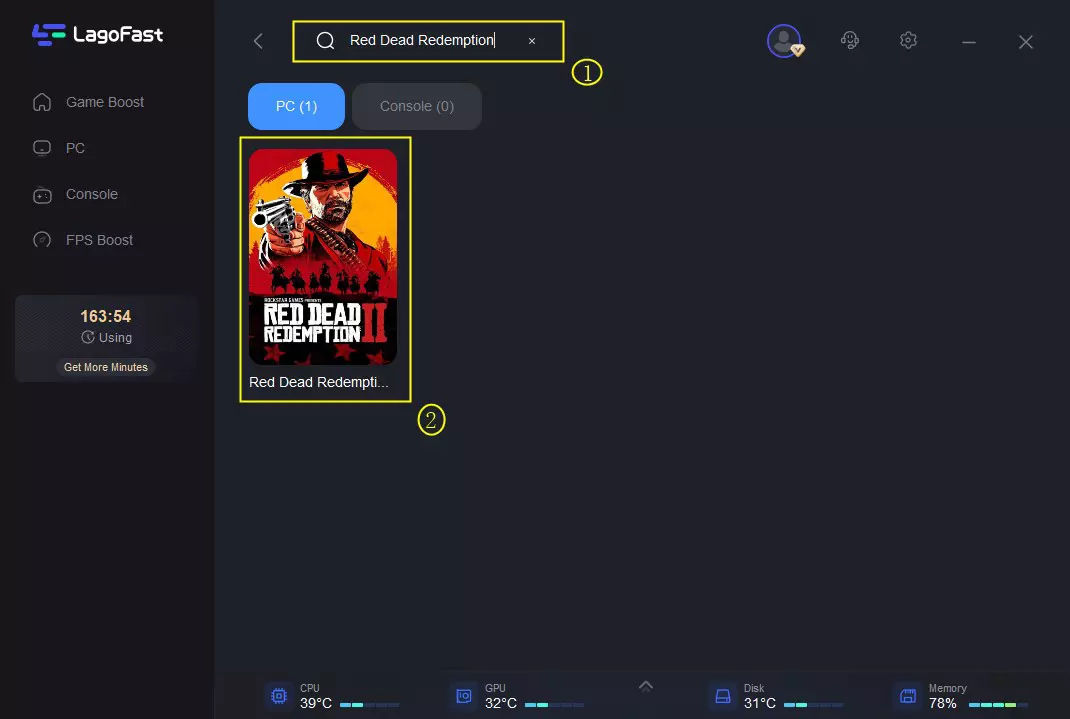 Step 3: Choose the server.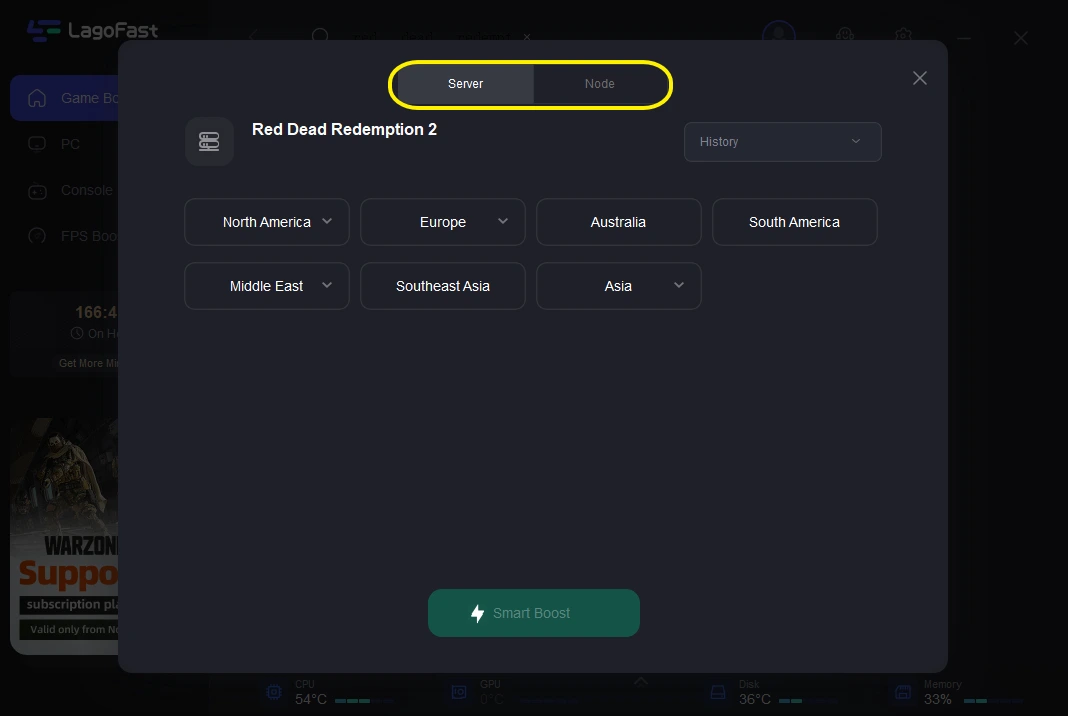 Step 4: Click on the Boost button and start boosting. Here, you can see your real time ping & packet loss rate.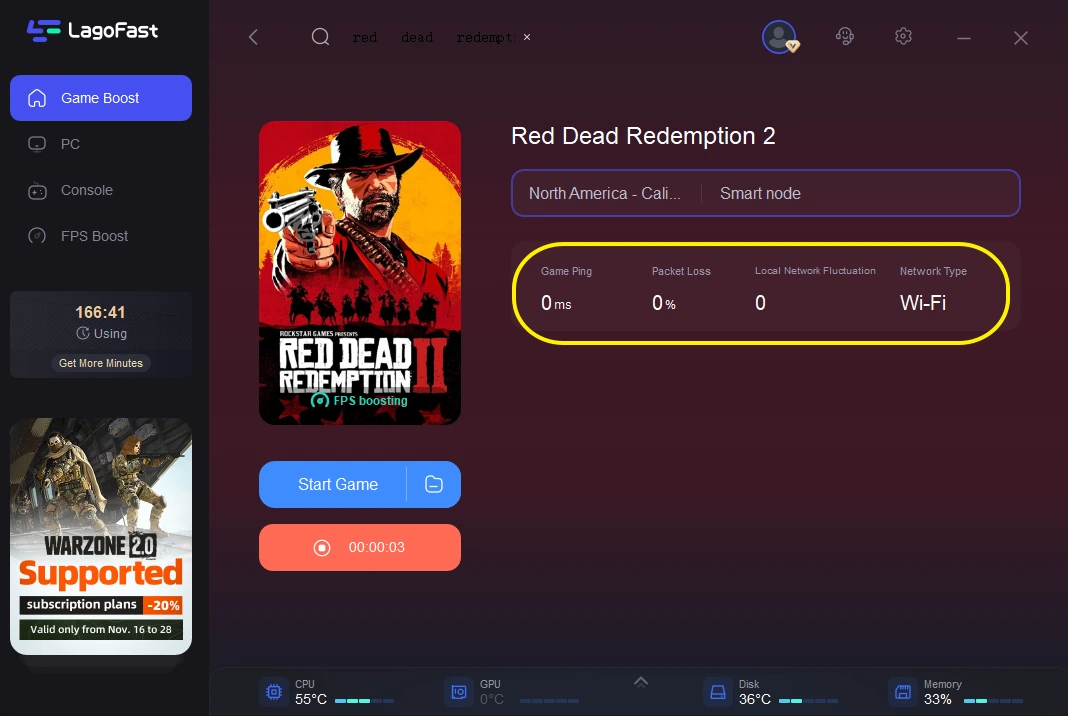 Video Of How To Use LagoFast