LagoFast provides players with stable server lines and reduces lag on Minecraft.
Minecraft Overview
Minecraft is a landmark sandbox game, one of the world's rarest and most creative games. In this game, players can use a variety of props to build or survive. By providing players with an endless environment to explore at their leisure, this game has become a global hit. However, if you encounter lagging Minecraft when playing, I'm afraid it's a source of pain for all the gamers. Download the Minecraft latency reducer & booster by LagoFast to reduce lag on Minecraft!
Minecraft is a sandbox video game pioneered by Marcus Alexei Poisson and maintained by Mojang Studios, part of the Microsoft Xbox game studio. The game is based on the theme of players freely creating and destroying different kinds of cubes in three-dimensional space. Players can complete the game's achievements (progress) in single-player or multiplayer mode by destroying or creating exquisite buildings and art, or collecting items to explore the map. Many players will use a Minecraft latency reducer & booster to avoid lagged Minecraft before opening the game.
The online game focuses on allowing players to explore, interact and change a world that dynamically generates many 1m³-sized cubes. In addition to the cubes, the environment includes flora, fauna, and items. The game includes, but is not limited to, gathering ores, fighting hostile creatures, and collecting various in-game resources to synthesize new cubes and tools. An open game mode allows players to create buildings and artwork on a variety of multiplayer servers or single-player maps. Other content includes Redstone circuits for logic and remote control, mine carts and tracks, and access to a mysterious world called the underworld. Ultimately, there is the option to travel to a dimension called the Endlands and defeat the Shadow Dragon.
Let's Fix It: Minecraft Latency Reducer & Booster
How to reduce lag on Minecraft? For all online games, high ping, server lag, and package loss are hard to avoid. Fortunately, the good thing is that LagoFast is a professional Minecraft latency reducer & booster, and the booster can solve almost all the latency problems we may experience in the online game, such as lagged Minecraft.
Technically best Minecraft latency reducer & booster
Reduce Minecraft ping effectively
Get rid of Minecraft packet loss
Fix jitter or latency flux in 1000+ PC games
Provide boosting service for over a million PC gamers worldwide
Make Minecraft run smoother
Say goodbye to lagged Minecraft
Reduce lag on Minecraft
Boost FPS in Minecraft
How Can I Use LagoFast in Minecraft?
As a wonderful VPN, LagoFast can help you solve all kinds of problems. In the next, I will show you how to use the product.
Step 1: Download LagoFast.
Step 2: Search Minecraft in the Search Box and select it in the search result.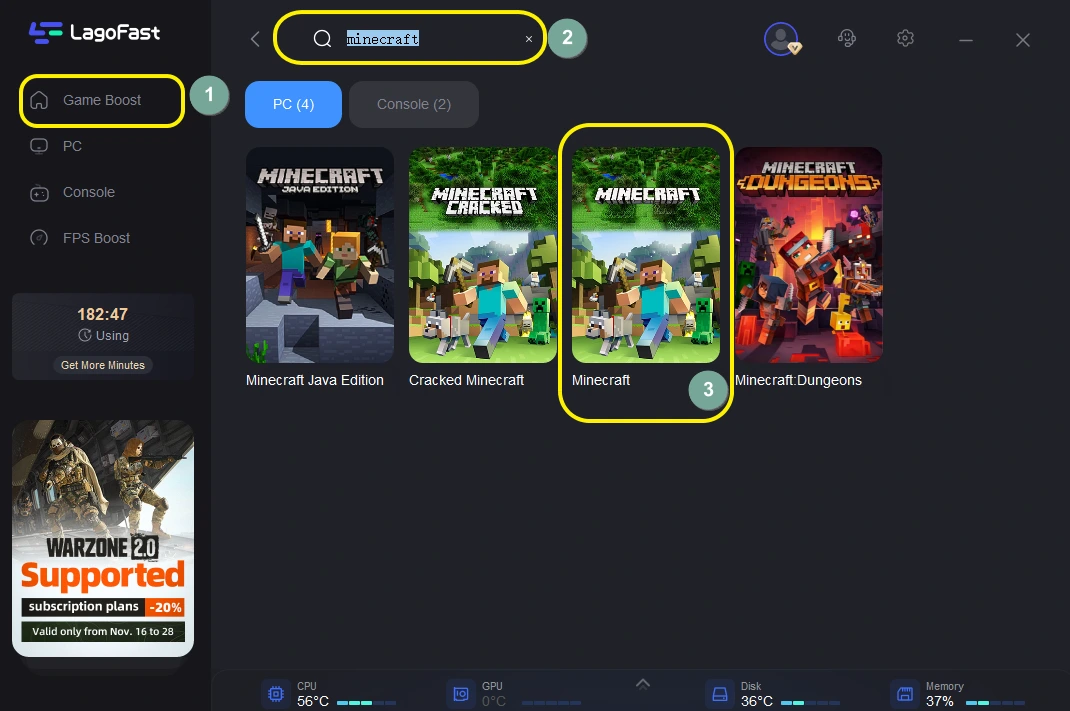 Step 3: Choose the server.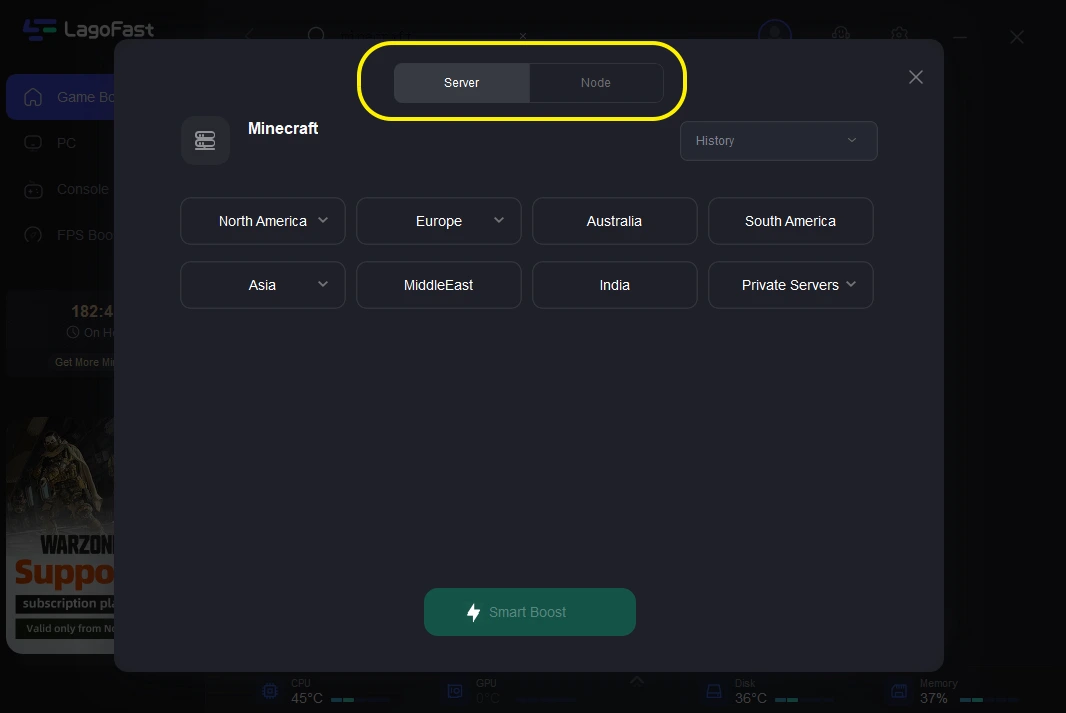 Step 4: Click on the Boost button and start boosting. Here, you can see your real-time ping & packet loss rate.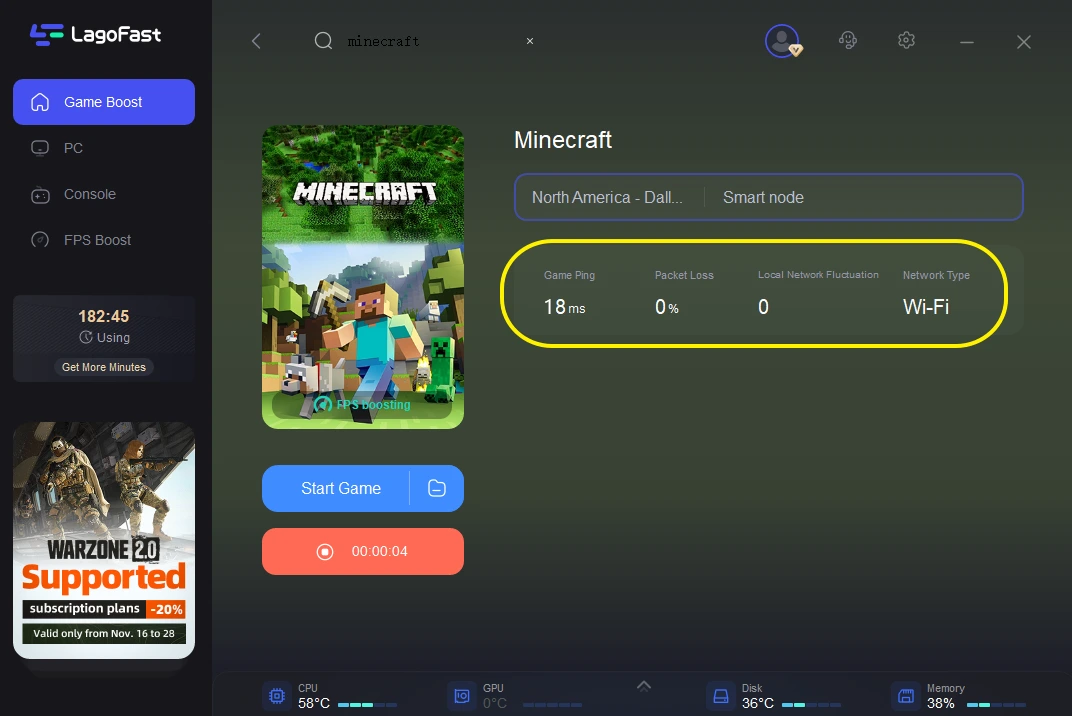 ---
Video of How to Use LagoFast