Call of Duty: Modern Warfare III, the twentieth game in the Call of Duty series, is a first-person shooter video game developed by Sledgehammer Games and published by Activision. It is expected by CoD fans from all over the world. However, CoD MW3 Multiplayer always gets "Lost Connection to Host" after MW3 campaign early access, even MW3 campaign early access not working, always can't access the MW3 2023 Campaign.
This is one of the more disappointing common issues that the community seems to be facing right now. When there is an official maintenance for Call of Duty servers themselves, all players can't connect to Modern Warfare 3. But you have plenty of solutions to try to temporarily deal with this network connection issue.
Best Settings For MW3: Optimise Your Gaming Experience >
What causes Lost Connection Steam/Host in MW3
There are numerous reasons leading to Modern Warfare 3 connection failure, including computer hardware problems and software bugs. The following are some of the common causes:
Improper router location: If you are using wireless connections and meet frequent connection errors, you may think about an improper router location, or you are far away from the signal. When your router is not powerful enough to cover the whole space, you can experience speed drops. Besides, the WiFi signal may be being interfered with by your home's furniture and walls, so choose a better place if you require a high internet speed.
Poor DNS server: Domain Name Server (DNS) is a kind of service supplied by your Internet Service Provider (ISP). By DNS, you use the internet to connect with the outside world. A DNS works to recognize and map IP addresses, and finally to translate them into identifiable domain names. When your DNS is weakened by heavy traffic, it will slow down your internet.
Data cap: IPS provides users with a certain amount of data monthly according to their data plan. If you choose a high-cost plan, of course, with more data and better service offered, you may seldom experience a data cap. However, an average plan or the below often means that you have a data cap at the end of every month, which restricts your data usage.
Related Article: Fix Cannot Change Controller Settings MW3 >
3 ways to fix MW3 after Modern Warfare 3 connection failed
The most common reason why you can't connect to Modern Warfare 3 is that your network connection is not stable enough to support the game. You can start by boosting your Internet connection.
1. Simple Way - Fix MW3 campaign connection issue
The simple solution is to open the game Modern Warfare 3 and use a name change token.
Step 1: Enter the game and select "Account and Network" - "Activision Account" - "Change Display Name";
Step 2: Go to Activision's official website and choose to log in - After logging in to your account, you will be asked to enter your name again - After completion, just re-enter the game.
2. Check your Internet connection and Boost your Internet connection
There are many ways to boost your Internet connection on your computer. They are not easy to find. But I can tell you several steps to do it.
Step 1: Reset your network devices to make sure your router hasn't become flooded with data.
Step 2: Release and renew your IP and flush your DNS to resolve any network conflicts.
Step 3: Update your drivers and operating system to resolve any compatibility issues.
Step 4: If you're using a wireless connection, optimize your internet connection to rule out a connection issue.
Step 5: Close all other applications to resolve software conflicts and free up resources.
By following the steps, your Internet speed should be increased significantly. And it can help you after Modern Warfare 3 connection failed.
3. Turn off Windows Defender Firewall
Turning off the Windows Defender Firewall is a risky move but might work well for you when you can't connect to Modern Warfare 3 because it might be blocking your access to the game's server. However, on the other hand, your computer could get exposed to potential danger. You should use this method meticulously.
Step 1: Open the Control Panel app by searching for it in the Start Menu.
Step 2: Navigate to Windows Defender Firewall by going to System & Security, then Windows Defender Firewall.
Step 3: To disable Windows Defender Firewall, click on the Turn Windows Defender Firewall on or off option on the left-hand side.
Step 4: Select the Turn off Windows Defender Firewall option under both Private and Public network settings.
Step 5: Click OK and see if that resolves the issue.
4. Download Game Booster to fix the Steam connection error
Speaking of boosting your Internet connection, you might know that you need an acceleration tool. LagoFast is such a revolutionary and helpful game accelerator that can really make a difference. LagoFast is the best game booster for Modern Warfare 3 when you encounter many annoying in-game issues, such as lagging, high ping, low Fps, stuttering, game crashing, and any connection failed problems. Being a powerful and professional tool, LagoFast has developed a self-created data transfer protocol supported by a bevy of strong technicians and teams. With more than 8 years of experience in game boosting, a great number of users have shown their preference for this product because of its high quality and low price.
Here are the benefits of LagoFast:
Easily fix Modern Warfare 3 connection and other lag issue in-game issues
More than 8 years of experience in game-boosting
Free trial, making the right decision
Exclusive routes in more than 60 countries
Start to fix the connection that failed in Modern Warfare 3 with four steps:
Step 1: Download LagoFast from its official website.
Step 2: Search for Modern Warfare 3 on the top of the interface.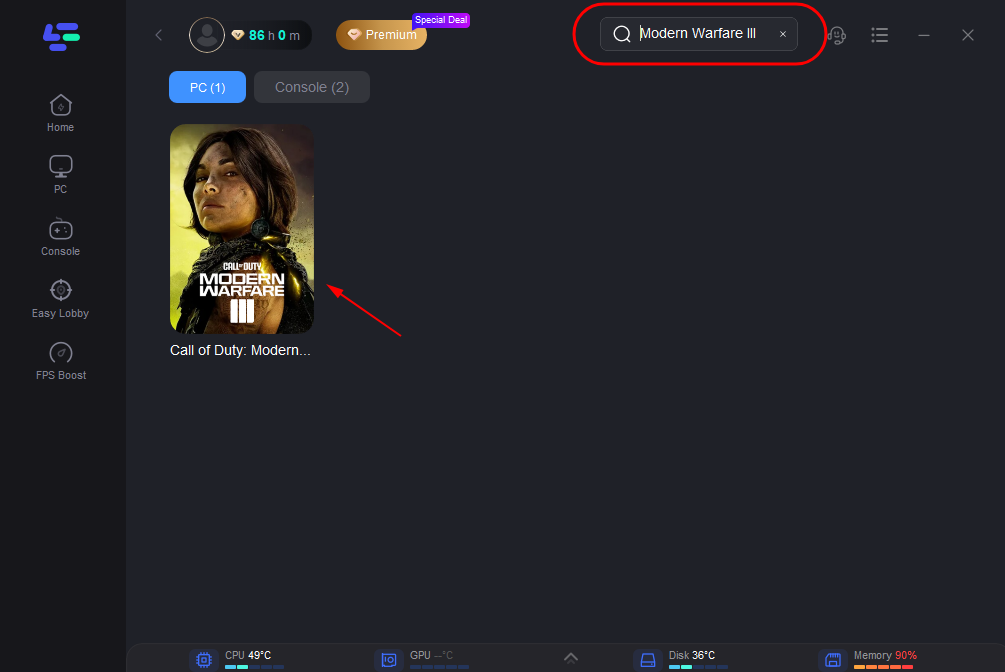 Step 3: Choose the server and node.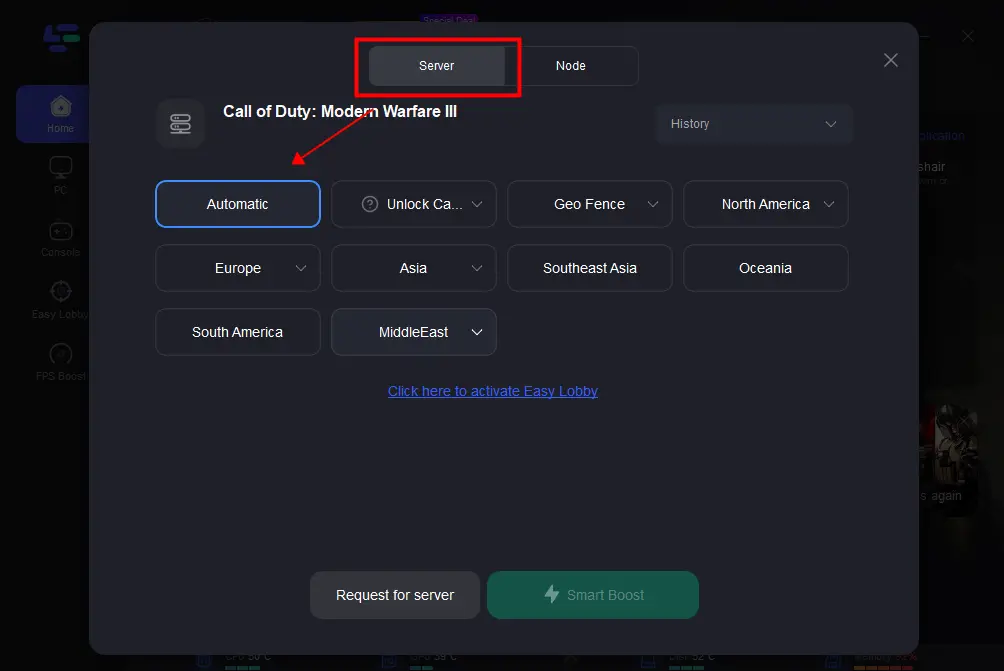 Step 4: Enjoy your game!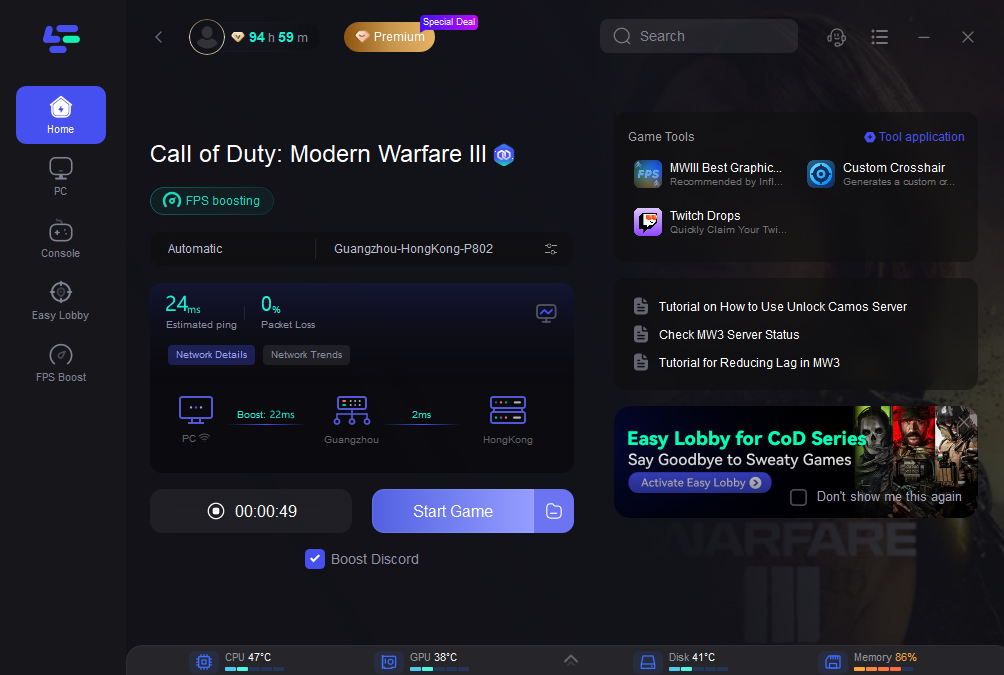 5. Reach out to Activision Support
If the above solutions don't resolve your connection problem, then the next best thing to do will be to reach out to Activision Support for official support.
Conclusion
After my introduction, you must be intrigued by this revolutionary game booster You can also fix Modern Warfare 3 crash, Modern Warfare 3 stuttering, and Modern Warfare 3 high PING if you follow the above steps. Try it now!If you are looking for ways to fix game issues after the Modern Warfare 3 connection failed, this blog is exactly what you should read. I believe that LagoFast is the easiest and most convenient way. It is worth a try!