Diablo 4 is an upcoming action role-playing game developed and published by Blizzard Entertainment and is the fourth main installment in the Diablo series, which is scheduled for release on June 6, 2023.
Re-playable procedurally generated dungeons and character building that emphasizes loot will both be present, along with novel elements like an open world and player versus player (PVP) interactions. Barbarian, Sorceress, Druid, Rogue, and Necromancer are the five playable classes that have been revealed, and they have all previously featured in the series. It has a more "realistic" narrative than Diablo III. Politics, kings, or any other high-fantasy subject are not central to the story; rather, the plot centers on the common people of Sanctuary. Players control their character as they complete quests and engage in battle in the Sanctuary universe as the exiled Lilith reappears to cause mayhem.
No one wants to lose the opportunity or even fail in the battle because of Diablo 4 high ping or lag problems. To solve Diablo 4 high ping and lag, you can try LagoFast, a professional Diablo 4 Ping Reducer. For the fps drop problem and packet loss that often occurs in Diablo 4, LagoFast can also solve it well.
Part 1: Best Diablo 4 Ping Reducer
Part 2: How Does Diablo 4 Ping Reducer Work
Part 3: Other Suggestions to Reduce Ping in Diablo 4
The Best Diablo 4 Ping Reducer
The best Diablo 4 ping reducer for lower ping in 2023 is LagoFast. It is simple for gamers to use. Additionally, it can speed up transfer by using a special data transmission technique. LagoFast also has international nodes and exclusive routes to address the network connection, which will greatly reduce the time spent on transmission and also improve the network connection. Before starting the game, you could select these nodes depending on your geological location. Thirdly, LagoFast can help you increase your gameplay FPS in addition to lowering ping. To enhance computer performance and allow HD and high FPS gaming, gamers could simply change the settings. Additionally, LagoFast has introduced the plan per minute charging technique to accommodate various needs. As a result, if you regularly play games, you can join the club and pay a monthly fee. Additionally, if you don't regularly play video games, you can select the less expensive plan-per-minute option. You are not charged if you choose to pause LagoFast's ping reduction service while you are not playing games. And LagoFast might be the most affordable option for regular monthly and yearly plans when compared to other effective ping reducers.
Specifically, LagoFast has the following features:
Simple to use

Global nodes and specialized paths to enhance connection

Diablo 4 Ping decrease and FPS boost combined

Charged in full for each minute, month, quarter, and year.

Choose between Pay-per-minute Plan or monthly Subscription Plan

Show the latency test in real time.

Support for 1000+ well-known online games, such as Fortnite, and Call of Duty Warzone 2.
Step 1: Click the Free Trial button to download the LagoFast client and experience Diablo 4 ping boost service.
Step 2: Before running Diablo 4, you just need to find Diablo 4 in LagoFast and click the Boost button.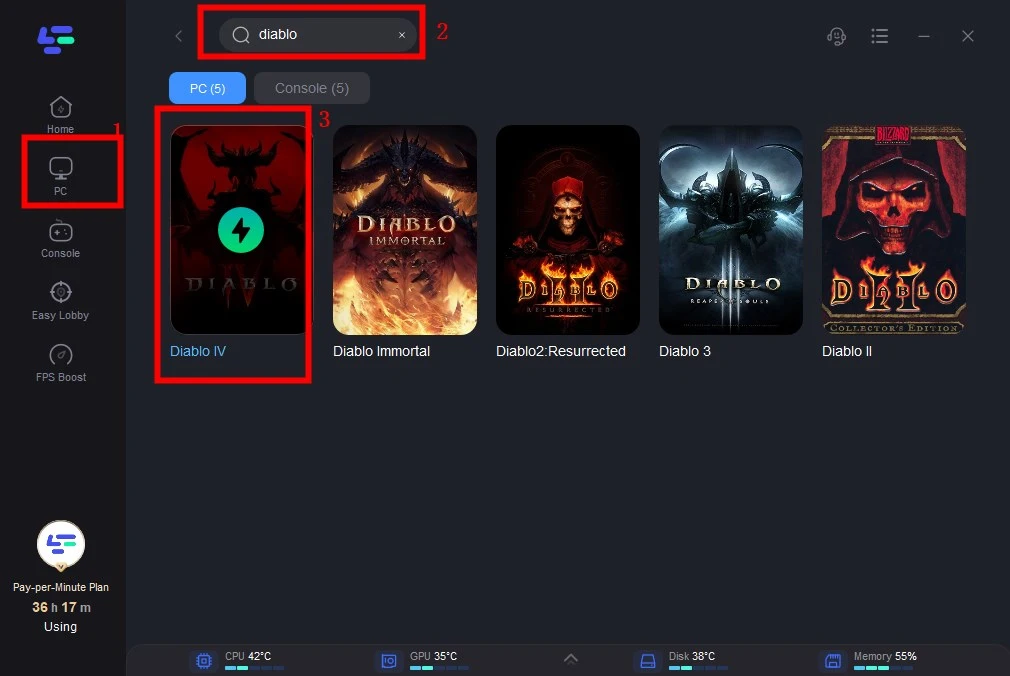 Step 3: And then you can click the FPS boost button to change settings to improve your game FPS based on your specific requirements.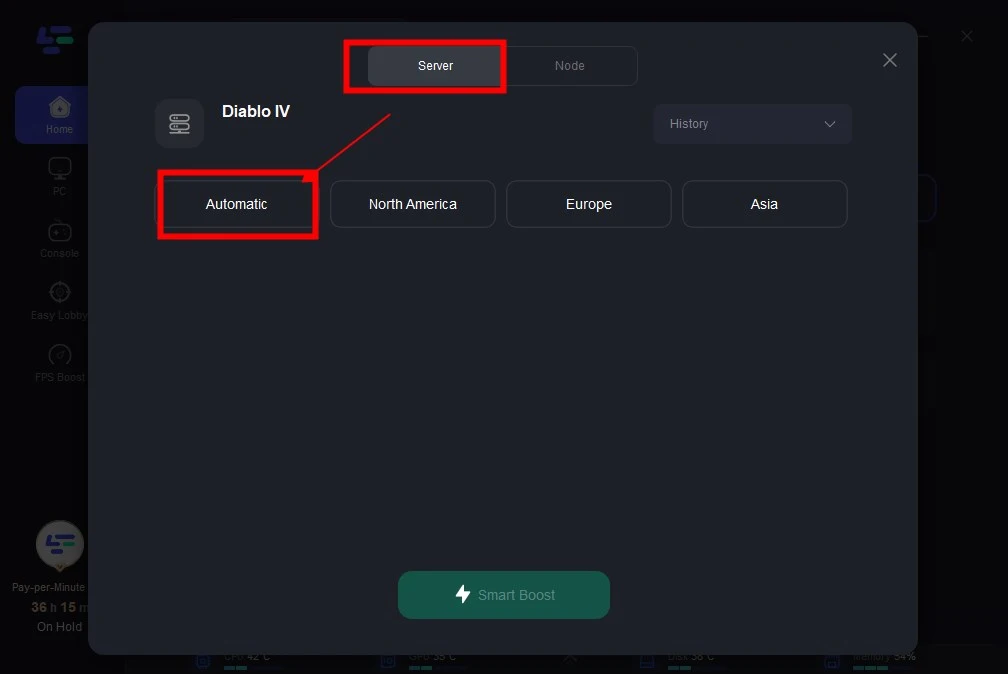 Step 4: After this easy click, LagoFast game booster will improve your game internet connection, decrease high ping and reduce lag issues in the background. FPS Boost activates at the same time.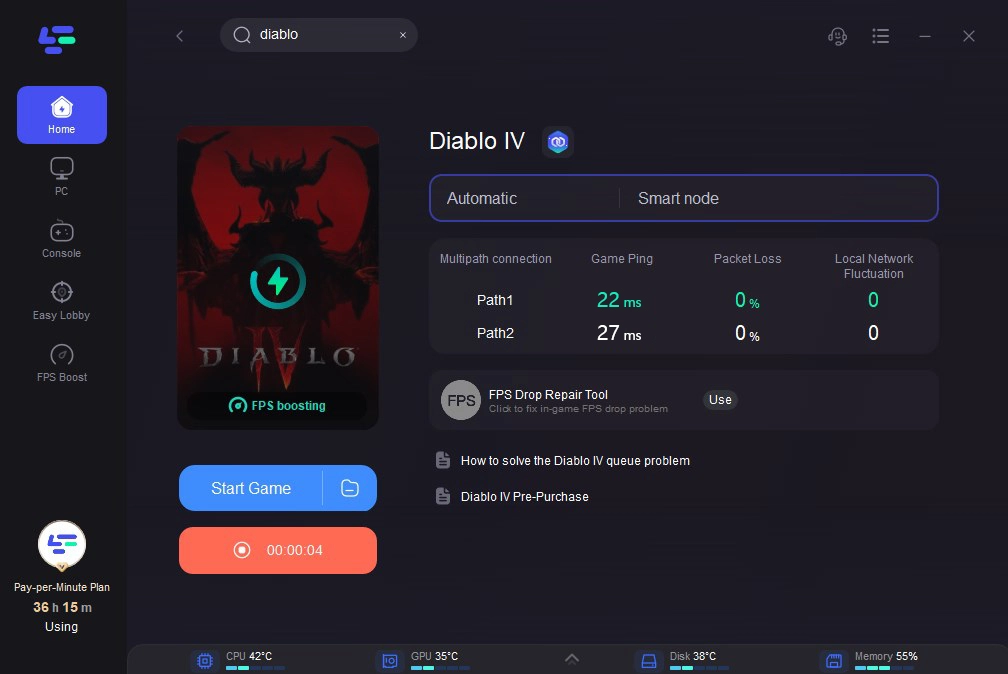 How Does Diablo 4 Ping Reducer Work?
I believe that before we can comprehend what a ping reducer is, we need to understand what ping is. Ping is the term used to describe the amount of time it takes for data to travel between your machine and the game server. It is measured in milliseconds. And game latency and ping are inextricably linked.
In general, faster data transfers result in reduced ping and more smooth game play. If you have a ping lower than 50, it's a fairly good one. If your ping fluctuates between 50 and 100, it's typical and nothing to worry about. However, you should be worried if your ping is greater than 100. You should take action to lower your latency when it reaches 100. Additionally, you'll detect any latency. Imagine you're playing a shooter game and you shoot your opponent, but two seconds later, your opponent discovers you and severely hurts you. A ping of 200 or higher renders your game useless.
A connection with few ping spikes and dropped packets may be more crucial for online gameplay, even though low ping is preferred. Ping spikes occur when your ping abruptly increases to a very high level, such as over 200, and you feel like someone hit you in the body, losing control of your limb.
And then, a Diablo 4 ping reducer is software that optimizes your network traffic for gaming purposes. It is done by redirecting your Internet traffic to a different server that is closer to Diablo 4 server.
Other Suggestions to Reduce Ping in Diablo 4
1. Turn off all idle processes and software
The running of programs and applications is one of the many things vying for our computer's focus. You can completely focus your device's concentration on your game by forcibly closing these distractions. Because fewer programs and applications depend on internet bandwidth, you're also reducing it. If you aren't live-streaming yourself, it's normal to think about closing Spotify, Zoom, Netflix, and even Twitch.
2. Temporarily deactivate upgrades
A great method to maintain your cybersecurity and make sure your devices are operating at their best is to enable automatic software and application updates. However, these upgrades have the potential to use up a lot of your computer's resources. In order to prevent updates from affecting your gameplay, you might want to briefly disable updates if you're experiencing lag in video games. Just keep in mind to turn them back on after you press the day's pause option.
3. Check the state of Diablo 4 server
If there are any server problems, you can visit Diablo 4's official website. Or go to relevant game forums. If it is a game server problem, you are definitely not alone. There must be many people who have the same problem as you. Just keep an eye out for official news.
4. Make adjustments to your device setup
The high for gaming may also be influenced by the computer's efficiency. Verify that your computer complies with the system prerequisites. The advised system prerequisites can also be tried to be met.
All in all, this post shares the best way to fix Diablo 4 high ping and how Diablo 4 ping reducer works. By the way, it tells users other suggestions to boost Diablo 4.