MW3 (Call of Duty: Modern Warfare III) is a first-person shooter video game developed by Sledgehammer Games and published by Activision. It is the twentieth game in the Call of Duty series.
It is very common that you run into different kinds of game issues when you play games. MW3 is not an exception. You may experience Modern Warfare 3 FPS drop sometimes. This kind of situation occurs for various reasons.
Part 1. Why do I have Modern Warfare 3 Low FPS
Modern Warfare 3 FPS drop may happen because your network connection is not stable enough to support the game or the performance of your computer is not strong enough. Although the reason may vary from one to one, we can still provide you with some solutions.
Related Article: Fix Cannot Change Controller Settings MW3 >
Part 2. How to Fix Modern Warfare 3 FPS Drops & Stutter Issues
Solution 1. LagoFast FPS Booster to boost FPS MW3
LagoFast is an excellent game accelerator and also a Modern Warfare 3 FPS booster. LagoFast enables higher FPS by unlocking the full potential of CPU & GPU, and providing the Best Graphics Settings in one click, to achieve a smoother gaming experience.
LagoFast can deal with other game issues like lag spikes, packet loss, high Ping, crashing and stuttering. It can provide easy lobby service for some games and even increase the download speed! In a word, with the help of LagoFast, you don't have to worry about all MW3 issues.
The reason why LagoFast can fix all those game issues is that it has a unique built-in data transfer protocol and worldwide exclusive routes. In the field of acceleration tools, LagoFast is definitely the professional one!
LagoFast is easy to use. It has a user-friendly interface. Within only a few steps, you can fix the Modern Warfare 3 FPS drop.
Follow the steps below to start boosting FPS in one click.
Step 1: Download LagoFast from our official website.
Step 2: Click the FPS Boost section > Click Start Booster and "Increase FPS by default when boosting the game."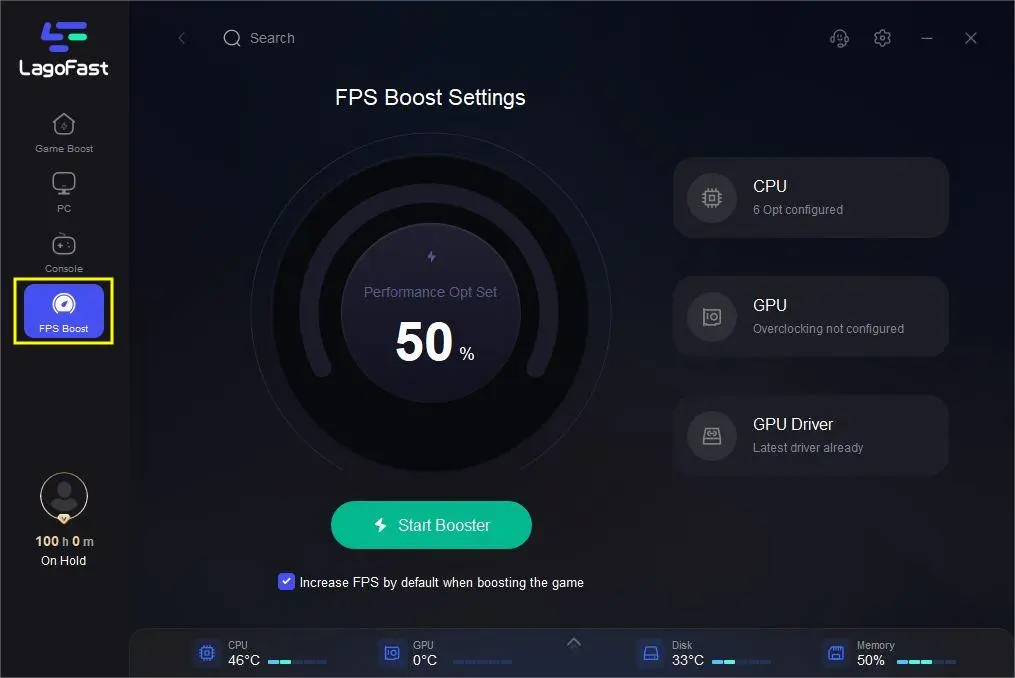 Step 3: Search for Modern Warfare 3 or any other game you want to boost on the top of the interface.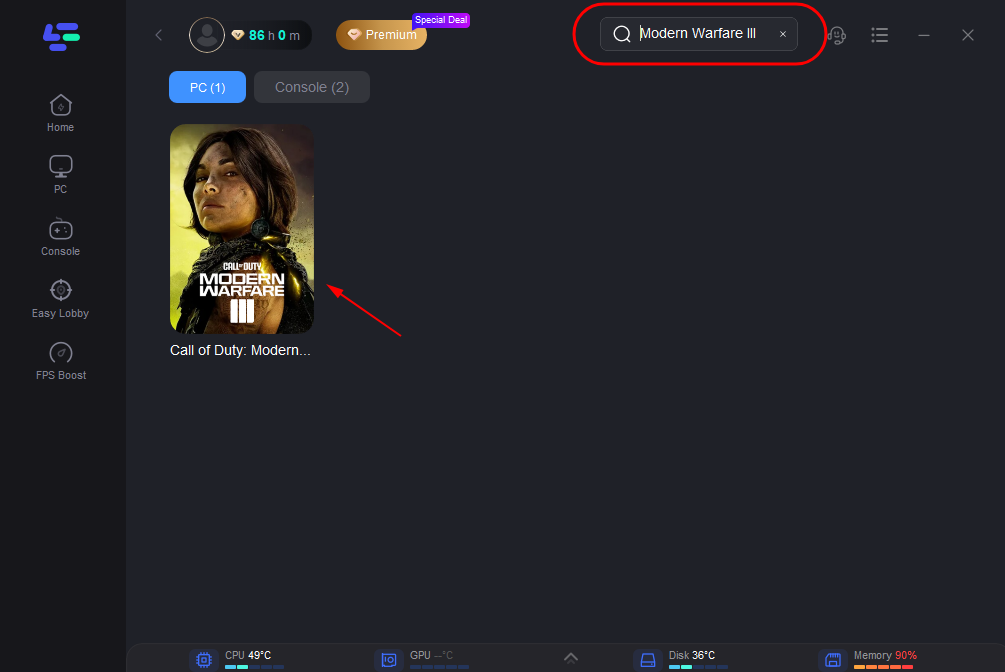 Step 4: Choose the server and node > Enjoy your game with boosted FPS!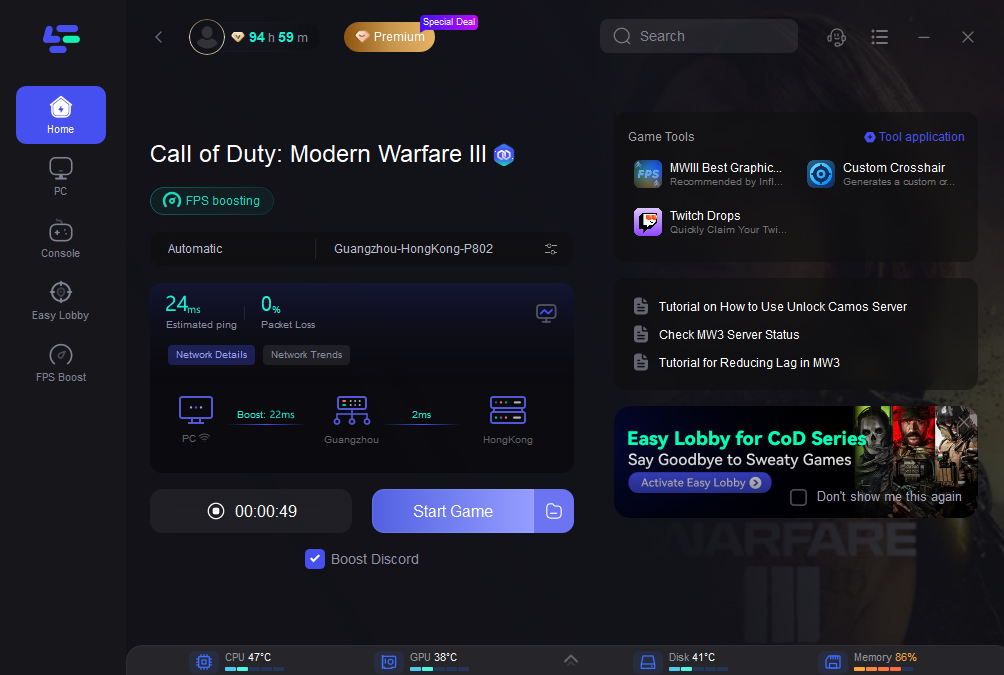 LagoFast enables you to fix all kinds of game issues anytime, anywhere. It supports more than 2000 online games. Besides, it covers over 60 countries and more than 150 cities. This means that no matter what kinds of games you love, you can always boost them in LagoFast.
Solution 2. Close all the irrelevant background services
Sometimes unnecessary services, software or programs running on your computer may increase the burden on your computer and make it unable to unleash all its potential, thus causing Modern Warfare 3 low FPS. You can try to close them all.
Step 1: Press Win and X, or Alt, Ctrl and Del to go to your task manager.
Step 2: Go to the Processes tab.
Step 3: Click on an irrelevant service and then click on End Task.
Step 4: Similarly, kill all other unnecessary background services.
Step 5: Relaunch Modern Warfare 3.
By following the above steps, the burden on your computer and your Internet should be reduced. You can try to play MW3 again and see if the issue persists. Hopefully this method will help you with Modern Warfare 3 FPS drop.
Solution 3. Turn game mode on
Some of you may not know that your computer has a game mode. You can turn it on before you want to play MW3. This function will greatly improve the performance of your computer and boost your FPS in MW3.
Step 1: Press the Start button.
Step 2: Type Settings in the search box.
Step 3: Then select Settings.
Step 4: Choose Gaming, then click on Game Mode.
Step 5: Turn Game Mode On.
By doing so, the performance of your computer should be enhanced greatly. If you are using a laptop, remember to keep it charged otherwise you could not turn on game mode. Once you turn on game mode, you will feel like you have a new powerful computer!
Conclusion
In this article, we provided you 3 ways to fix Modern Warfare 3 FPS drop. Among these methods, I believe that LagoFast is the most efficient and convenient one. Try LagoFast now! Such an acceleration tool which can deal with all game issues is worth a try!