XDefiant is a free-to-play, first-person arena shooter where you compete to be the best in fast-paced online matches. It is scheduled to release in the summer 2023. During the closed beta test of XDefiant, some gamers reported that they got serious FPS dropping on PC. Most of them said that the FPS dropped when they died in the battle. Why could this happen and how to fix low FPS issues in XDefiant? Check out the following guide and get the answers.
Why I Got FPS Drop in XDefiant?
XDefiant FPS dropping can be caused by some hardware reasons or your game-related settings. It is related to your system conditions, graphics card status and the integrity of the files. As a result, you should consider these consequences and get a solution to XDefiant FPS dropping issues on PC.
How to Fix FPS Dropping or Low FPS Issues in XDefiant?
Method 1. LagoFast - Ultimate FPS Booster for XDefiant
No matter whether the FPS dropping in XDefiant is caused by the hardware status or the integrity of the game itself, you can try LagoFast to boost FPS and fix any FPS-related issues on your PC. The FPS boost function will help optimize your CPU status, update the graphics driver, overclock the graphics card and enter the gaming mode. With just a few steps, the FPS drop issue will be fixed easily.
Step 1. Download LagoFast and sign in;
Step 2. Search "XDefiant" and click it;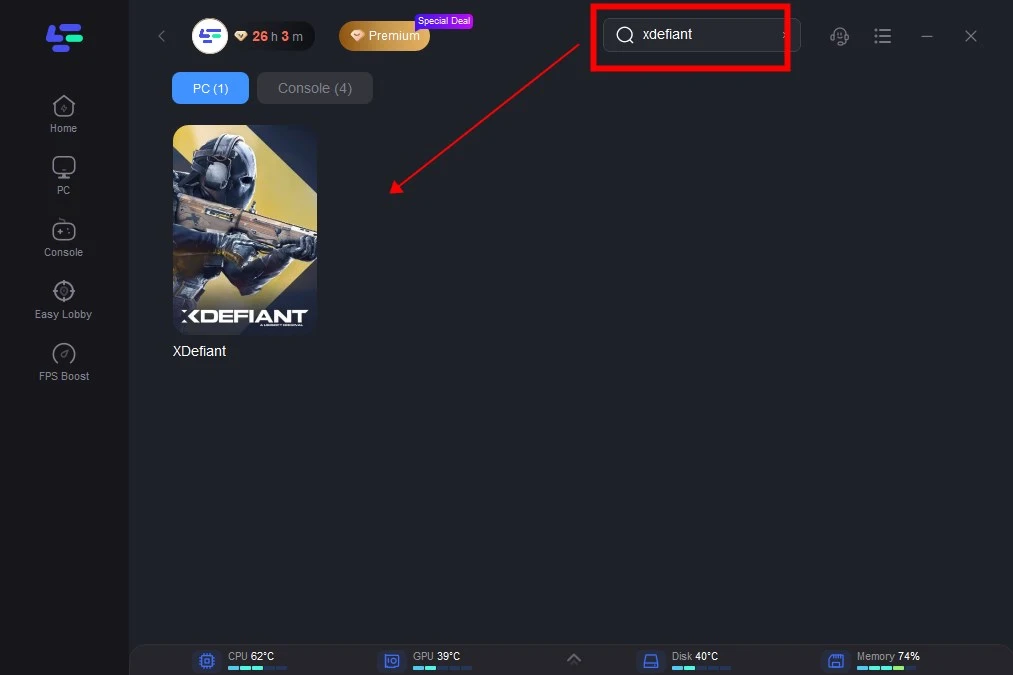 Step 3. Choose the server and node you prefer to play. You can also choose the server and click "Smart Boost", it will help you connect with the best node automatically.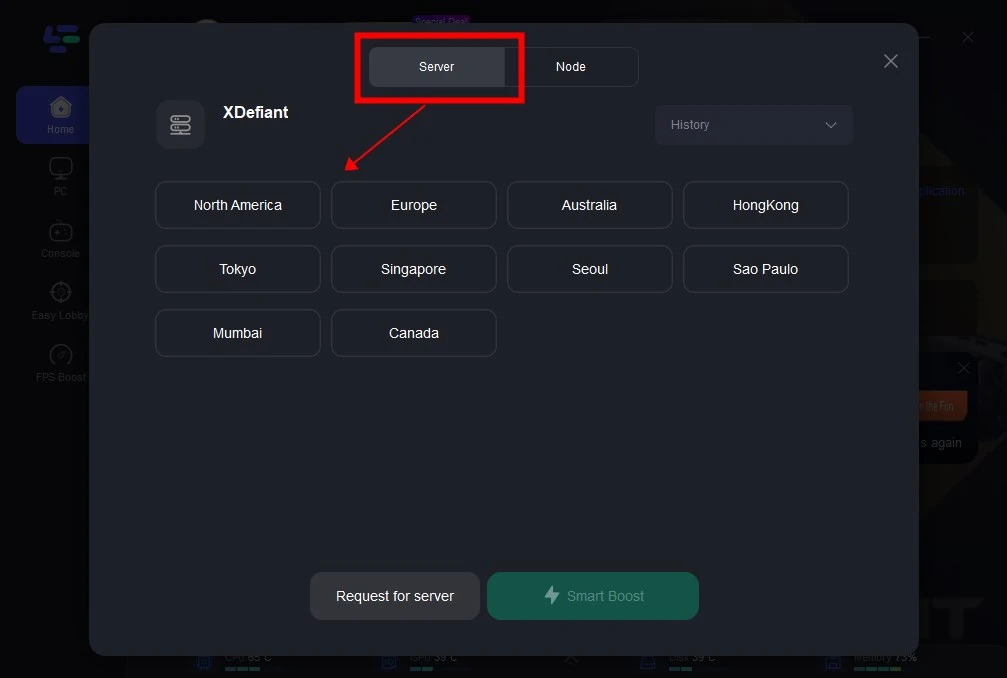 Step 4. Then you will get well-prepared for the game. Your ping rate, network status and the packet loss rate will be shown on the boosted page.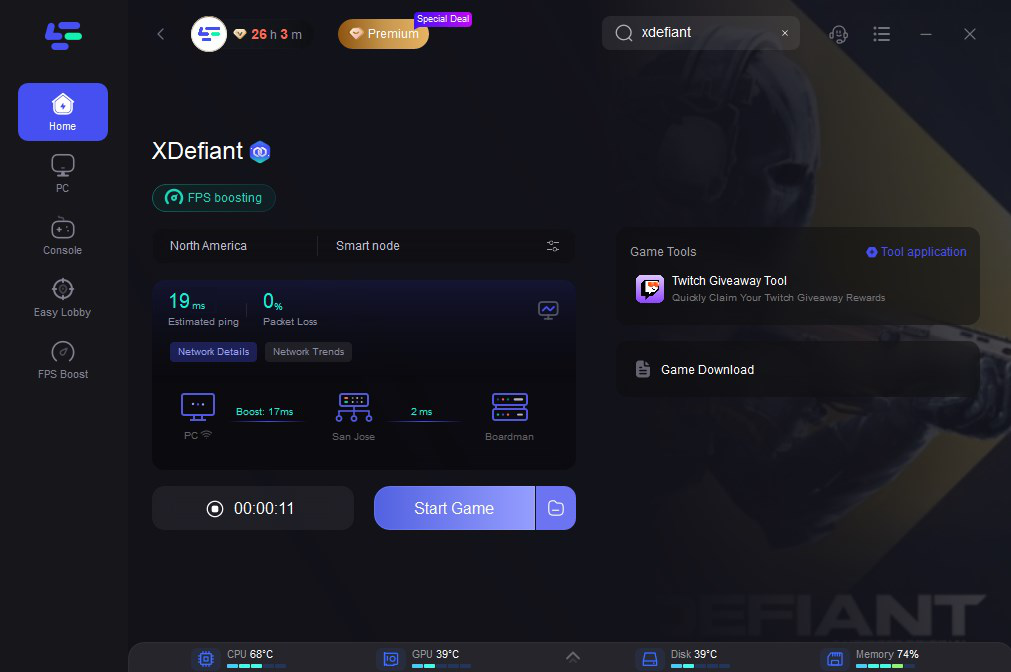 LagoFast is an all-in-one game booster that helps to reduce lag, boost FPS, change the server and stabilize gaming network connection. It is easy to use and trusted by millions of gamers. You can check the full features of LagoFast in the following:
• 100% reduce lag and ping
• Boost FPS greatly
• Change the server in games
• Enter easy lobby in CoD series, Fortnite and Apex Legends
• Support boosting 2000+ online games
Method 2. Check the System Requirements
If your system does not meet the requirements, this will most likely be the cause of any performance issues you may be experiencing. XDefiant system requirements are as follows:
Minimum requirements (1080p at 60 frames per second, Low graphic preset)
Operating system Windows 10, Windows 11 (64-bit versions)
Processor AMD Ryzen5 1400 @ 3.2GHz, Intel i7-4790K @ 4.0GHz, or better
RAM 8 GB (running dual-channel mode)
Video card AMD Radeon RX 560 (4 GB), NVIDIA GeForce GTX 1050Ti (4 GB), or better
Hard drive 65 GB available storage
DirectX version DirectX 11 and DirectX 12
Recommended requirements (1080p at 60 frames per second, High graphic preset)
Operating system Windows 10, Windows 11 (64-bit versions)
Processor AMD Ryzen5 1600 @ 3.2GHz, Intel i7-4790K @ 4.0GHz, or better
RAM 16 GB (running dual-channel mode)
Video card AMD Radeon RX 580 (8 GB), NVIDIA GeForce GTX 1060 (6 GB), or better
Hard drive 65 GB available storage (SSD recommended)
DirectX version DirectX 11 and DirectX 12
Method 3. Update Your Windows
Updating your operating system will also update network drivers that may be required to successfully connect to the wider network. To update your Windows system, you can go to settings and check for updates. Then upgrade your Windows system to the latest version.
Method 4. Run the Game with Administrator Rights
Administrator rights will ensure that you have fully read and write privileges, which can help with issues relating to crashes or freezes. On the desktop of your PC, right-click the XDefiant client and run it as administrator.
Method 5. Verify Game Files
It is possible that there may be corrupted or missing files stopping the game from updating or running, which may be contributing to crashes or performance issues. To fix these possible issues, you can verify game files. According to the different platforms you are using, choose the relative one to verify your game files in XDefiant.
Ubisoft Connect Verification
• Open Ubisoft Connect PC.
• Go to the Games tab.
• Choose the game you wish to verify.
• Select Properties in the menu.
• Under Local files choose Verify files.
• If prompted, select Repair.
Ubisoft Connect PC will then download and restore any missing or corrupted files.
Steam Game Files Verification
• Launch Steam on your PC.
• Right-click the game in your Library or click the gear icon from the game's Library page on the far right.
• From the drop-down menu, select Properties...
• Select the Installed Files tab and click the Verify integrity of game files button.
• Steam will verify the game's files - this process may take several minutes.
Epic Games Launcher Verification
• Open the Epic Games Launcher.
• Find the game in your Epic Games Library.
• Click the three dots on the right side of the game line.
• Select Manage.
• Click the Verify button.
Wait for validation to complete. It may take a while to verify all your files.
Method 6. Update Your Graphics Drivers
The drivers for your graphics card should be updated regularly. If the latest drivers are not installed on your system, this may result in performance issues.
To find out what graphics card drivers you currently have:
• Select the Start button on your taskbar.
• Type "run" into the search bar and open the Run application.
• Enter "DxDiag" and press enter.
When the results show, select the Display tab to view your graphics drivers. You will be able to find the latest driver for your card on the card manufacturer's website.
Method 7. Disable Background Applications
Certain Microsoft services or third-party software running in the background can cause interference with your games.
Conclusion
XDefiant FPS dropping is annoying when you are shooting the enemies or after death in the game. A good FPS is essential to play shooting games. Above all the solutions we have provided, LagoFast is recommended to fix XDefiant FPS dropping and get better FPS. Try it now and enjoy the top shooting experience in XDefiant with no lag and lower ping as well!