Call of Duty: Warzone 2 is the follow-up to CoD's popular battle royale, an entirely new free-to-play game that brings Warzone to the brand new Al Mazrah map with new weapons, vehicles, Operators, the Gulag 2.0, and new mechanics. Warzone 2 was created in tandem with Modern Warfare 2, and it includes "Modern Warfare II content and systems with brand-new progression and inventories." It will be available on November 16, 2022. As we all know, so many players play when the game is first released. Also, the great players are the most during this time. But when the game is released, the desire to win and to improve ranking could be the strongest. Therefore, if your enemies are bots, you will win a game easier. But how to get easier lobbies in Warzone 2? Follow this article, you can find some stricks. For example, using a Warzone 2 VPN LagoFast.
Part 1: What Is VPN In Warzone 2?
Part 2: How To Get Easier Lobbies In Warzone 2?
Part 3: After Changing My Virtual Location, Will My Ping Increase?
Part 4: Is Warzone 2 VPN Safe?
What Is VPN In Warzone 2?
VPN is the abbreviation of Virtual Private Network. It could give you a new and virtual network address to change your location. There are many VPNs nowadays. For example, the professional Warzone 2 VPN LagoFast. It combines a number of game data route technologies to enable global players to play smoothly and without lag. It uses its game data transmission protocol to allocate the best routes for players, accurately identifies game traffic, and allows live streaming and music listening while playing games. We can access accelerated servers from anywhere because the servers are distributed globally. Game-specific routes are also used concurrently to avoid unstable ping.
You won't have to worry about Warzone 2 game issues like lag, low FPS, high ping, packet loss, and so on with LagoFast. And the difference between other game VPNs and game boosters is that you can join for monthly, quarterly, or annual fees, or pay per minute. As a result, if you do not play games on a daily basis or require game booster service on a regular basis, LagoFast will be the most cost-effective option!
If you want to get more information about the game booster, this article could be helpful: What Is Game Booster?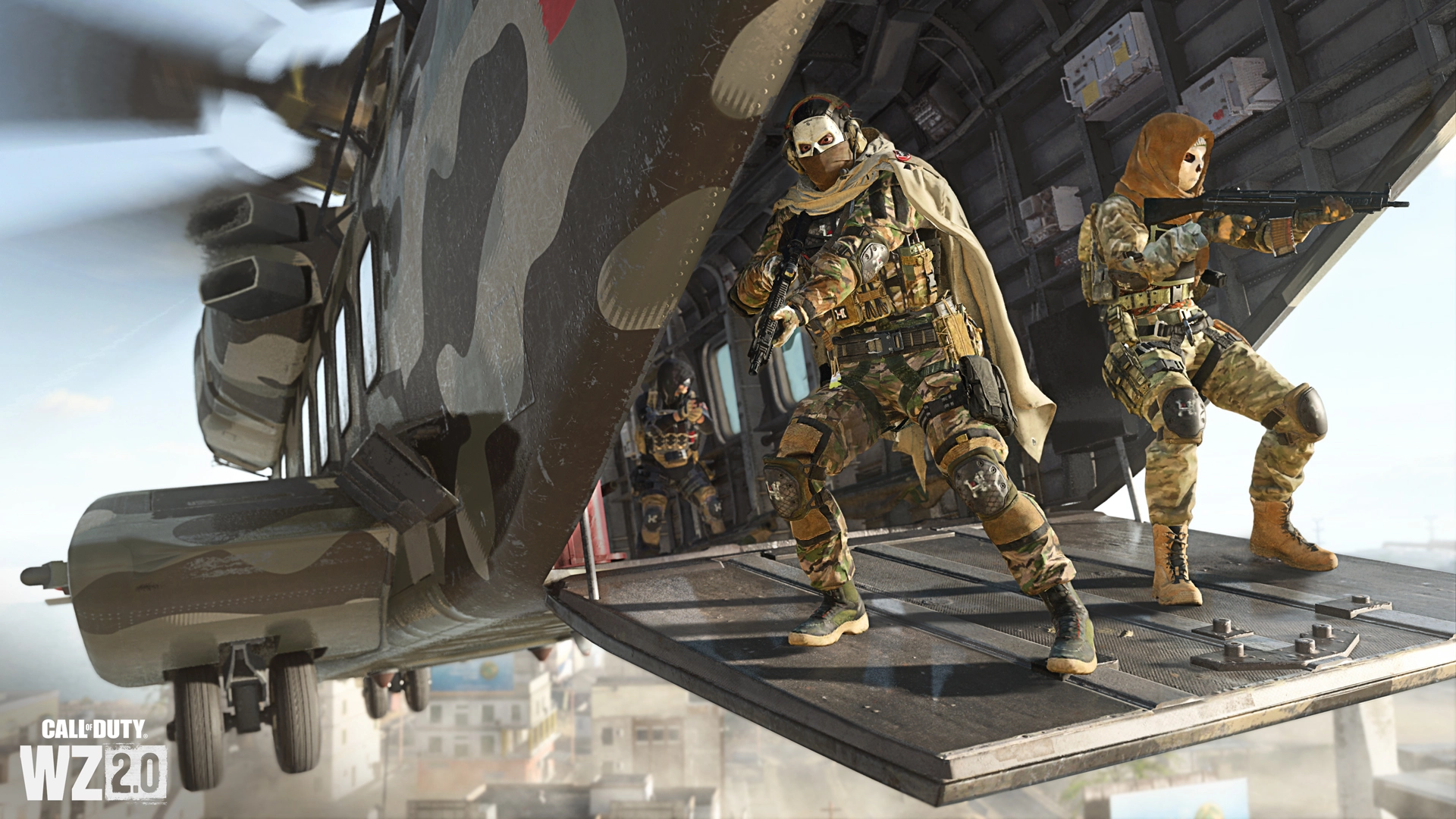 How To Get Easier Lobbies In Warzone 2?
The secret of the easy lobby in Warzone 2 is to choose the game server with fewer players. Therefore, you can play Warzone 2 in the early morning or the morning when there are fewer players. But it sounds a little impossible for some players. Fortunately, LagoFast has launched the Warzone 2 easy lobby service to meet the demand for relaxing gaming and a good gaming experience. You can use LagoFast to change the geographic location and time zone where and when there are fewer online matches, increasing the likelihood of matching to a bot lobby in Call of Duty: Warzone.
If you want to try using the LagoFast game booster and Warzone 2 easy lobby service, follow these steps!
Step 1: Click the Free Trial button to download the LagoFast client and experience the game boost and Warzone 2 easy lobby service. Or directly go to LagoFast site.
Step 2: Before running COD Warzone 2, you just need to find Warzone 2 easy lobby in LagoFast and click the Boost button.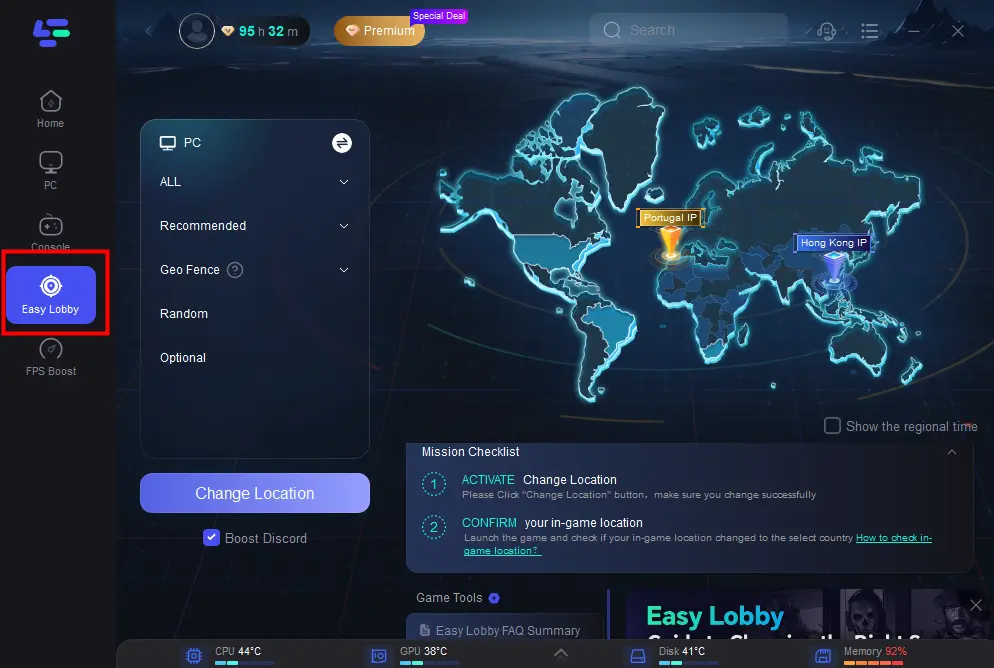 Step 3: And then you can see the choice panel of game servers and nodes. You can pick the server you want to change and the best code for the lowest ping.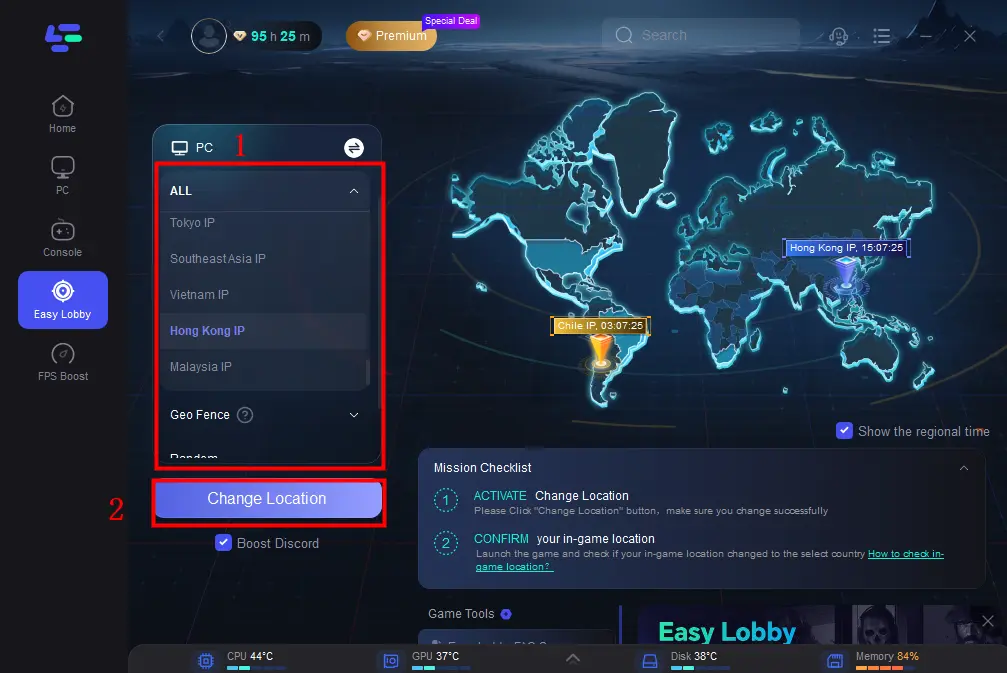 Step 4: Click the Boost button before running the game. While you are playing the game, you can see your real-time ping test and packet loss on this page.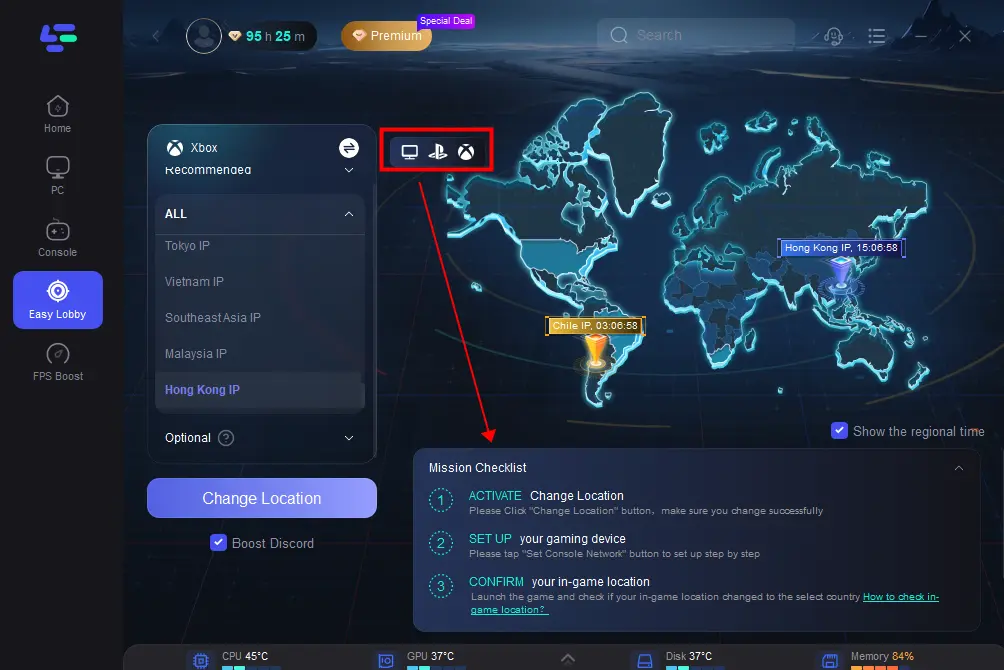 After Changing My Virtual Location, Will My Ping Increase?
Ping is the time spent on data transmission between your computer and the game server. Generally speaking, when you are playing Warzone 2, you will choose the game server which is nearest to your geographical location. For example, if you are in France now, you will choose the Europe server. But when you change the game server to get easier lobbies and fight with bots, the distance of transmission will also increase.
However, You will not have this problem if you use LagoFast; instead, LagoFast can lower the ping value, which is its advantage as a game booster. You will be able to connect to the server of your choice as well as choose the network node with the lowest ping via real-time network detection when we enable LagoFast and enhance the game with a single click.
To learn more about Warzone 2 high ping issues, you can try reading this article: What Is A Good Ping For Gaming?
Is Warzone 2 VPN Safe?
Although Activision does not explicitly state that using a VPN in Warzone 2 is prohibited, the Call of Duty Security and Enforcement Policy states the following: Any attempt to conceal, disguise, or obfuscate your or your hardware devices' identities may result in an indefinite suspension. Because it conceals the true IP address as well as location information.
Using LagoFast, on the other hand, is completely safe, and there is no need to update the information hidden from you in order to comply with the CoD security policy. As a result, you will not be barred from using LagoFast Warzone Easy Lobby in the future. You'll have a completely different gaming experience with Call of Duty: Warzone after using LagoFast for acceleration.