Call of Duty: Warzone (is a free-to-play first-person shooter Battle Royale mode game developed by Infinity Ward. The game includes two modes with a maximum of 150 players and supports three-player teams, single-player teams, two-player teams and four-player teams. But while you are playing Call of Duty Warzone, you may experience the annoying Warzone lag problem. Don't worry, this article will explain the reasons for the Warzone lag and how to fix the Warzone lag issue. Among these suggestions, I do advise you to use the Warzone lag fixer LagoFast, which is a convenient and effective one.
Part 1: What Is Warzone Lag Issue?
Part 2: Why Is My Warzone Lagging?
Part 3: How To Fix Warzone Lag Effectively And Easily?
Part 4: Other 4 Solutions To Fix Warzone Lag
Part 5: Solutions To Fix Warzone Lagging After Update
What Is Warzone Lag Issue?
Warzone lag is referred to as the delay between your input from your keyboard or your mouse and the output from your monitor. When the delay becomes noticeable, you will feel the existence of Warzone lag. You can imagine this Warzone lag situation, where you aim to shoot someone in Warzone, but the screen shows your precious shot landing in the air. But this is not due to your skill, but to the lag, when you aim at the enemy, he is already gone. This means that your computer is also your enemy in addition to other players in front of the computer screen.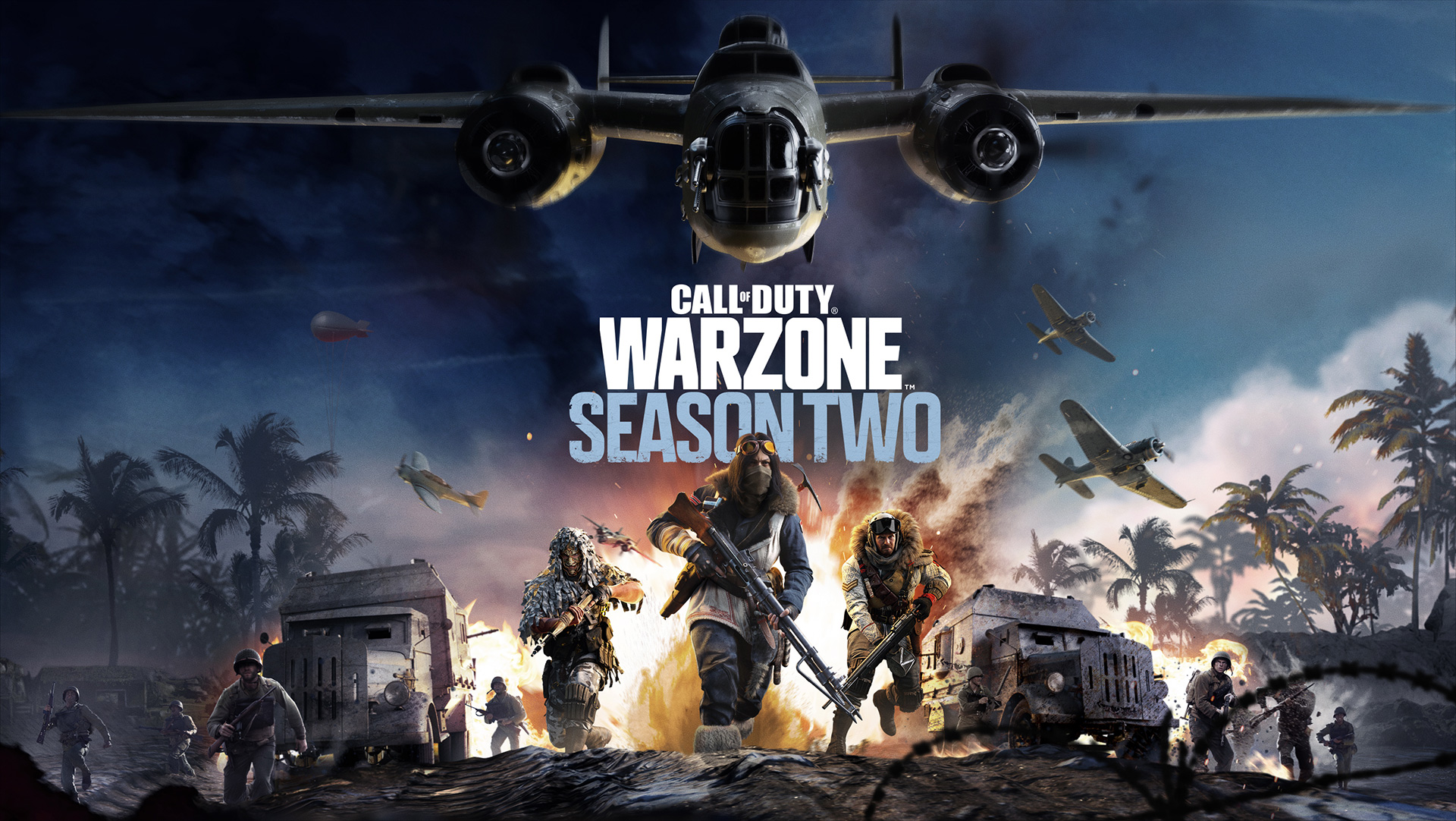 Why Is My Warzone Lagging on pc?
Generally speaking, the reasons why is my Warzone lagging on pc problem could be divided into 2 major factors, the hardware configuration and the network connection. You can think of the game data transmission process as a round-trip marathon. The hardware configuration is like the physical fitness of the athlete, while the network connection is like the road conditions of the course. When your endurance is not good, it will take longer for you to run the circuit. When there are a lot of obstacles or people on the road, the time spent will also increase. And then the delay will be noticeable. In addition, Warzone lag could also be caused by some problems with the game itself. For example, the bad optimization of Warzone, the congested game server or the corrupted game files.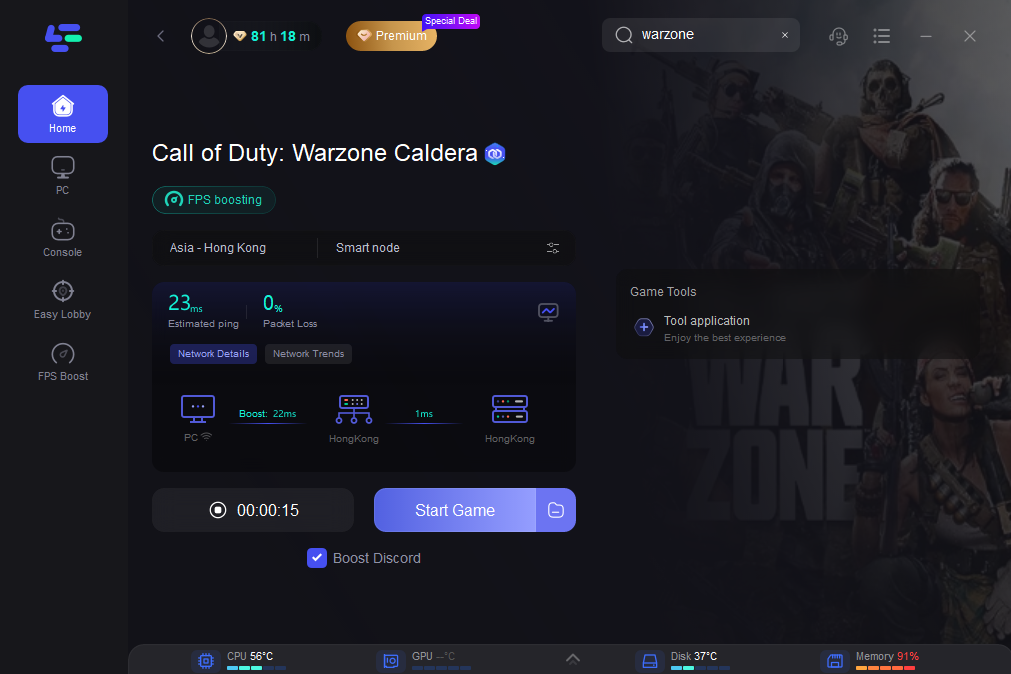 How To Fix Warzone Lag Effectively And Easily?
Many measures could be taken to fix Warzone lag problem. But I do want to advise you to use an easy-to-use Warzone lag fixer product LagoFast. It can use its unique data transmission protocol to boost the transfer efficiency. In addition, LagoFast has worldwide nodes and exclusive routes to solve the network connection, which will make the time spent on transmission decrease significantly. These nodes could be choosed based on your geological location before running the game. And compared to other game lag fixer, LagoFast launched the plan per minute, which is less costly.
If you want to try using LagoFast to decrease latency in Warzone, you can click the Free Trial button to download the LagoFast client and experience the lag fix service.
Before running Warzone, you just need to find the Warzone in LagoFast, and click the "Boost" button, LagoFast will ensure your smooth gaming experience in the background.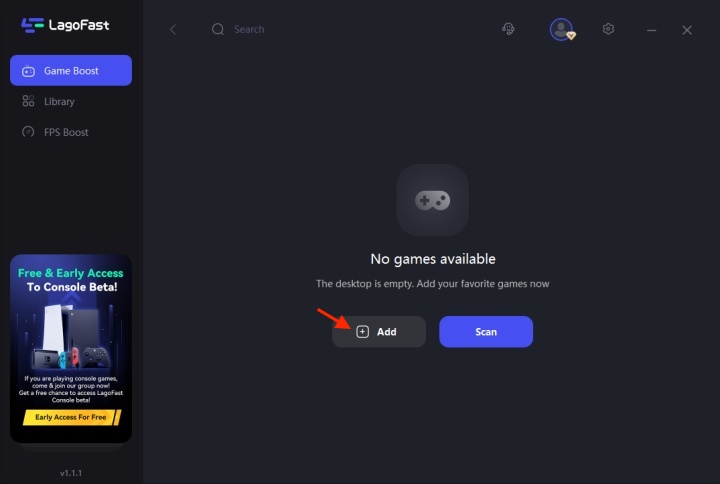 LagoFast also supports 1000+ more popular online games, you could use it to optimize your gaming experience in other games too!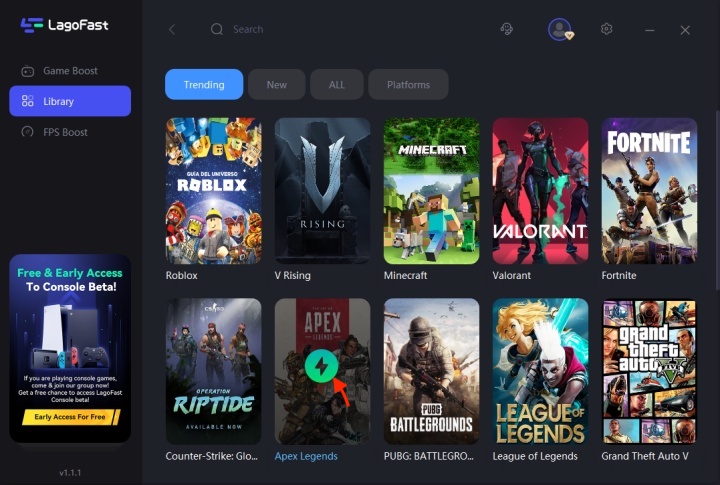 In addition to the common lag fix service, you can also click the "FPS Boost" to change settings to improve your game running performance based on your specific requirements. For example, you can choose to open the Windows Game Mode, set highest priority for game process, or remove automatically unnecessary background applications in this panel.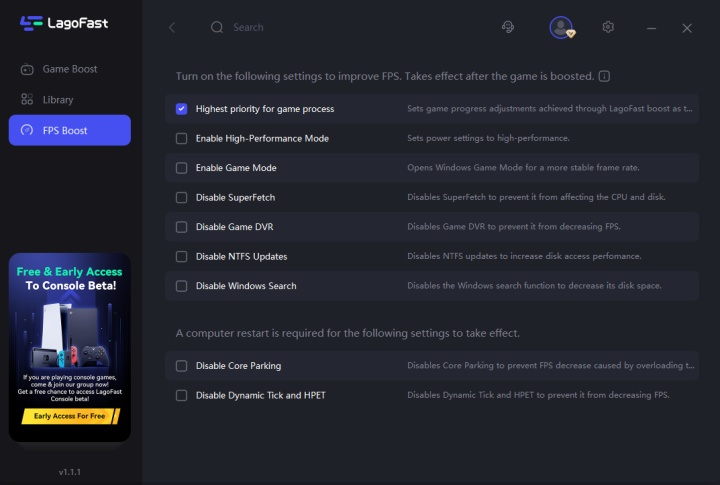 Other 4 Solutions To Fix Warzone Lag
Fix 1: Check if your computer meets the minimum system requirements
The minimun system requirements could give you the information of hardware configuration to run smoothly Warzone and decrease latency in Warzone. If you can't meet these requirements, you should update your hardware. The minimum system requirements are as follows:
CPU: Intel Core i3-4340 or AMD FX-6300.
CPU SPEED: Info.
RAM: 8 GB.
OS: Windows 7 64-Bit (SP1) or Windows 10 64-Bit (1709 or later)
VIDEO CARD: NVIDIA GeForce GTX 670 / NVIDIA GeForce GTX 1650 or AMD Radeon HD 7950.
PIXEL SHADER: 5.0.
VERTEX SHADER: 5.0.
Fix 2: Use the Ethernet wired connection
Ethernet wired connection could be not visible to other connections, that makes less interference than a wireless one. And the data transferred in the wired connection would be faster and more reliable without concrete walls or other obstacles. Therefore, switching to an Ethernet wired connection could be useful to fix Warzone lag problem.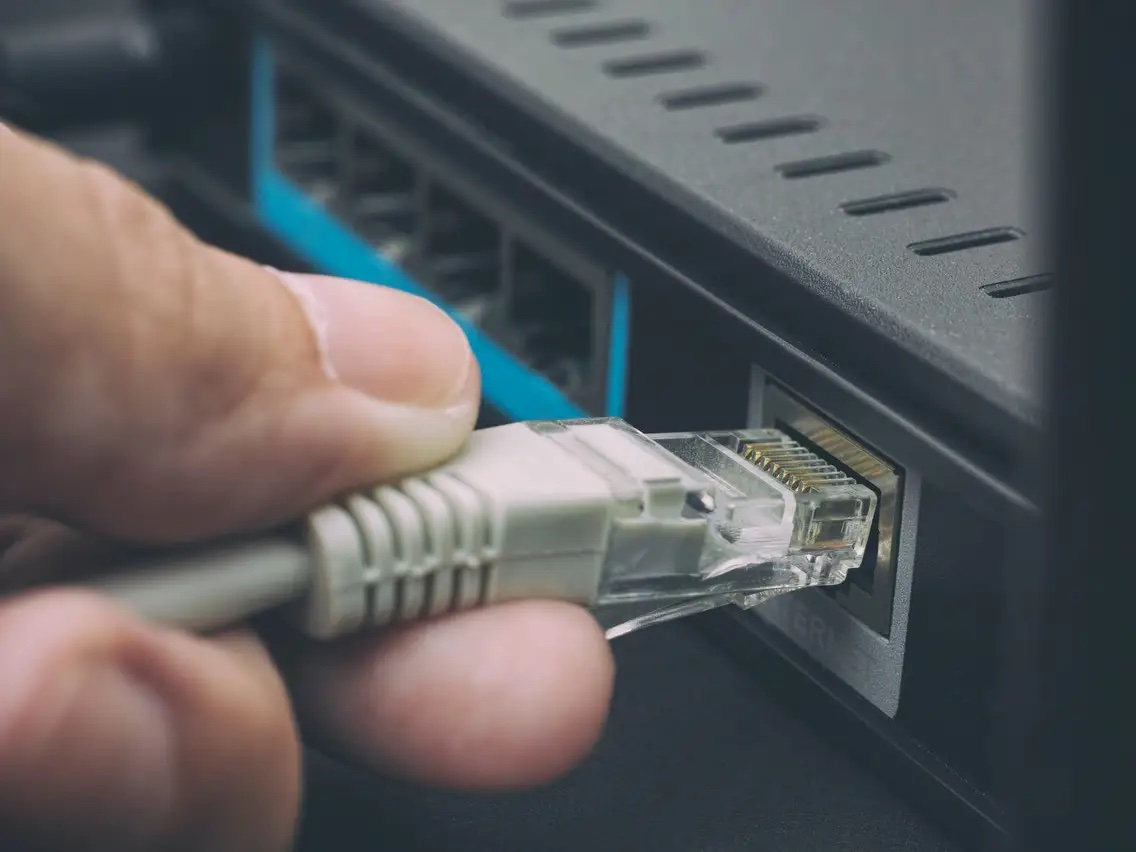 Fix 3: Connect to the server closest to your geological location
As you know, the lag is the delay between your input from your computer and the output that has been processed. Therefore, the distance between your geological location and the game server could be an important factor to Warzone lag. While you are loading in the Warzone game, you should choose a game server. And if you want to optimize the Warzone lag problem, you should choose a game server closest to your geological location, decreasing effectively the time spent on data transmission.
Fix 4: Remove unnecessary background applications
If there are many applications running in the background, on the one hand, your network will become congested, and on the other hand, your computer's performance will drop. Therefore, close unnecessary background applications, like many chrome tabs, to leave more space to your game running to decrease Warzone latency! But pay attention to some necessary applications to Windows running. Fortunately, LagoFast could help you to identify which are unnecessary and help you to remove these.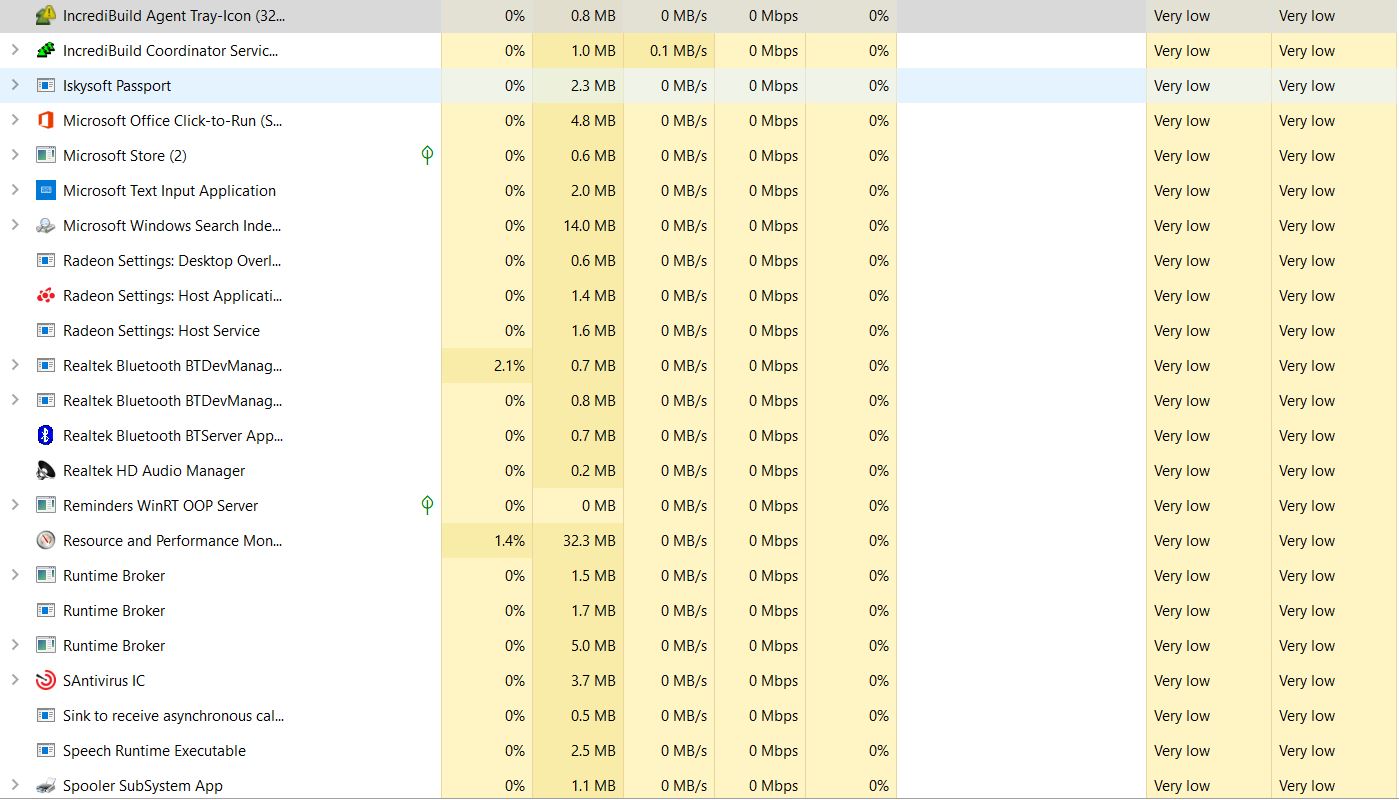 Solutions To Fix Warzone Lagging After Update
Check if your hardware configuration meets the minimum system requirements.
Wait for the optimization by Raven Software and update the new patch.
Reinstalling your game to fix corrupted game files.