Do you find it difficult to play basketball on hot summer days or rainy days since there aren't any indoor courts available? It's simple! Here is NBA 2K23, an online basketball simulator. This game simulates the National Basketball Association in each edition. Since the player can control a complete team or a single player, the action is comparable to a regular basketball game. Goals are in line with basketball rules, and the presentation resembles that of real NBA games that are shown on television. If you are a big fan of the NBA and basketball, this game is perfect for you! But some players doubt it because of serious NBA 2K23 crashing issues. They admit that the gameplay is attractive and funny, but the crashing problem prevents them from enjoying the game. However, there are some ways to solve this. In this article, you are about to know everything about it!
Part 1: How to Fix NBA 2K23 Crashing?
Part 2: What Causes NBA 2K23 Crashing?
Part 3: Other Related Questions
How to Fix NBA 2K23 Crashing?
Use LagoFast —— the crash killer
When it comes to fixing in-game issues like NBA 2K23 crashing, LagoFast, a professional NBA 2k23 game booster is your perfect choice! It has more than 8 years of experience in fixing in-game issues and optimizing the gaming experience. To provide worldwide players with better service, LagoFast has its own unique game data transmission protocol and globally distributed servers. Furthermore, LagoFast can also automatically allocate you the best route and adjust your PC settings to the ultimate. Therefore, NBA 2K23 crashing can be effectively and immediately fixed by using LagoFast. Most importantly, LagoFast has a free trial for new users and the one and only Pay-per-Minute plan, which enables players to stop charging whenever they want. Feel free to give LagoFast a try! You won't regret it.
The features of LagoFast are as follows:
Support 1000+ games, including NBA 2K23
Effectively fix NBA 2K23 crashing
Globally distributed servers & nodes
Free trial for new users
Support a Pay-per-Minute plan
Fix NBA 2k23 lag and FPS drop issues
To use LagoFast:
Step 1: Download LagoFast.
Step 2: Search NBA 2K23 in the Search Box and select it in the results.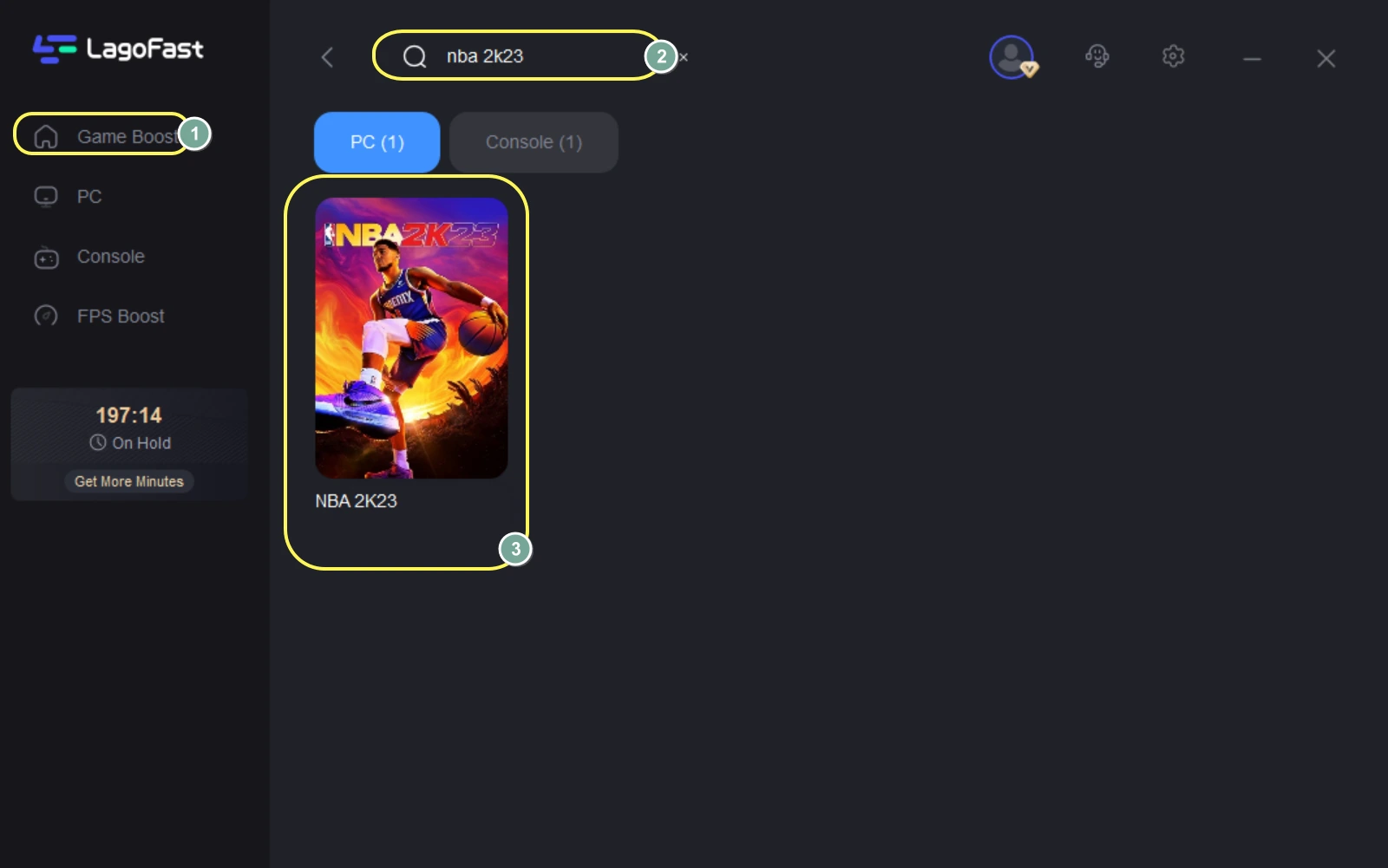 Step 3: Start boosting by clicking on the Boost button. (Once start boosting, your PC will be optimized to be compatible with running the NBA 2K23)
On this page, you can also monitor your real-time ping & packet loss rate in-game.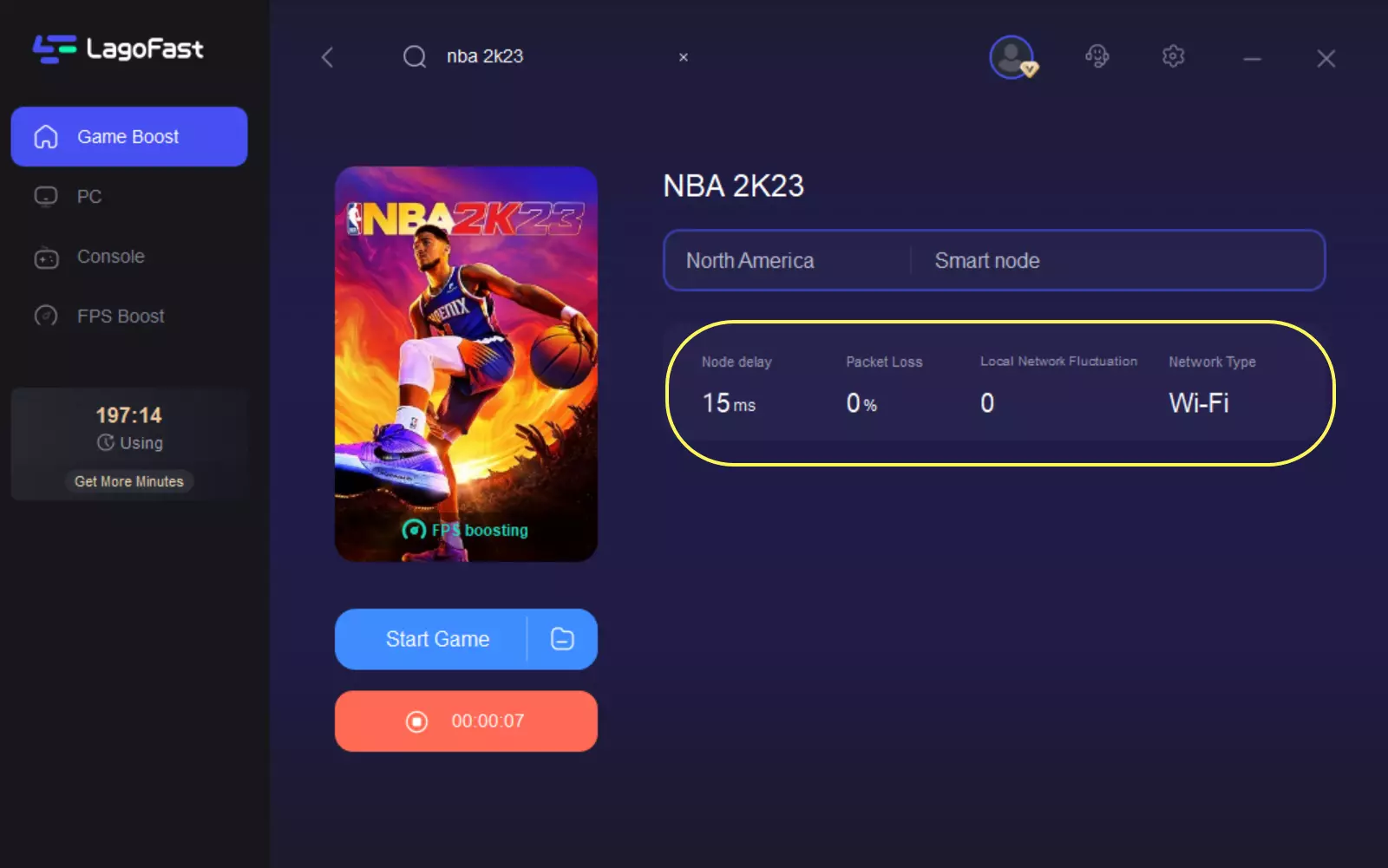 Check your PC configuration
If your PC specifications don't fit the minimum requirements of NBA 2K23, the possibility of crashing will highly increase. Therefore, checking your PC configuration before launching the game is a must. The requirements of NBA 2K23 are as follows:
Minimum Requirement:
OS: Windows 7 64-bit, Windows 8.1 64-bit, or Windows 10 64-bit
Processor: Intel® Core™ i3-2100 3.10 GHz/ AMD FX-4100 3.60 GHz or better
Memory: 4 GB RAM
Graphics: NVIDIA® GeForce® GT 450 1GB/ ATI® Radeon™ HD 7770 1 GB or better
DirectX: Version 11
Network: Broadband Internet connection
Storage: 110 GB of available space
Sound Card: Directx 9.0x
Play NBA 2K23 on Windows borderless mode
Some players find out that playing NBA 2K23 with Windows borderless mode can eliminate the possibility of crashing. To do so:
Open Steam, navigate to the library and then right-click NBA 2K22.
Next, select Properties. Go to Set Launch Options after selecting the General tab.
Here, fill out the box with the command-line argument -windowed -noborder.
To implement changes, restart the Steam client.
Update your GPU
Your graphics driver may, in some way, not have been updated in a while. If so, be sure to update the graphics drivers on your computer to get rid of any potential bugs. Here's how to do so:
To access the Quick Link Menu, use the Windows + X keys.
Double-click on Display Adapters after selecting Device Manager from the list.
Click the right mouse button on the graphics card you are now using.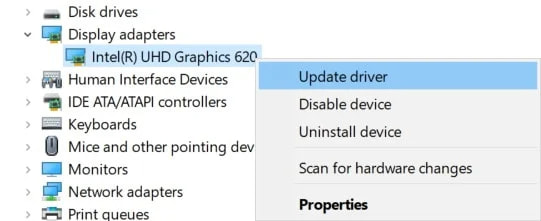 Then choose Update driver > Automatically search for drivers.
The system will instantly download and install any updates that are available.
Restarting the computer will make the modifications take effect right away.
Launch the game as an administrator
Run the game's executable file as an administrator to avoid problems with user account management and privileges. Additionally, you must run the Steam client on your computer as an administrator. To do so:
On your PC, right-click on the NBA 2K22 exe. shortcut file.
Choose Properties next, then click the Compatibility tab.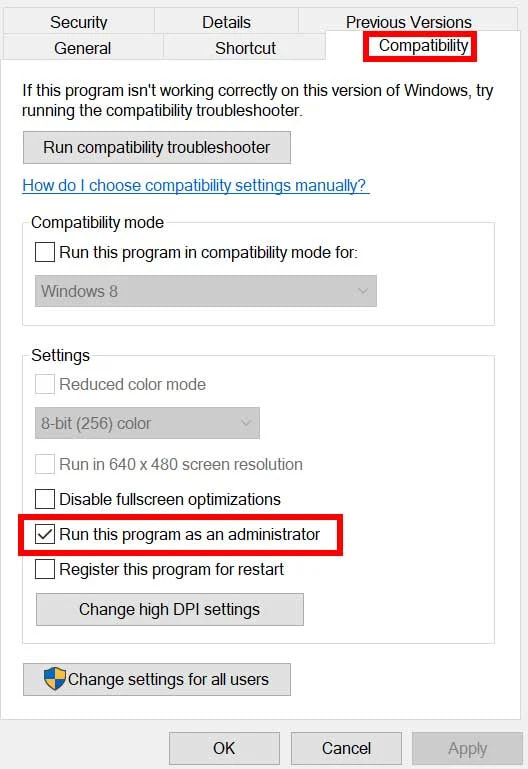 The 'Run this program as an administrator' checkbox must be clicked in order to be selected.
To save changes, select OK after clicking Apply.
Remember to follow the same procedures for the Steam client as well. You ought to be able to use it to resolve the NBA 2K23 crashing on PC problem.
Check NBA 2K23's Game file
Use this technique to quickly identify the problem if there is a problem with the game files like they become corrupted or missing. To do so:
Start Steam > Select Library.
Browse the list of installed games and right-click NBA 2K23.
Next, select Properties > Local Files.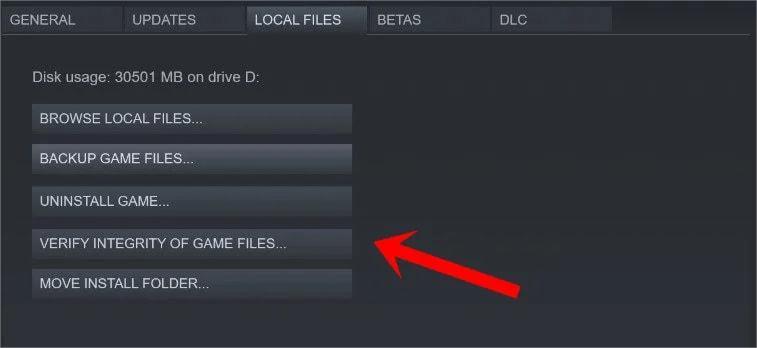 Select Verify Integrity of Game Files from the menu.
Wait until the procedure is finished.
Simply restart your computer when finished.
What Causes NBA 2K23 Crashing?
In some circumstances, the integrity of the system or the client may be compromised by the game files. For example, missing or corrupted game files might result in a variety of problems. Crashing troubles might occasionally also be brought on by an outdated game patch or an incompatible PC setup. Launching unneeded startup programs, overclocking the graphics card, and overlay app problems, among other things, might also cause NBA 2K23 crashing problems.
Meanwhile, problems with antivirus software, out-of-date graphics drivers, out-of-date DirectX versions, out-of-date Microsoft Visual C++ Redistributables, unneeded background processes, etc., can also cause a variety of problems. Furthermore, it's conceivable that using the fullscreen borderless option of the game will cause performance issues like NBA 2K23 crashing.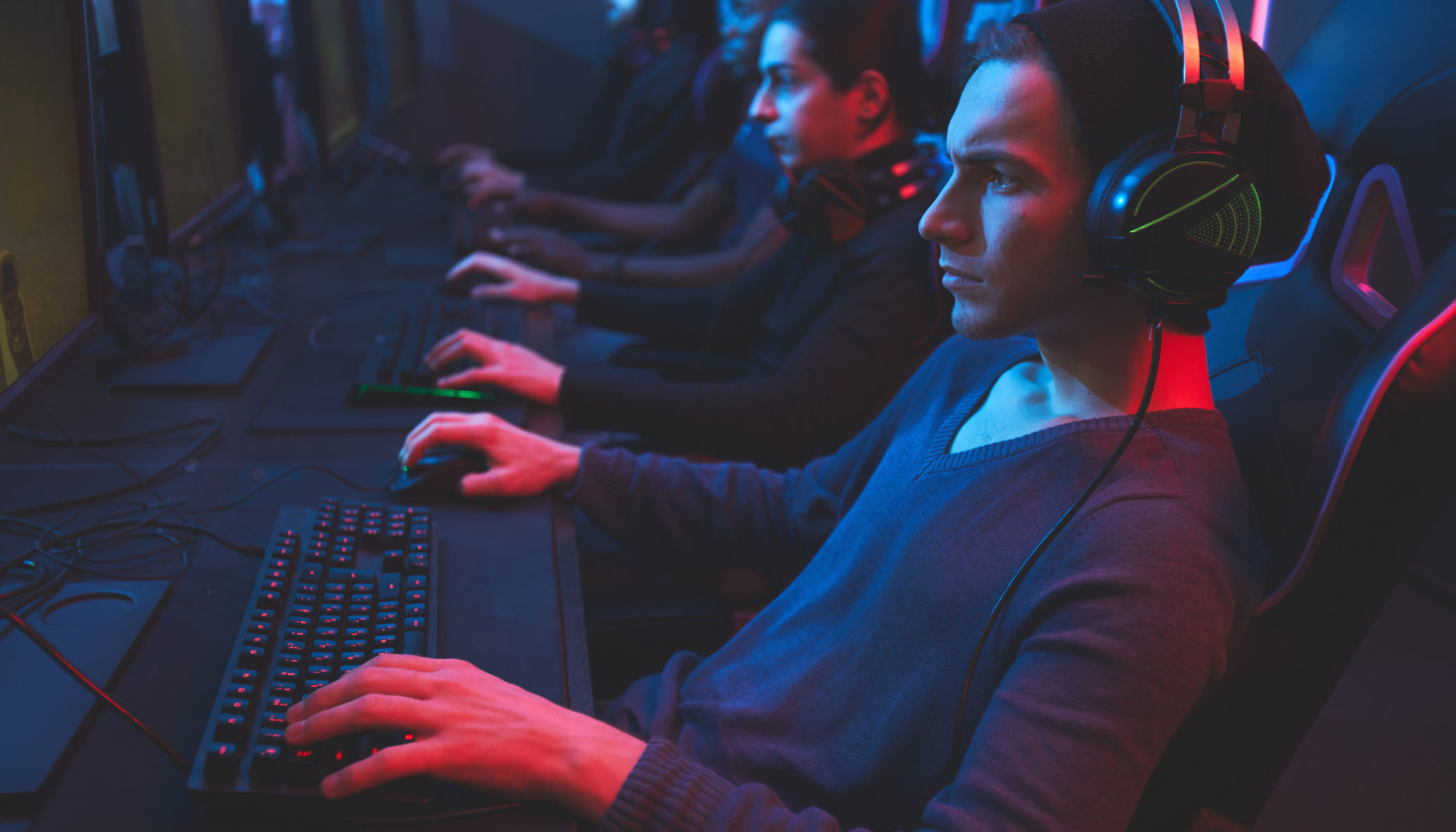 Other Related Questions
How to solve NBA 2K23 not loading on PC?
Just like NBA 2K23 crashing issue, NBA not loading on PC is also a tricky problem for many players. There's nothing more frustrating than not being able to launch the game and keep stuck on the loading screen. Here are some methods to avoid such an annoying situation:
1. Check your network connection. This is what I always remind players to do before launching the games. A proper network connection is the most important precondition for any online video game. Therefore, always remember to have a stable and smooth network connection when you play NBA 2K23 on your PC.
2. Use a wired connection. Even though you check your network connection and make sure that your PC is connected to WiFi, NBA 2K23 may also have a loading problem. Try to change to a wired connection because of its stability.
3. Turn off Firewall temporarily. To rule out any problems, it's worth suggesting that you turn off your computer's firewall and antivirus software. Sometimes the aggressive antivirus or security protection software might stop game files from running properly or identify them as viruses, which basically causes you trouble when trying to launch or play them smoothly. To do so:
Open the Control Panel by selecting Start > Type Control Panel.
Enter "firewall" into the search box now, then select "Windows Firewall."
Click Turn Windows Firewall on or off in the left pane.
Make sure that the Private, Domain, and Public Network Settings checkboxes are all set to Turn off Windows Firewall.
Restart the computer to apply the modifications and try troubleshooting the problem.
How to fix NBA 2K23 crashing at launch?
For those who encounter NBA 2K23 crashing issues, they may also face NBA crashing at launch problems. The game is either stuck at the loading screen or stops responding. Players may try to restart the game or the computer and other possible ways to fix this, but the problem still exists. Here I recommend you give LagoFast a try. As I've mentioned above, LagoFast can effectively fix NBA 2K23 in-game crashing. It can do more than that, you can to the full extent avoid NBA 2K23 crashing on startup by launching the game in LagoFast and start boosting.